"4 hours? You mean there's so much to do inside Changi Experience Studio in Jewel?"
I overheard Sophie gushing to her grandparents about all the fun and interactive games she played in Changi Experience Studio in Jewel. Yes, you heard me right,  games at Changi Experience Studio that kept us glued to this place for hours.
We were there for close to 4 hours and didn't even realised how long we have been inside the studio until our stomachs started to grumble. Sophie was reluctant to leave and even suggested that we leave her to continue playing. We didn't do that of course, otherwise she'll miss eating at A&W with us.
Changi Experience Studio, that's tucked away in a far corner of level 4, may be a less prominent attraction compared to the highly publicised Canopy Park, but after our experience, we were blown away by the many state-of-the-art digital experiences and fun interactive games.
There are lots to learn about the ins-and-outs of Changi Airport making it an edutainment visit for adults and children alike. Here's a review of what you can expect in Changi Experience Studio and how you can win family passes as well.
Changi Experience Studio in Jewel Changi Airport
This is your personal Travel Guide and the key to unlock many surprising digital interactions at the exhibits and games.
The technology behind the Travel Guide blew my mind as it utilises optical infrared markers when opened for detection and content projection, which are triggered and controlled by the visitor's intuitive movements. In addition to the optical markers, a radio-frequency identification (RFID) chip embedded within the Travel Guide records game points and prizes, as well as photographs taken along the studio journey.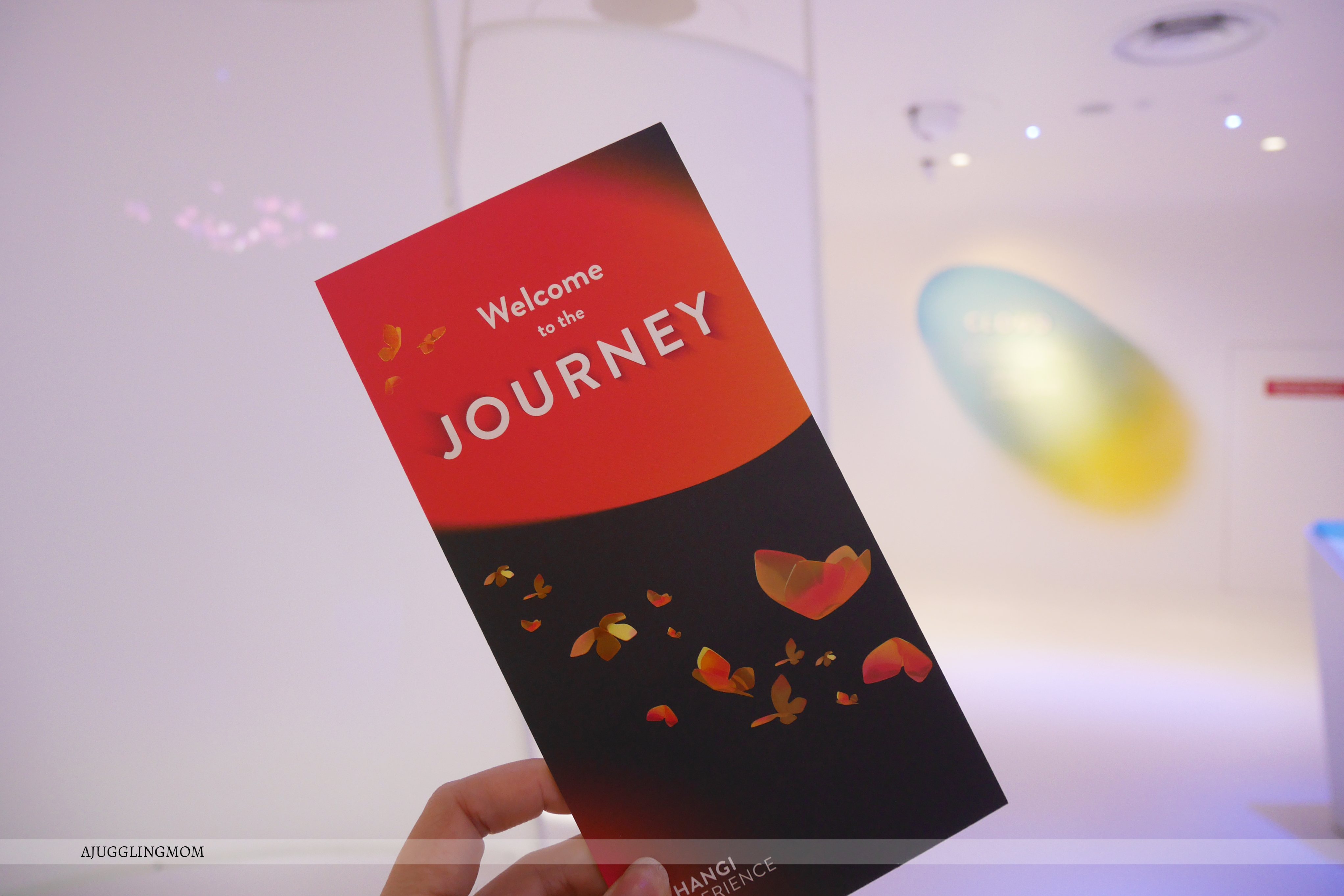 Cloud
Be greeted with virtual butterflies as you enter this space, Cloud.
The first thoughts that came to mind was how minimalistic and futuristic this set up looks. Here you'll discover your butterfly companions with your Travel Guide at the various projection spots.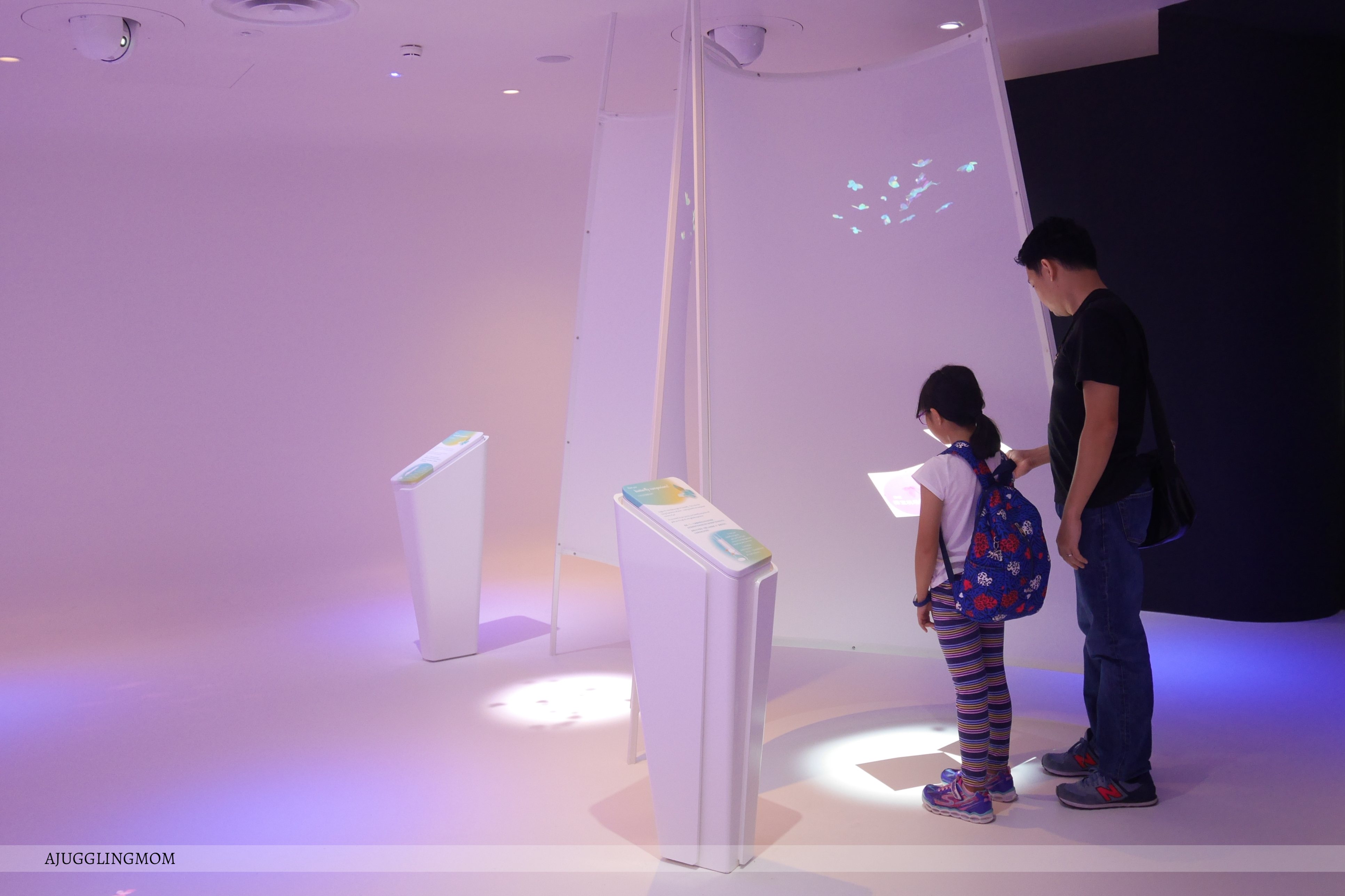 Time Tunnel
Enter the time tunnel that takes you back in time when Changi Airport was first built.
Watch the developments and expansion of the airport as Singapore gets more globally connected to the rest of the world.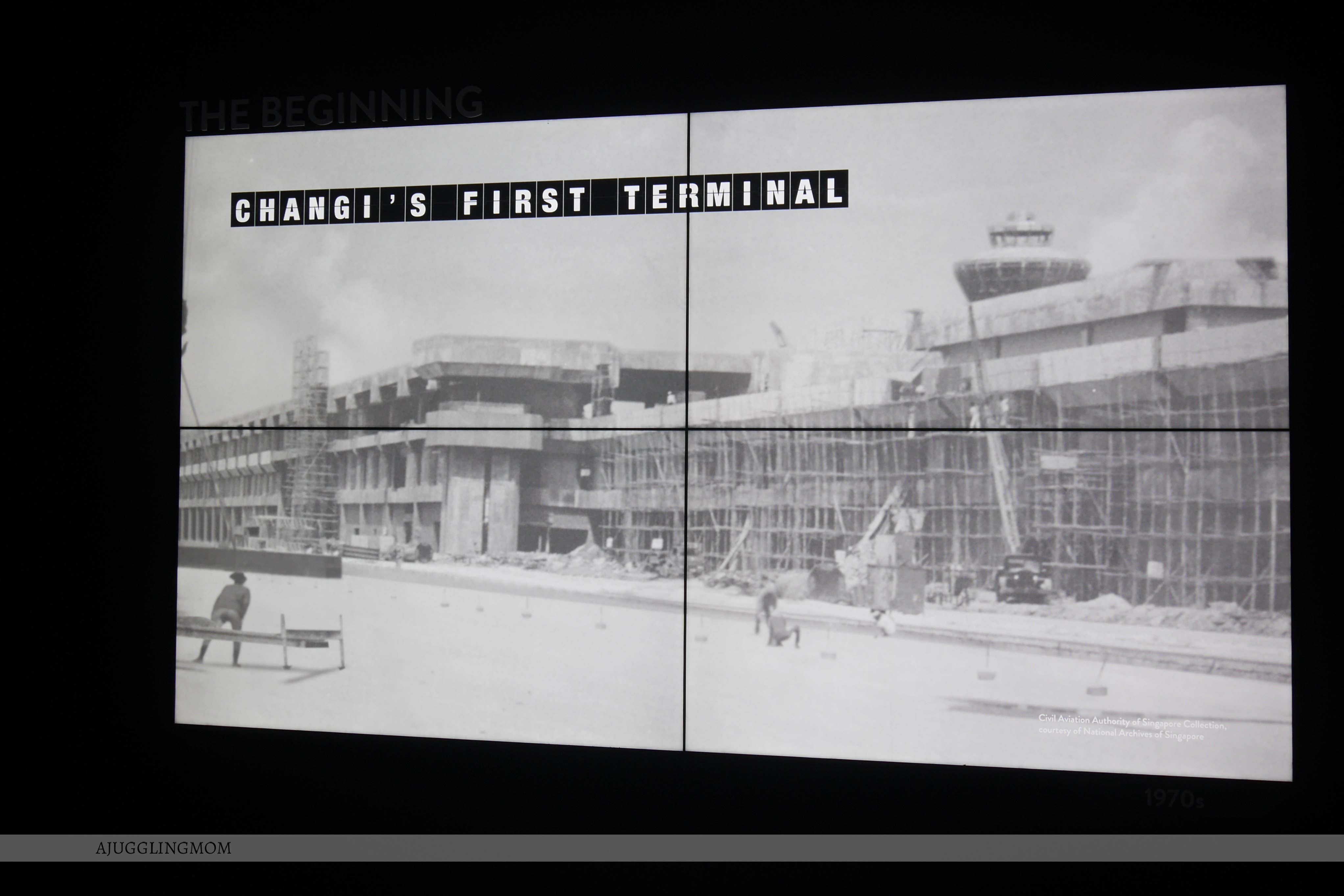 Hanging Garden
We learnt that Changi Experience Studio was conceived and designed as a space to share interesting stories of Changi Airport.
To bring across these stories, we had to use our Travel Guides at seven discovery stations. The stories of Changi Airport came alive with projections and animations where we learnt about many ins-and-outs of the airport, the staff that works hard to give guest a Changi Experience as well as some of their popular events featuring Star wars and Pokemon.
For example, did you know they have an in-house nursery for all their botanical plants?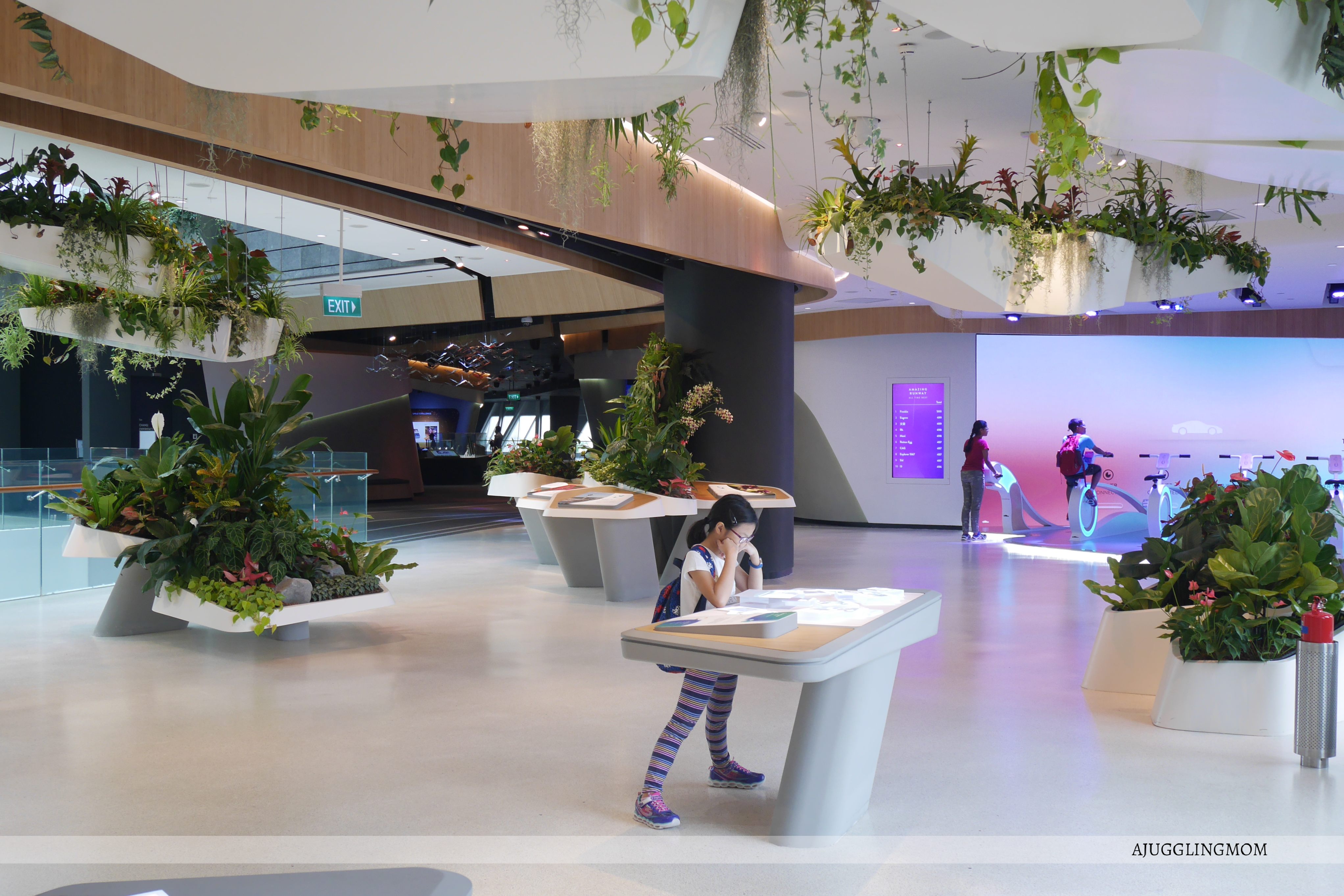 Amazing Runway
This multi-player adrenaline-pumping game is the start of the many experiential games you will find within Changi Experience Studio. This runway challenge is inspired by an actual race held in 2009 between a Porsche 911 GT3 Carrera Cup car and a Boeing 747 aircraft.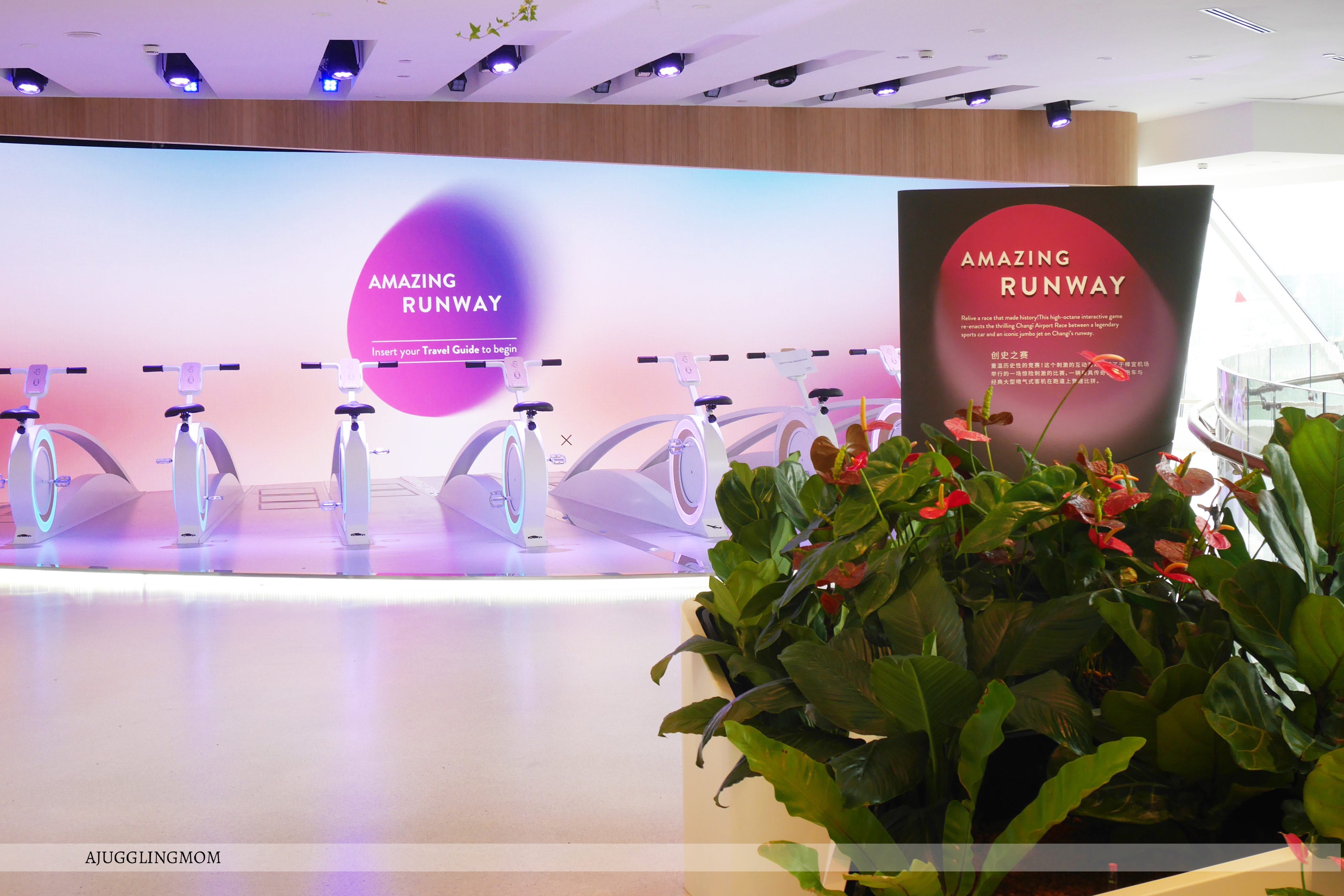 Once Sophie caught sight of the stationary bikes, she raced towards it and got us to pick a teams. You have a choice to be on team driver or team pilot and pit against the other team.
This game brought out the competitive spirits in us as we pedalled hard and fast to win the race. When team pilot wins, you can watch your aeroplane take to the skies. And for team driver, watch your sports car drive into the golden sunset.
Younger kids who can't reach the bike pedal yet don't have to miss out on this challenge as they can pedal with their hands with the wheelchair designed machines on the extreme ends. We had so much fun and laughter at this game but it was an exhausting workout that had us panting hard and working up an appetite for lunch.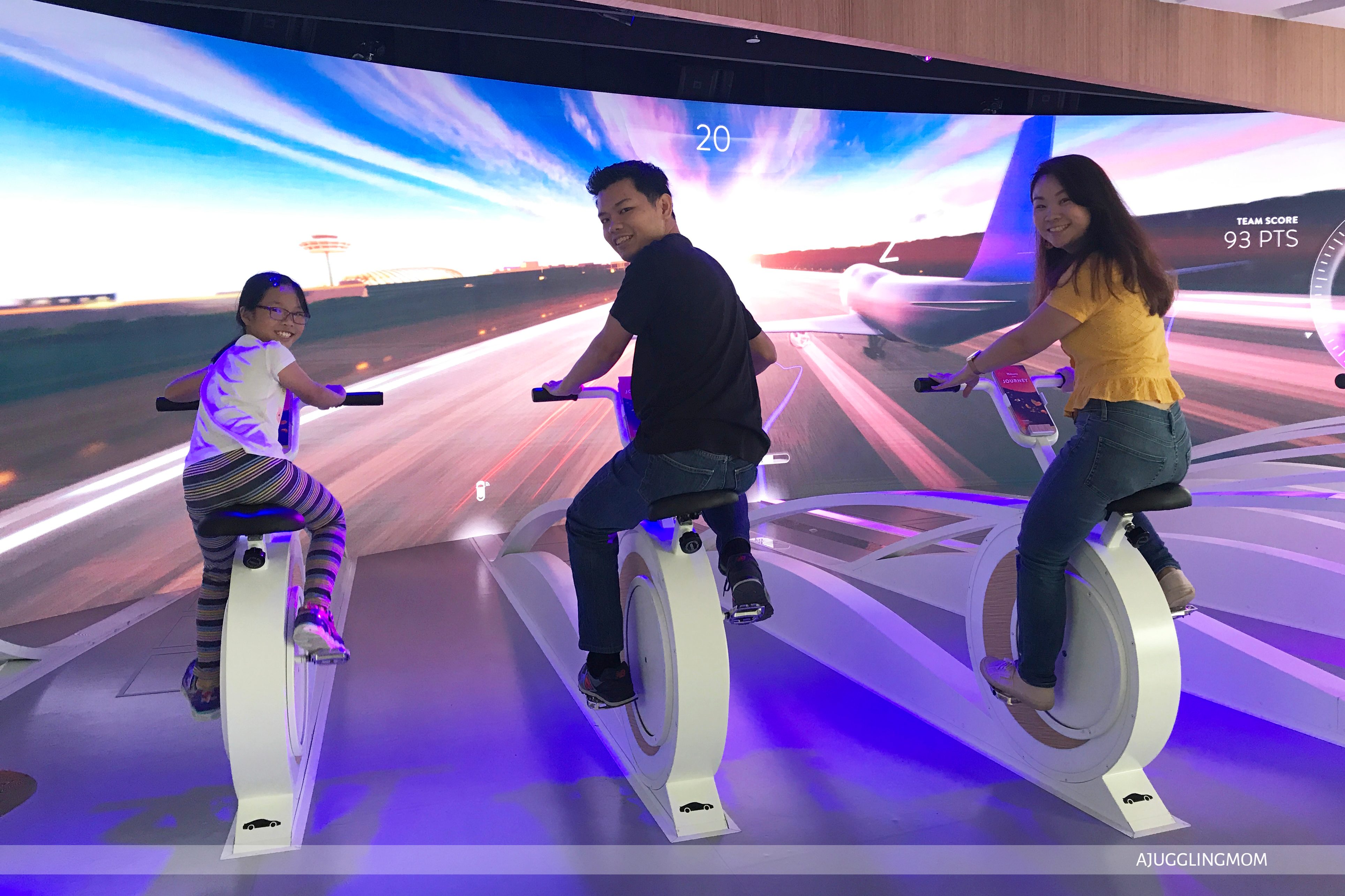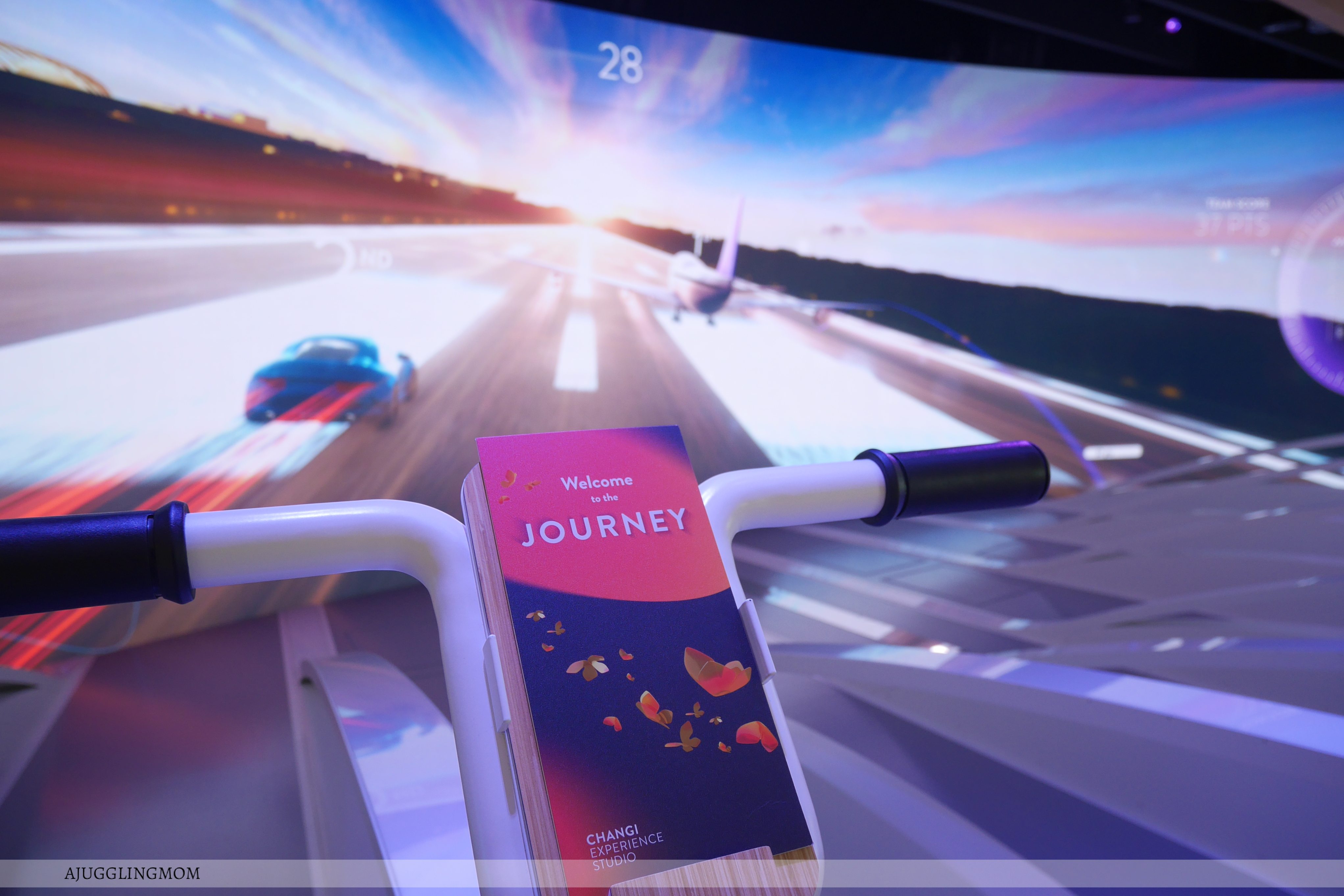 Sky Deck
The Sky Deck is a visual spectacle that showcases the air hub's connectivity to the rest of the world. With mesmerising flight path from our little red dot to the rest of the world, I was making a mental note of all the places I want to visit in this lifetime and add them to my bucket list
We also learnt interesting facts and information about major cities and their flight time from Singapore.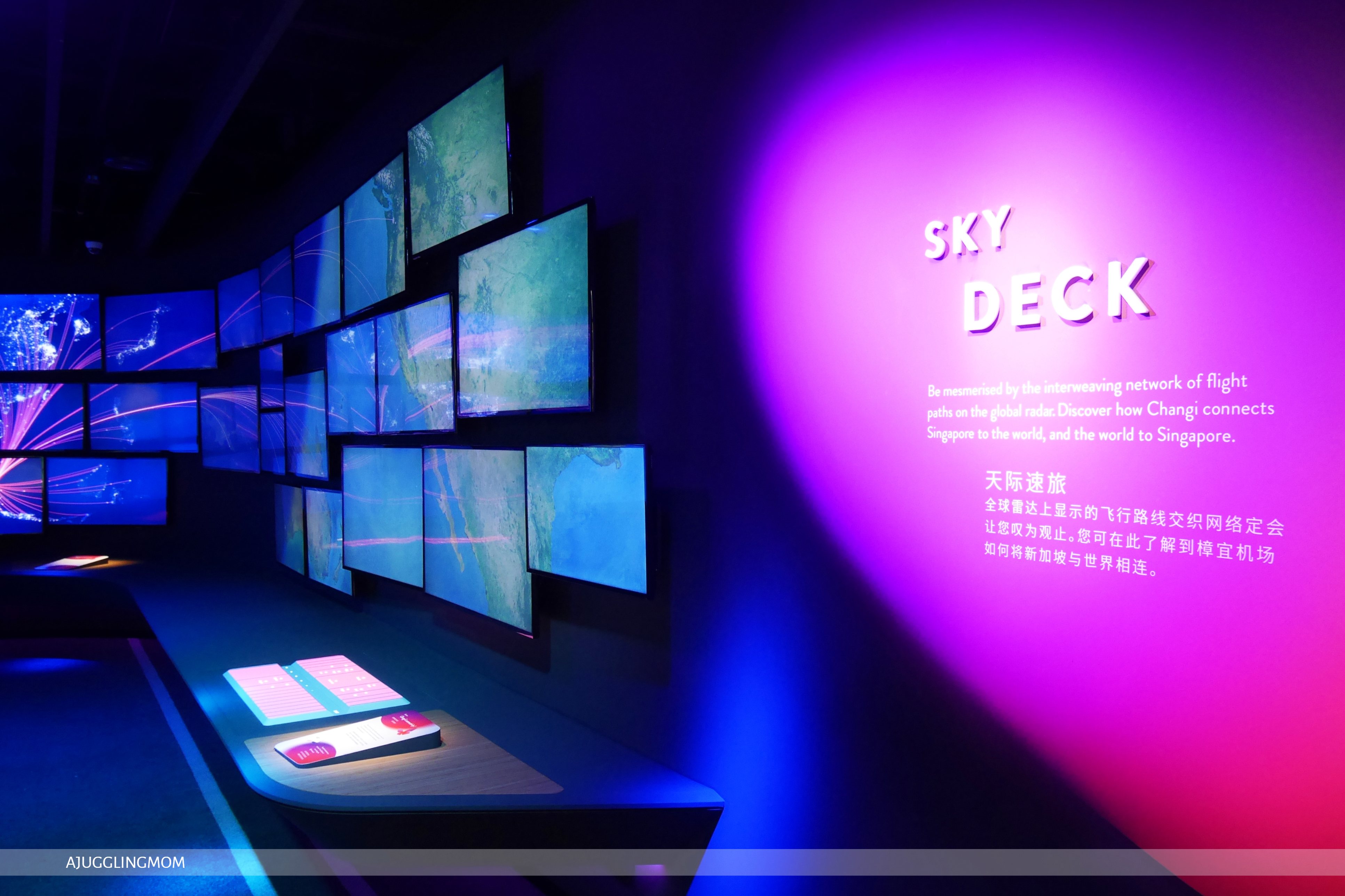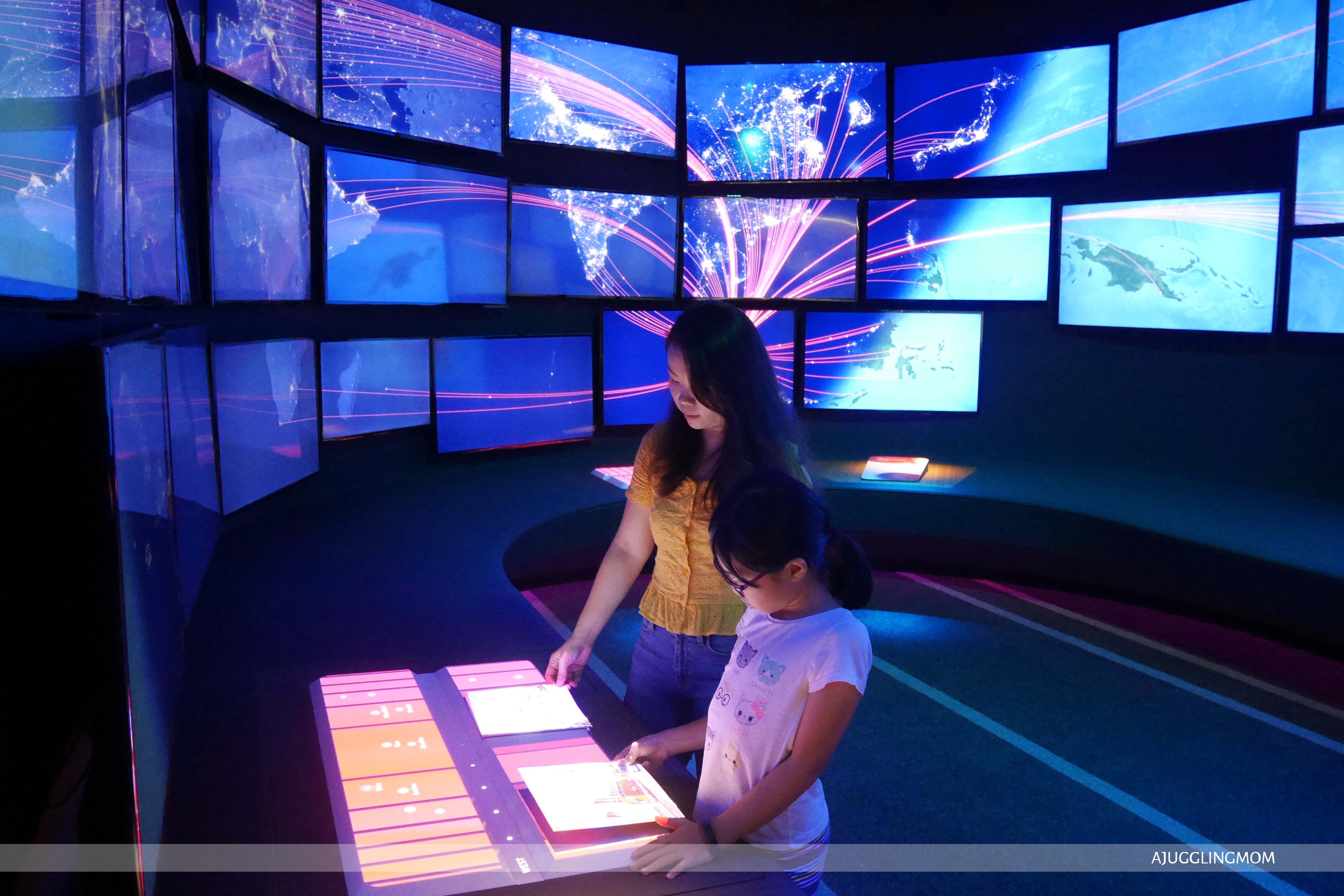 Smile Challenge
Well it seems that there is such a thing as a winning smile. Right here at Changi Experience Studio, your smile will be analysed and pitted against Changi Airport's ambassadors with their megawatt smiles which is a hallmark of the Changi Experience.
You can also challenge your friends and family to earn bragging rights if your smile makes it to the Hall of Fame.
And ladies and gentlemen, I made it to the 1st, 2nd and 4th place on our day of visit! What can I say? Clearly all my practice on Instagram has trained me well.
Expect lots of laughs at this station and we stayed at this game for the longest as Alexis and Sophie wanted to beat my score. But I secured my champion title well and here are the photo as evidence!
We concluded that lots of teeth, raised eyebrows and slightly squinty eyes is the winning formula. Try it and let me know if this theory works.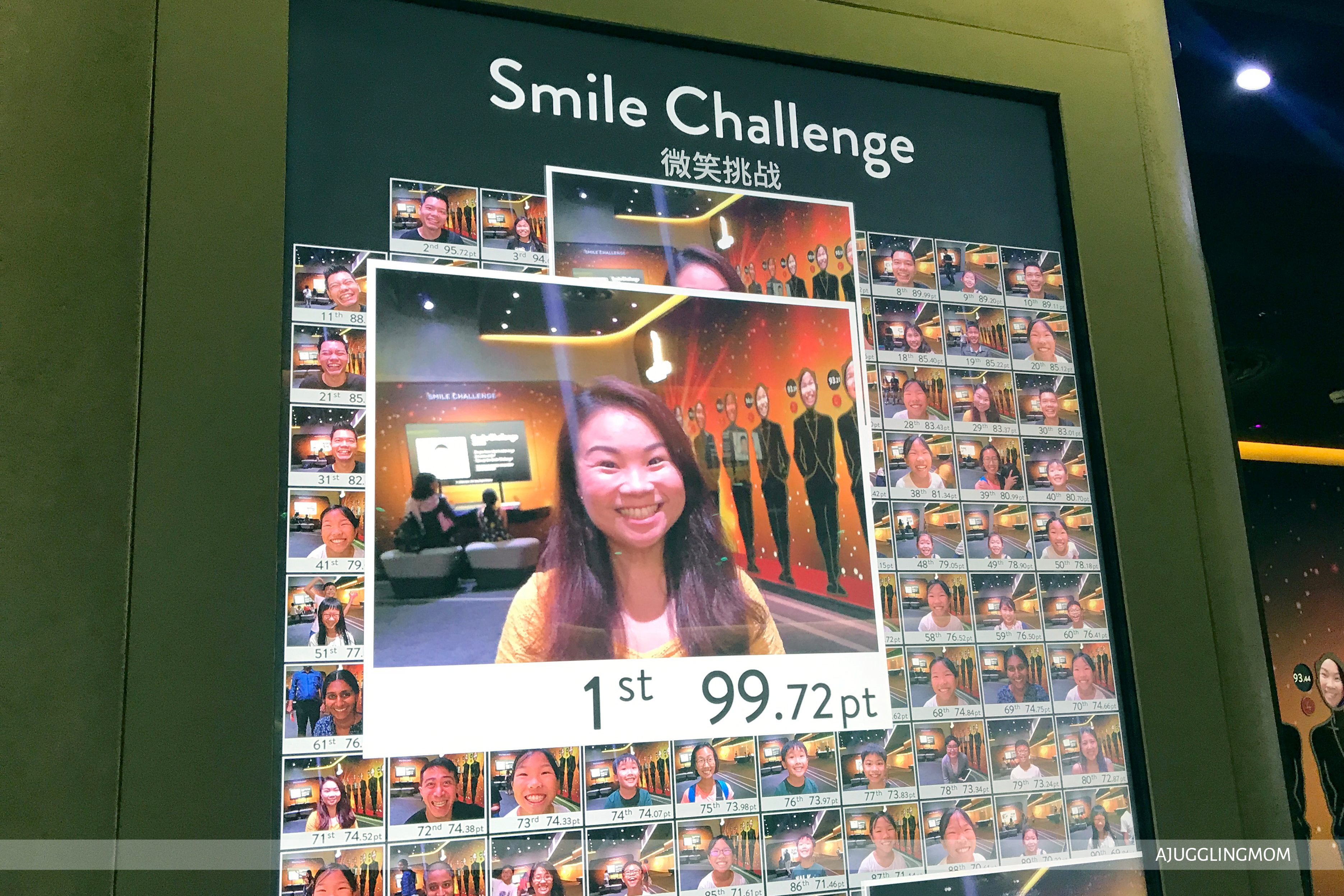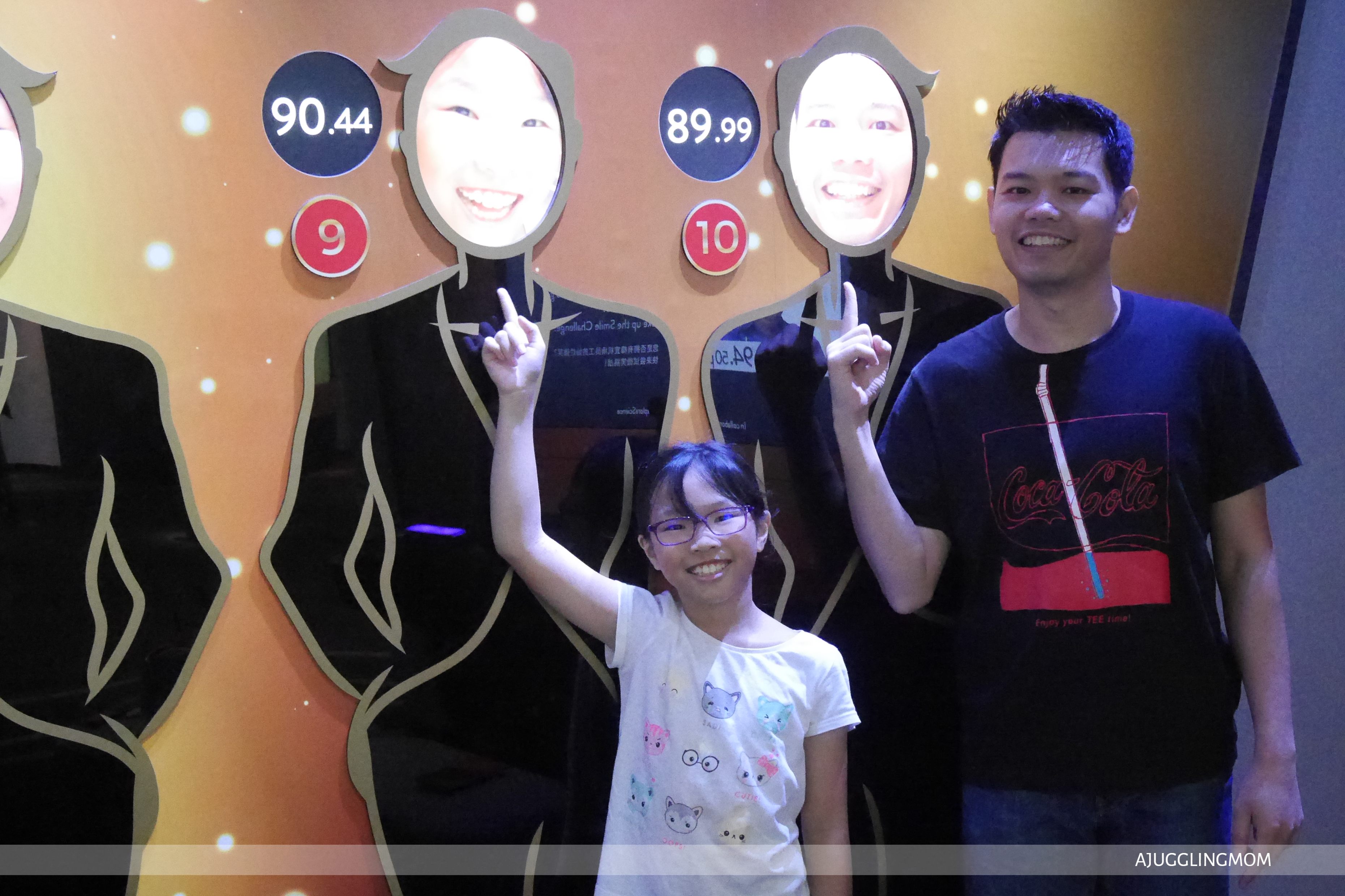 Arena and Backstage
Moving along is Arena where you get to experience various roles at the airport that keeps it going 24/7.
My favourite game was the trolley handler and it was harder than it looks. The aim of the game is to grab on to the trolley bar and collect as many trolleys and gold coins while avoiding the bystanders. To make it more realistic, the trolley bar gets harder to manoeuvre the more trolleys you collect.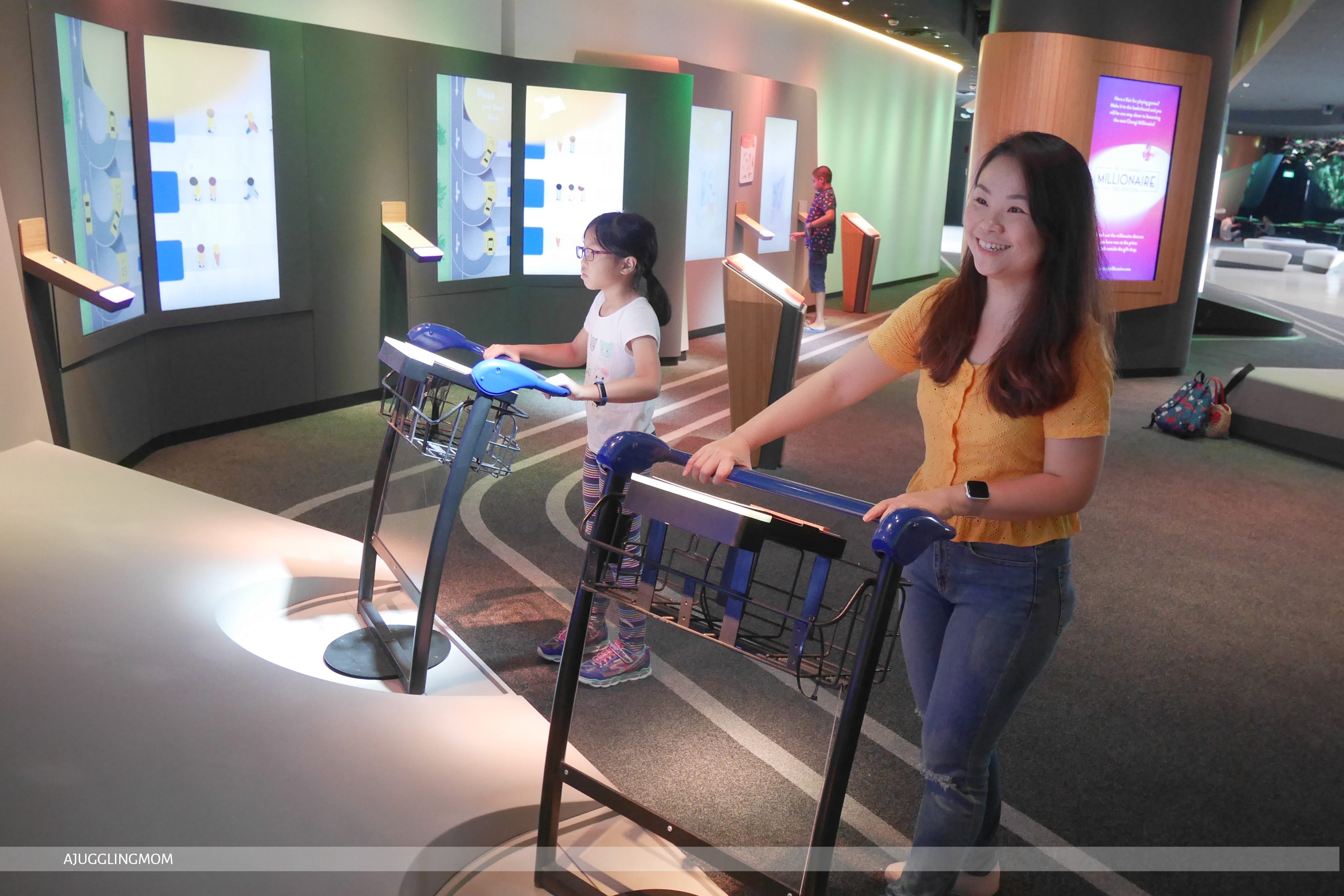 Alexis enjoyed the taxi coordinator game and he was quite the pro at it, swiping away effortlessly at the screens for his passengers to board the taxis.
Sophie identifying prohibited items on a flight as a security officer at the x-ray. This was a tough challenge on our eyes as some forbidden items were well disguised and requires a sharp pair of eyes to pick them out.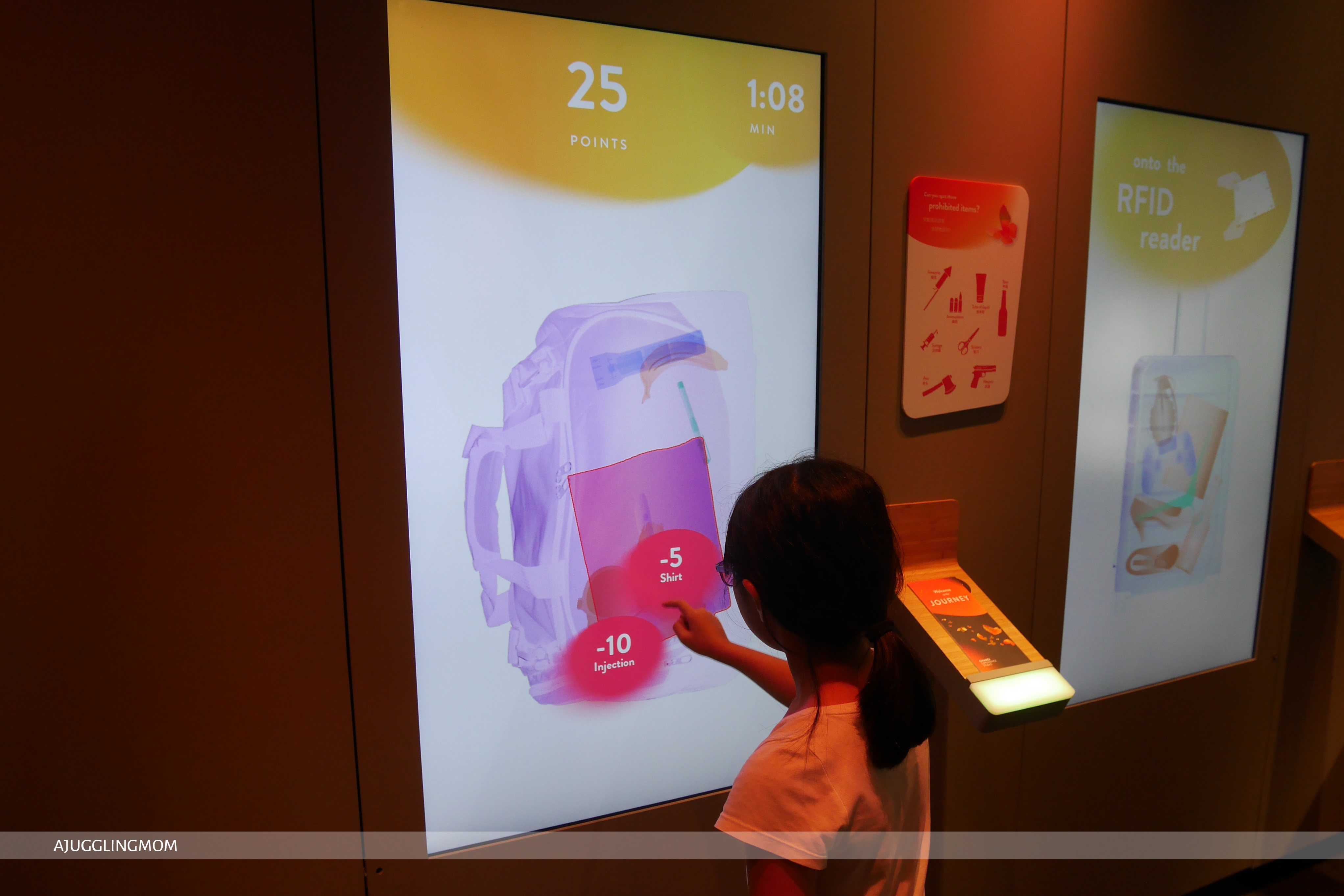 Over at Backstage, there are 4 games to try your hands on. Think you have a keen eye to spot differences in thumbprints as an immigration officer?
Our mental sums were put to the test for baggage check-in. We had to make sure we disembarked passengers, cleaned the plane and boarded the passengers as fast as we could before we ran out of time.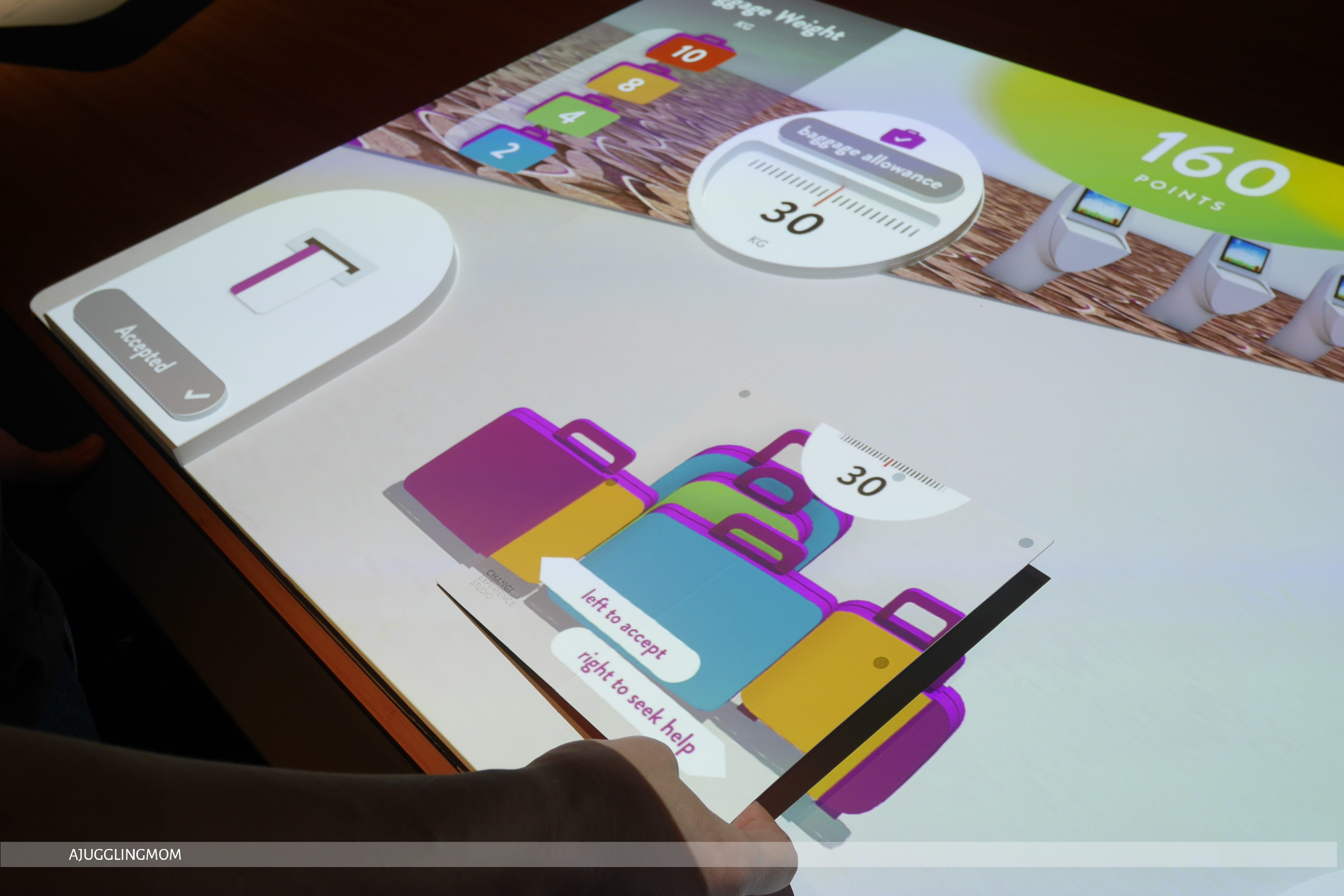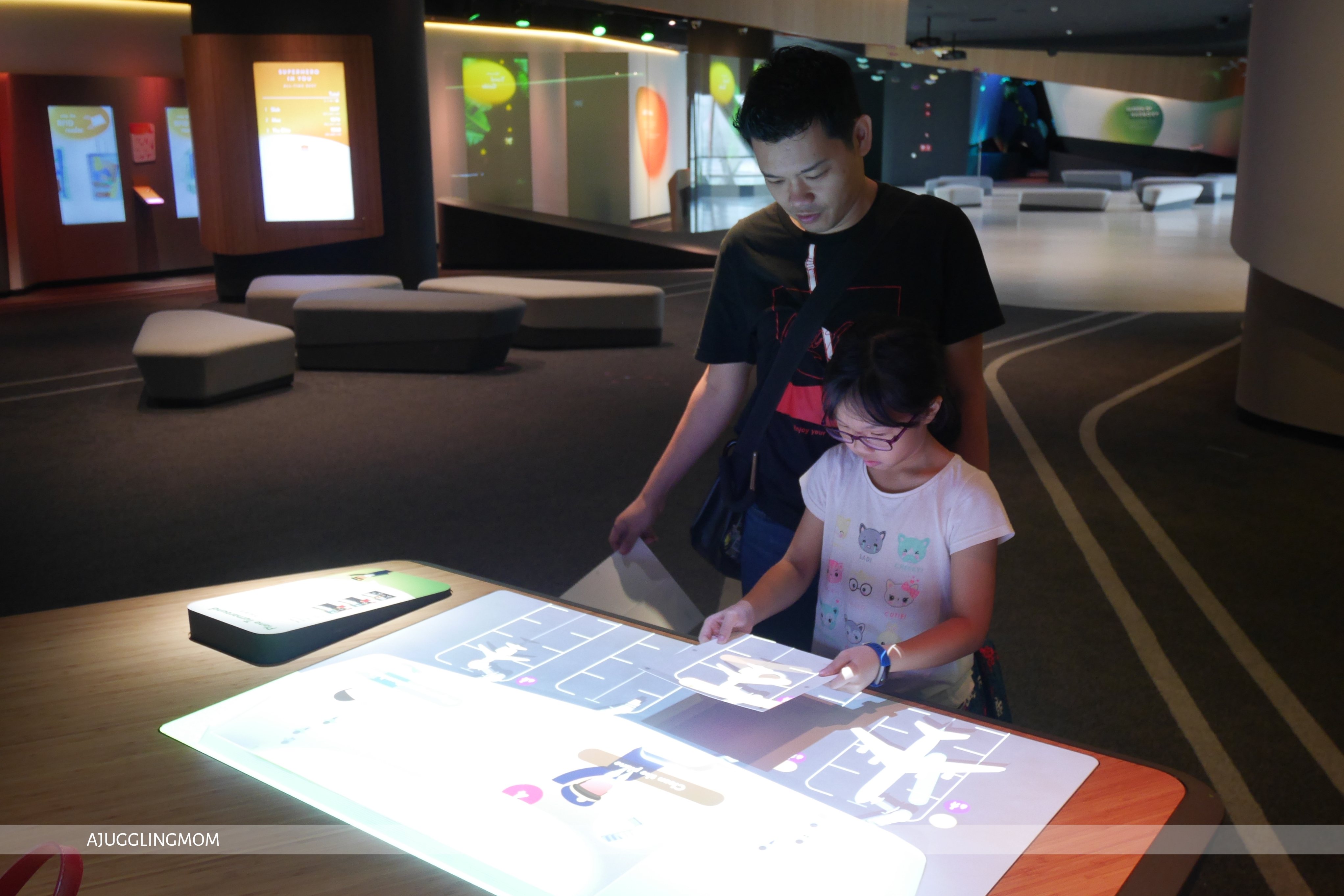 Steady hands will ace this nectar collecting game. We got to score ourselves gift shop discounts by navigating our butterflies through a trail laced with obstacles using our Travel Guide to collect as much nectar as possible. The higher your score, the higher your discount tier!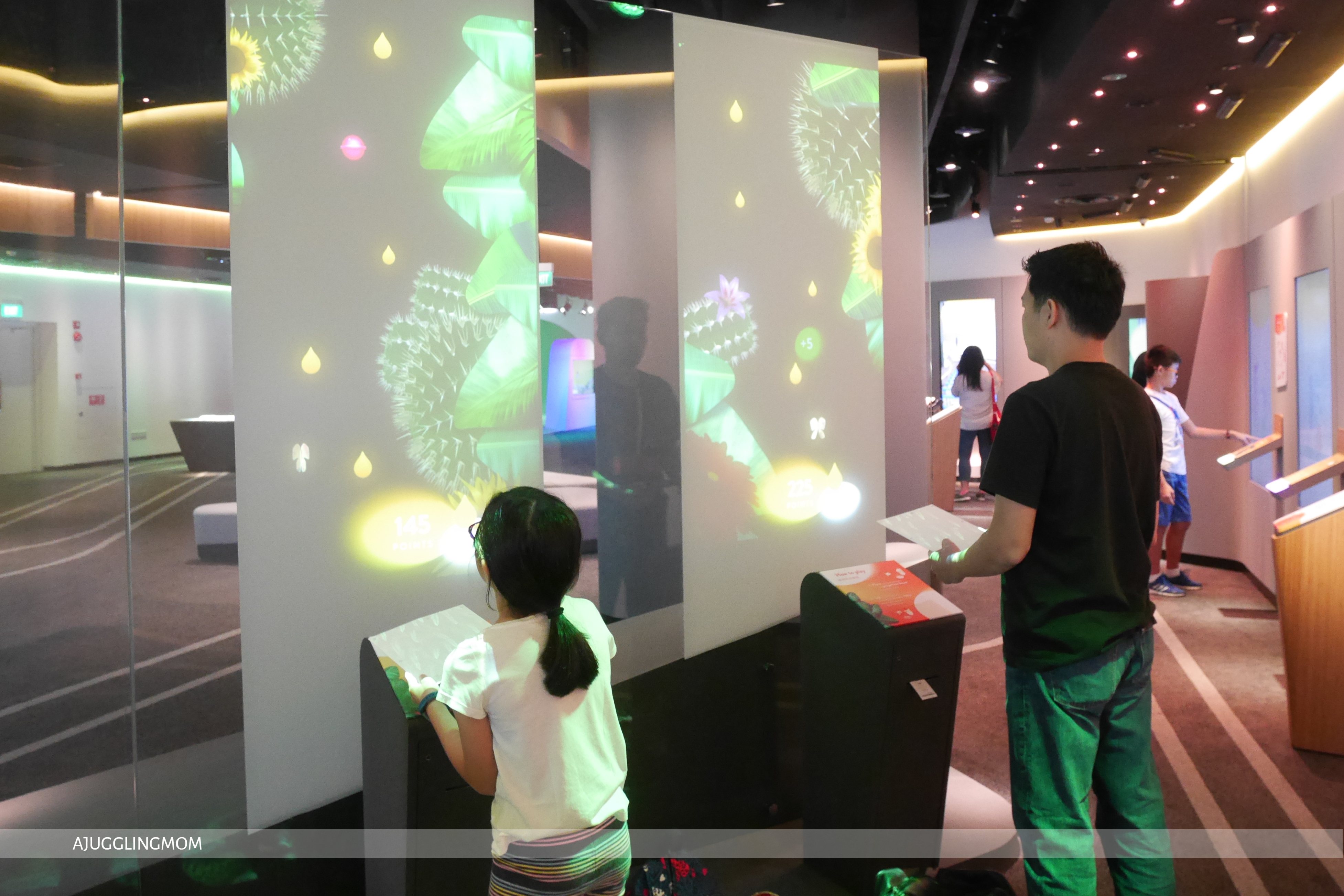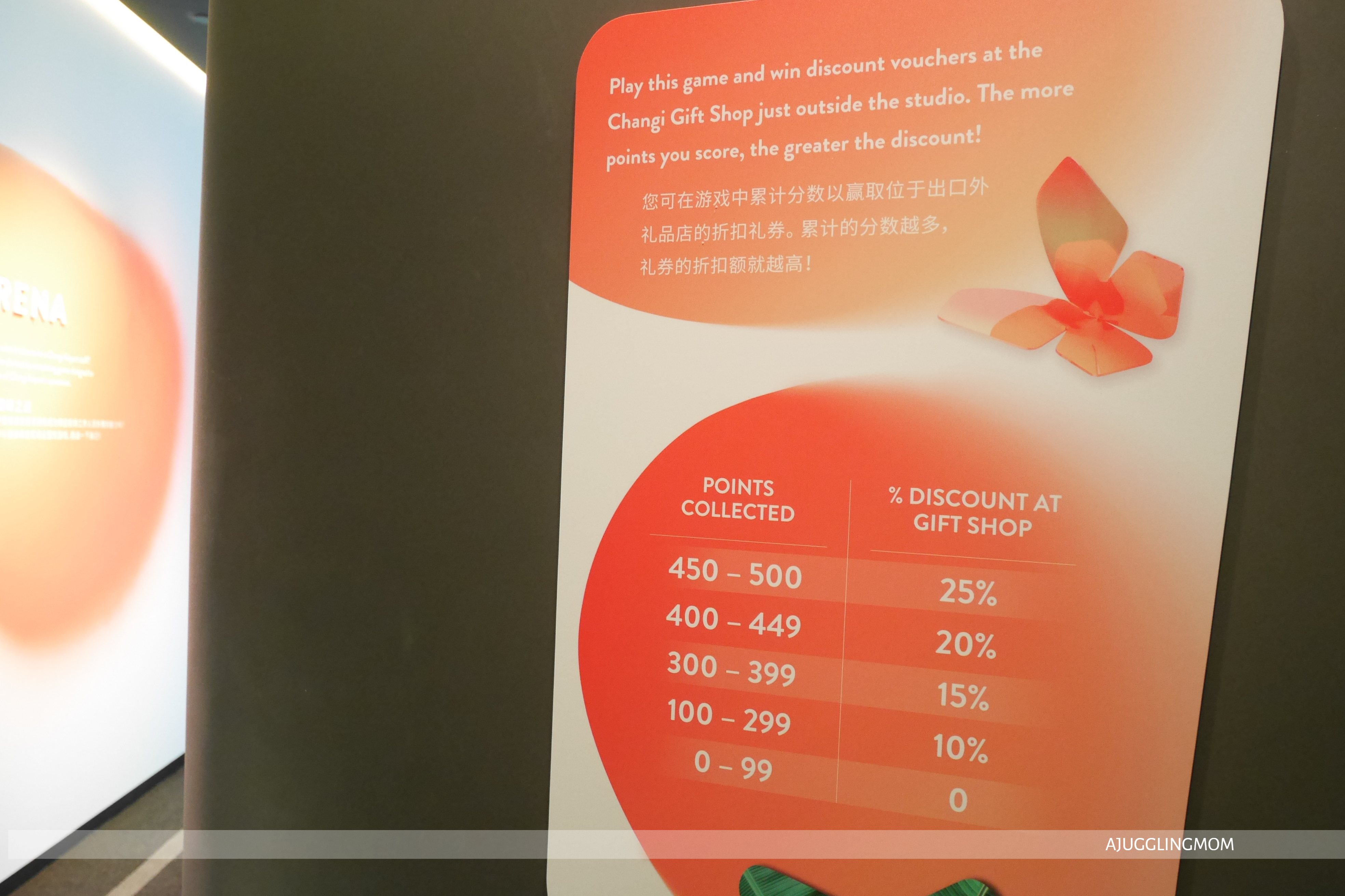 Don't leave without taking a photo against the green screen where you can be a Changi Hero in different scenarios.
We looked so ridiculous with our poses but it was really just us balancing the luggage. If you're interested to purchase your photos, you can head to the gift shop and pick them up at $10 for 3 photos.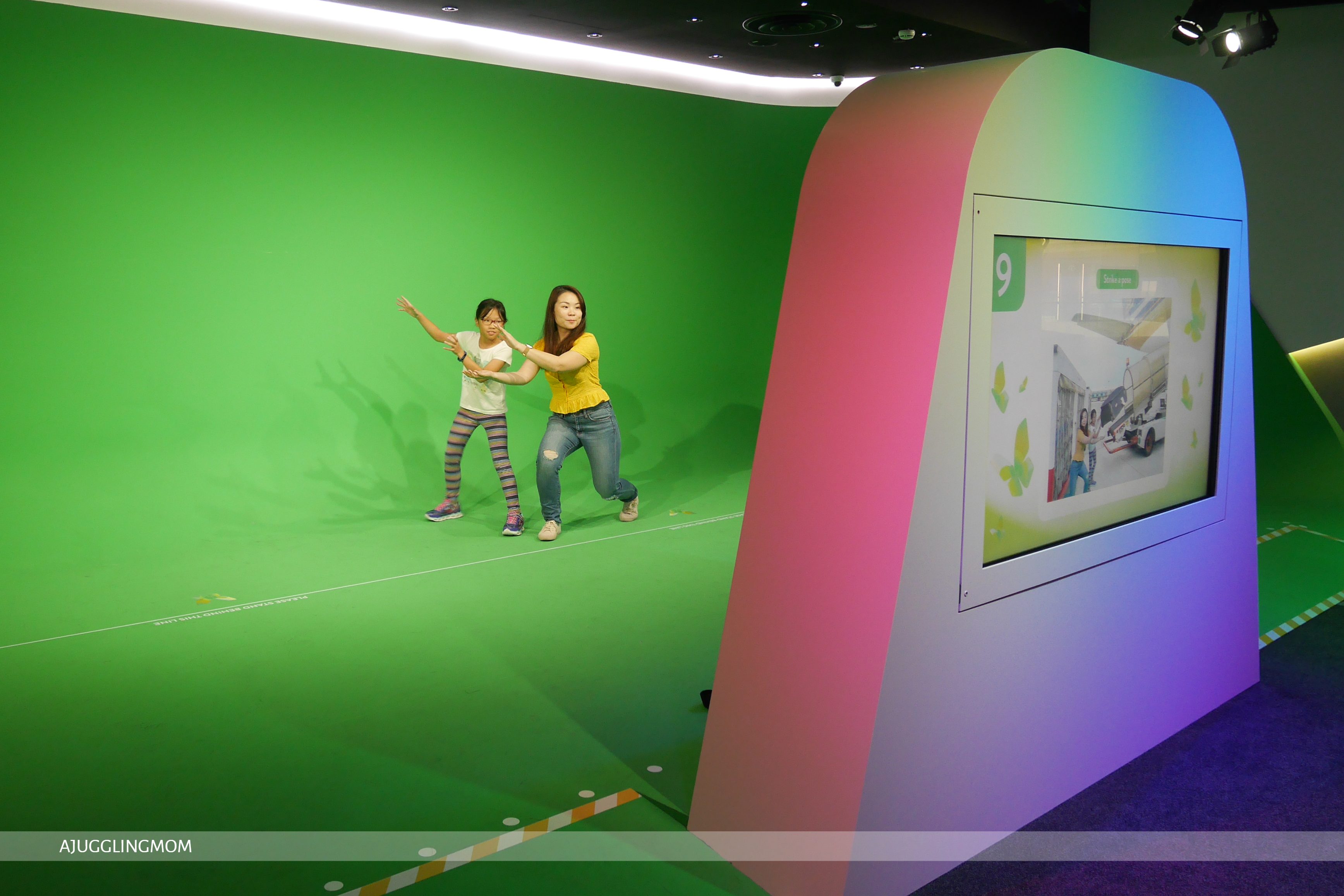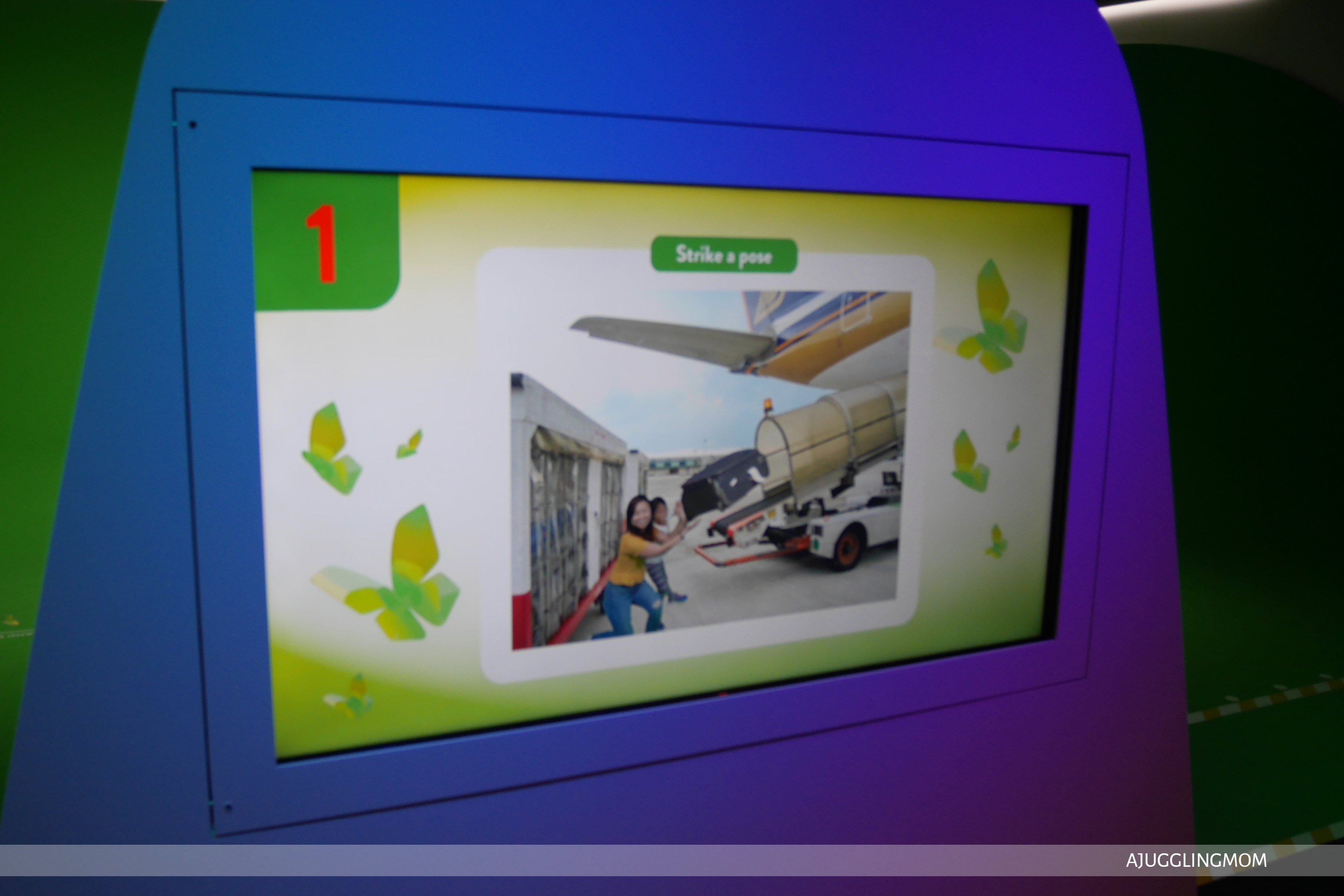 Garden of Harmony
Entering Garden of Harmony is like walking into an enchanted garden with swaying petals lining the entrance. A gentle touch on the petals awakens the butterflies where they flutter from leaf to leaf.
We got to be part of a symphony where we played different musical instruments with our Travel Guide by waving it up and down. When the music reached a crescendo, a panoramic spectacular visual and surround sound audio is projected.
The Garden of Harmony is a metaphor for teamwork, specifically how the 50,000-strong airport community across many different functions work together to deliver a world-class and seamless Changi experience for all passengers daily.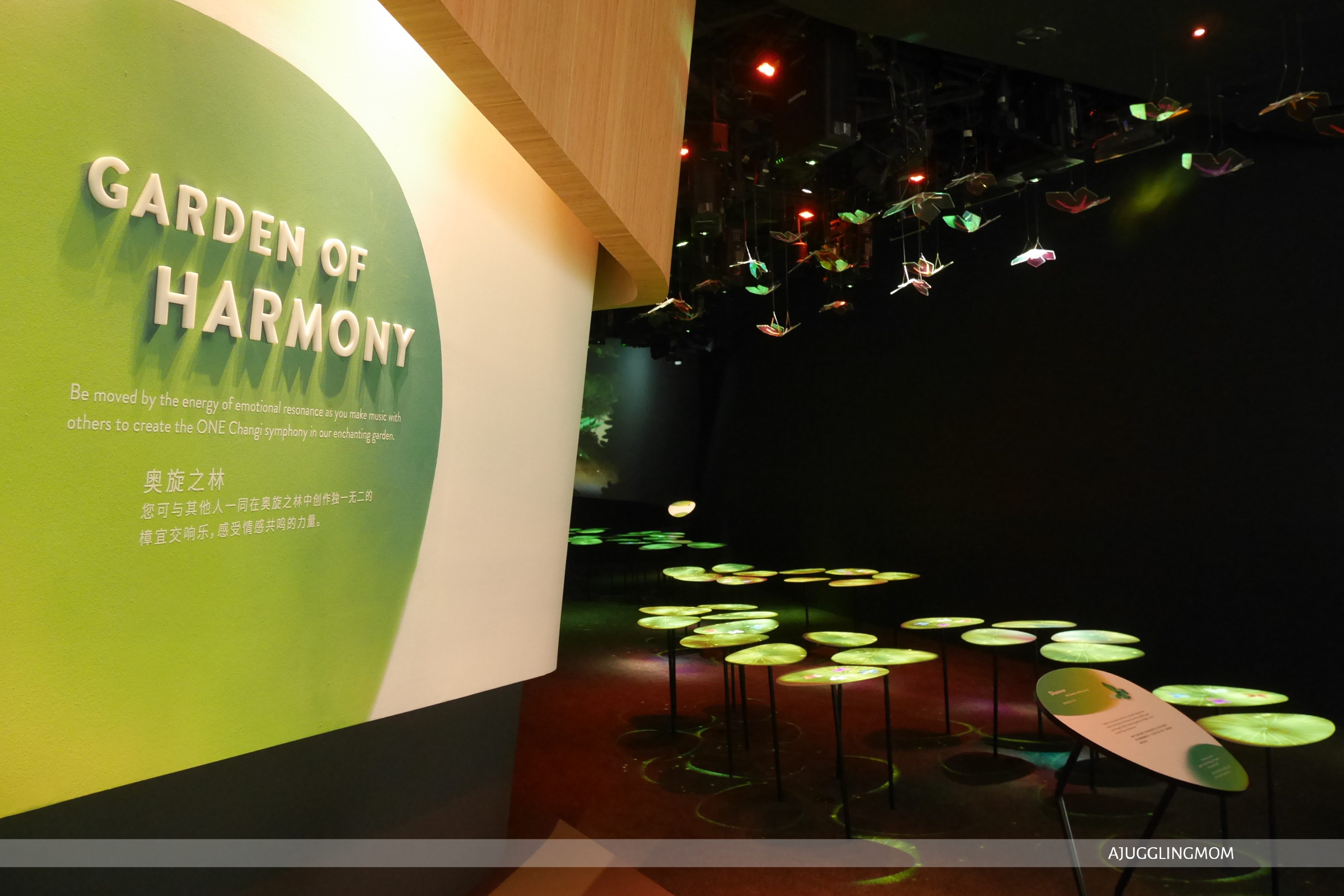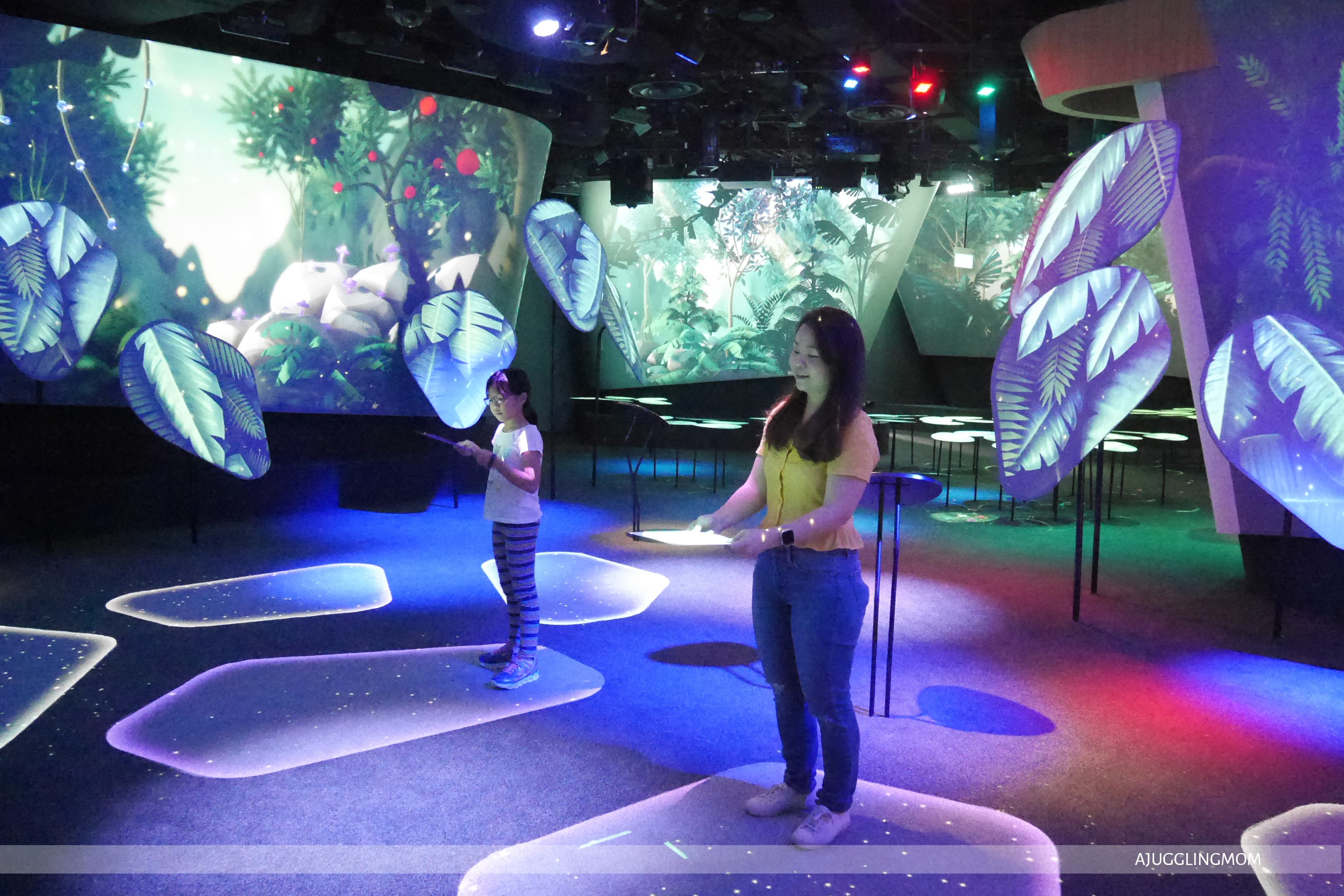 Finale
We wrapped up our visit at Changi Experience Studio, with a 3-minute immersive show that took us through the history of Changi Airport. We were taken on a time-lapse journey from the starting point of land reclamation, to present day with a peek into what the future of Changi Airport holds.
The visual were stunning and almost felt like watching an IMAX movie accompanied by dramatic sound effect.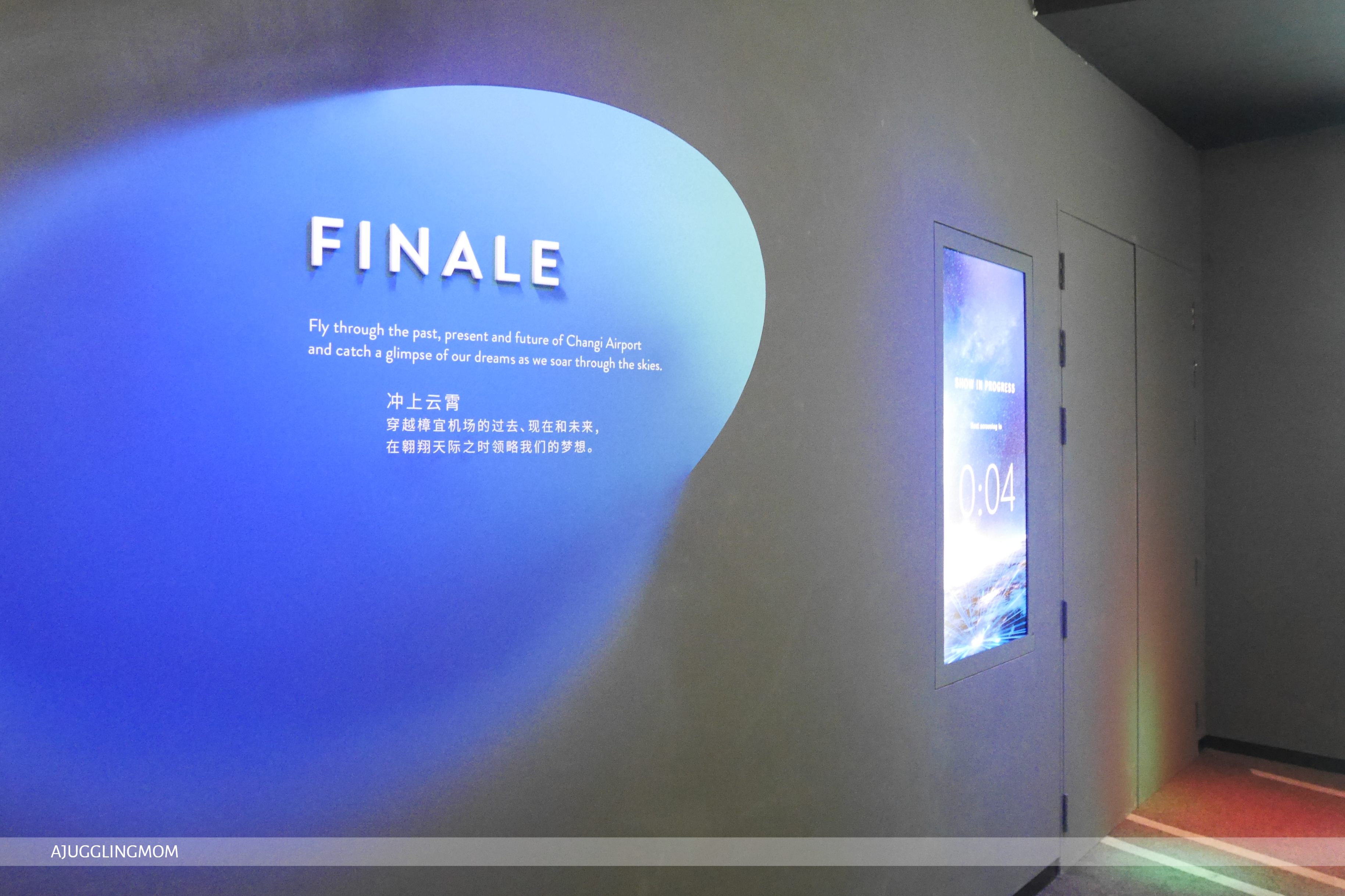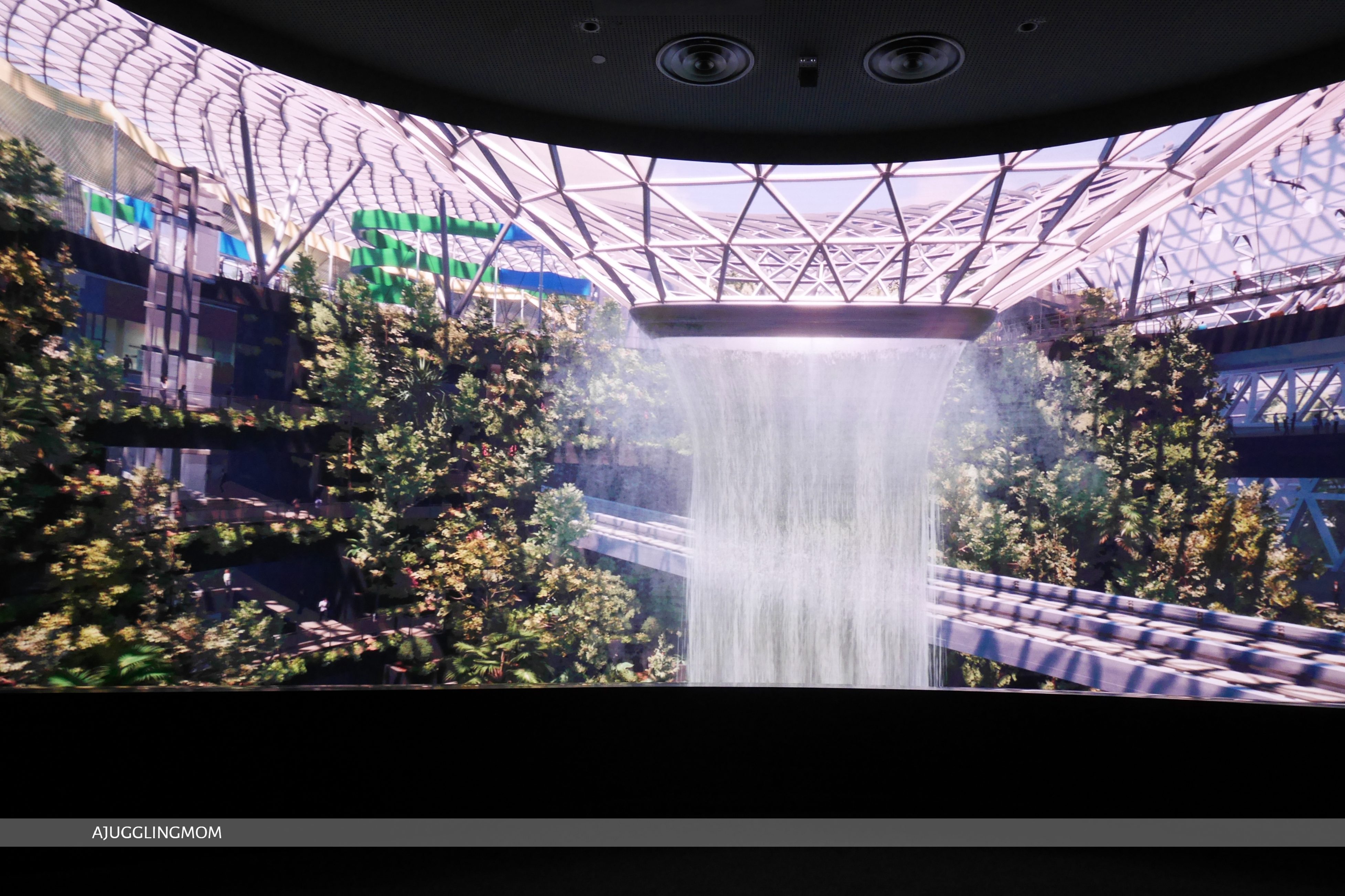 Rain Vortex
Before you leave this experiential space, make sure you spend a few moments to enjoy the prized unblocked view of the rain vortex from Changi Experience Studio.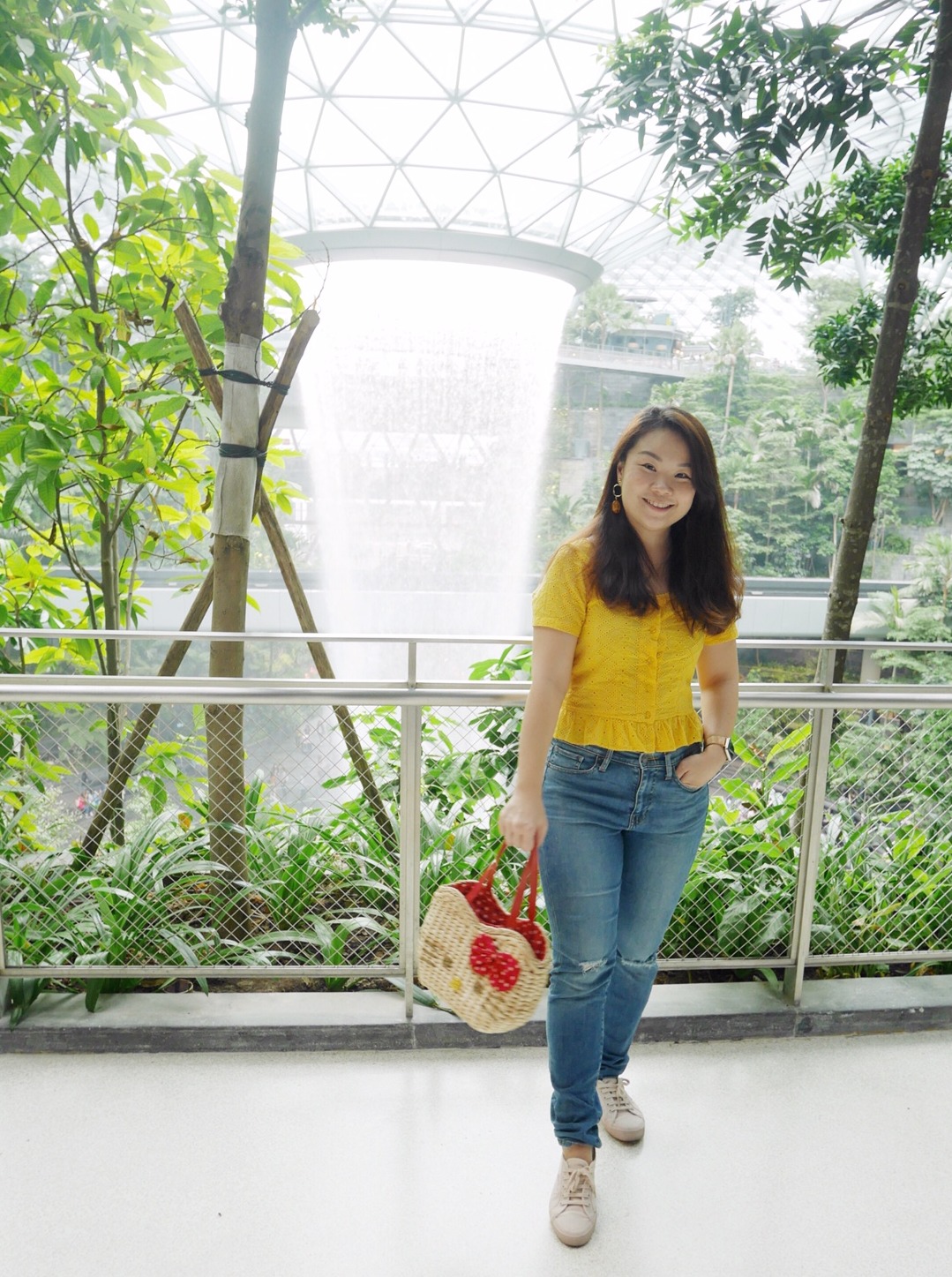 Changi Experience Studio Ticket Information
Changi Experience Studio is a ticketed attraction at Jewel Changi Airport.
Standard rates are $25 for adults and $17 for children and seniors.
Local Singapore Residents get to enjoy a special rate of $19 for adults and $13 for children and seniors.
Admission is free for children below the age of 6.
Bundled rates (including bundles with Jewel's Canopy Park) are also available and can be purchased online.
With so much to do, it's no wonder we spent 4 hours here at Changi Experience Studio. Our afternoon here exceeded my expectations and I bet you'll want to come and experience if for yourself.
 – WIN FAMILY PACKAGE TO CHANGI EXPERIENCE STUDIO – 
I'll be giving away 3 family tickets (4 pax) , where you can experience all these activities in Changi Experience Studio!
To participate, simply:
1. LIKE & SHARE this post (Facebook profile must be set to public).
2. LEAVE A COMMENT on Facebook to tell me which game ride you're most excited to take
3. TAG 3 other friends to share this giveaway with them.
This giveaway is open only to those residing in Singapore & closes on 7 July 2019 2359. You must complete Steps 1-3 to be eligible for the giveaway. All the best!
I'll be picking two winners from Facebook and one winner from my Instagram (@ajugglingmom). So do take part there to double your chances of winning!
Take note:
3 winners will be randomly chosen from Facebook and Instagram and winners will be notified via email or direct message.
This giveaway is only open to all readers residing in Singapore. This giveaway is by no means endorsed, administered or affiliated with Facebook or Instagram.
*  A Juggling Mom was invited to Changi Experience Studio at Jewel Changi Airport to write this review. No monetary compensation was received. All opinions and photos are mine.
Tagged: Changi Airport, family friendly, giveaway, media invite activities