Broadway sensation Aladdin made its Singapore premiere on 21 July 2019 for it's only Asian stop at Sands Theatre in Marina Bay Sands. We caught the musical last night and were still singing the songs and tapping our feet on our way back.
After all, it's not everyday where you get blown away by a magical razzle-dazzle Broadway performance where everything is shiny, shimmery, splendid.
From spectacular scenic sets to over 300 dazzling costumes covered in Swarovski crystals, pyrotechnics and of course a magic carpet that really flies, we were enthralled from start to end.
Aladdin, only Asian stop in Singapore
What can you expect from the musical? Here's our review.
Genie played by Gareth Jacobs fitted the role to a T! It is unthinkable how anyone can pull off this larger than life character from the animated film but Gareth did it with such finesse.
Sassy, funny, and ever ready to break out in a song and dance, Gareth had the audience captivated and bobbing along to iconic tunes like "Arabian Night" and "Friend like Me".
We were amazed by his incredible stamina as he wowed the crowds in the "Cave of Wonders" as he danced his heart out without missing a beat. The Cave of Wonders" act was a personal highlight for me as it was a visual extraordinaire.
From the lavish scenic sets to the extravagant costumes and how can I even miss out the energetic performance. You have to see it for yourself to understand why I can't stop gushing about it.
Aladdin played by Graeme Isaako was charming and passionate with a vulnerable side as he dreams of making his late mama proud in this musical.
While sidekick Abu is replaced by three friends, the change for this theatrical production brought out a soft side in this charismatic "diamond in the rough" where true friendship of brotherhood trumps his own selfish quest.
Shubshri Kandiah shone as the fiercely independent Princess Jasmine. Her portrayal as the spunky princess desiring to break away from traditions and seek her freedom was spot on as the princess we knew from the movie.
The chemistry between both leads who fall head over heels for each other was electrifying. And the climax of their romantic chase was undoubtedly sealed when they stepped onto the magic carpet to be whisked off to a whole new world.
And yes my friends, the magic carpet flew against a twinkling sky to our amazement leading everyone in the theatre to clap and cheer! I tried looking hard for clues on how it's done and conclude it's MAGIC!
Patrick Brown and Doron Chester played the scheming Jafar and his parrot sidekick Lago respectively. These goofy villain duo executed their evil schemes with perfect comedic timing and you'll be forgiven if you
My ten-year-old loved every minute of the musical. Sophie was completely captured and I could see the magic in her eyes as she watched her favourite animation come to life.
A Magic Carpet Ride Musical Not to be Missed
If you haven't bought tickets to Aladdin, what are you waiting for? The musical is a spectacular Broadway sensation upsized with all the glitz and sparkle that makes it a magical carpet ride for both young and old.
There are only 50 shows and they will only be playing in Singapore until 1 September 2019.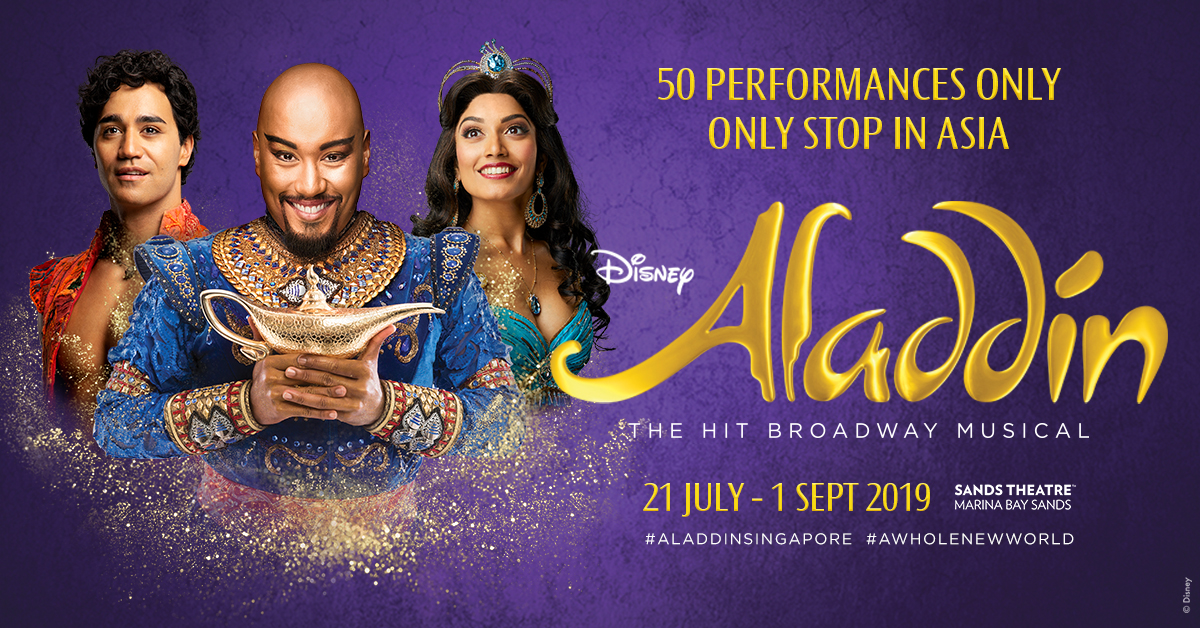 Aladdin in Singapore Ticketing Info
Dates: 21 July – 1 September 2019
Show times: Tue – Fri: 7:30pm, Sat: 2pm & 7:30pm, Sun: 1pm & 6:30pm
Friday 9 Aug performance will be a matinee at 2pm.
Venue: Sands Theatres at Marina Bay Sands
Duration: Approximately 150minutes (including 20 mins interval)
Ticket Pricing: Prices start from S$68
Book your tickets for Aladdin the Musical through Sistic website.
*  A Juggling Mom was invited to Aladdin the Musical to write this review. All opinions and photos are mine unless otherwise stated.
Tagged: family friendly activity, musical, performance, the Arts