We took a short trip to Johor Baharu recently during the December school holidays and had to visit Legoland Malaysia Resort for 2 reasons.
#1 The Brick-tacular Christmas celebration
#2 The world's first Lego VR roller coaster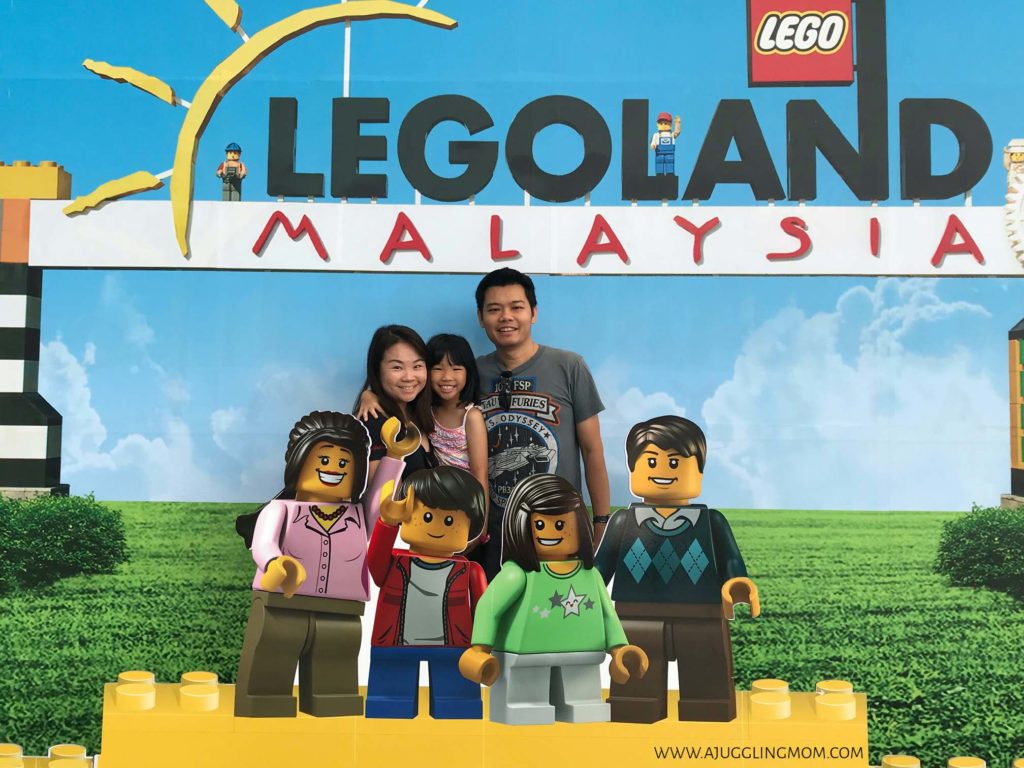 December is a special month at Legoland as there's something for everyone, every day in the last month of the year.
They say that the early bird catches the worm and in our case we got to catch the Christmas parade when the park opened at 10am.
There was a festive mood in the air as the playful elves pranced along with Lego Characters such as Santa Claus, Kai from Ninjago, Pirate, Dracula and Frankenstein to the lively beat of the song. The song had a catchy rhythm to it and visitors were seen clapping and swaying their bodies along to the music.
But it's rather telling that some of these characters look out of place and they ought to have a Gingerbread man and Nutcracker for the Christmas season don't you think?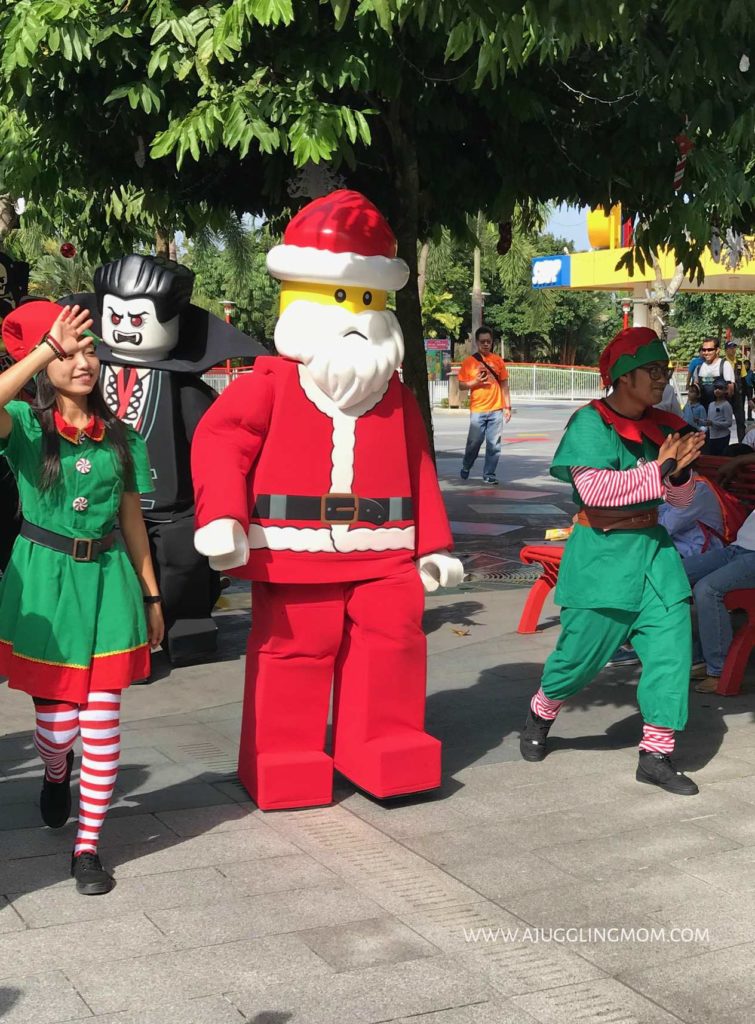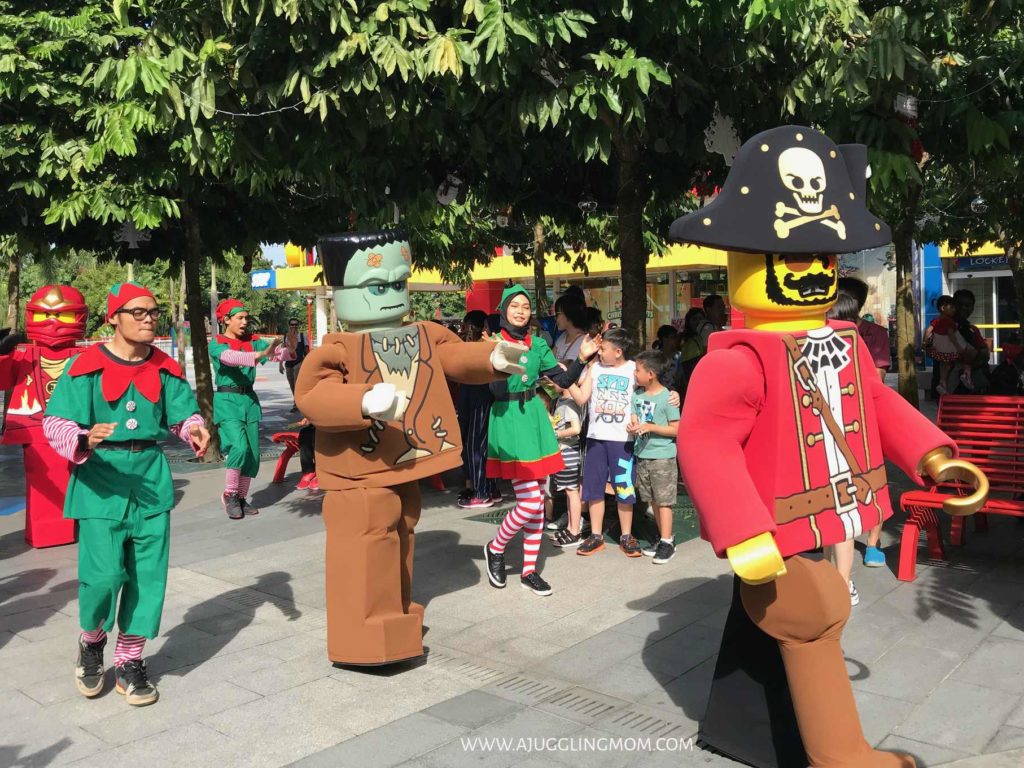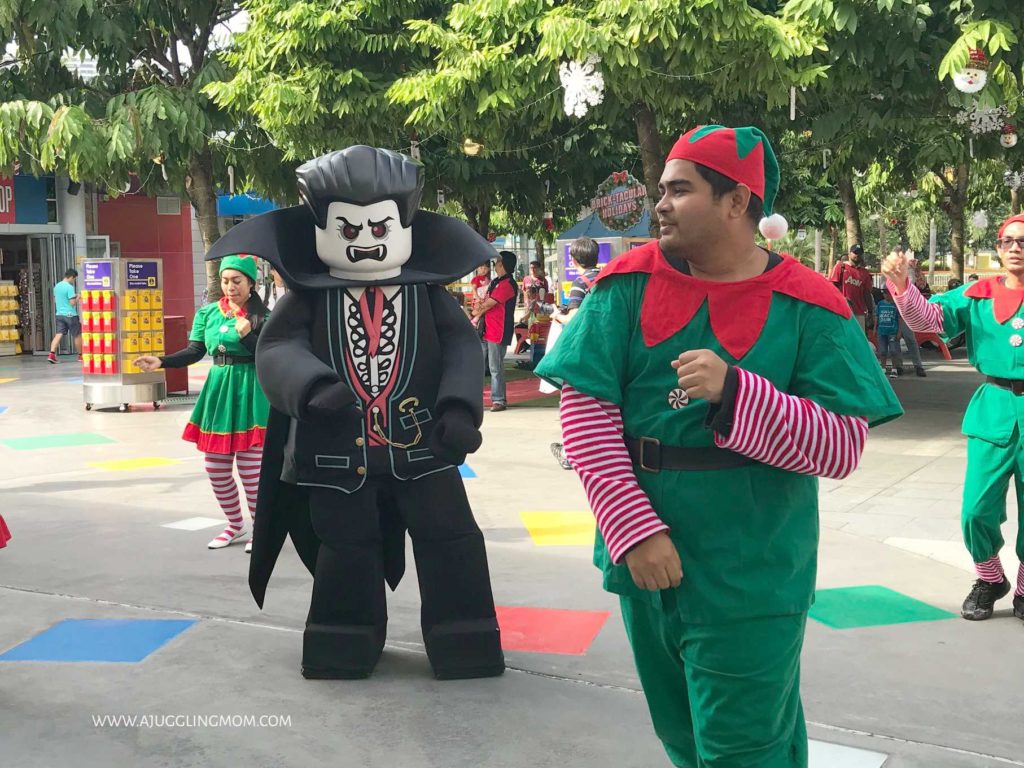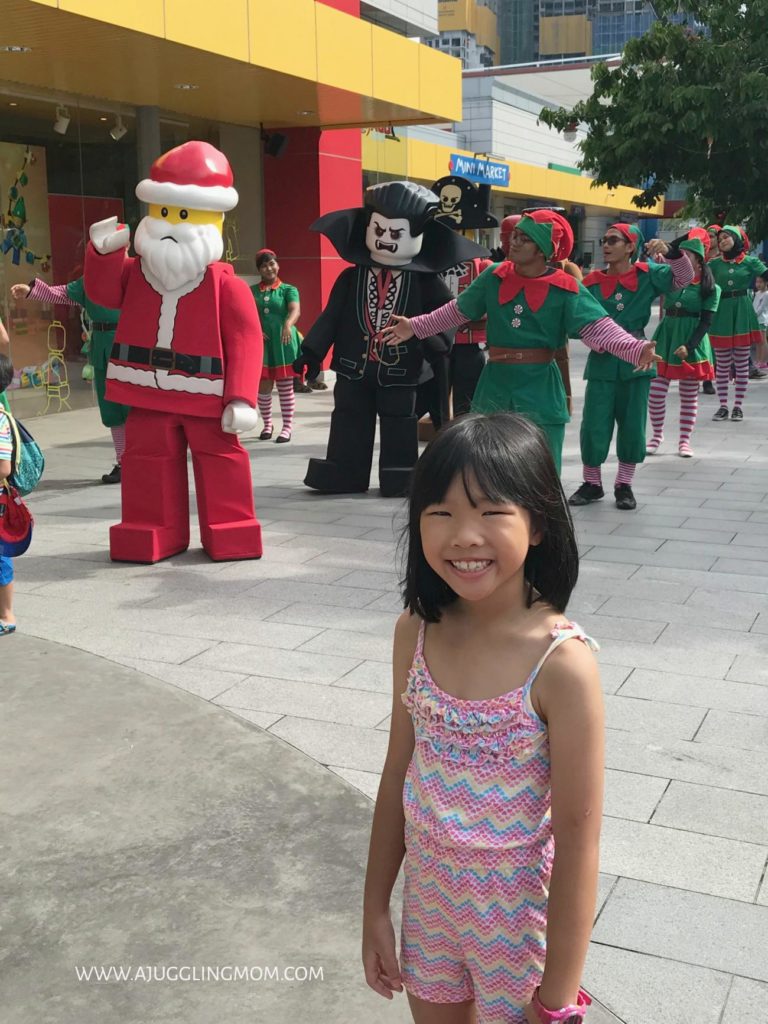 We snapped a few photos near the entrance of the park with these adorable elves, reindeers and nutcrackers before dashing into the park. Arent' they just the cutest?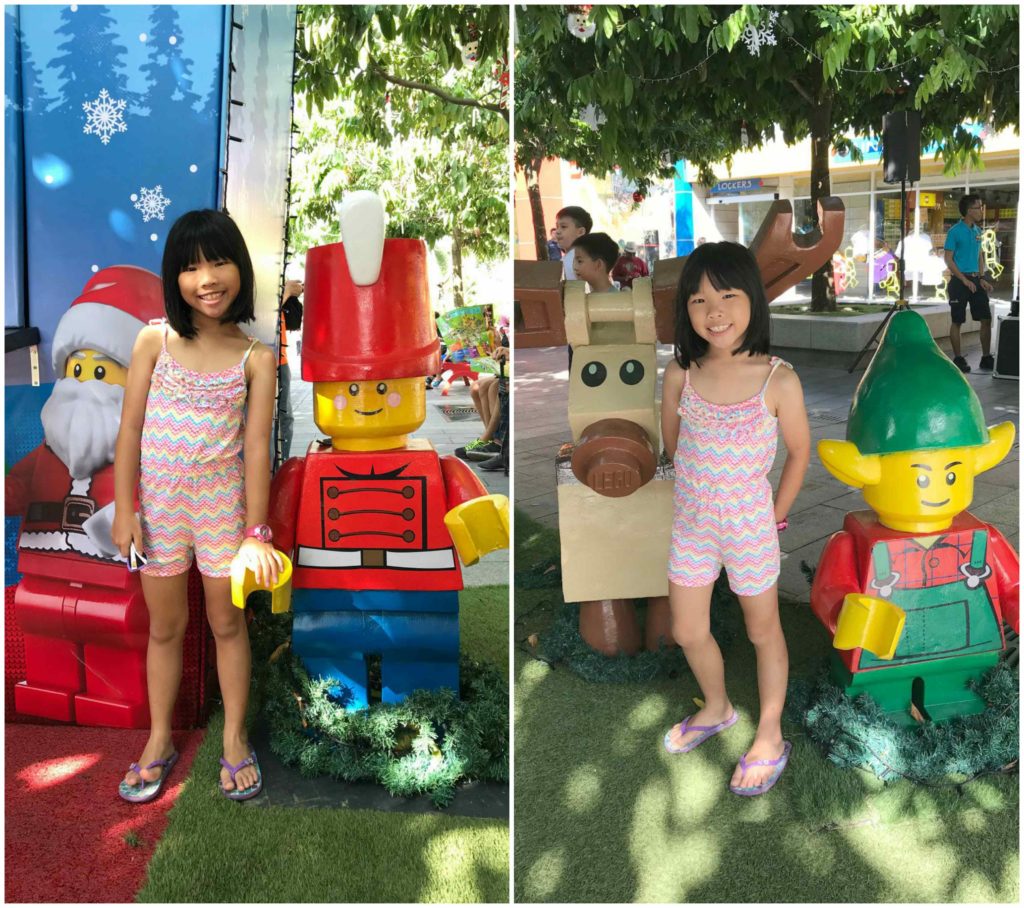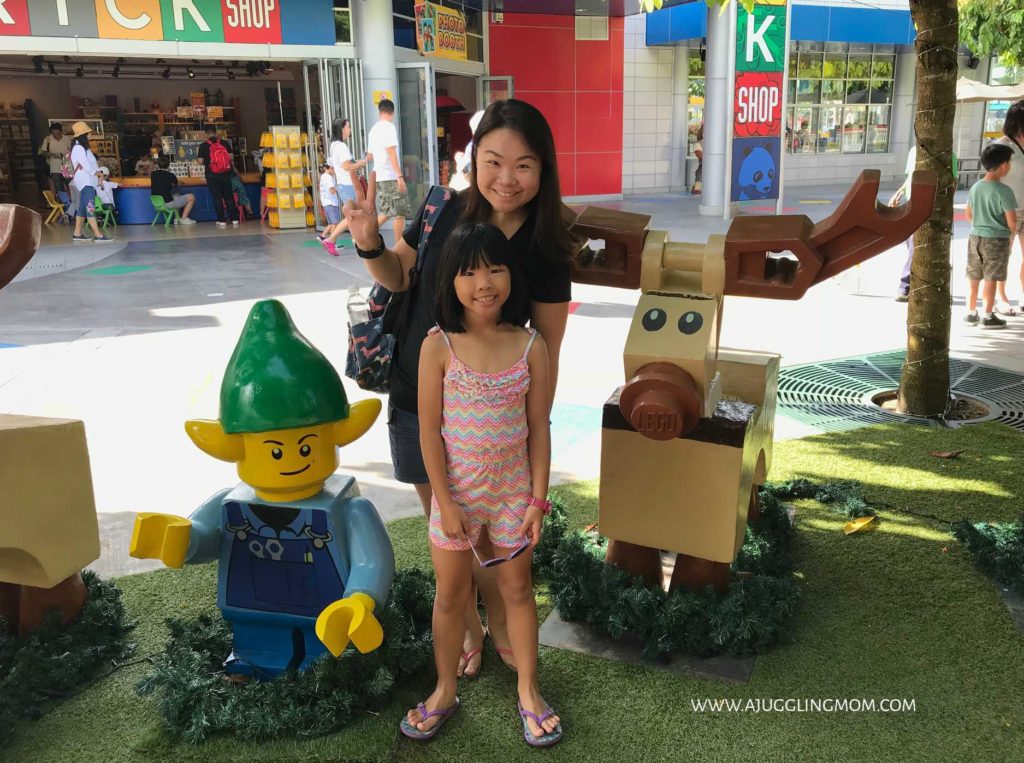 World's first LEGO® VR roller coaster
So where did we dashed off to? It was to get in queue so that we can snag bragging rights for taking the world's first LEGO® VR roller coaster!
Hubby got super duper excited when he heard about this latest ride as he's a roller coaster junkie and loves all sorts of VR, AR, kind of technology.
To prove my point, he gamely posed for these photos with Sophie when I told him we are going on the Great Lego Race. If only, it was this easy to get him to pose for photos all the time 😛
Just in case you're wondering, you can choose not to put on the VR goggles for the roller coaster ride. But seriously where's the fun in that?
For kids who are above 110 cm but have yet to reach 120 cm, they will not be able to wear the VR goggles.
As with every new attraction in Legoland, be prepared to wait for this new ride as everyone has has their sights on it. We waited for around half an hour and thankfully this was in the comfort of an air-conditioned and sheltered area. In fact, kids can be kept occupied as they queue and they can even play with … no surprises, Lego as they wait in line.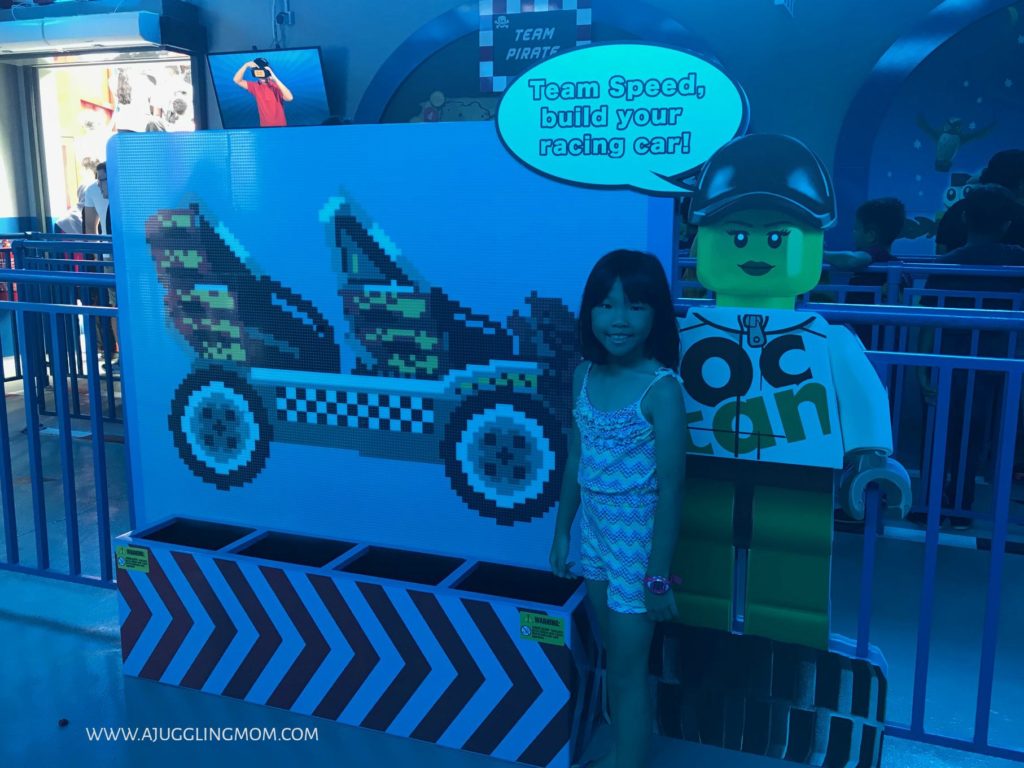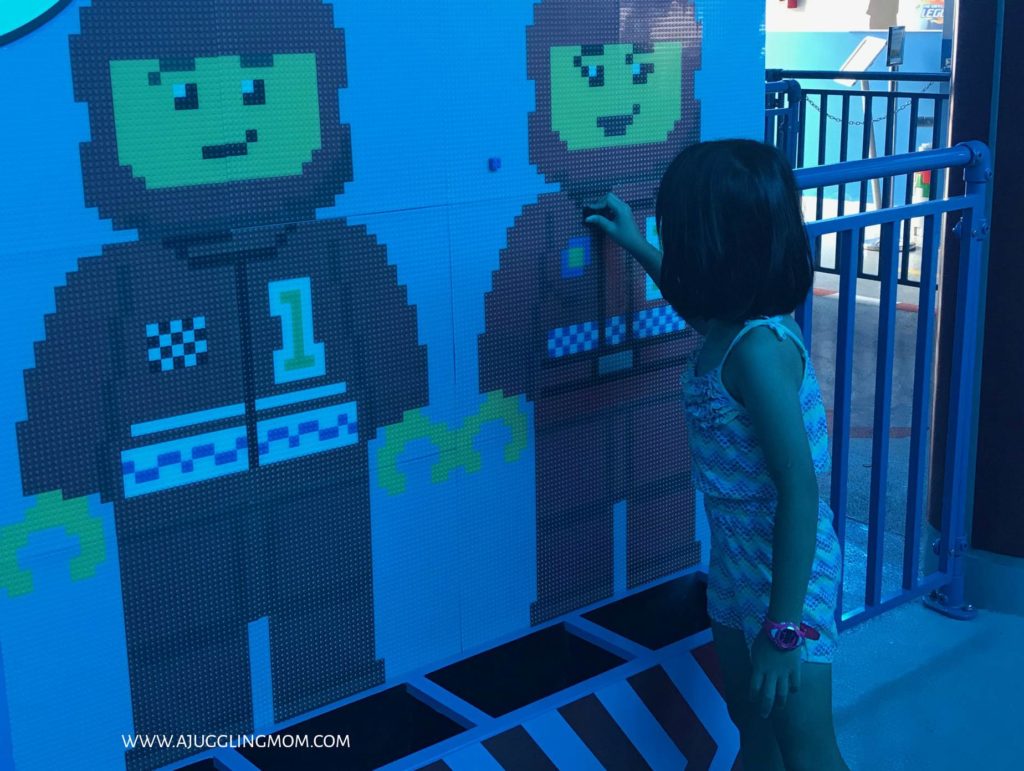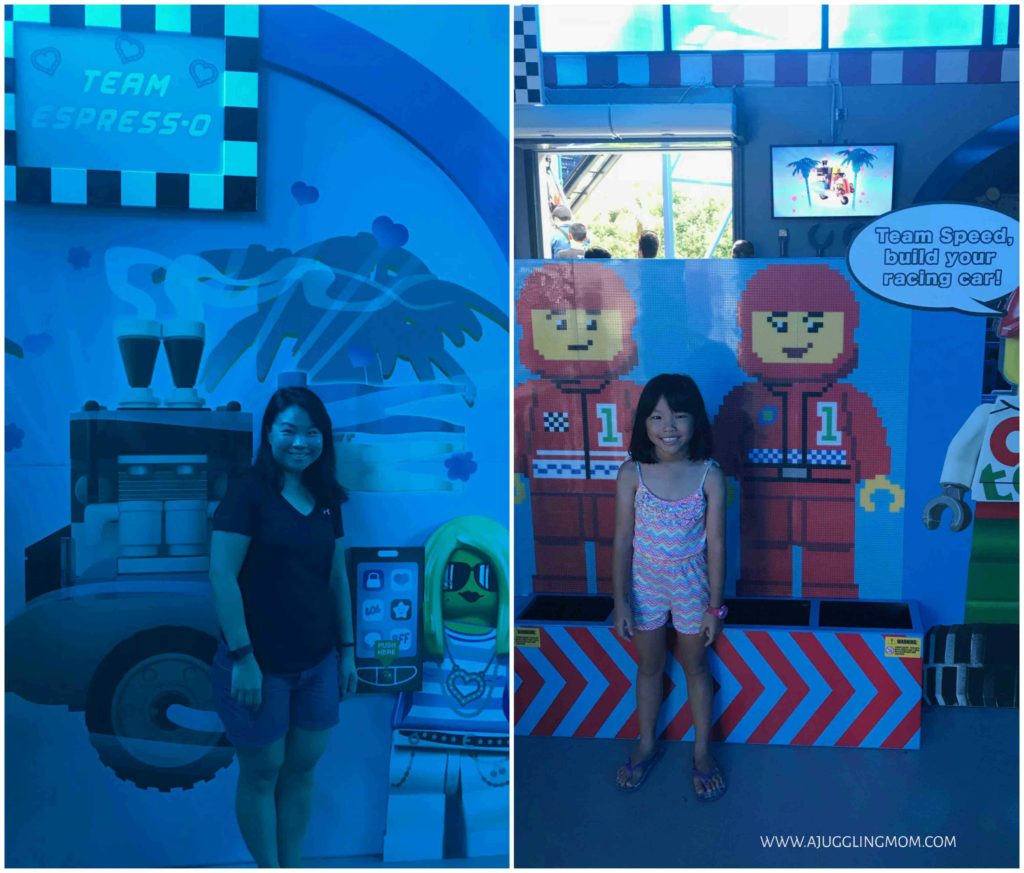 As we waited, we got a preview of what's to be expected on the ride. From the picture below, here's what you'll be seeing while on the roller coaster.
While giving it all away, you'll be one of the racers at the Great Lego Race and will be neck to neck with other teams as they vy for the winning title for the race of a lifetime.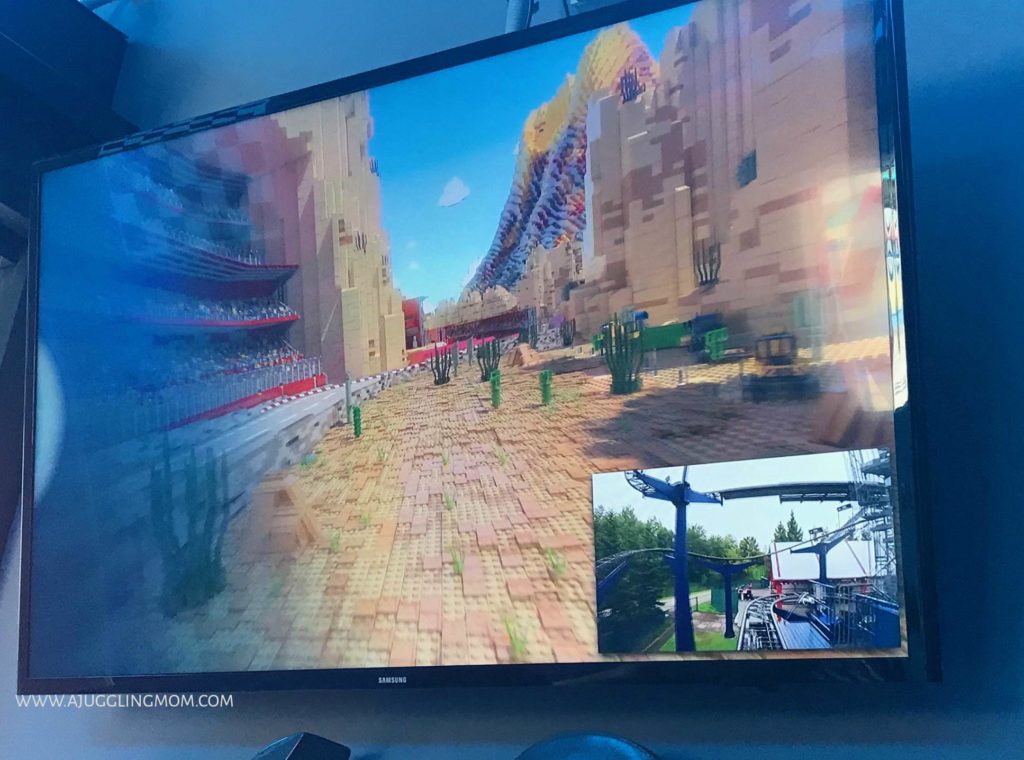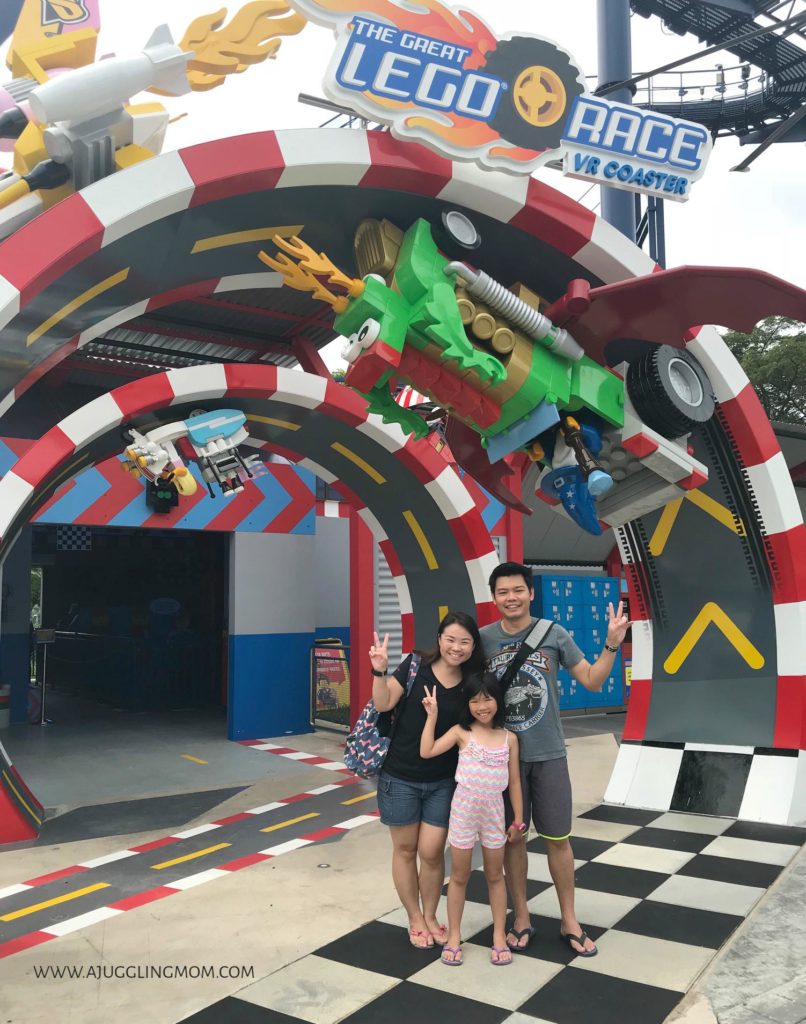 Our verdict for the VR roller coaster?
It gets 5 gold stars from us!
It was a totally different experience putting on the VR goggles on the roller coaster and not knowing when's the next turn, or dip coming ahead as you're fully immersed in the story. The very fun race story seemed to make the roller coaster go faster than I recalled from before as it was accompanied by sound on the headphones which completed the incredible experience with our adrenaline all pumped up.
I was laughing out loud literally as it looked like my vehicle was about to crash in the race and have to avoid strange obstacles and also go on tracks where the Lego characters are rushing to build ahead of me.
The Lego VR Coaster is definitely a must try if you're planning to head to Legoland soon!
LEGO® NINJAGO™ The Ride
Another relatively new attraction that we tried on this visit was Lego Ninjago The Ride.
This is yet another fully immersive ride that we enjoyed on our visit. And did I mention it's also 4D and interactive?
In this ride, visitors get to become their favourite Ninjago character and defeat enemies, under the guidance of Master Wu by using hand gestures. You know the same kind of hand gesture when you go, "Sat, sat, sia."  >.<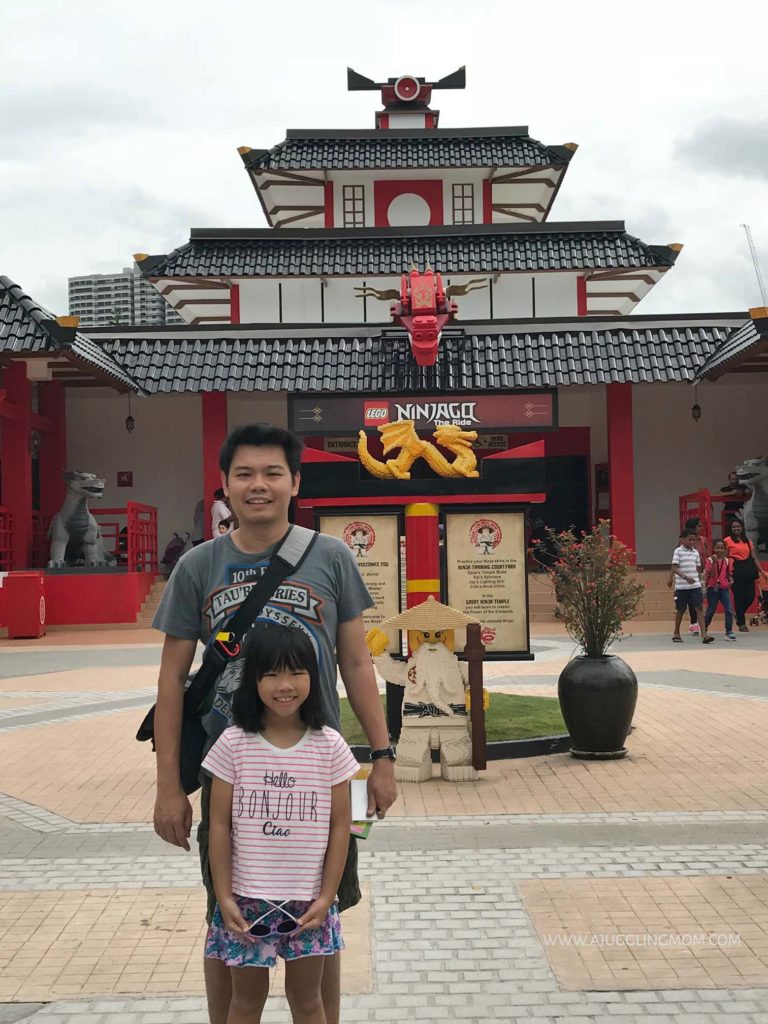 We came out with slightly aching arms and laughed a whole lot when we saw the photo taken of us while on the ride.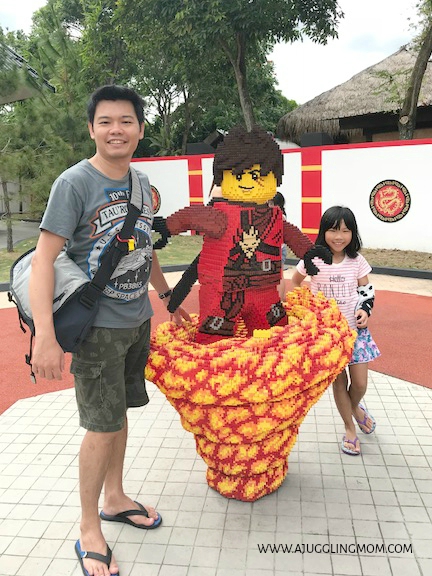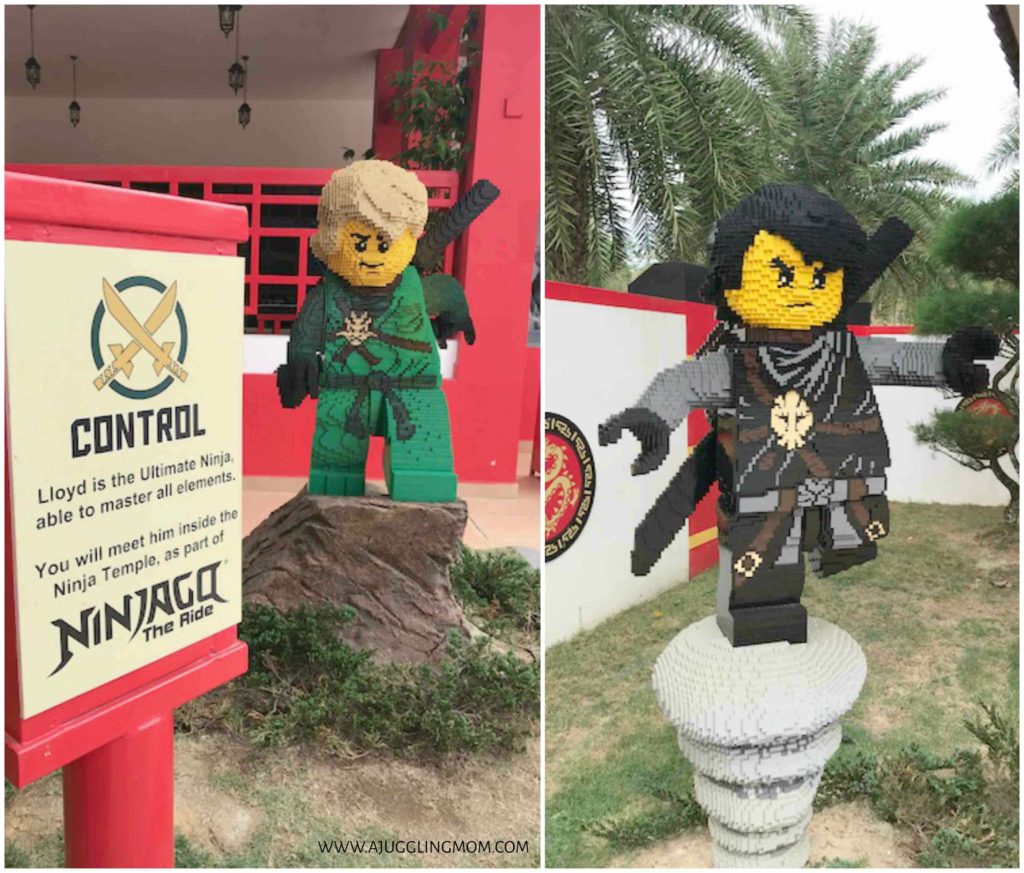 Before the day ended, we made our way to the Advent Calendar Draw which takes place every day in December. The prizes are very attractive from hotel stays, electronics, exclusive Lego merchandise and the grand prize is a 4D3N stay at Legoland Japan!
While Alexis filled in the lucky draw form, I snapped some photos of this Lego decorated Christmas tree. This gives me all kinds of idea for my own Christmas tree.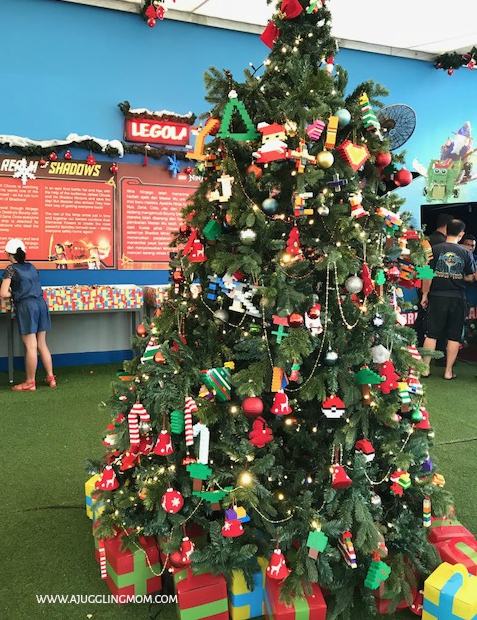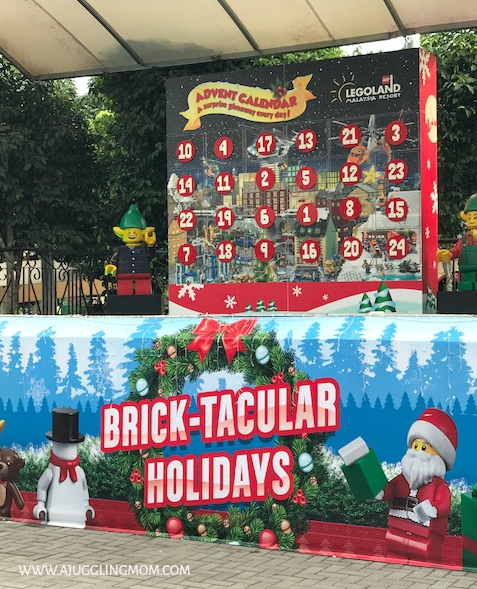 Before the lucky winner for the Advent Calendar Draw was drawn there was also a Christmas show as well and you'll be in for quite a treat with song and dance.
The host kept the audience entertained throughout and many kids also took part in his Q&A and won themselves Lego key chains.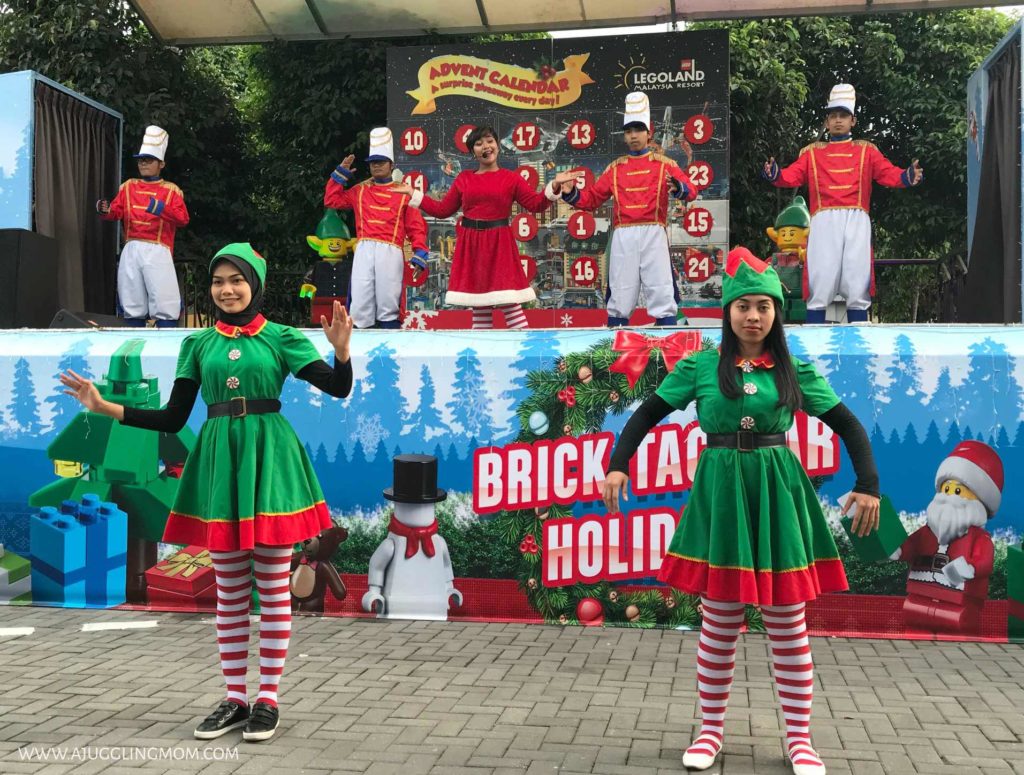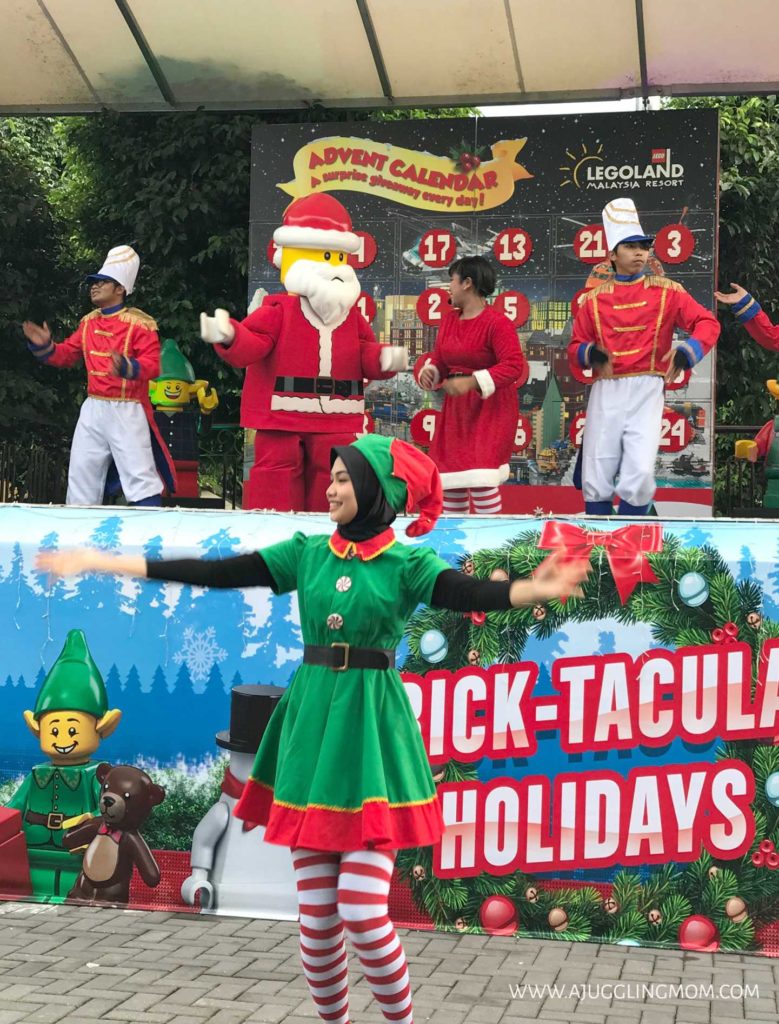 You definitely can't miss the finale for the day as the 30 feet Christmas tree put together with over 270,000 Lego and Duplo Bricks lights up to a dazzling display. The parade ended with a huge group photo with Lego Santa and his elves.
Can you spot Sophie? 🙂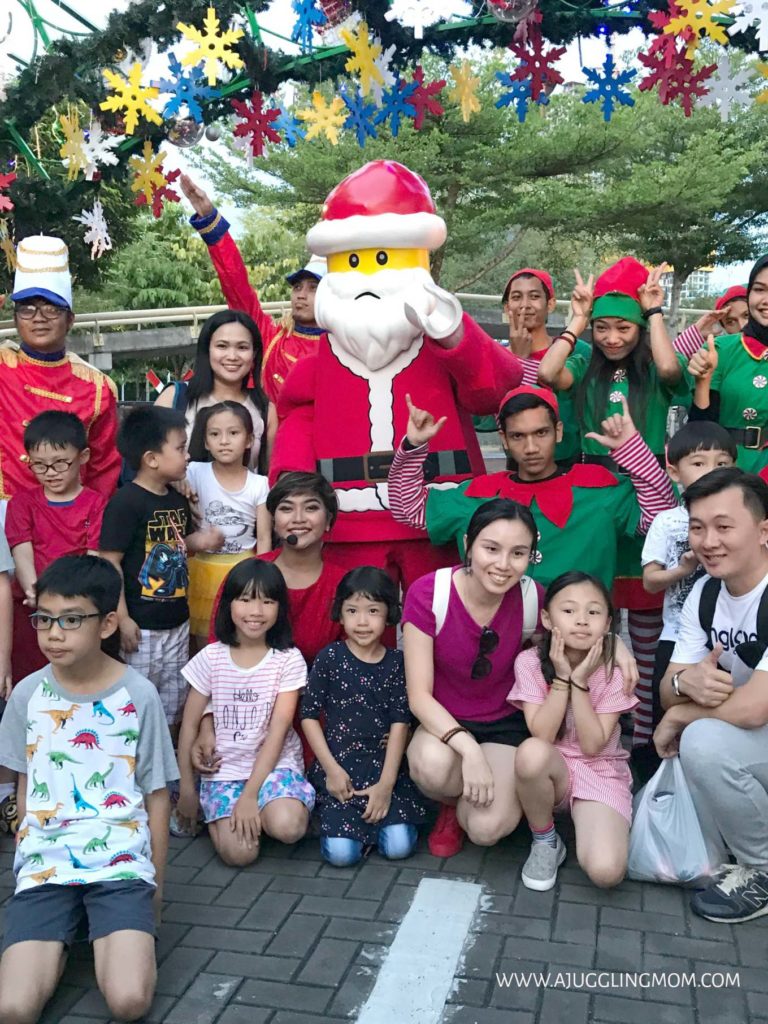 But the festivities will continue all the way to 31 December 2017 and on the last day of the year, there'll even be 3D firework display to send off 2017 and welcome 2018!
With so many exciting Christmas and year end programs lined up, make sure you don't miss them at Legoland Malaysia.
LEGOLAND Brick-tacular Promotions
The good people at Legoland also mentioned that all guests are able to get their hands on an awesome Annual Pass deal of up to 40% from now till 31 December 2017.
What's more, the deal is even better for Premium Annual Pass which gives you unlimited access to the Legoland themepark and water park. This special deal runs exclusively on the official website of Legoland Malaysia during the last 10 days of 2017, just in time to make Brick-tacular Celebration even more awesome.
Annual Pass Deal Details (for international visitors):
Details
Awesome Pass
Premium Pass
Adult/Child
Adult/Child
Regular Price
RM395 (S$130)
RM520 (S$171)
NEW ANNUAL PASS DEAL (only for online purchases)
RM237 (S$78) – 40% OFF
RM362 (S$119)
*Terms and conditions apply. *Prices vary with exchange rate.
For further information on this flash deal, please visit this link.
*A Juggling Mom received complimentary tickets to Legoland Brick-tacular Christmas celebration . No monetary compensation was received. All opinions and photos are my own. 
Tagged: christmas, Christmas 2017, Legoland, Legoland Malaysia, Legoland Theme Park