Alexis birthday often goes unmentioned on my blog because he doesn't like to get reminded that he's getting older no matter what I tell him about men aging like fine wine. But since I took him somewhere fancy last year to celebrate his birthday, I have to make sure this goes on the blog so he'll remember that he's not the only one who can pull off birthday surprises. And the venue I chose, Salt Grill and Sky Bar at Ion Orchard for a sky high treat.
Located on the 55th floor of Ion, the Salt Grill and Sky Bar makes a choice location for gastronomic celebrations with a view, even with kids in tow. I was initially hesitant to have Sophie join us for lunch because the restaurant didn't give me the impression that they were family-friendly and welcome kids. In fact, I hardly came across any blogs that did a review on a family dining experience too. But after I did my research on their website, I was delighted to find out that they have a kids menu. So yeah, Sophie gets to join in Daddy's birthday celebration with us!
While I heard that the night scenery is breath taking, we opted for lunch because how romantic can it get when you have your daughter along, plus they serve set lunch at S$49 ++. 
To ensure we secure a window seat by the restaurant, I made an advance reservation and am so glad I did because the bird's eye view from above was simply magnificent. 
We were promptly ushered to our table once we arrived at the restaurant and after we had our orders taken, we enjoyed some chips and bread with olive oil and dukkah.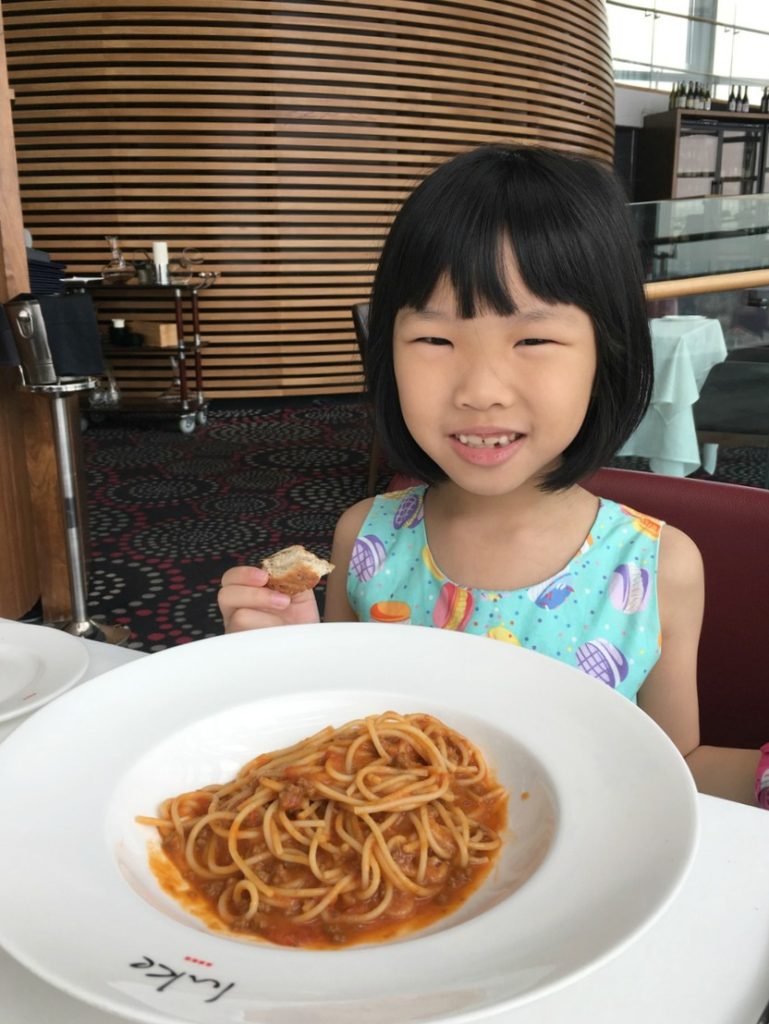 The kids menu was pretty simple with just 4 options (S$25 each), and one of them was spaghetti bolognese which Sophie ordered.
For our entree, Alexis ordered the 'glass' Sydney crab omelette in miso mustard broth while I had the seared scallop accompanied by cauliflower puree in XO sauce, broccolini, topped with pork crackling.
I enjoyed every mouthful of this as the scallops were seared to perfection and the flavours were so rich and delightful.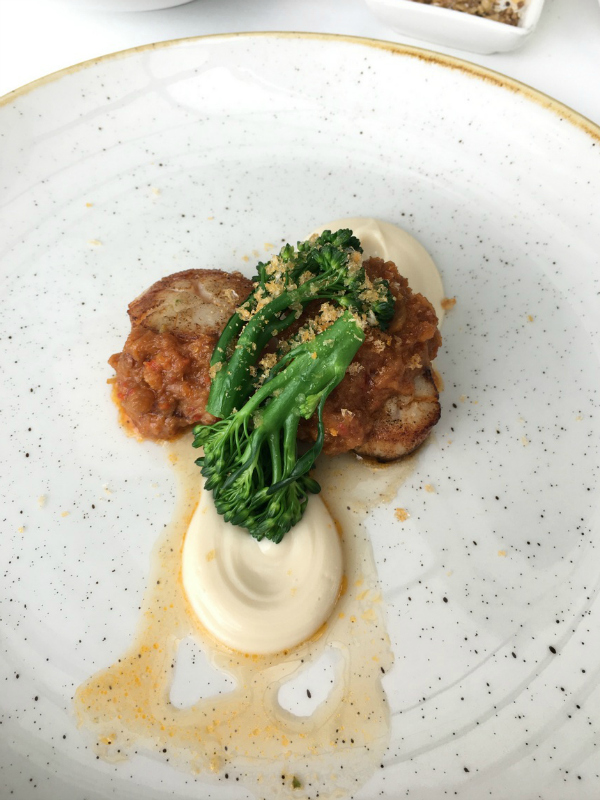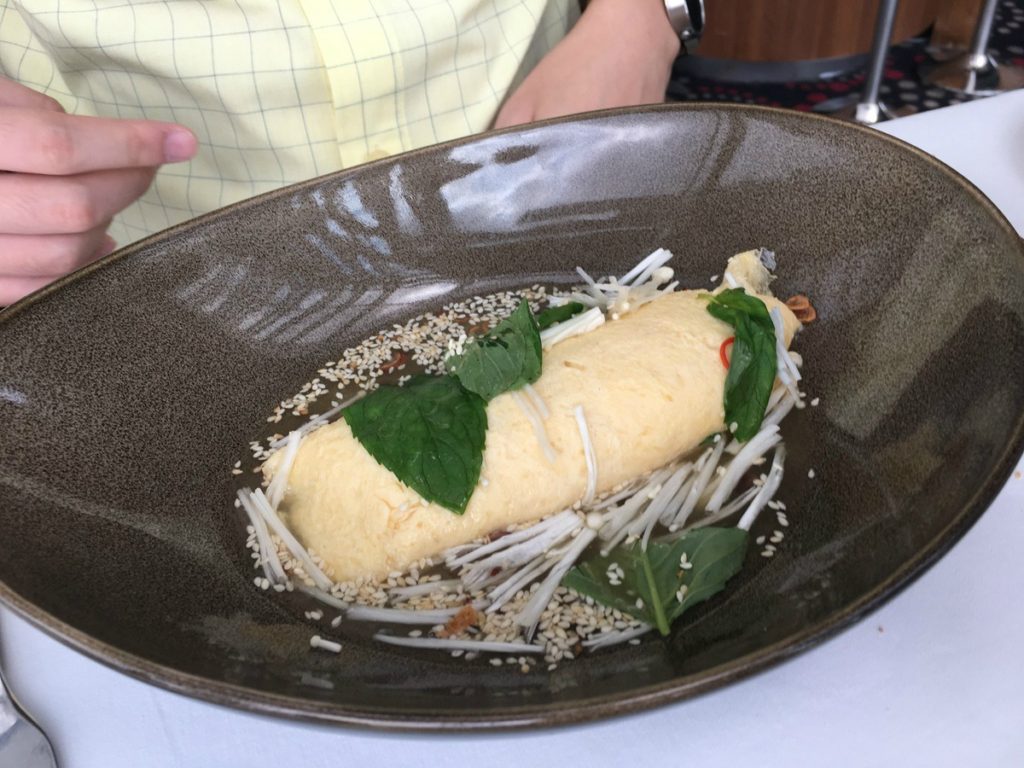 Alexis dish was quite the opposite as the omelette was so light and fluffy. A simple yet well executed dish.
For our main course, Alexis choice was pan-roasted Snapper with roasted eggplant in "Sydney "spice, coconut and pickled ginger. To be honest, it didn't sound that exciting to me but I stand corrected as I tried to get him to share his dish with me.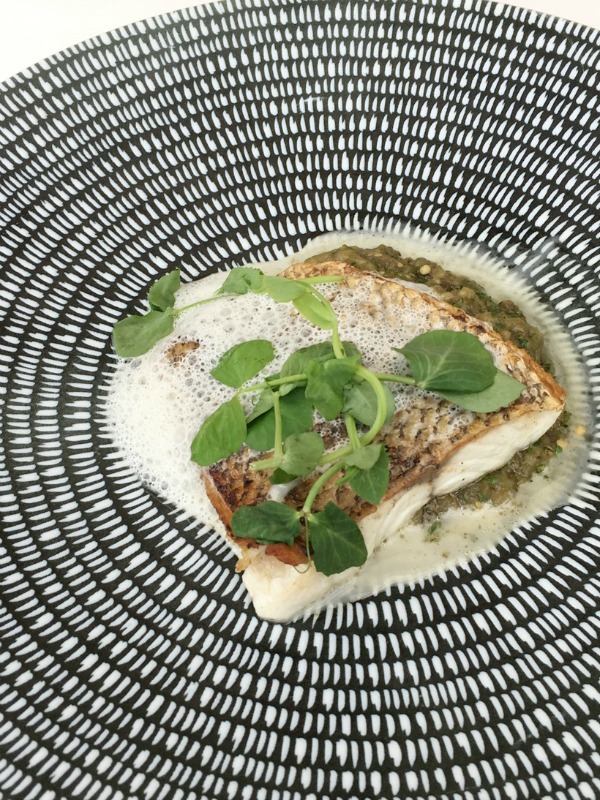 I had the kurobuta pork grilled loin with cabbage a and market greens, topped with crispy skin and roasted pear. Since pork loin has less fat, I found it a little too dry though taste wise it was still a winner.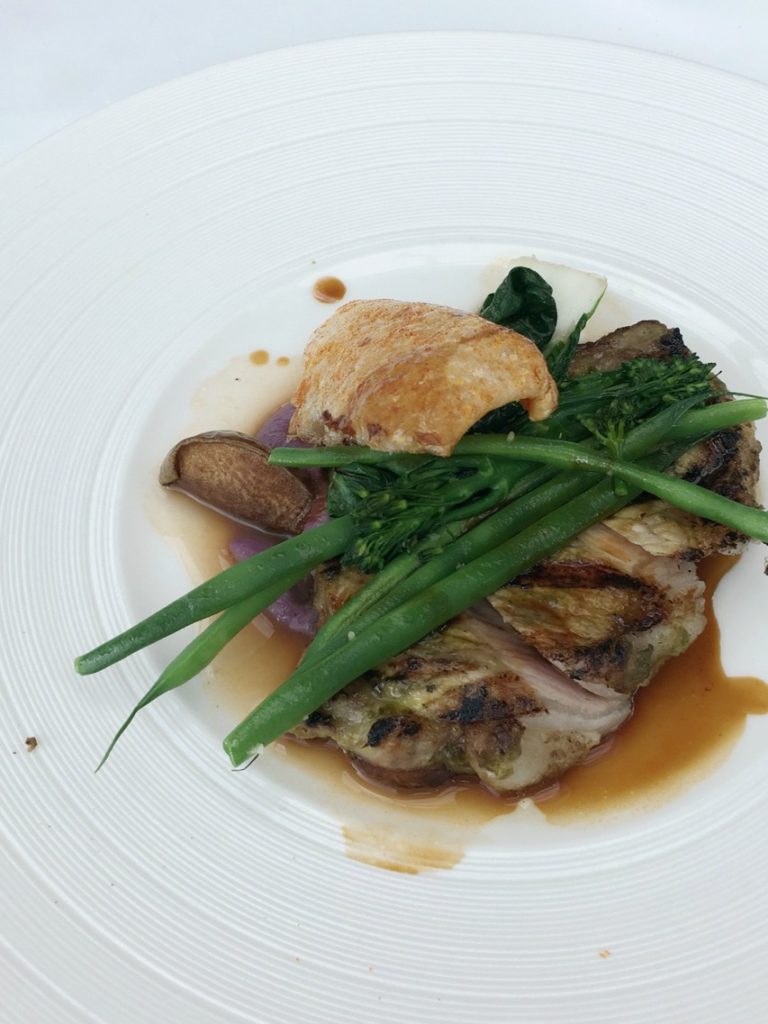 To end our meal, we had dessert and chose the orange sherbet with berries. I usually avoid ordering anything with orange but this had a nice balance of citrus tangy sweetness and I was hoping for more.
In between our meal, we tried to look for key landmarks in Singapore and even observed how the rain clouds shifted from one part of the island and slowly had the building enveloped in heavy rain as the grey clouds loomed over us. What a sight and it was the perfect opportunity for a teachable moment.
While Alexis's birthday celebration was not as romantic as I envisioned with our little lightblub, we sure had a good time with her company. Her funny antics like here where she insisted on having a piece of bread in the mouth for the photo had us rolling our eyes at her after that but I know she's secretly happy to do silly things when we're not looking.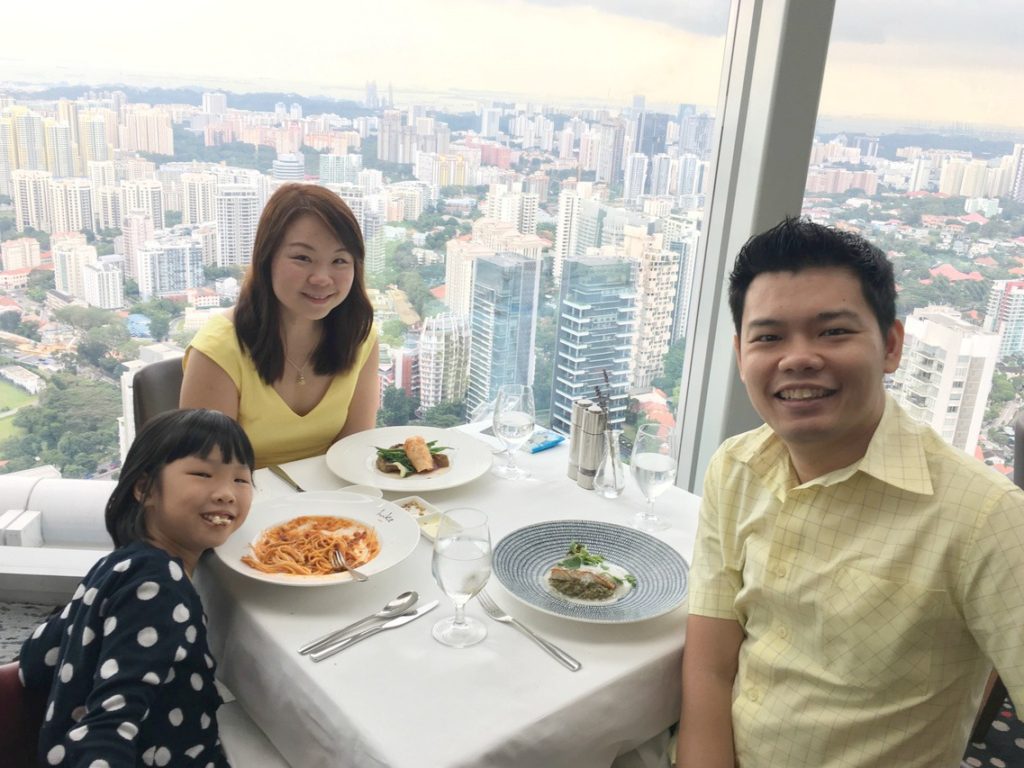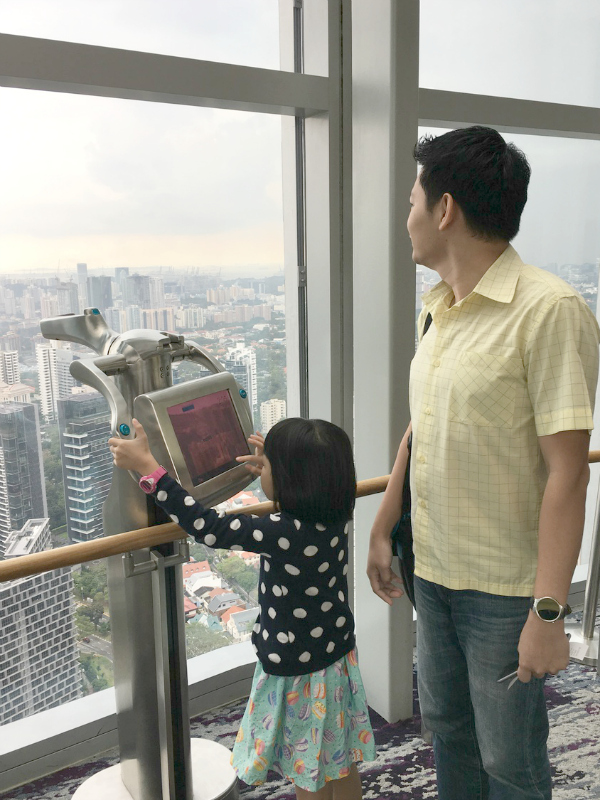 After you're done your meal, don't forget to walk up to the 56th floor where you can see another view from the restaurant as well.
I told Alexis that we should come back another time for dinner, and this time without Sophie. Let's hope our little lightbulb didn't hear that and gives us a night off from our parenting duties to have more couple time 🙂
Salt Grill and Sky Bar
2 Orchard Turn, #55-01 & #56-01 ION Orchard, 238801
Tel: +65 65925118
Facebook: https://www.facebook.com/SaltGrillSkybar/
Tagged: Birthday, birthday celebration, family friendly, family friendly restuarant