There may be countless family-friendly restaurants in Singapore, but Beauty in The Pot just took it up a notch by having an amazing children's playground within their hotpot restaurant premise.
Beauty in The Pot's second and latest outlet at OneKM is the ultimate family restaurant for hotpot lovers with an outdoor children's playground that caters to kids of all ages.
Sophie was ecstatic to see the 2-storey playground structure with a tunnel slide for older kids which is not a common sight you find in restaurants. She was so excited and even dragged daddy on it for some pre-dinner fun.
I lost count of the number of times she zipped down the slide and the squeals of delight as she said it was so fast and exciting!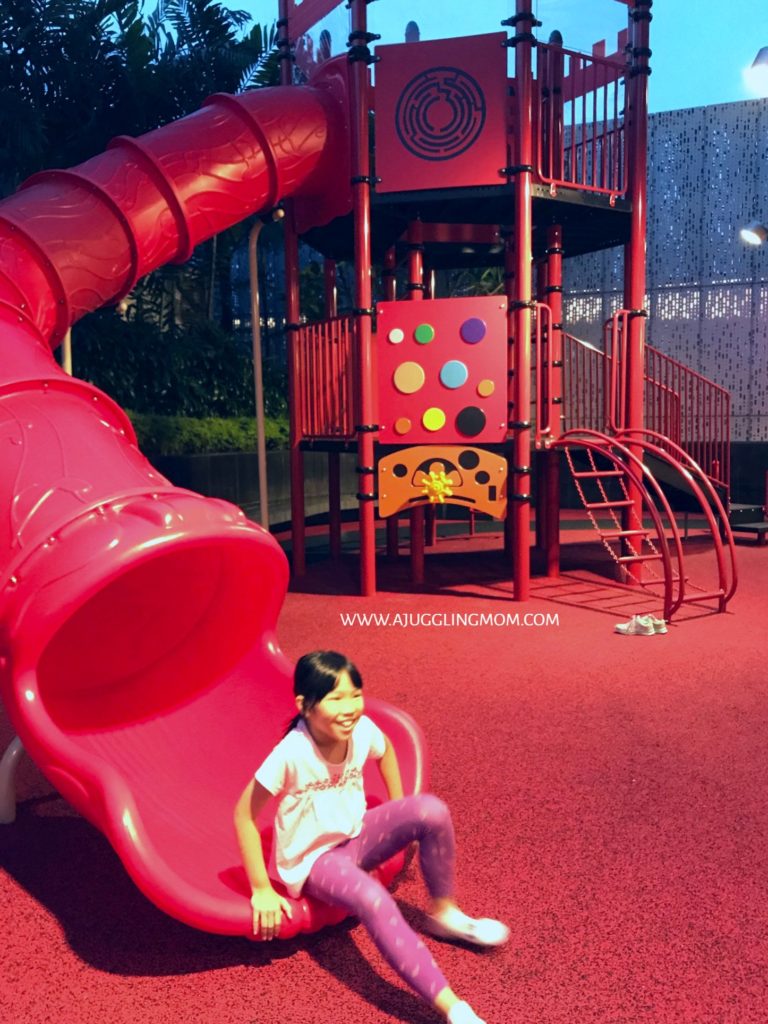 For younger kids, there is a separate toddler playground with slides and even a small rock wall. Here they can run free as the ground is covered with thick rubber flooring to cushion any falls.
No kid will miss the bouncy trampoline that's just too inviting. But the mum in me had to remind Sophie to bounce her heart out before and not after dinner, lest she throws up her meal afterwards.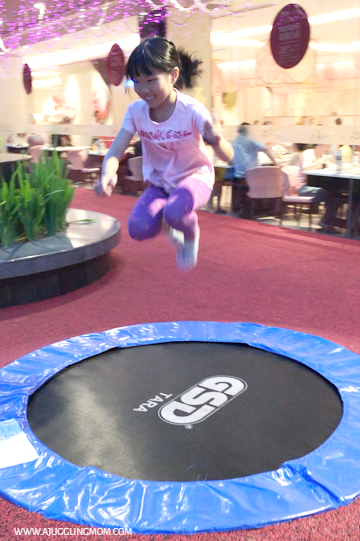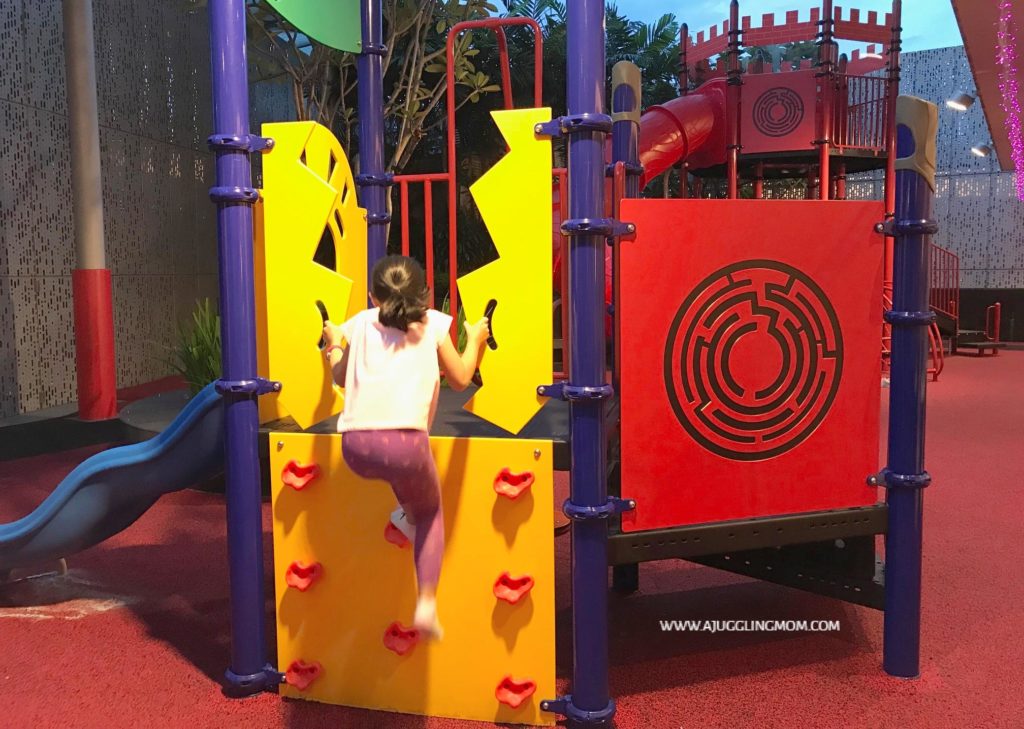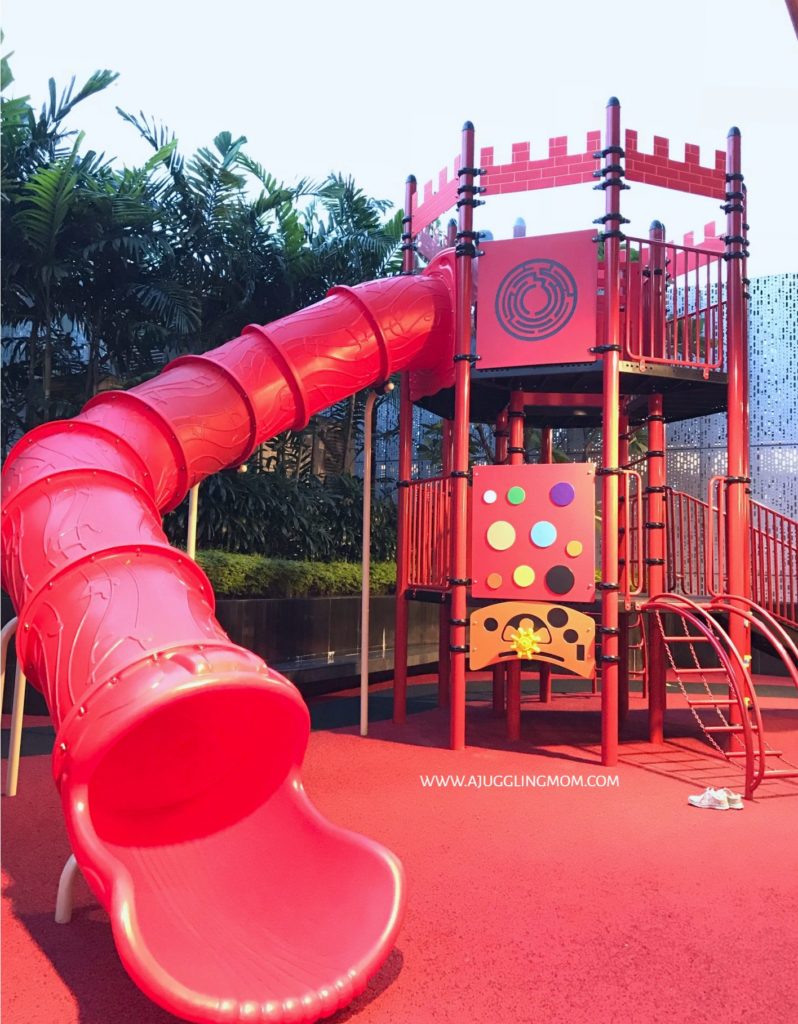 Compared to their earlier outlet on the second level, this new Beauty in The Pot outlet on the third level is much bigger and seats up to 288 diners with 3 private rooms.
Pretty Pink Interior
And can I just take a moment to gush about how much I adore its interior which is in the most pretty shade of pastel pink?
The pink princess theme is inspired by the breath-taking cherry blossoms in spring and even its flooring symbolises cherry blossoms that have fallen on snow-clad land.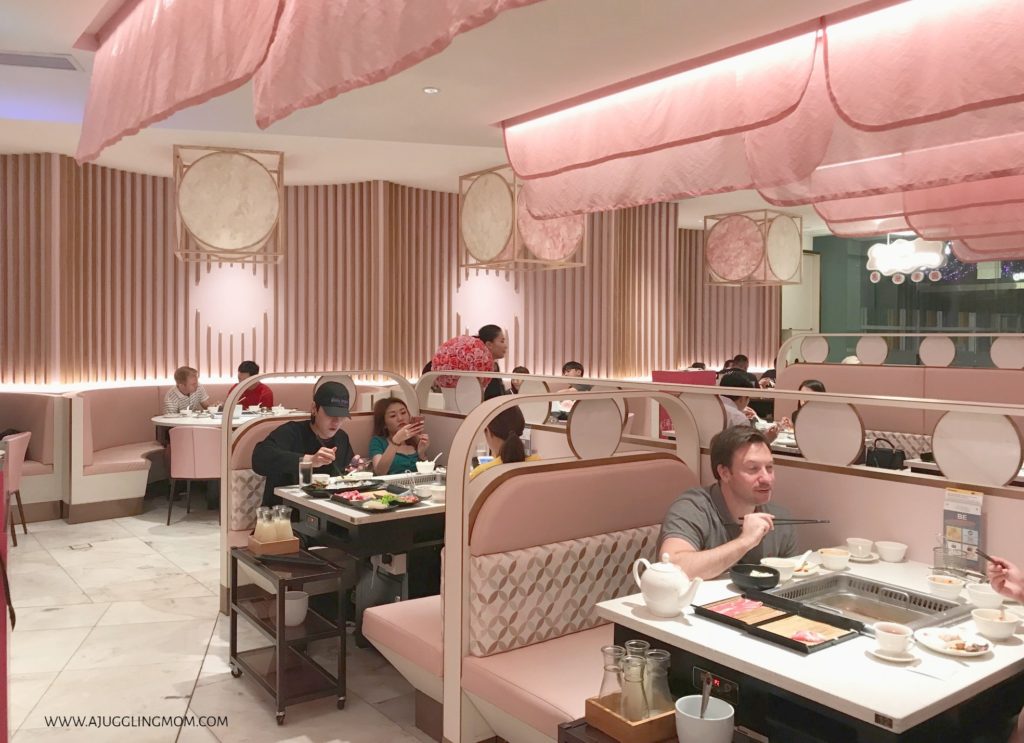 So much love for their pink interior that doesn't border on being too excessively sweet and I'm sure it's a hit with most ladies.
I even dressed to the occasion and went in pink with Sophie.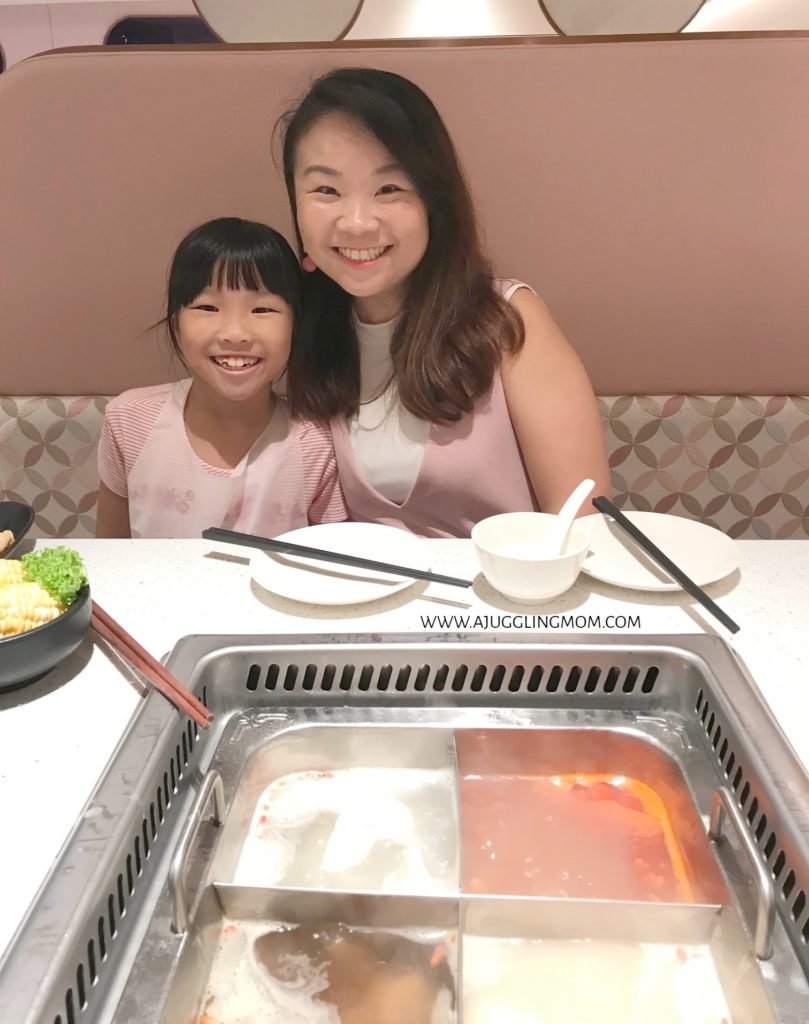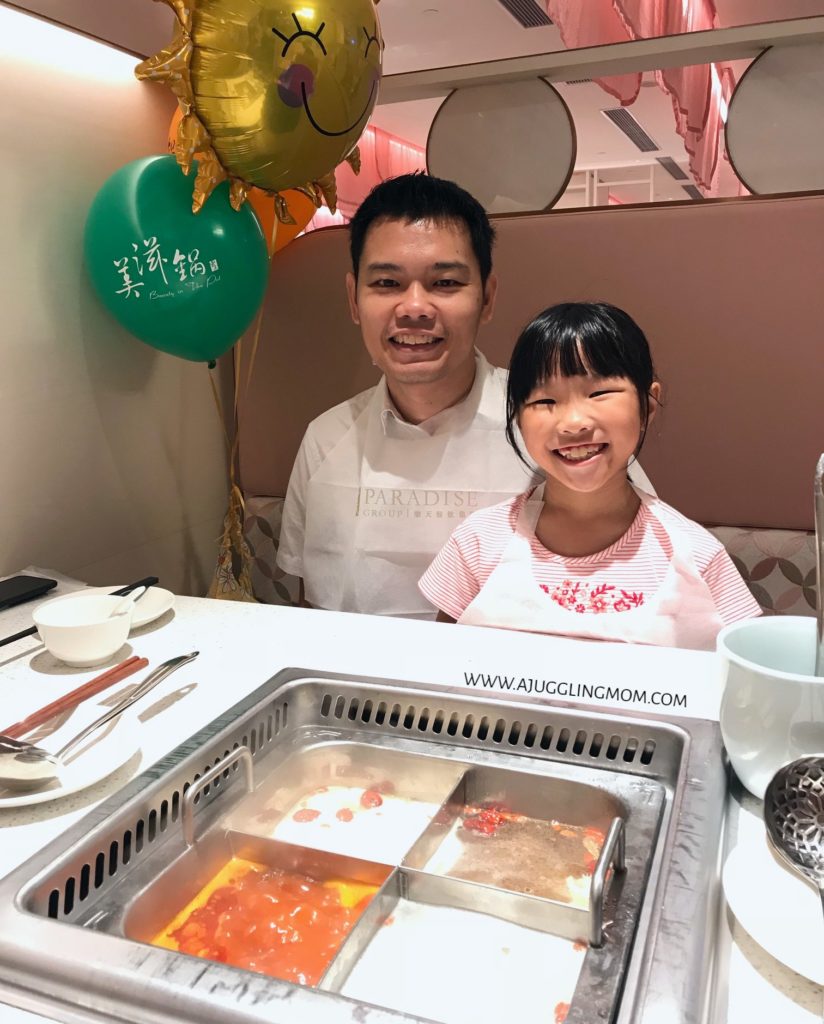 Eat your way to beauty
The highlight of Beauty in The Pot are their nourishing soup bases that promises rich flavours and health benefits. There are six options to choose from – Signature Beauty Collagen Broth (Shark's Cartilage Soup), Signature Spicy Nourishing Soup (Pork Bone Soup), Herbal Drunken Chicken Broth, Cooling Coconut Broth, Longevity Wild Pine Mushroom Broth (Vegetarian), and Vitamin C Tomato Sweet Corn Broth.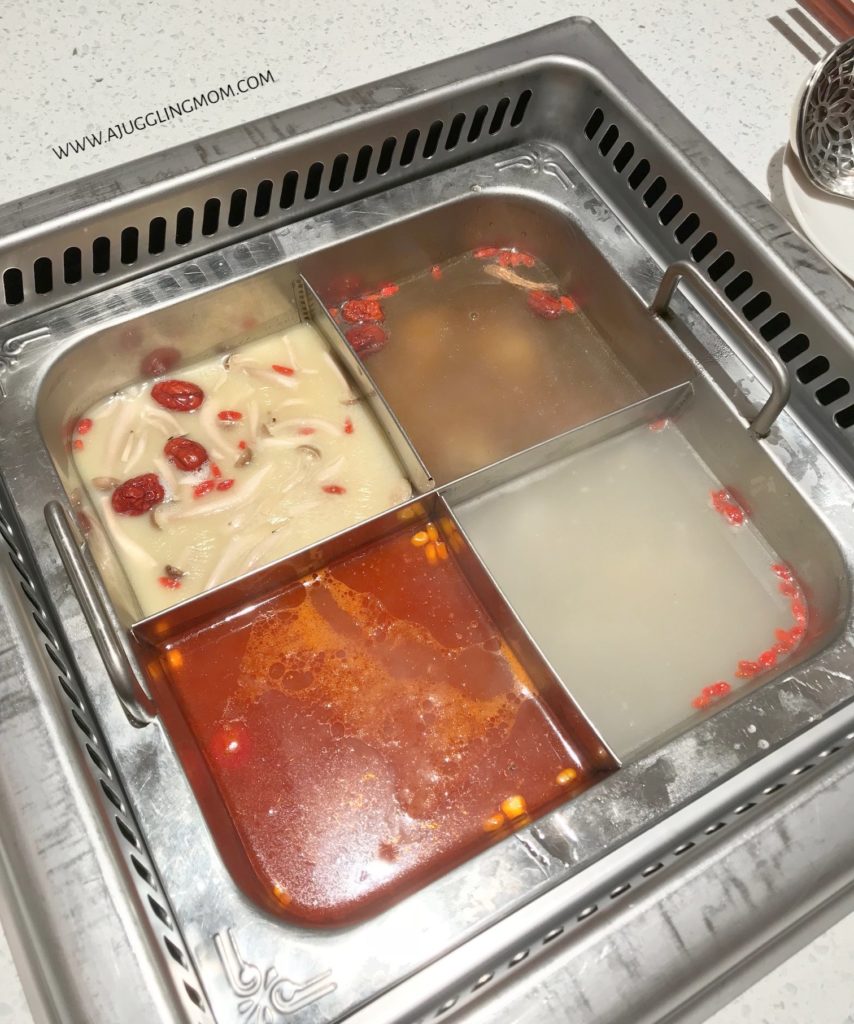 Since this was our first visit, we chose 4 soup bases and I highly recommend the Signature Beauty Collagen. I call this the 吃美美soup base as  more than six hours of hard work go into the making of this dense and collagen-rich soup.
Another is the Herbal Drunken Chicken Broth. Although it's cooked with a mixture of herbs, the taste is not overwhelming and it taste very nutritious.
We also had the Cooling Coconut Broth, which I find very unique and interesting as it also cooked with spare ribs, chicken, chicken feet and snow fungus. When I fished out the coconut flesh from the soup, it still tasted fresh and sweet!
The last was Sophie's all-time favourite, Tomato Sweet Corn Broth that was slightly sourish and very appetising and I'm sure it will be a hit with all kids.
We have nothing but praises for all the dishes that evening, from meat to seafood and handmade specialties as they were very fresh and we were impressed by the extensive menu offered as well. But if I had to choose, these are the dishes I'll order the next time I return.
Noteworthy dishes that you must try are the Signature Homemade Fish Tofu ($2/piece) – made with yellowtail fish, soya bean and egg white all blended perfectly to melt in your mouth. Ebiko Prawn Paste ($18.80) shaped out of 100% prawn meat with a juicy crunch.
Fried Beancurd Skin ($4.90/half; $9.80/full) which you can dip into the soup for a few seconds to adsorb the richness of the broth or simply enjoy it crispy.
Their handmade balls were also very tasty and we had the Soft Bone Pork Meatballs ($5.90/ half portion; $10/full) which were very juicy and tender.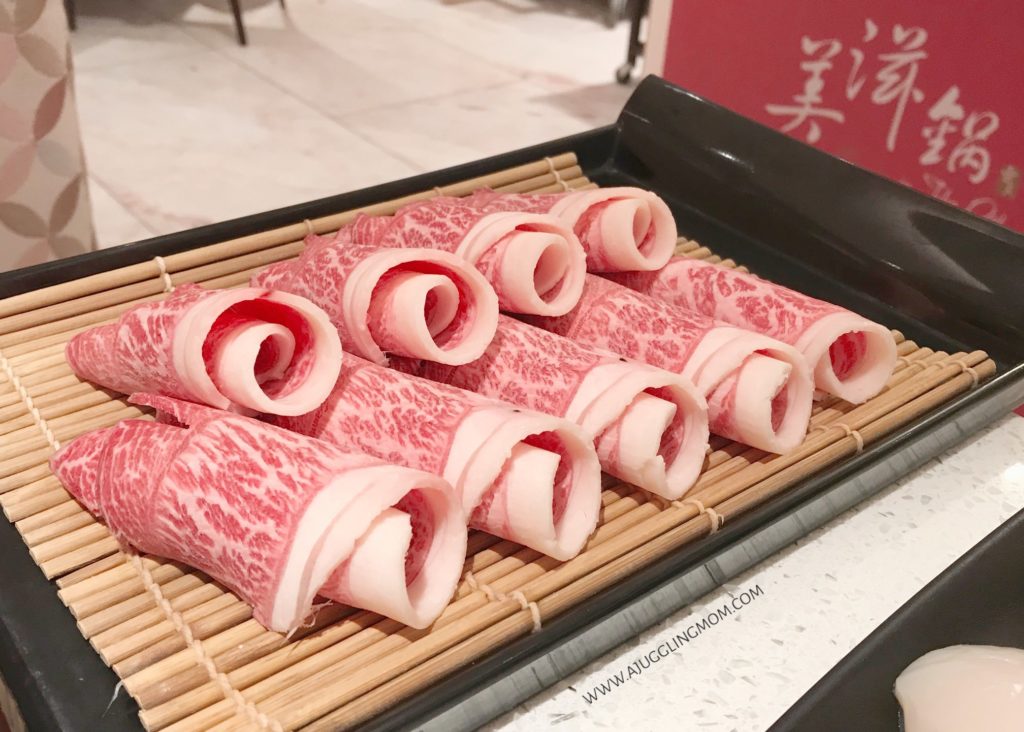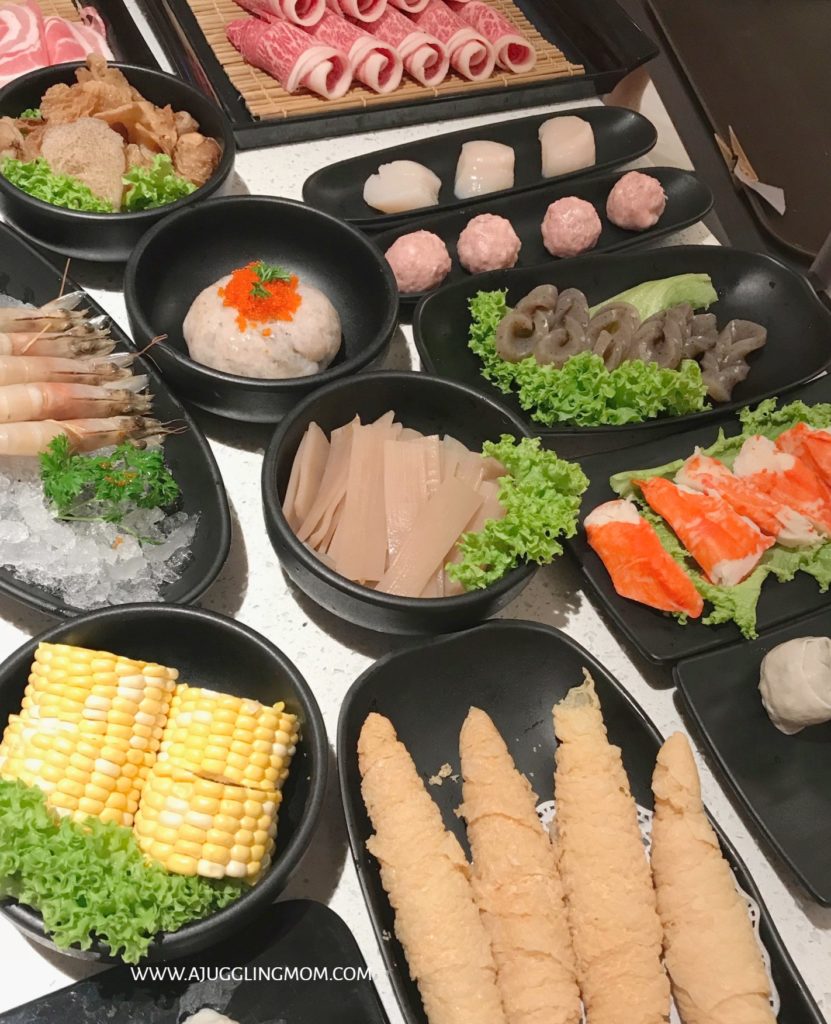 Don't forget the condiments bar where you can mix and match your own dips to match your taste buds. And if you want to go for the fail proof choice, you can follow the suggested pairing which can't go wrong.
Do note that there is a top up of S$3.80 per person to enjoy the condiments and selection of fresh fruits.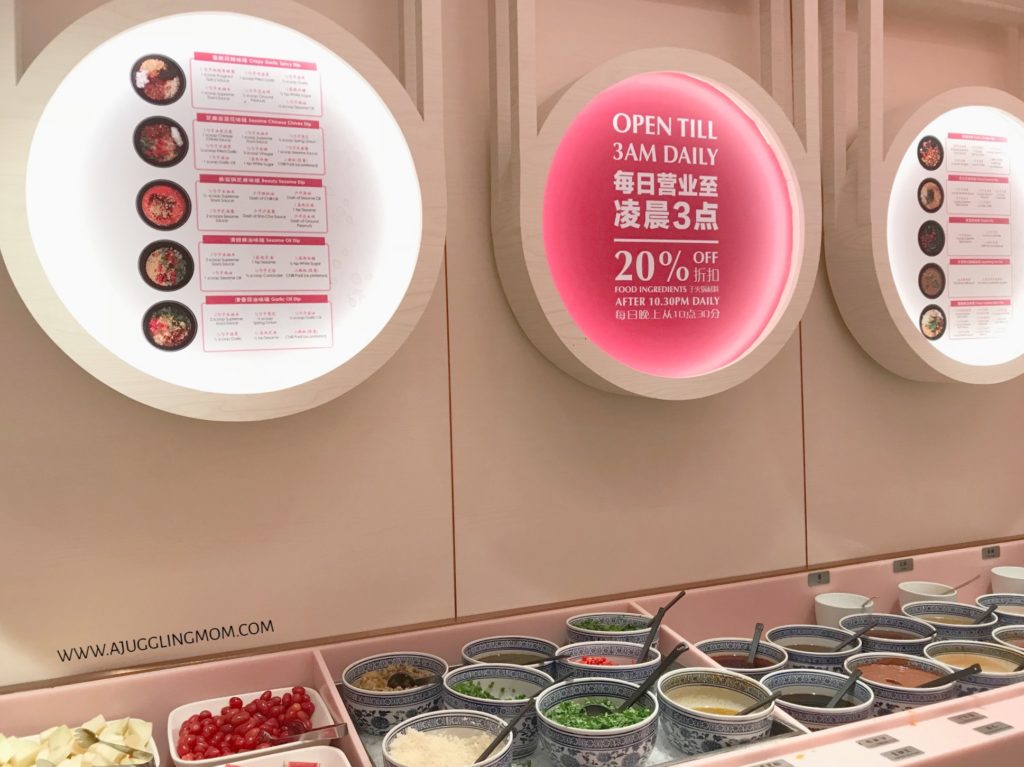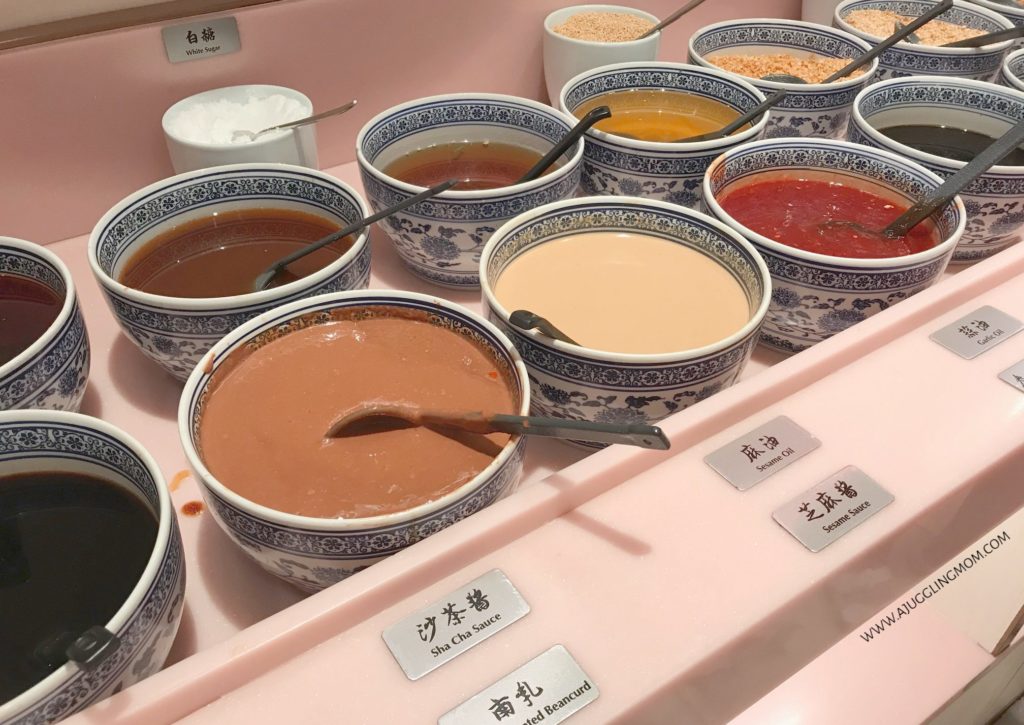 At the end of our meal, we enjoyed an iced yuzu slushie in a shotglass to cleanse our palate, just the kind of dessert that I love best.
We enjoyed our meal very much and their service staff were also very attentive to our every needs, coming to top up the various soup bases and even offering to deshell our prawns before cooking. It is evident why the restaurant is so and popular and I can see why many of my friends are huge fans of this place.
Their unique and nourishing soup bases were the star for me and their quality of food were top notch too. If you love hotpot then it's definitely the place to bring the family, and I'm sure your kids will have a great time at the outdoor playground too.
Night owls will be pleased to know that Beauty in The Pot opens till 3am and if you dine after 10:30pm, you'll enjoy 20% off too.
Beauty in The Pot at OneKM Level 3
11 Tanjong Katong Road
OneKM #03-38
Singapore 437157
Tel: +65 6284 8820
Open daily 11.30am – 3.00am (Last order at 2.15am)
*A Juggling Mom was invited to Beauty in The Pot at OneKM for this review , however all opinions and photos are my own, unless credited otherwise. 
Tagged: family friendly restuarant, food review, hotpot, steamboat