Sawatdee kaa! I'm back from Bangkok! Even though this was my fourth time to Thailand, this was by far the most "fruitful" trip for me as I had the opportunity to indulge in all the shopping since we travelled without Sophie. In fact, I might have over done it when we realized that we exceeded our baggage limit by a whopping 10kg!
We're so thankful for my in-laws who so readily offered to take care of Sophie so that we could enjoy this holiday. And it seems that my fears of going on a holiday without Sophie were unfounded as she took to our absence very well as my mother in law reported that she hardly looked for us. So perhaps another holiday without Sophie may not be too far away.
For the 5 day, 4 night trip, we stayed in two hotels, Fusion Suites located at Soi Sukhumvit and Citypoint Hotel which is a 15 mins walk from Fusion Suites.
Initially I didn't have high expectations of Fusion Suites as it was only a 3 star hotel. But after the stay, I must say it was pretty good. Alexis choose it for it's convenience; it was just opposite Healthland Spa (Asoke branch) and was less than 10 mins walk to the Asoke BTS station. Plus he was sold when they had free wifi in the room.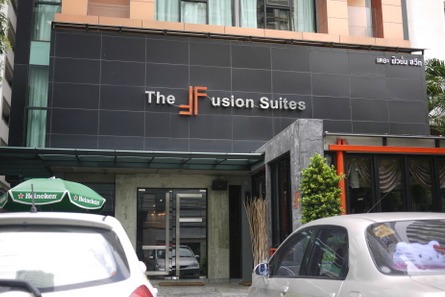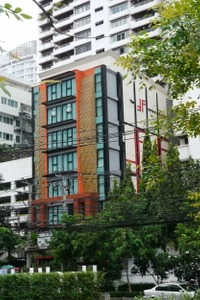 The 8 stories high hotel that is tucked away from the busy main road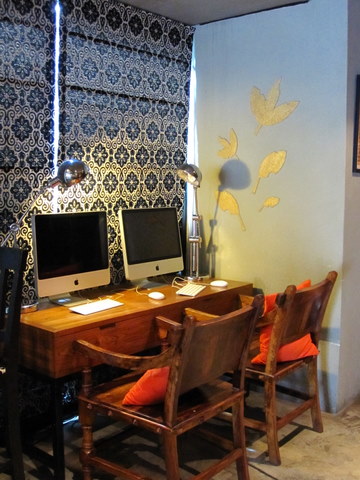 Free usage of internet at the lobby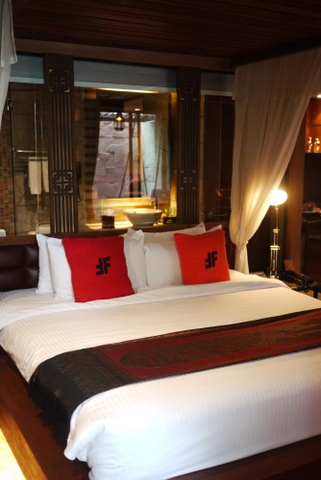 Doesn't the sight of the poster bed makes you feel like you're already transported to a resort?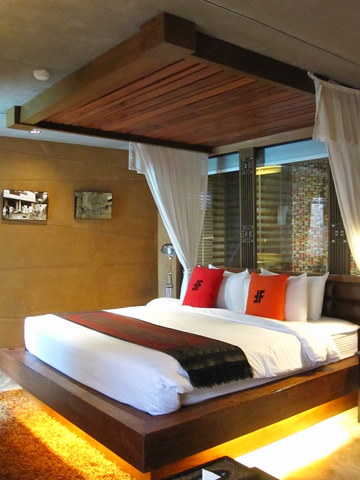 We stayed in the Jacuzzi Deluxe room where there was an outdoor jacuzzi tub.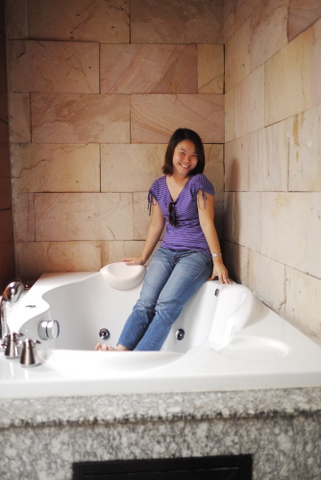 A swing seat opposite the hot tub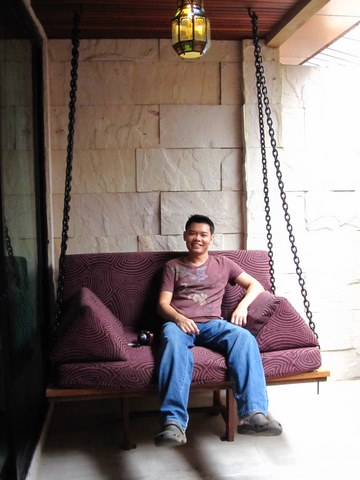 ipod docking sound dock plus TV that can ben viewed from the toilet! You can even turn up the volume of the TV from the toilet.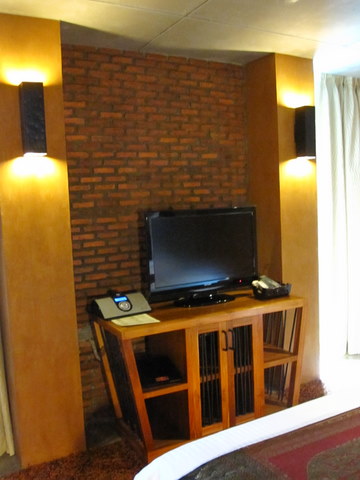 My techy husband saw this and wanted to take a picture of it.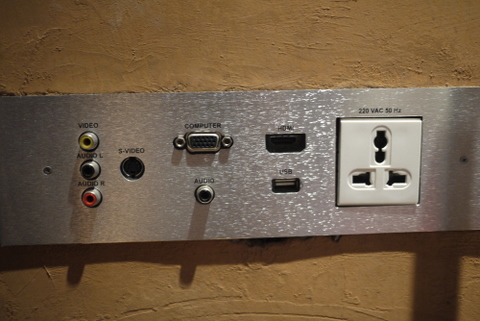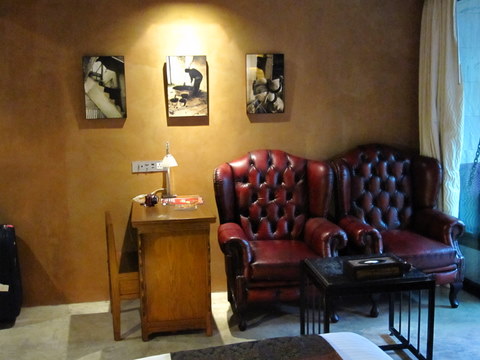 You get a glimpse of the hotel's history as the room is decorated with photos of the building of the hotel. I liked the overall raw and minimalist deco adopted by the hotel. But I did find the lighting a little too dim for my liking.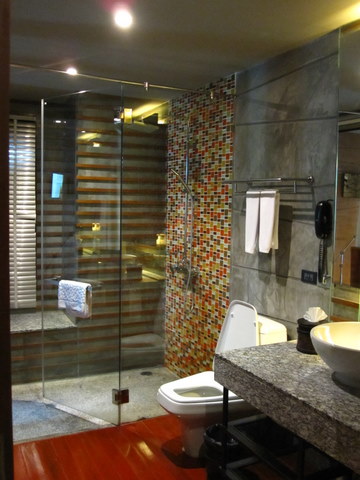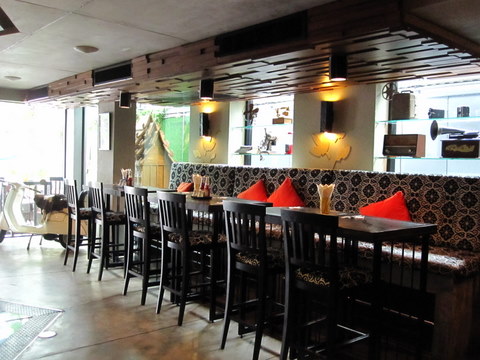 Dining area in the lobby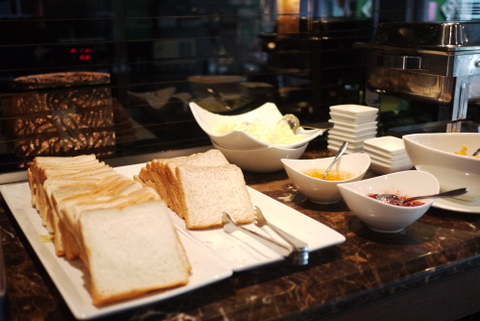 Complimentary breakfast -simple fare like bread, fruits, yogurt, cereals, noodles, coffee, tea, juices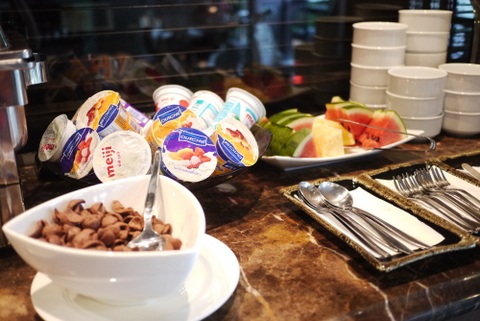 There was also a menu where you can choose a breakfast combination of eggs (fried, scrambled and omelet) with bacon, ham or sausages which the chef will prepare for you.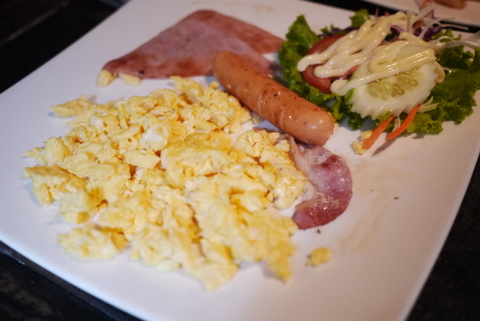 Very happy with my hearty breakfast
The next day we stayed at Citypoint Hotel which we got a very good deal from Groupon. Since the hotel is relatively new, we decided to try it.
Despite the fact that it was only a 5 mins drive from Fusion Suites and being given the address, the cab driver was still unsure of the directions. Thank God for the GPS on our iPhones! One good reason to purchase a pre-paid SIM card with data plan!
If you're taking the MRT or BTS to the hotel, you can just follow the signs from the Asoke BTS (a mere 3 mins walk from Citypoint).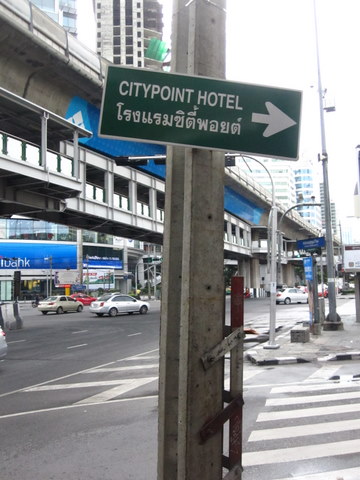 After you get down from the BTS station, you'll be greeted with this sign directing you to the hotel. Keep walking in the given direction and you'll come across the Bar Pearl Necklace. No one can miss those red hearts with galloping horses.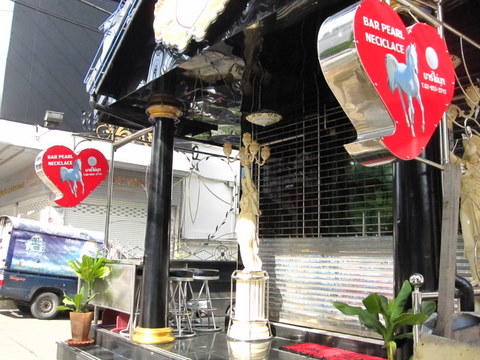 And very soon, you'll be greeted with this signage.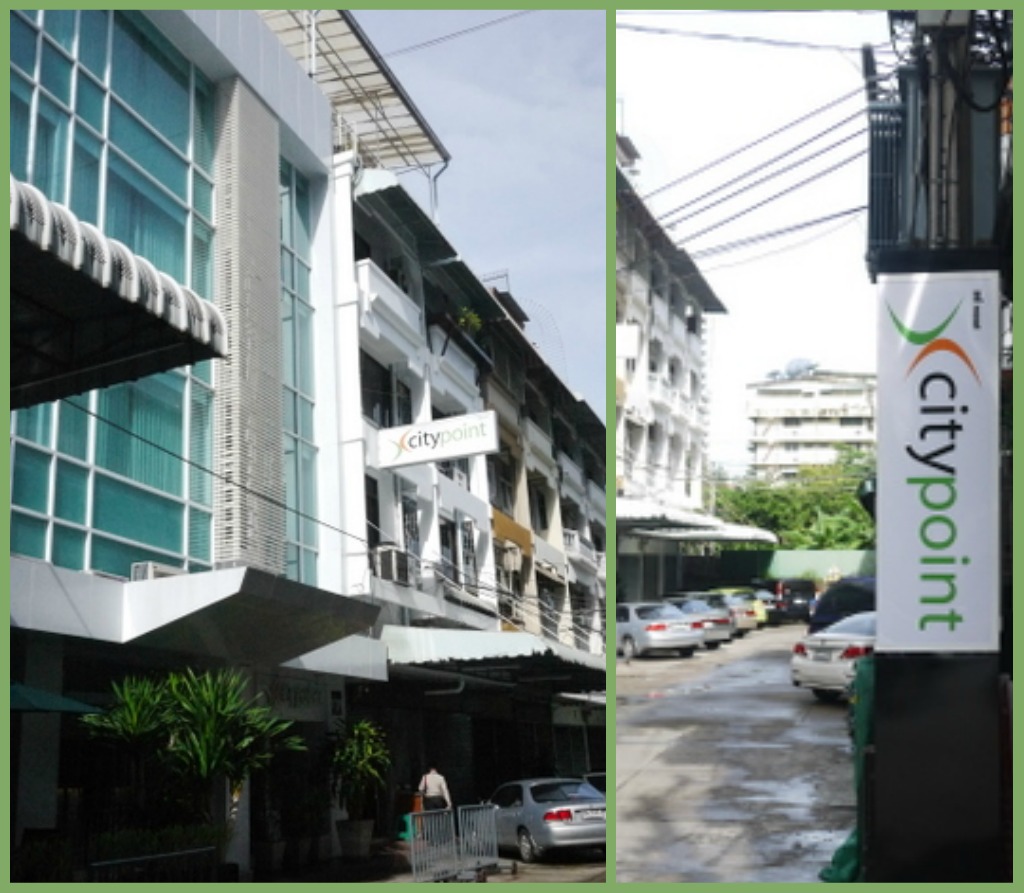 The dining area at the back of the lobby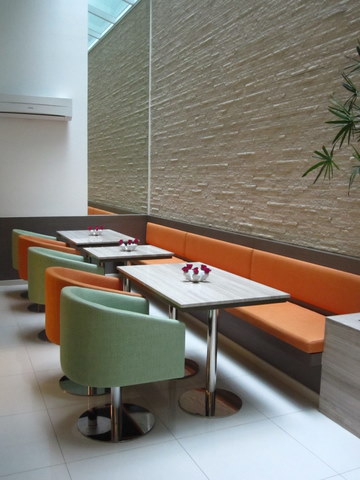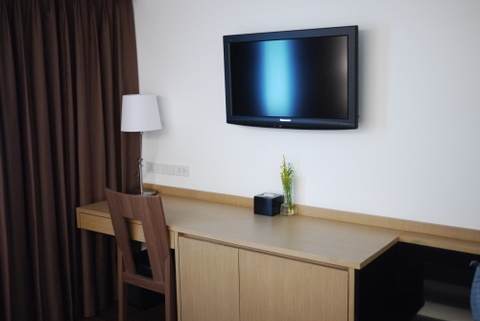 Clean and simple deco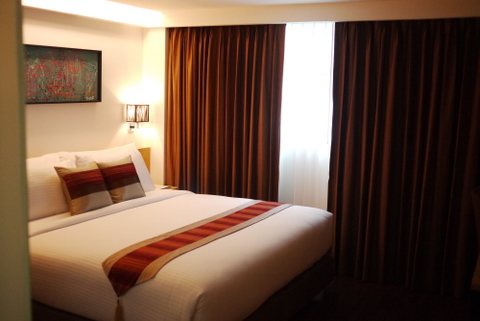 Citypoint is a more basic, no-frills hotel that caters to travelers who are looking for a budget stay without compromising on the quality of stay. It's contemporary deco made it inviting and was satisfactory by my standards. I really liked it that the hotel is new and clean. The convenience and accessibility by BTS and MRT was also a real bonus.
From the Asoke station, it only takes 10 mins to get to the Siam station (Siam Square, Siam Paragon and Siam Centre), 15 mins to MBK and 25 mins to Mo Chit (Chatuchak market). The room also has wifi so I don't have to miss out on my Facebook, twitter updates and Words with Friends!
But I was very disappointed in their bathroom facility which was a pain to bathe in as the water pressure from the shower head was not consistent, pouring down cold water after the "supply" of warm water has been used up.
Between the two hotels, I would recommend Fusion Suite over Citypoint as I do enjoy a more relaxing stay on my holidays. Fusion Suite certainly made my stay more comfortable and I don't deny, the jazzuci sure swayed that vote as well 🙂
Next post, shopping in Chinatown, MBK, Platinum Mall, Siam Square (my shoe heaven) and all the food we had!
8 pairs for me and not forgetting 1 for Sophie!
More on Bangkok