Sponsored Review
Sophie has taken a keen interest in art and craft. Whenever she gets to bring home some of her art and craft pieces from school, she'll beam with pride at her piece of art.
Recently, she's always asking me, "What can I do now?" So I'm always looking for things that I can do with her and nothing gets her more excited than me announcing that we're going to do some craft.
So when the good people from Simple Thots invited me to do a review of the craft sets from The Orb Factory, I readily agreed. For three-year-olds, the Sticky Mosaics series from the Pre-School Fun catagory was perfect for Sophie. There are lots of choices that will interest both little boys and girls.
I choose the unicorn jewelry box and the zoo animals.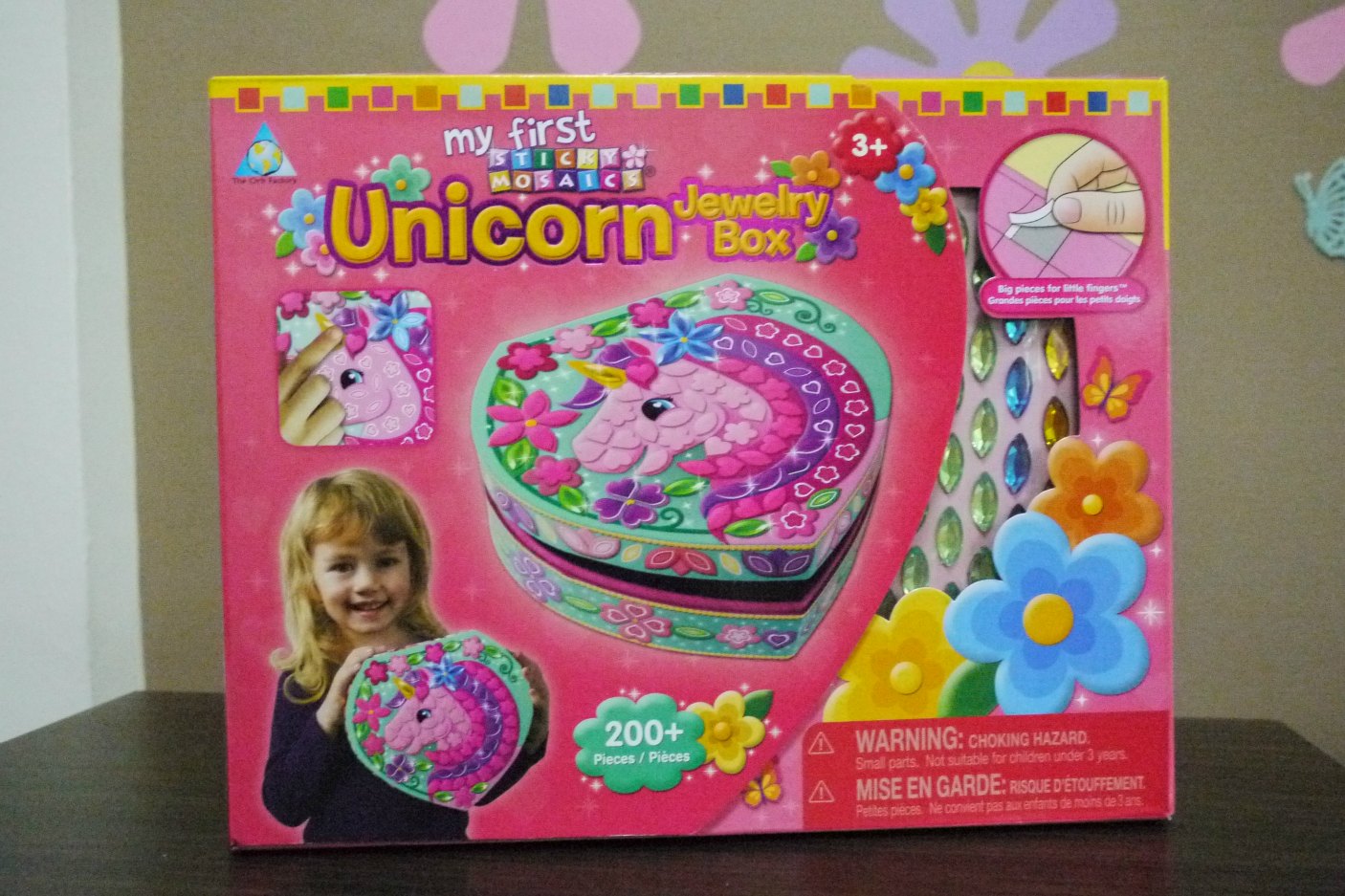 The craft kits from the Sticky Mosaics series are specially made for young crafters. All that's required is for them to match and affix shapes and colors to decorate their craft sets.
The contents of the Unicorn Jewelry Box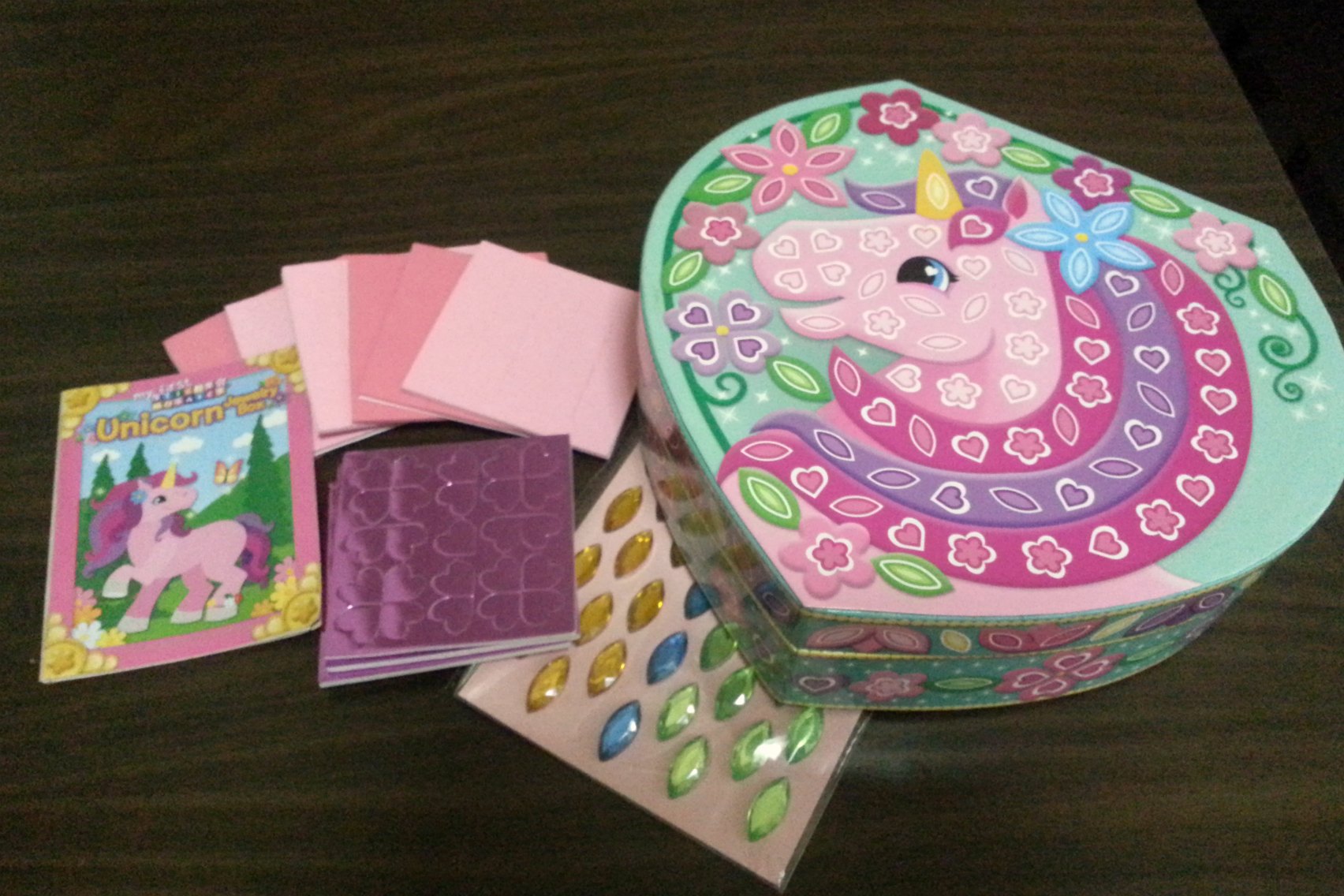 The kit consisted of a jewelry box and sheets of colored foams and sparkling jewel pieces and an instructions booklet.
A look inside the box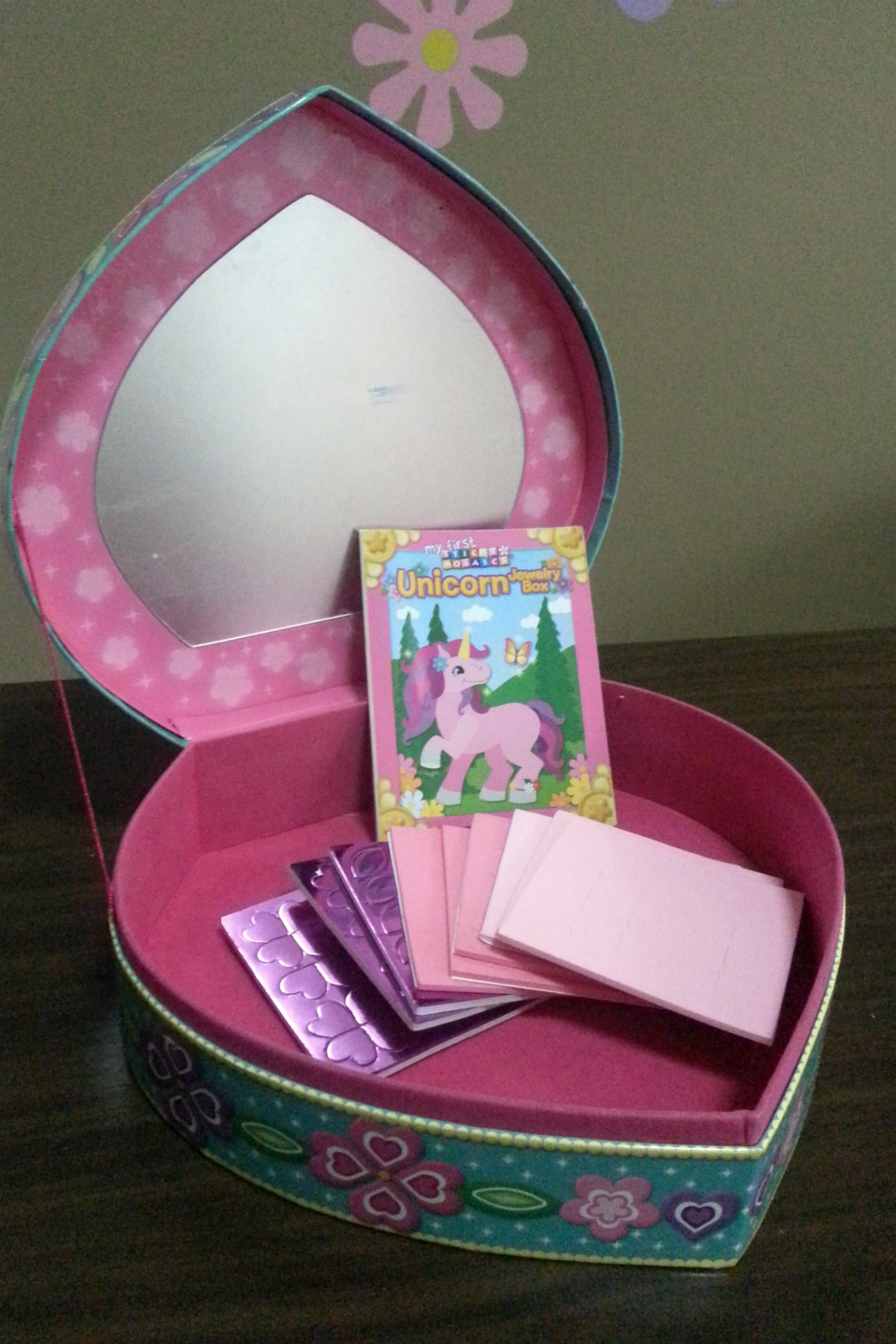 Being a little my little pony fan, she swooned at the pretty unicorn design on the box. This is perfect for storing all her hair clips and accessories.
Look at how eager she was to start.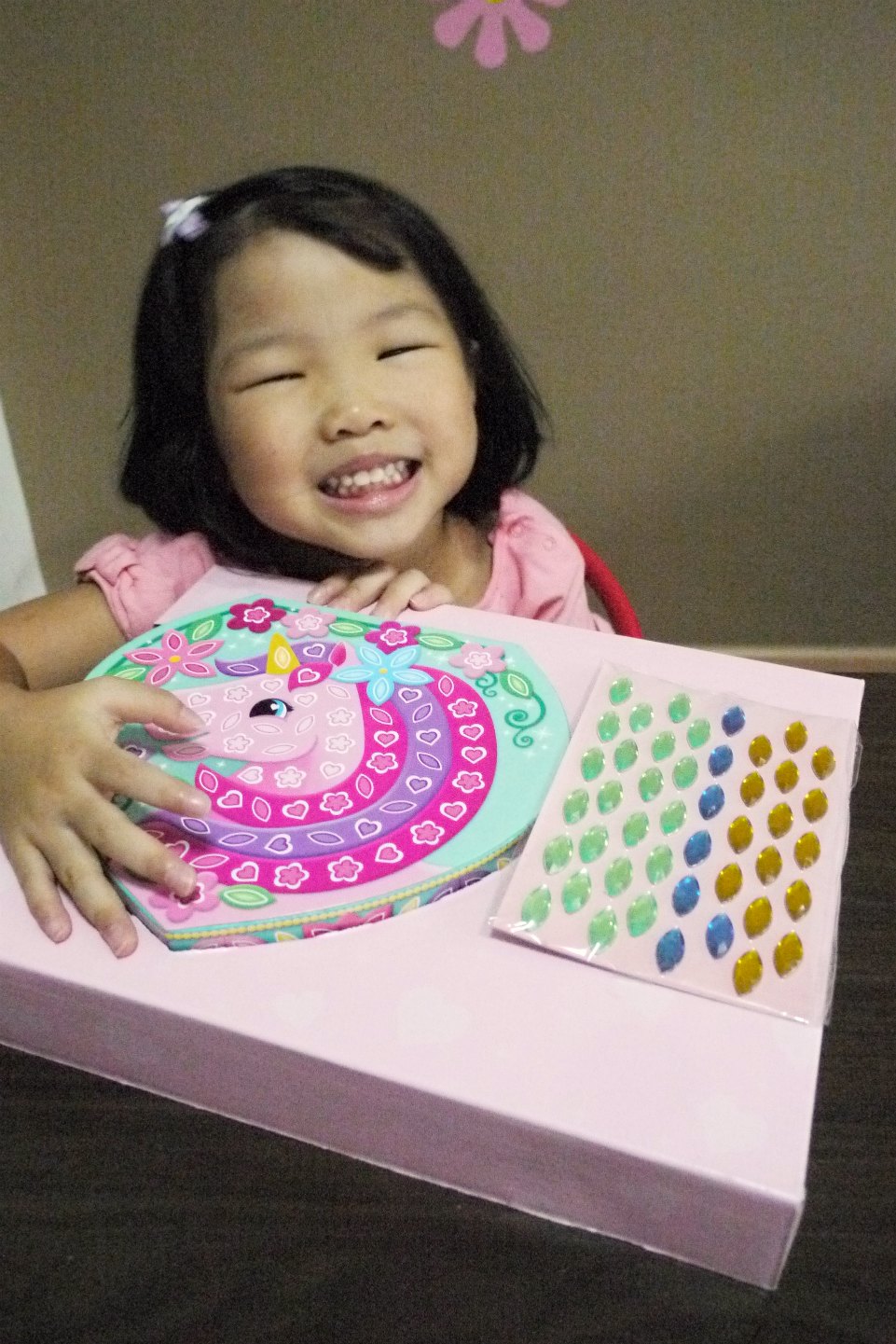 The foam stickers were of a very manageable size though she needed help once a while to peel it off from the backing. But nothing too challenging that she couldn't manage on her own. She would point out the different colors and told me she likes the sparkling sparkling jewels. A girl truly after my own heart 🙂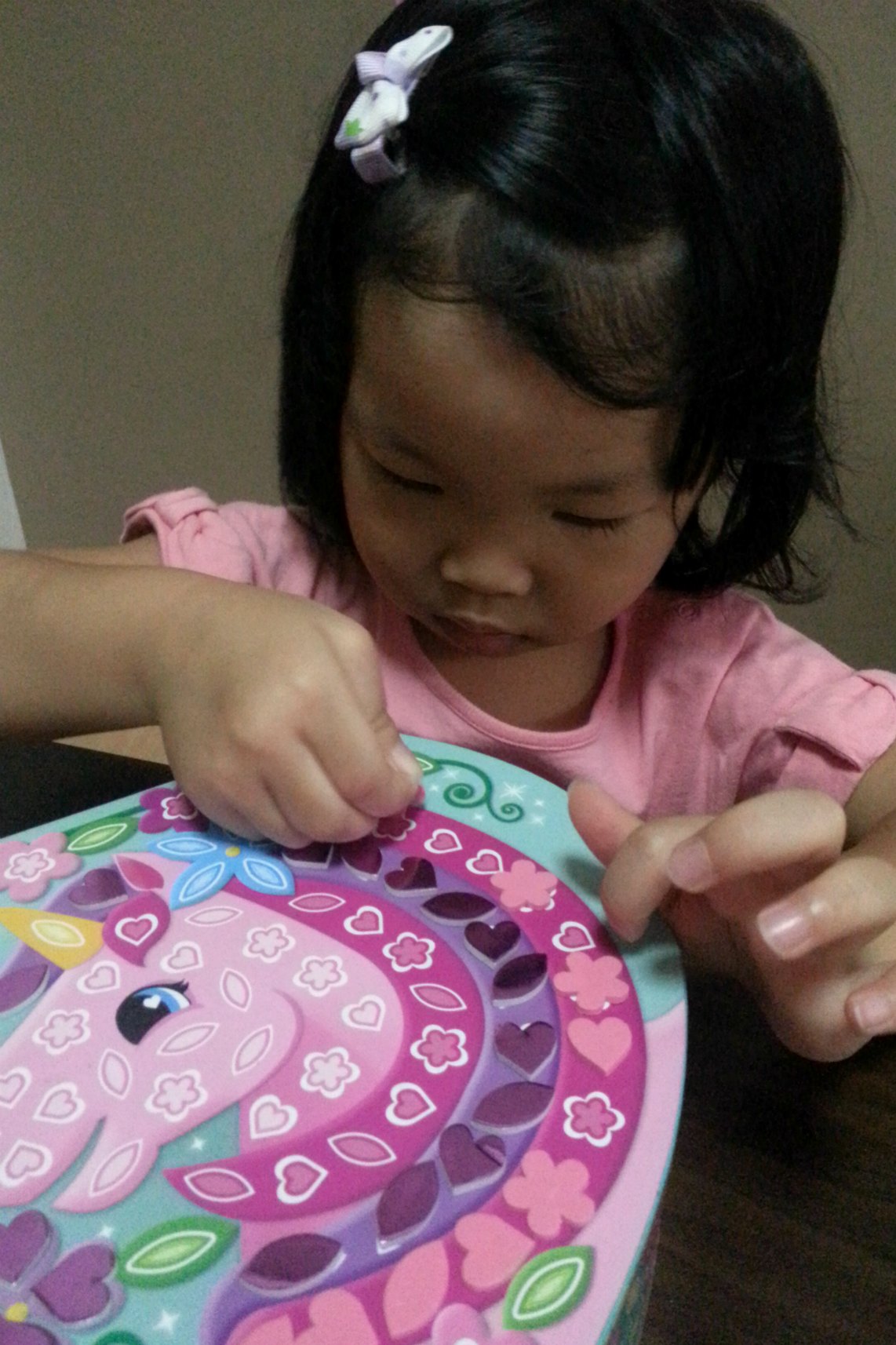 For the zoo animals set, it consisted of 4 well loved animals – elephant, lion, giraffe and monkey.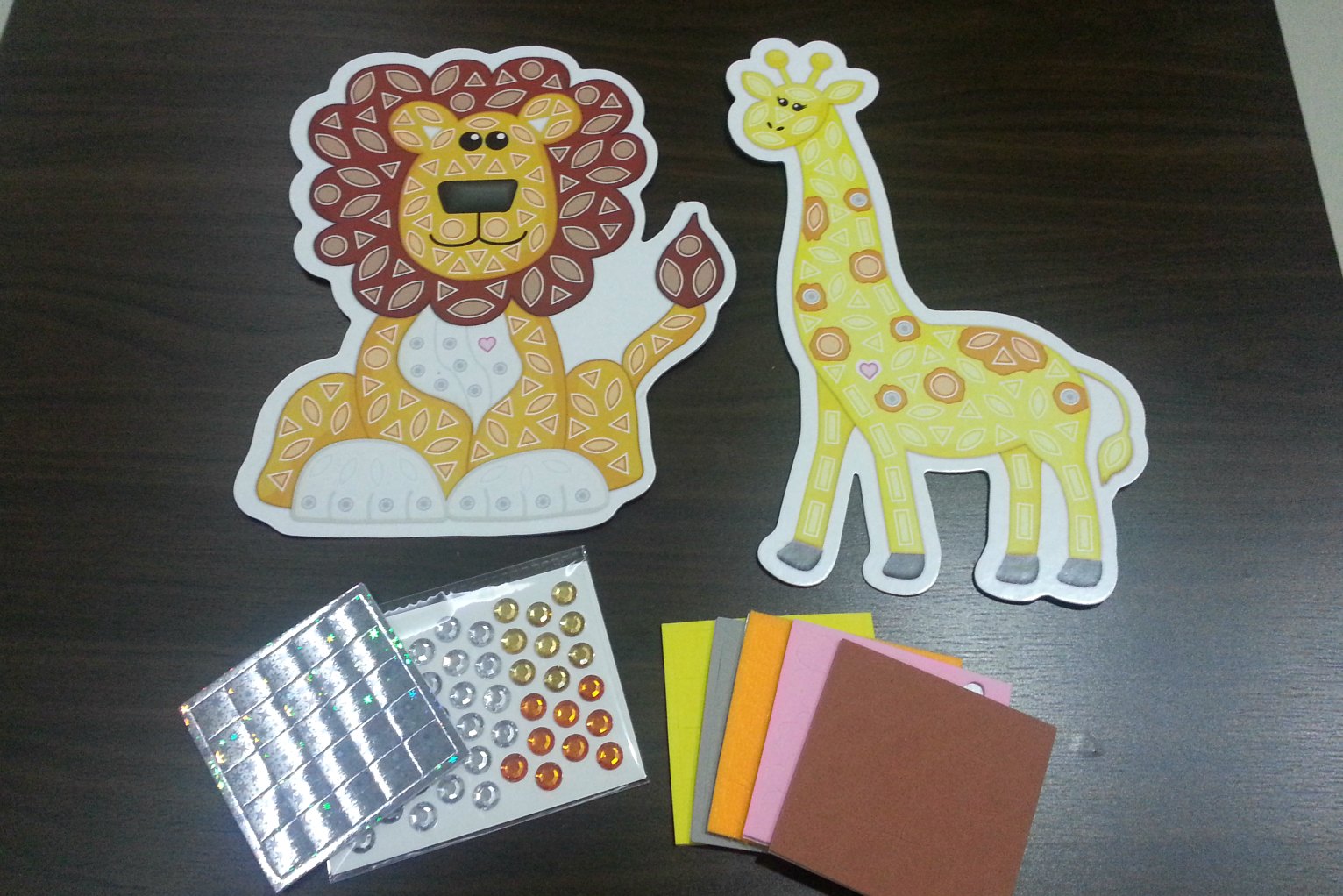 Similarly, the set has sticky foams and sparkling jewel pieces.
 Conclusion:
Sophie enjoyed herself with these sets thoroughly. The sizes of the foam and sparkly jewel pieces were all very manageable for little hands. The crafts are simple and easy enough for Sophie to do them on their own, encouraging independent exploration and creativity while devhand developing better hand-eye coordination
By introducing a different animal to Sophie, she could tell me what colors they are and  the shapes that she needs to find. best of all, they're mess free : ) Plus they make great gifts for kids too. 

If you're keen to purchase these sets for your kids or nieces and nephews as Christmas presents, here's a  10% store-wide discount. To enjoy it, all you have to do is key in 'TOF10OFF' during your check-out at the store, at http://shop.simplethots.com.sg.
There are two products specially for Christmas – StoryCraft® Twas The Night Before Christmas and Sticky Mosaics Christmas.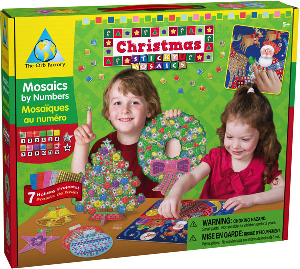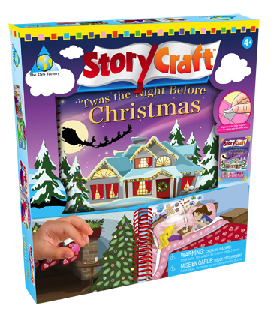 That's not all.  How would you like to take part in a give away and win one of these sets?
THE ORB FACTORY GIVEAWAY! 
To participate in the giveaway, just follow these 3 simple steps:
3. Leave a comment on my blog on the item you would like, Unicorn Jewelry Box or Zoo Animals (Do remember to leave your email so that I can contact you).
Giveaway ends on 12 Dec 2012. Good luck!
Note:
This giveaway is open to Singapore residents only.
This giveaway will close 12 Dec 2012 at midnight.
Winners will be randomly drawn and will be 

notified via email.

.
*A Juggling Mom received these craft sets in order to write this review. However, all opinions expressed here are my own.
Tagged: giveaway