As a mum with a daughter, you would have thought that I wouldn't know a thing about kissing boo boos on bumps, scrapped knees or cuts and brusies. But turns out that I have a sporty or rather very sporty daughter. After learning how to swim and roller blade last year, little Sophie mastered how to cycle a few months back and traded her balance bike for a bicycle. And of course, all credit goes to her Daddy who's ever ready to let her try new things.
Seeing how confident she is on her new set of wheels, when the OCBC Cycle event opened for registration, Sophie gamely took up my suggestion to cycle with Daddy in the Mighty Savers Family Ride .
Our Maiden OCBC Cycle event 
This year the OCBC Cycle took place at a new venue – the Singapore Sports Hub, and getting there is so  convenient with the Circle Line just at its' doorstep.
Thank God we had really fabulous weather that day even though the skies looked a little gray that morning. The flag off for our category was at 10am, so we didn't have to get up too early and have to deal with grouchy faces. I'm sure parents know what I mean.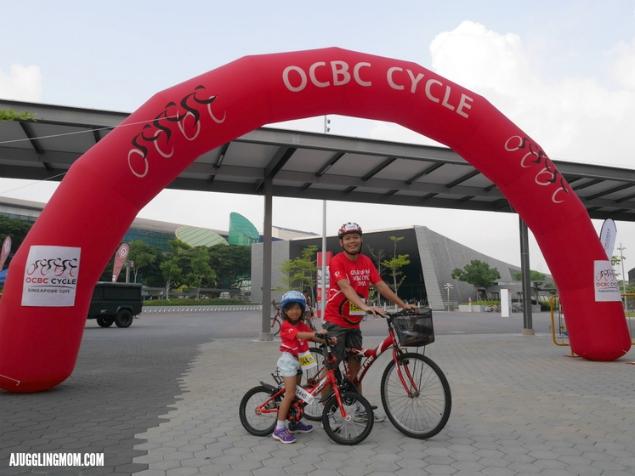 There was a roaming photographer who asked if we wanted to get a family photo and I never say no to such opportunity since I'm always the one behind the camera. So we posed for a few shots, from happy smiling faces to don't smile and act cool.
But as you can see, I just can't do cool at all…
It was time to make our way for the flag off and we followed the directional signs which provided clear directions to the starting point.  By now, the sun was up and hot and I was worried that Sophie will get uncomfortable by the heat as she gets heat rash easily due to her sensitive skin.
I was relieved that the holding area was in a sheltered carpark which showed that the organisers did their planning since such things do often get overlooked.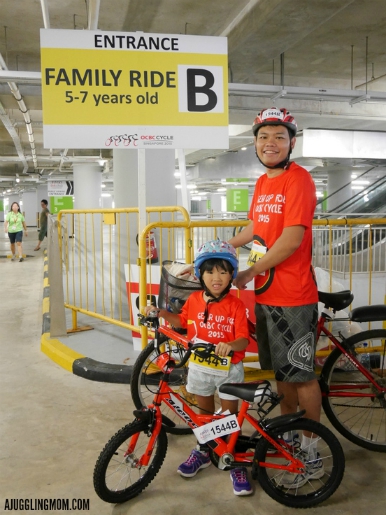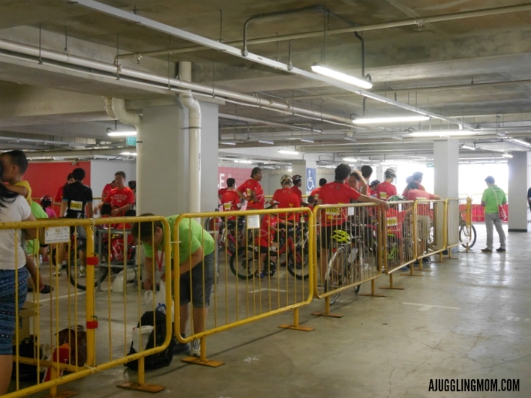 Before they got flagged off, we heard the MCs reminding the parents not to dismount their bikes or stop to take photos or selfies or even try to attempt to balance their bikes with one hand to take photos.
Of course it sounded like a joke, but some parents who were standing around me said that it really happened in previous years where parents would  rush in front of their child to take photos, causing the kids or those beside them to lose their balance and even get into  accidents. Guess they really added a lot more safety precautions this year.
Another observation I had was that each category kept the participants to a very comfortable number so there is sufficient space for everyone which minimises collisions and accidents which is very assuring to us parents.
For the kids route, they had an easy track and were given 20 minutes to cycle as many rounds as they can. Not the most exciting or scenic route but according to Alexis, it helped to keep the kids focus on their cycling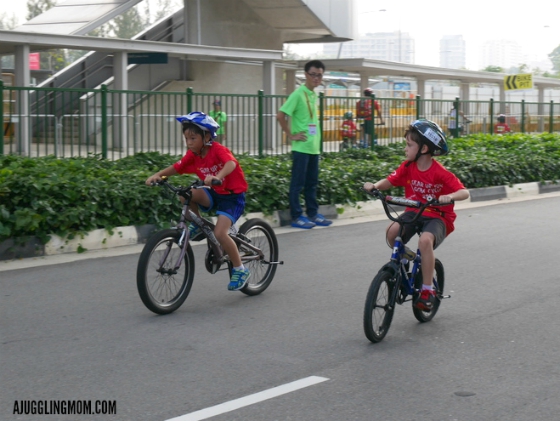 And while the MCs kept emphasising that this is NOT a race, there are bound to be some with more fire in the belly trying to  out race the guy next to you (Haha, see the disapproving look from the safety officer in green)
After a whole 20 minutes of non-stop cycling, Sophie got her medal for completing the event! And when I asked if she enjoyed it, she said , "Yes, but so hot!" Well at least she's truthful about it. Hubby added that while it was just round the track, she did push on and gave it her best. Way to go there!
We headed to the carnival after the event where there were food stalls for a little refuel.  Some of the stalls were selling old school snacks like kachang puteh, ding ding candy and kueh tu tu, how nostalgic.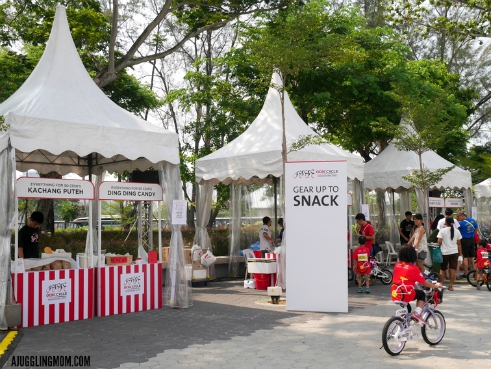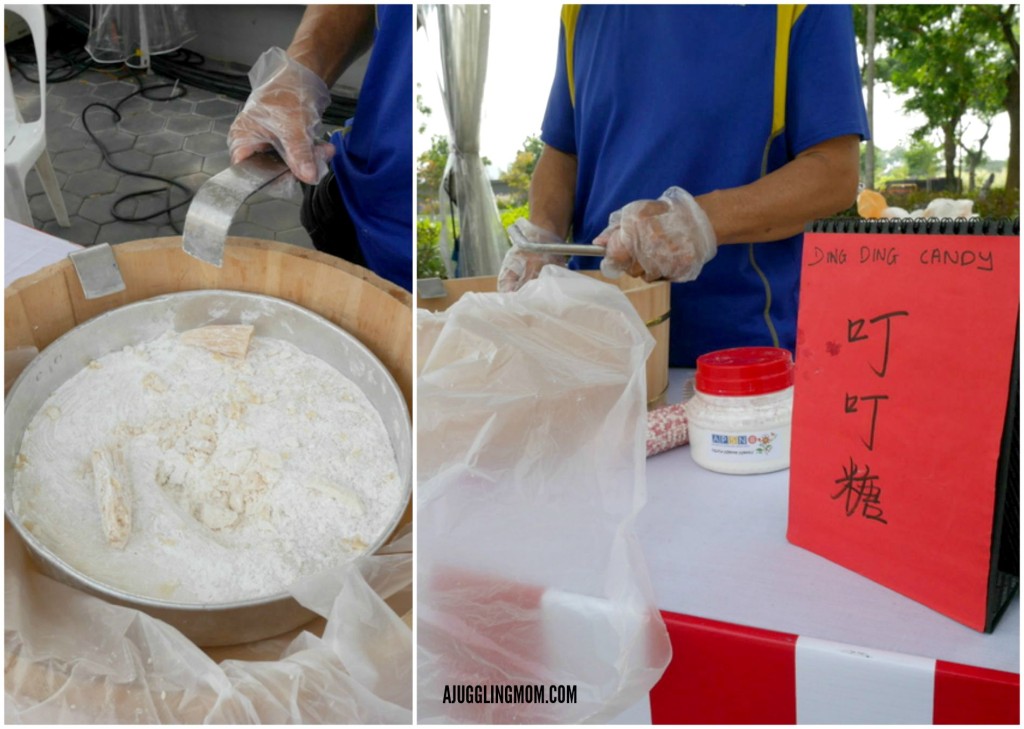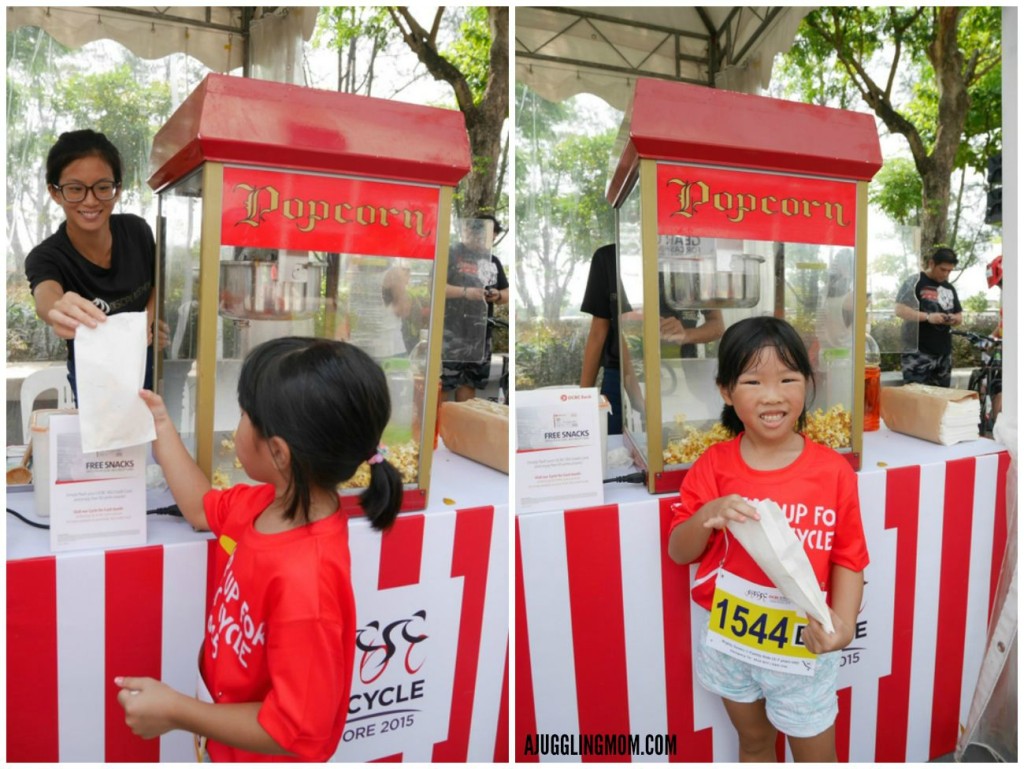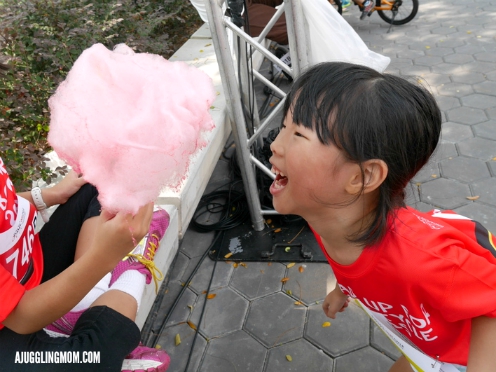 All snacks were going for 50 cent and sales proceeds went to charity. And being an OCBC 365 credit card holder, all I had was to flash my credit card to enjoy my snacks for free 🙂
We also went to check out some of the other activities around from games to trial sports sessions.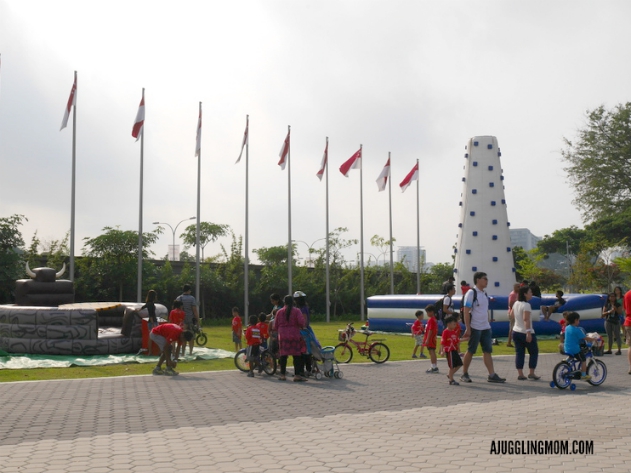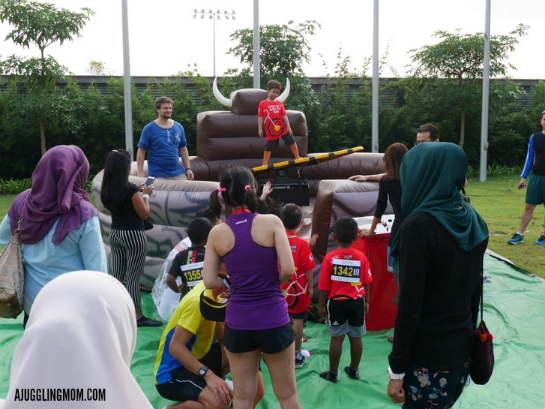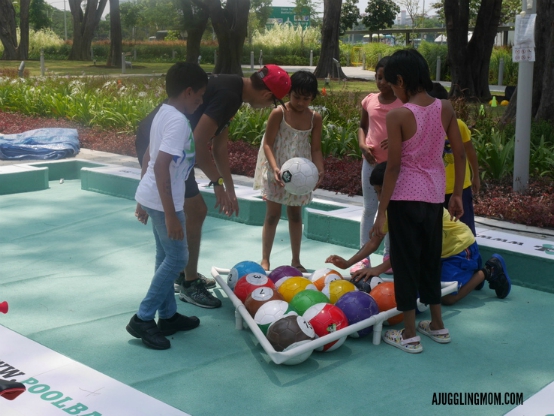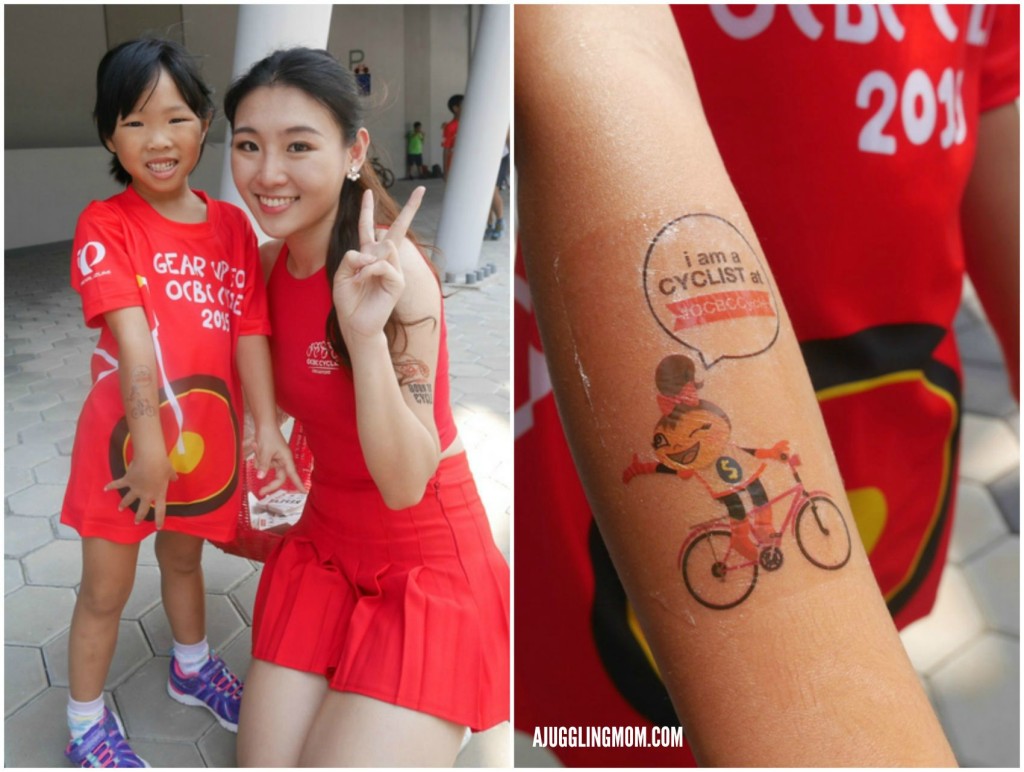 Before we left, we made sure to pick up our Instagram prints that has been hastagged with #OCBCCycle for the event. These are definitely into my Project Life and scrapbook layouts to remember this fun and special day!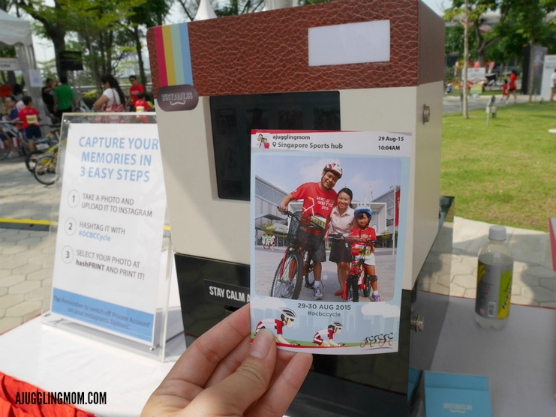 I'm glad that Sophie enjoyed her first cycling event at the OCBC Cycle with Daddy dearest and it's always so heart warming to see these two sharing new experiences together. Doing a  common sport is one way where Alexis and Sophie find opportunity to bond and in the process, she also learns that having a healthy lifestyle can be a fun things in itself. And it's not simply just for this event, but also for the times when he takes her to practice on her bike around the neighbourhood, where they share laughs and sweat together 🙂
I'm so proud of my little champ and can see that she's even more confident on her bicycle now. I guess you can call that an #achievementunlocked !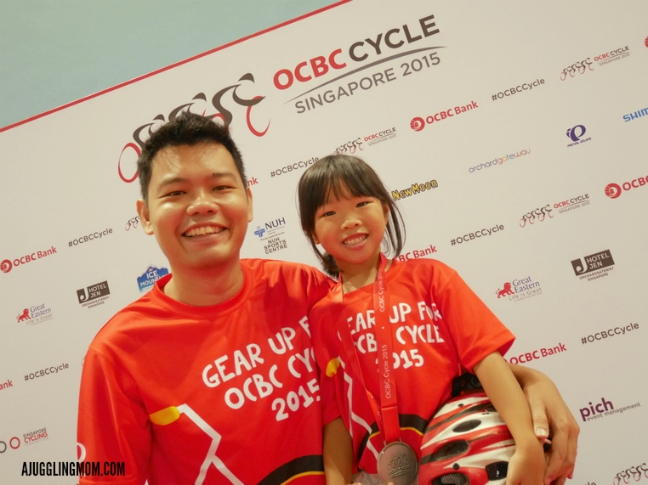 See you next year at OCBC Cycle 2016? 🙂
Hop over to these blogs to read about their experience at the OCBC Cycle 2015 too.
Tagged: Cycling, family friendly activity, OCBC Cycle