For many parents, flashcards are one of the first few ways that we use to teach our little ones to recognise words. And for us, it was no different and flashcards have served us well in teaching Sophie both English and Chinese. The options out in the stores are plentiful and for more hardworking parents, you can also choose to print and laminate your own flashcards at home.
Wink to Learn Speak and Read English 
We recently received a 4 part DVD series Speak and Read English from Wink to Learn that helps children to learn how to read and speak in English. The objective of the program is to recognise more than 500 words and to form proper phrases and sentences using proven flashcard-techniques developed by Dr Glenn Doman and Dr Shichida, two early childhood educator experts. 
The DVD consists a total of 48 topical lessons which systematically help your child to recognise words and to form proper phrases and sentences. The DVD included a parents' guide with a  suggested lesson plan so that parents know how many lesson to play and for often to get the most out of this program.  The set that we receives is suitable from as young as 12 months and up to 7-years-old. Though they mentioned that below 12 months can also watch it, I'll not encourage this at such a young age.
What I liked about it
When I played the DVD, Sophie was drawn to the TV and she was very receptive to the words that were played on the screen. Now, if you're like me and are hesitant about letting the kids watch TV, rest assured that the lessons are short.  For Sophie, we only played two lessons at a time, and it only took no more than 8 minutes!
I liked that the the voice overs didn't have a strong accent and the pronunciation of the words were accurate to a tee. To help kids learn how to read the words, they also colour-coded different syllabus using bright colours, something which I find is very useful and may even get her to start doing by underlining the syllabus when she reads.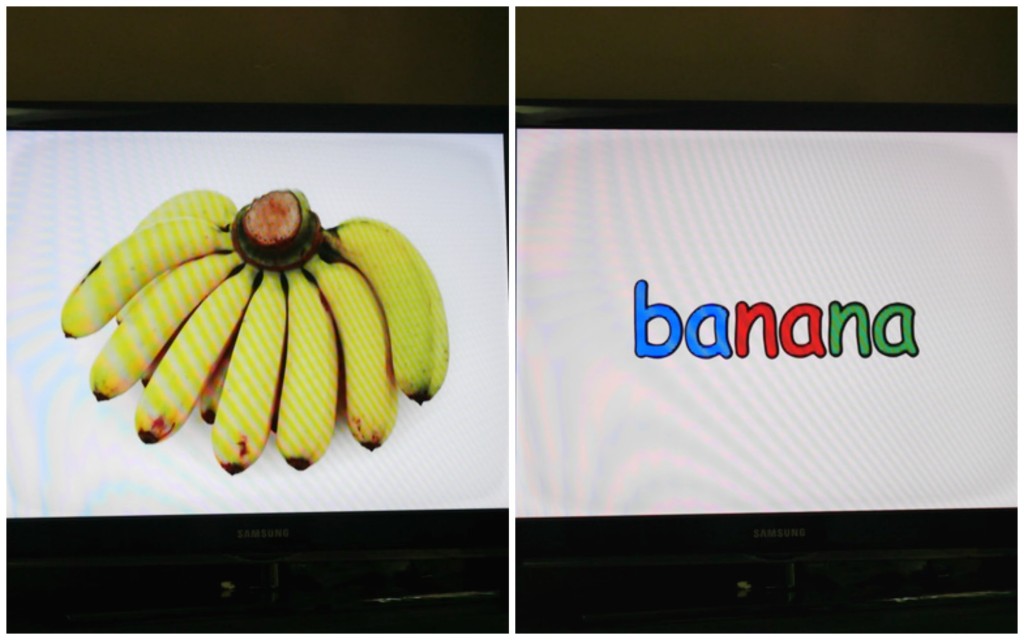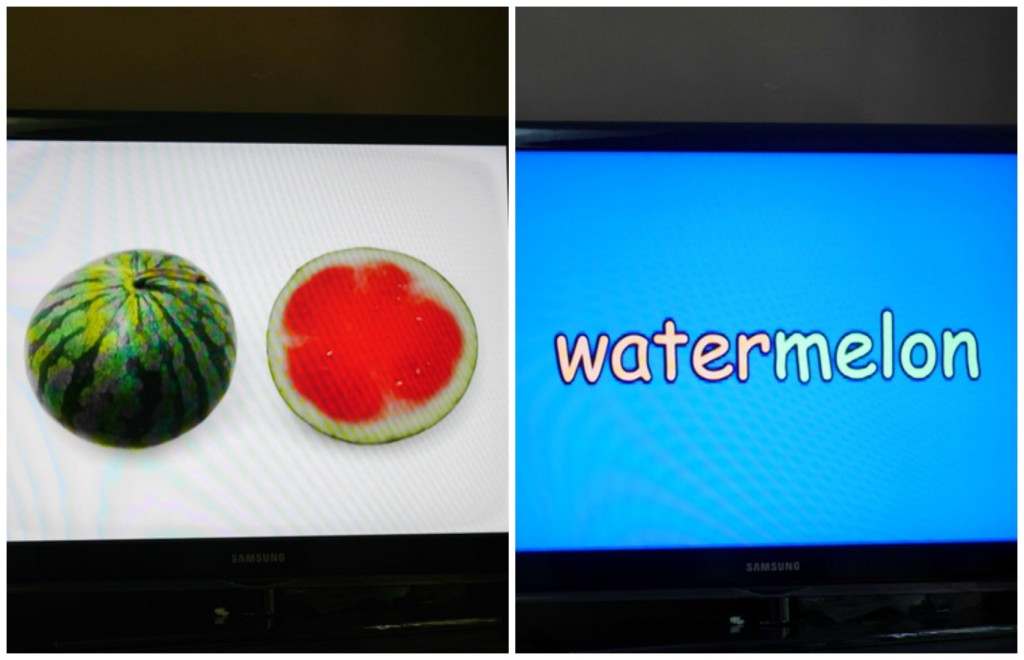 Kids can learn words from a wide range of topics such as: Action, Animals, Colours, Flowers, Modes of Transport, My Family, Numbers, Descriptive Phrases, I am…, I can…, etc.
Here's a preview of one of the lessons to get an idea of what you can expect.
If you're keen to get a set too, you can purchase them from Groovy Giraffe here. Oh and a little introduction about Groovy Giraffe- they are a local online reminder bookstore focusing mainly on Children's Books. The site offers books at unbelievable value where you get to save as much as 85% off the same title elsewhere!
And how do they do it?  They obtain their books from publishers who overprint books and can't sell all of them to standard bookstores. Hence the term "remainder bookshop". But not to worry as all books that you order are brand new!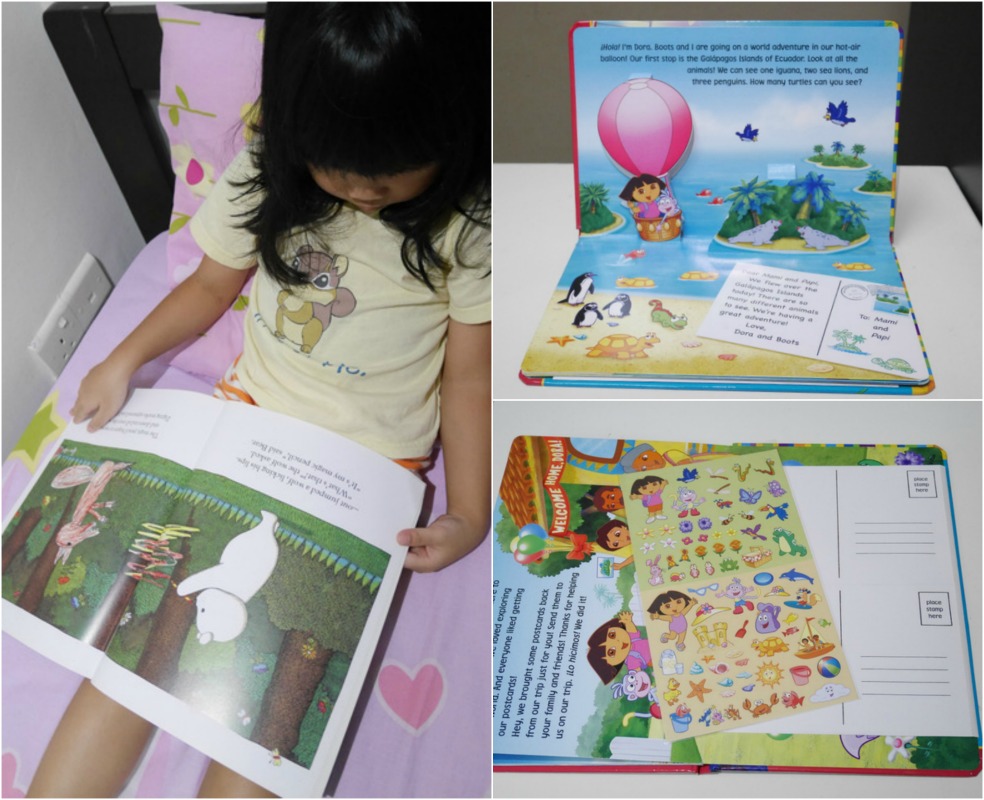 We ordered two books, one was Bear's Magic Pencil and  a pop-up book Postcards from Dora and they were both delightful reads. Do check out their fantastic offers and I love it that delivery only takes 3 working days!
And here's a deal just for all blog readers, when you use the code you'll enjoy a  5% discount off all purchases!
 -– – – – – – – -– – – – – –  GIVEAWAY FOR A JUGGLING MUM READERS – – – – – – – – – – – – – – – 
Giveaway has ended. Congratulations to Brenda Tay! 
Here's your chance to win a set of Wink to Learn Speak and Read English DVD (Retails at $48.90).
To enter the Giveaway, here's what you need to do:
3. Like & Share

this post

on your Facebook and tag a friend to join this giveaway too. Do make sure your post is public!
You must complete

all four steps

to enter this giveaway and a winner will be randomly picked.  This giveaway is only open to Singapore readers and the last date to take part is 24 July 2014 at 23:59.
Do note that winners will have to self-collect the DVD from The Groovy Giraffe (Everton Park) or pay $5 for shipping, and there will be no exchange of books or conversion to store credits.
* A Juggling Mom received a set of Wink to Learn Speak and Read English DVD and books from Groovy to write this review. No monetary compensation was received. All opinions are honest and are my own.
Tagged: books, giveaway, Groovy Giraffe, learning, reading