Like most Singaporean children who grew up in an English speaking environment , Sophie had an aversion to Chinese. When she was younger, it was funny to hear her demand in exasperation for us to "speak to her in English" whenever we conversed with her in Chinese.
Things got better after we took her teacher's advice and spoke to her purely in Chinese instead of using our rojak English and Chinese, something that is no doubt uniquely Singaporean but very much frowned upon by her native China teacher as kids tend to fall back on using English.
What really encouraged Sophie's interest in the Chinese language was exposing her to Chinese story books. Sophie can be quite a bookworm so we read from a variety of titles and series which helped to pique her interest and also improve her Chinese vocabulary thus boosting  her confidence in the language.
And today, we want to introduce a Chinese series of books, The Wolf.
The Wolf series is an international bestseller that is sold in over 20 countries. Originally from France, it has been translated into 15 languages and taught in over 650 schools. The series of The Wolf is about the adventures of a grumpy Wolf who discovers through many unfortunate mishaps the value of friendship, self-acceptance and other such values.
There are 5 books in the series and each book touches on certain themes that children of all ages can learn valuable lessons from with humour injected into these colourful illustrated pages.
One of our favourite title is The Wolf Who Wanted to Change His Colour, 想变颜色的小狼 where the Wolf got tired of his boring black fur and wanted to try out a new colour everyday.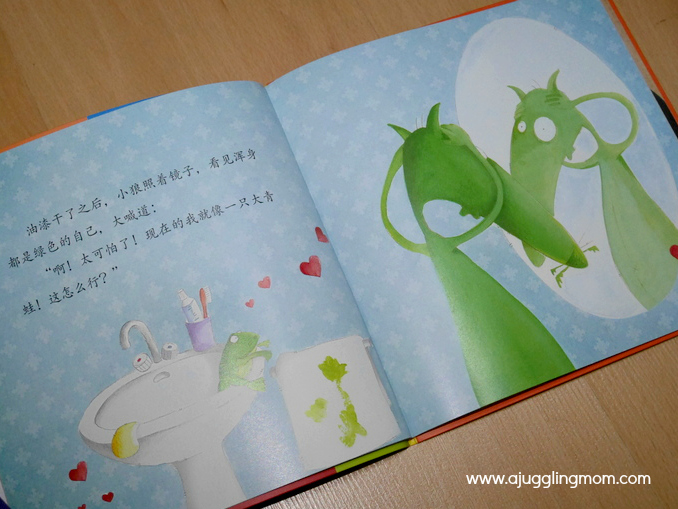 Through humorous experiments, his attempts to change his colour got from bad to worse and Wolf soon finds out that perhaps he should learn to accept himself as who he is.
Another title that we enjoyed is The Wolf Who Wanted to be an Artist, 想当艺术家的小狼 where Wolf explores different aspects of the arts from singing, painting, sculpting and acting.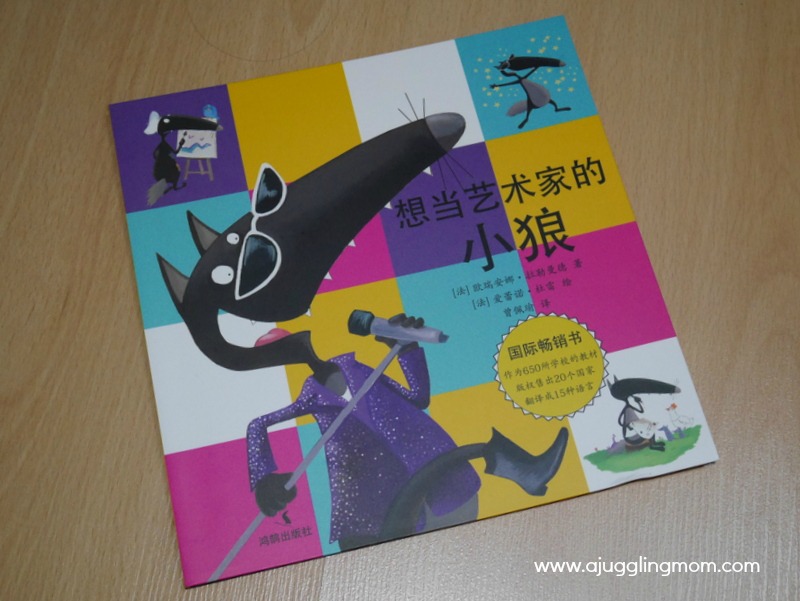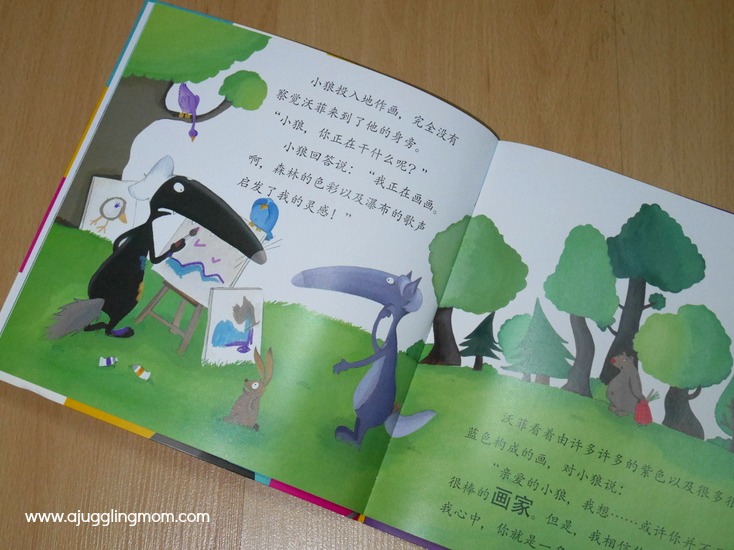 Children get to learn about different occupations associated with the arts and also learn that having 三分钟热度 cannot be sustainable.
The Wolf series is an engaging and delightful read to encourage your kids to enjoy and love the Chinese language. We had lots of fun and laughter reading these series of book and believe that you will too 🙂
These set of books are currently being sold at the following stores- MPH, Times, Ma Ha Yu Yi, Union, Music Book Room and Junior Page. You may also purchase directly them from the publisher,  Wild Crane Press and enjoy a 10% discount storewide.
– – – – – – – -– – – – – –  GIVEAWAY FOR A JUGGLING MOM READERS – – – – – – – – – – – – – – –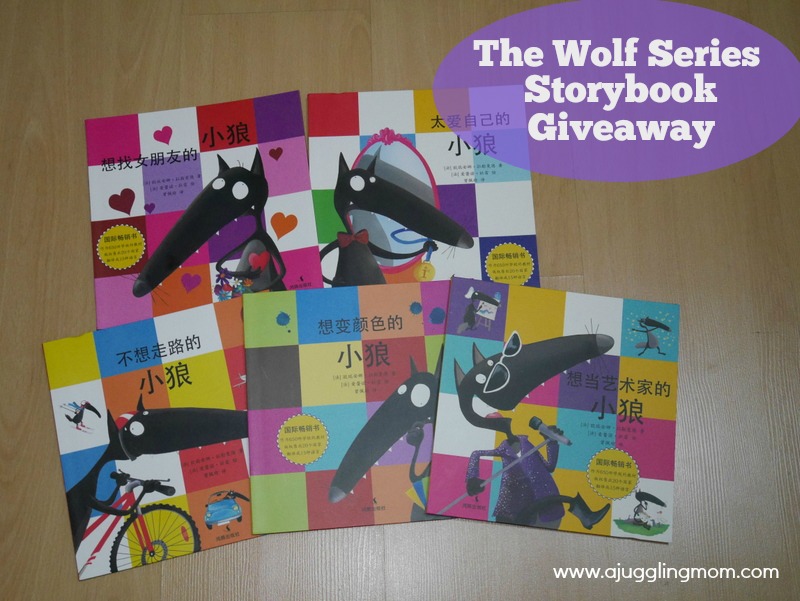 Thanks to the kind sponsors from Wild Crane Press, 3 winners will stand to win a set of The Wolf series which contains 5 titles,  The Wolf Who Loved Himself Too Much, The Wolf Who Wanted to Change His Colour, The Wolf Who Searched for a Girlfriend, The Wolf Who Wanted to be an Artist and The Wolf Who Did Not Want to Walk Anymore.
To take part in the giveaway, do fulfill the steps on the Rafflecopter widget.
Complete all 4 steps to gain more chances

Giveaway ends on 5 November 2014, 11:59pm. Good luck!
Please note:
This giveaway is only open to readers residing in Singapore
Winner will be required to self-collect the books from lamp from Wild Crane Press (33 Ubi Avenue 3, #06-37 Vertex Tower A).
* A Juggling Mom received a series of The Wolf to write this review. No monetary compensation was received. All opinions are honest and are my own.