We visited the River Hongbao on the 3rd day of Chinese New Year as we make it an annual activity to be looked forward to for the Lunar New Year. Plus it would seem such a waste to just stay home and sulk about returning to work back on Wednesday.
The River Hongbao started on 8th February and runs till this Saturday, 16th February 2013. This will be the  27th consecutive year since River Hongbao was first held and have since been a highlight of the Chinese new Year for many locals and tourists who wish to soak in the joyous festive celebration.
We anticipated a huge crowd since it was free admission and it almost seems like there was already 6.9 million people at the Marina Bay floating platform.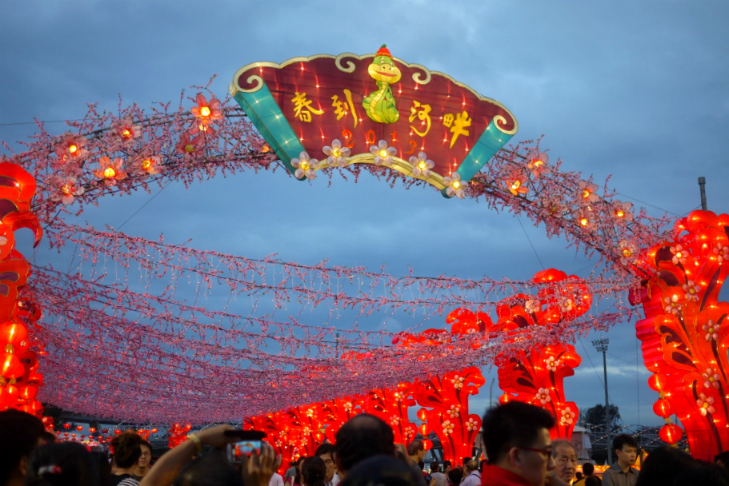 I love the cherry blossom decoration that  is hung along the entrance ofthe River Hongbao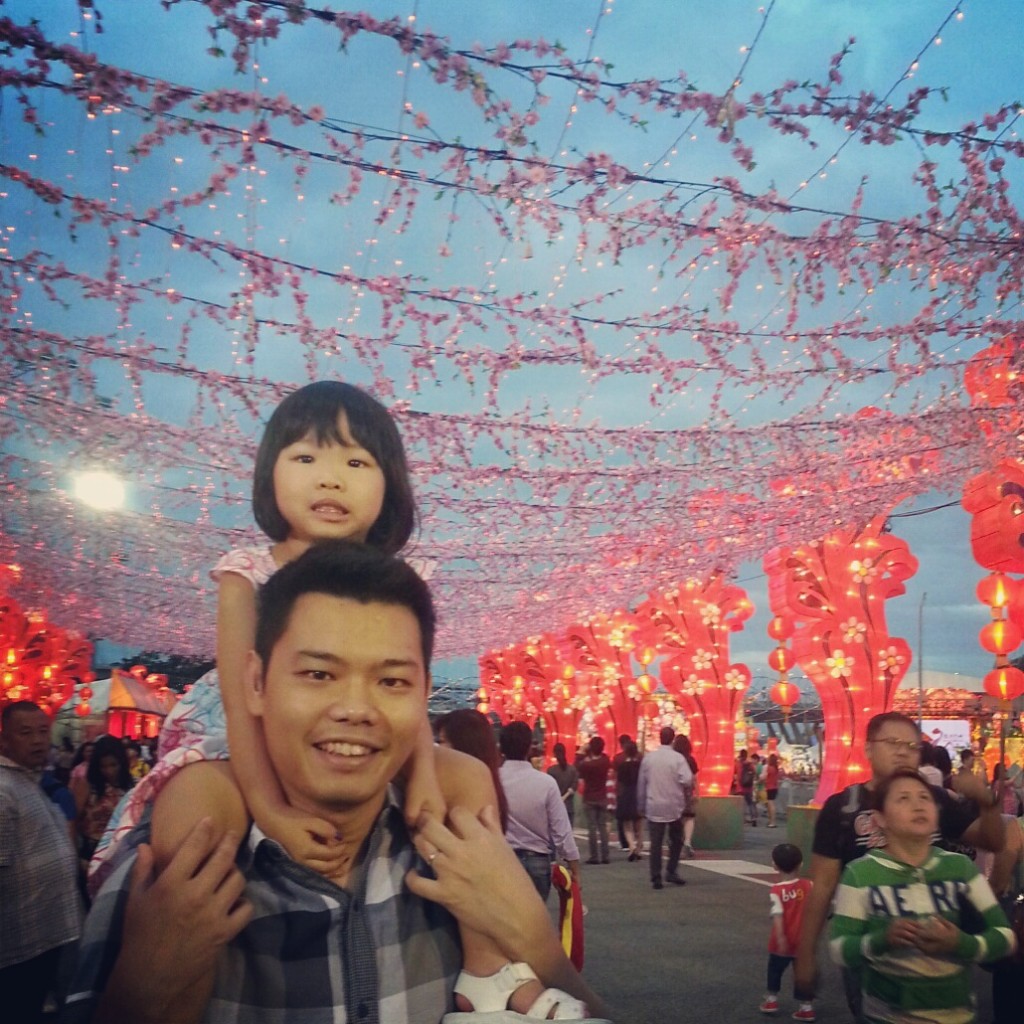 Sophie has the best view up on Daddy's shoulder
You can't miss the many lanterns that lit up the floating platform at Marina Bay. The first lantern that greeted us was a pineapple, an auspicious fruit  as it sounds like "fortune has arrived" .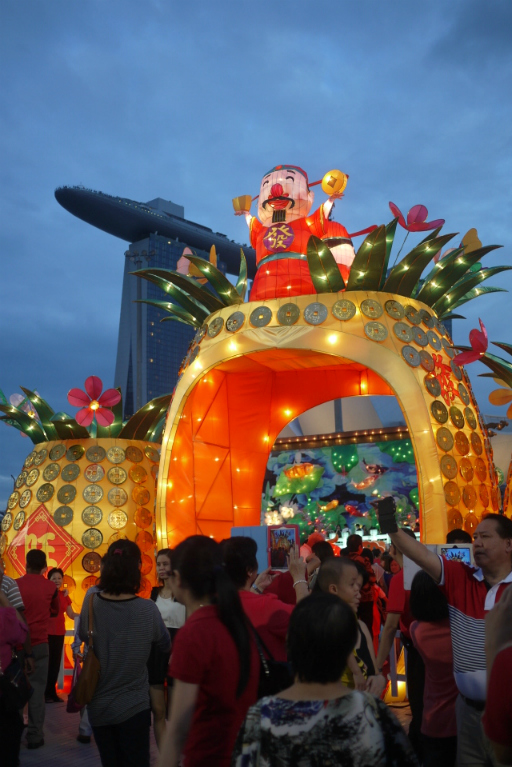 I still get amused by the sight of people using their iPads to take photos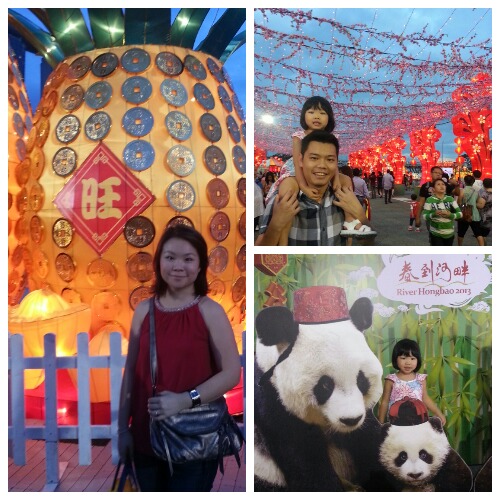 This year there was even a bridge structure that gives you a higher vantage point so that you can have a bird's eye view of the whole platform area. But there were security personnel who kept hurrying us to keep walking so I didn't even manage to take a decent photo without having my view blocked by someone.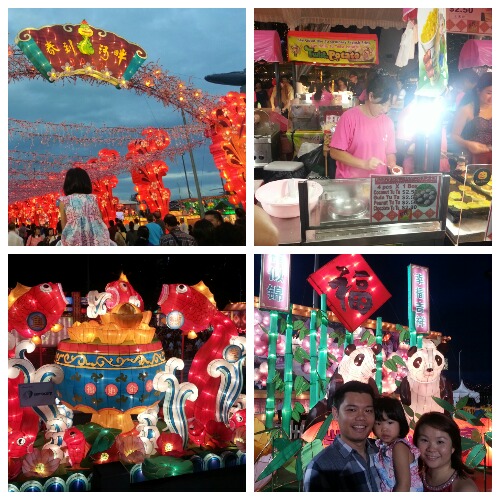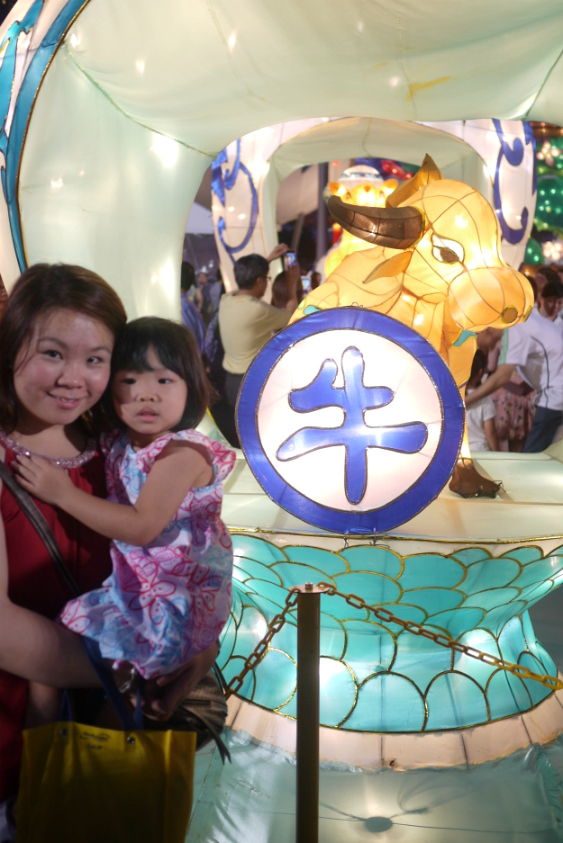 Sophie's zodiac sign, the ox…. which explains her stubborn streak
The most elaborate of all zodiac signs was the snake where it extends all the way to the top of the vase but with when it's people mountain, people sea, it's best to keep moving so as to avoid being pushed around. I find that the lanterns for the zodiac signs were placed too closed to each other, which makes it a tight squeeze for people who want to pass through and for those who simple wants to snap a picture or read their fortune for the year.
We bought our dinner from the food street tentage where I got to eat my BBQ squid which is simply heavenly… and Ramly burger and even introduced my dear girl to tutu kueh. But she choose the most unconventional flavor, chocolate! There are plenty of food choices including Guangdong delicacies, Taiwan and Korean street food and familiar pasar malam food like tea leaf eggs, taiwan sausages, carrot cake and char kway teow.
I'm ashamed to admit that we fell prey to Nestle's ploy and got her a tin foiled Milo balloon which was only given after purchasing $10 worth of products. Being the indulgent parents we are, we bought a packet of 3-in-one Nescafe coffee powder and two cups of diluted ice Milo for $2 each. But the highlight for her was definitely the Uncle Ringo amusement rides area where there were so many games stall and kiddy rides waiting for her. We limited her to two rides and boy were they expensive at $5 per ride!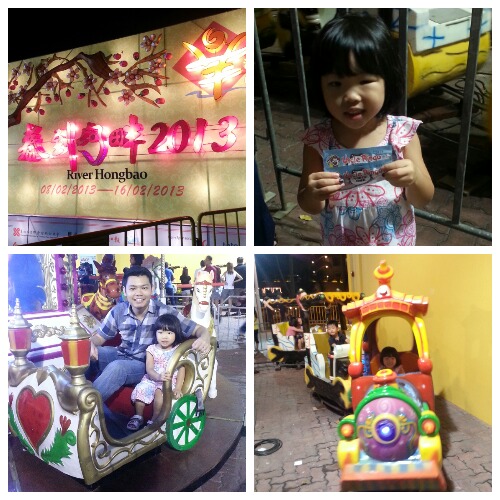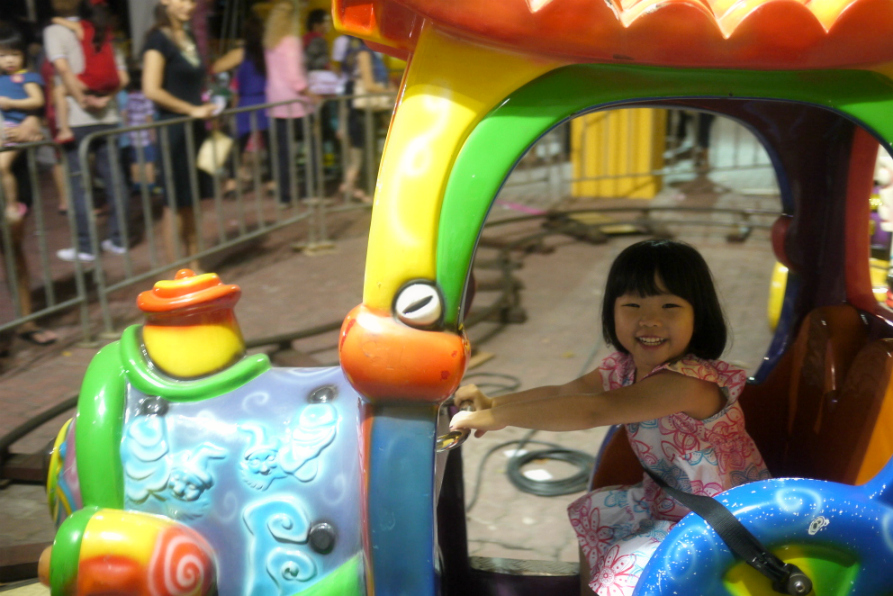 Having so much fun as the captain of the choo choo train!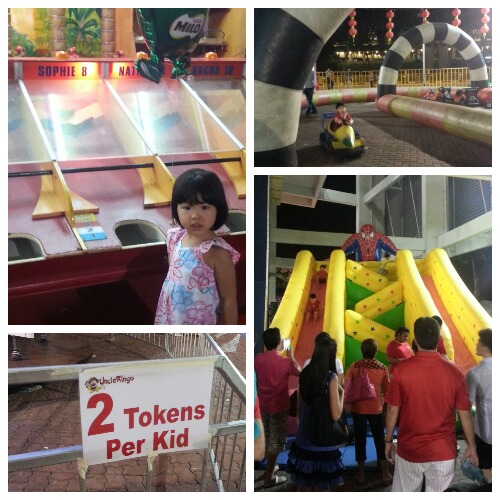 We spotted Sophie's name in a game booth with the no 8. There must be like more than 20 stalls and kiddy rides all together and seemed like they brought in the most rides this year. Either that, or I've never really paid much attention to it before.
And of course, that's a trip to the River Hongbao if you went back without a photo with the pandas?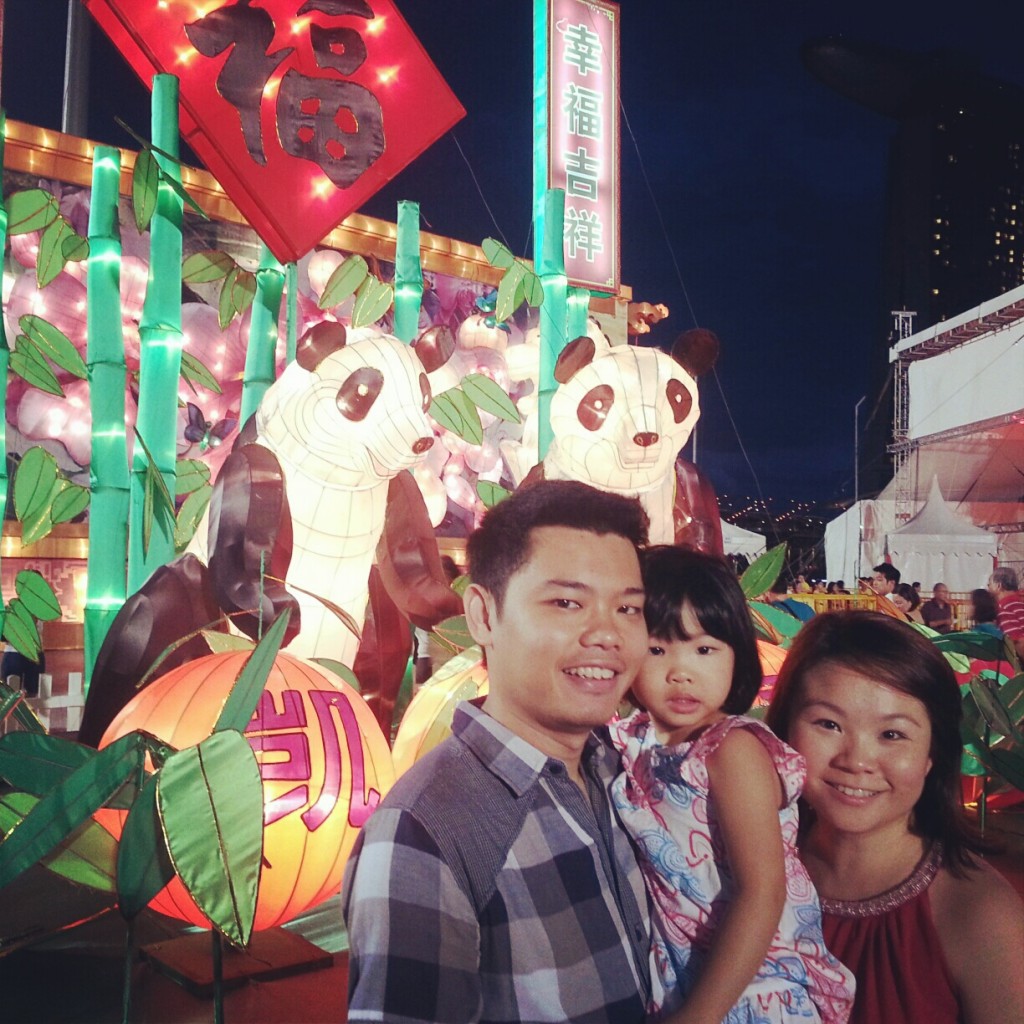 Okay, make it two!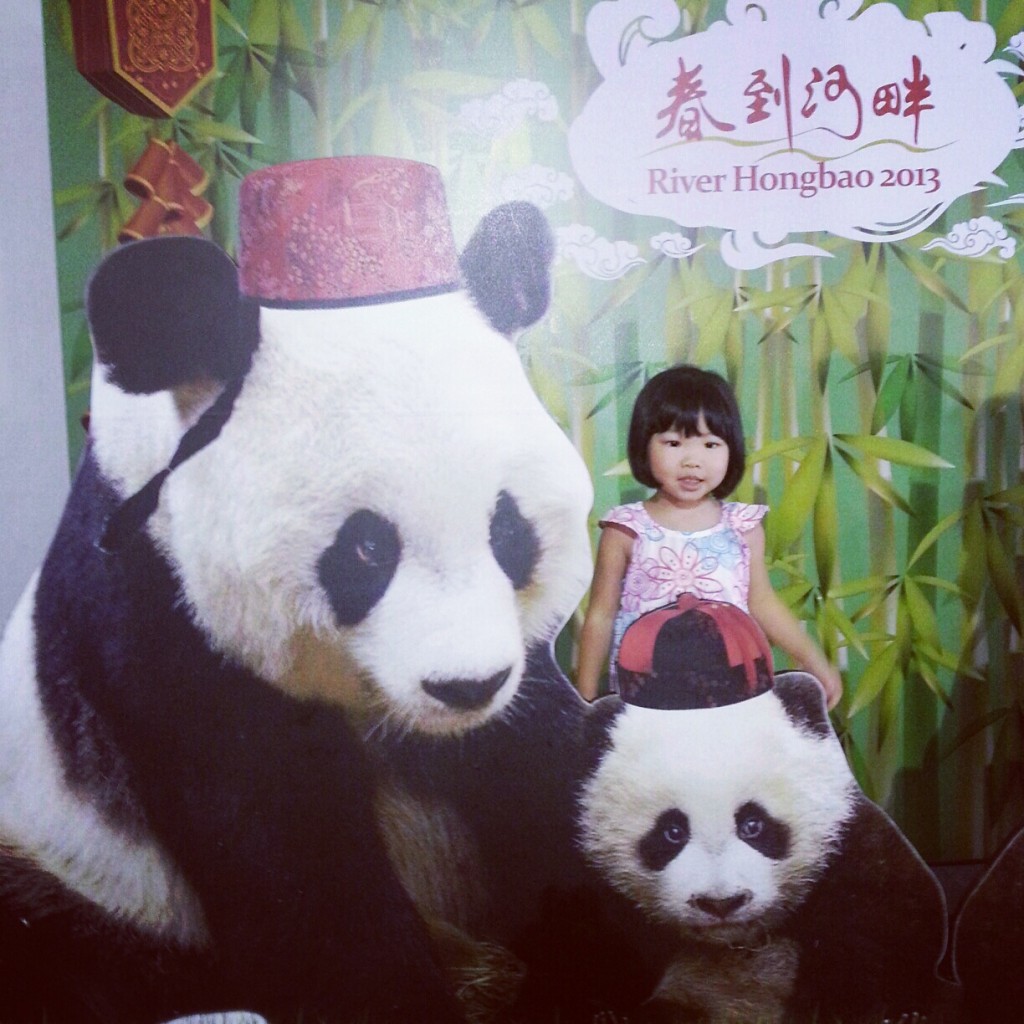 I think we've seen better displays for previous years but if you're free in the evening and IF it does't rain, it still a nice way to soak in the festive spirit with a walk here.
But do hurry as the River Hongbao ends this Saturday.
Tagged: Chinese New Year, Chinese New Year 2013