Last Saturday, we made plans to bring Sophie to the Kampung Kids in Pasir Ris. But when she took her afternoon nap, the rain began to pour and didn't stop even after she was up. Not wanting to disappoint her, we headed to the new mall, Changi City Point, directly opposite the Singapore expo MRT, to check out the latest indoor kids playground, Petite Park which I learnt another mummy's blog review.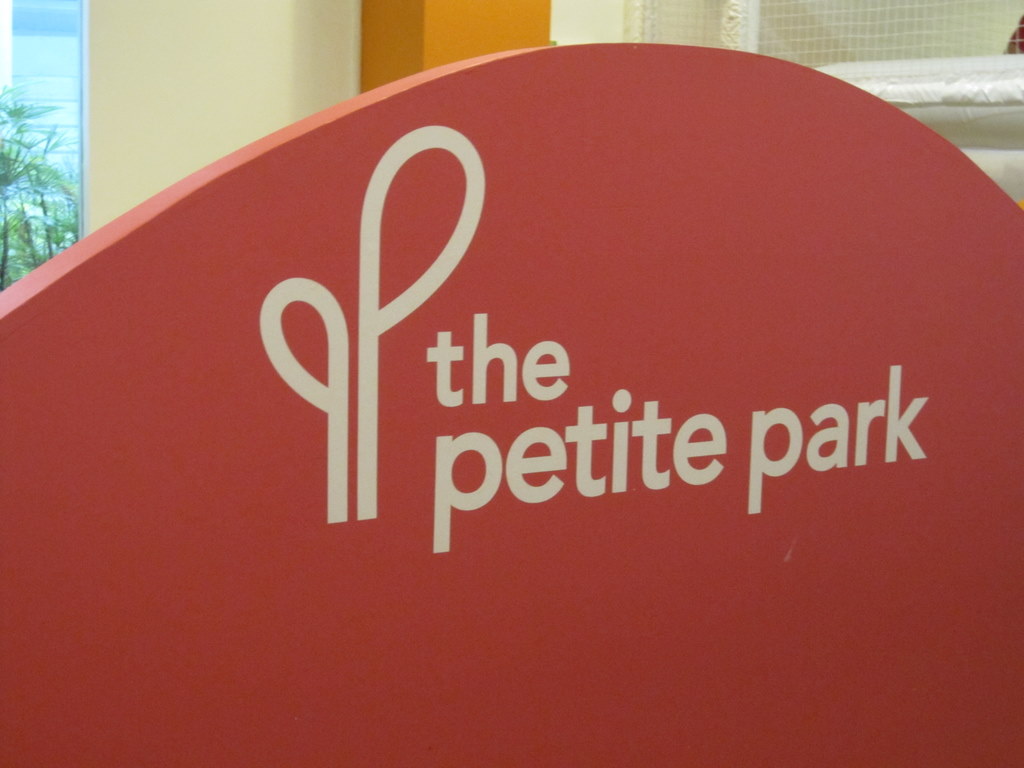 This indoor play area is specially designed for children under 130 cm. When I looked around, the structures seemed less challenging and intimidating, so I'm guessing they are catered mostly for kids between 1-5 years old.
The playground consisted of two main areas; an active play area and an area for pretend play.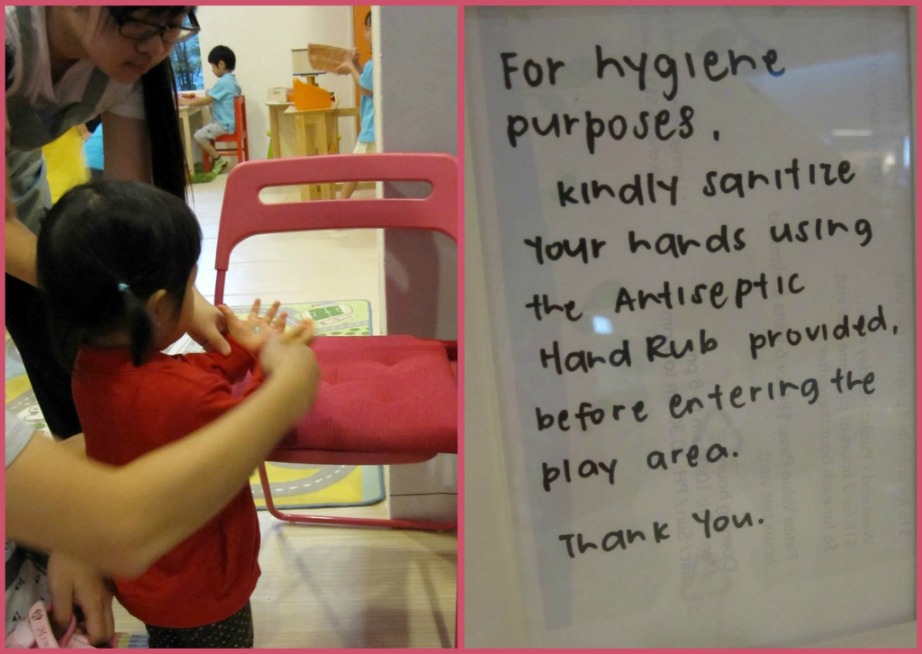 After getting her temperature checked and hands sanitized, she was off for a bouncing good time in the bouncing castle with Daddy.
The area is well padded for little kids and had structures like the usual slide and swing.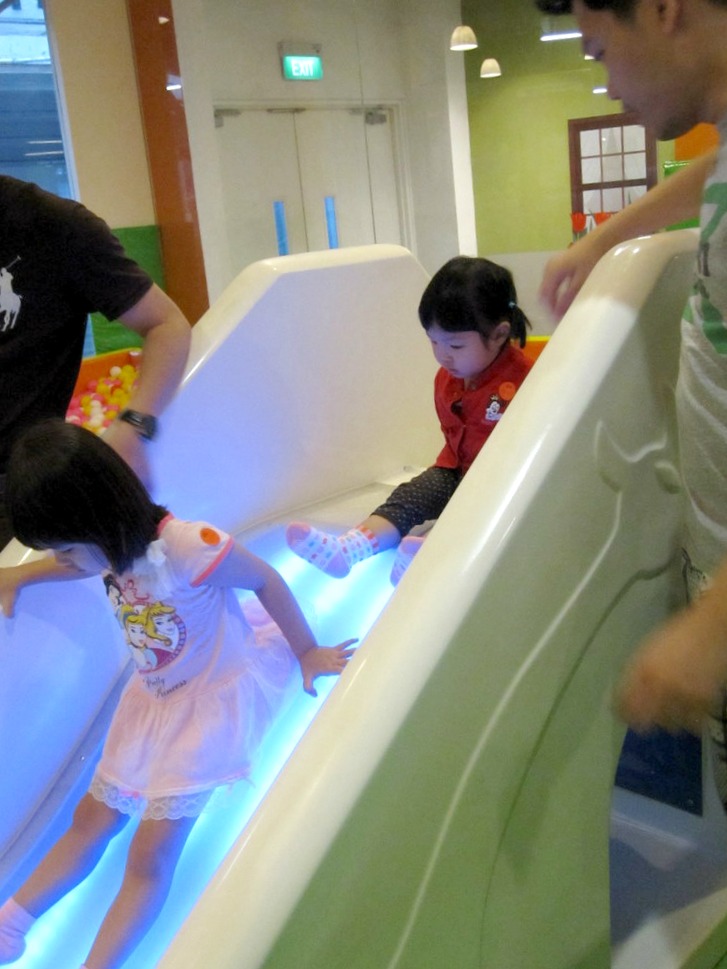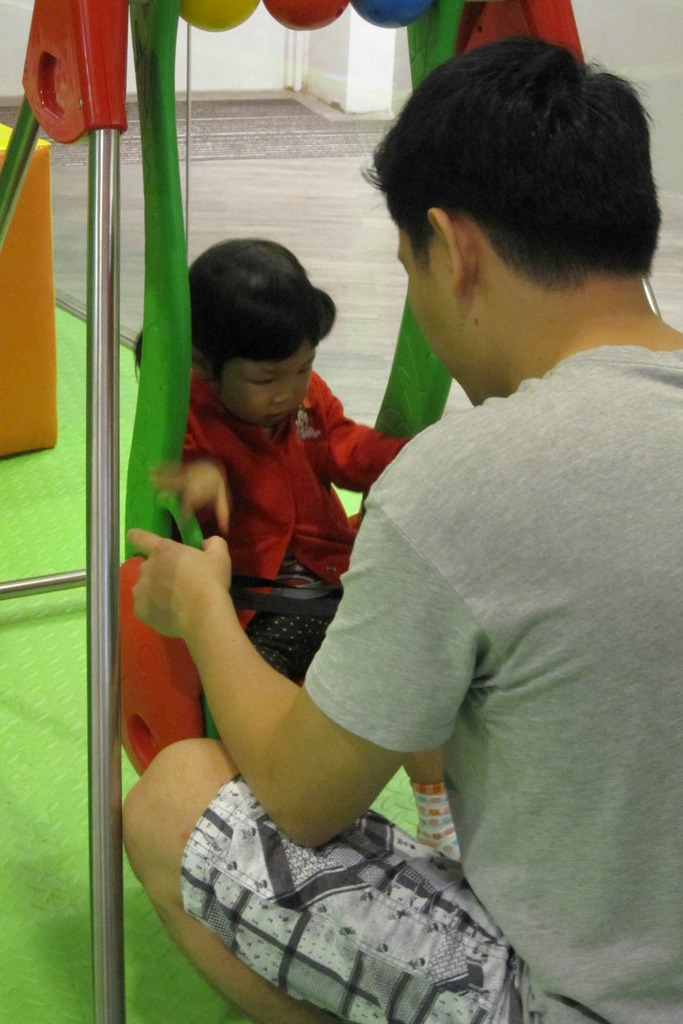 Tunnel with a view of the "sea" below
You can't miss the ball pit that could even bury Alexis! Be careful when you dive in though and don't hurt any kids.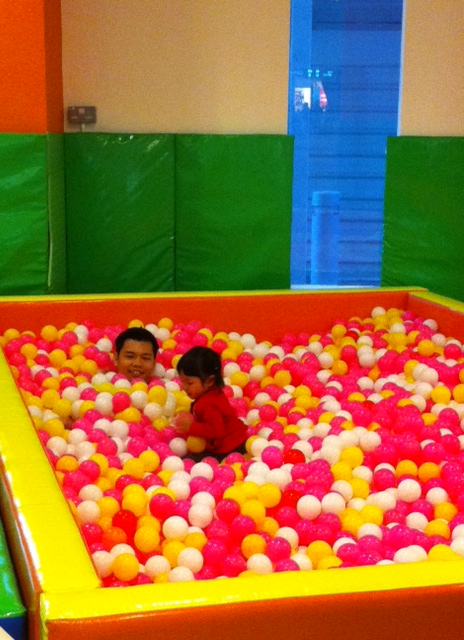 A spinning carousel with swinging balls which was pretty tricky for Sophie to hop on given her height.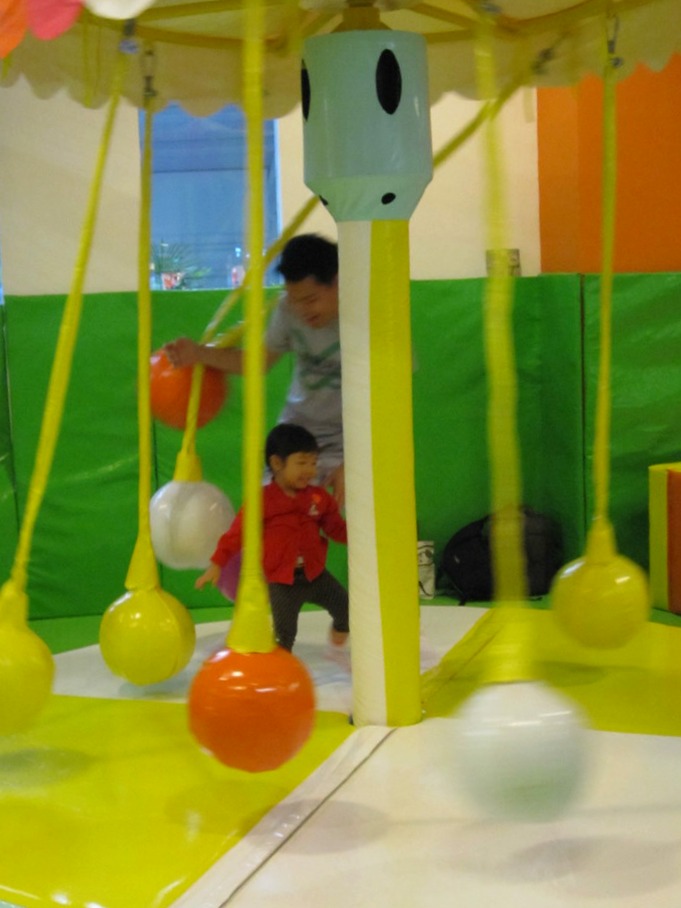 There were also areas with bouncing balls which was another of Sophie's favorite as she squealed in delight trying to catch them!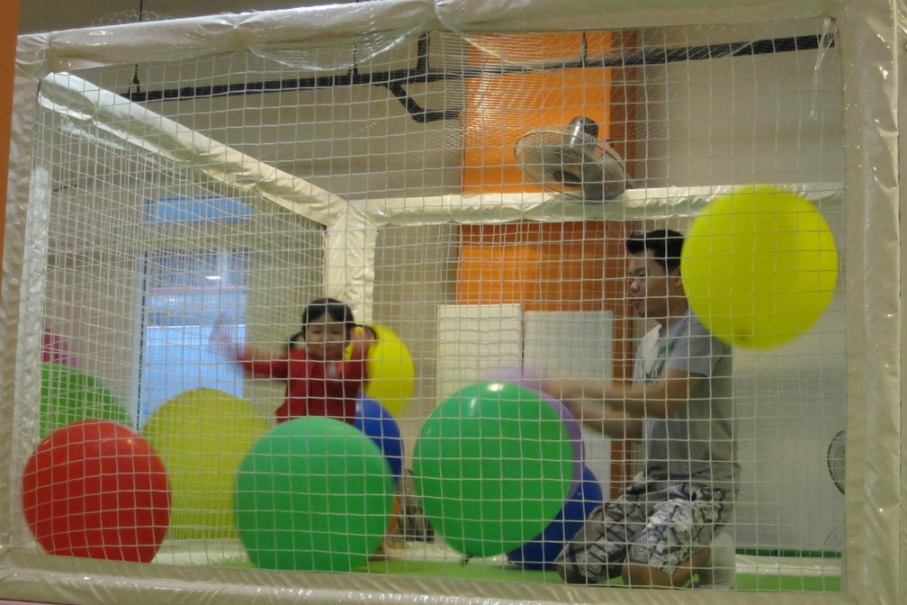 And underneath the areas, there were some toys for more quiet playing.
After she got tired from all the running and jumping, Alexis brought her over to the pretend play space. Immediately, she recognized some of the wooden toys and told Alexis that," in school also have".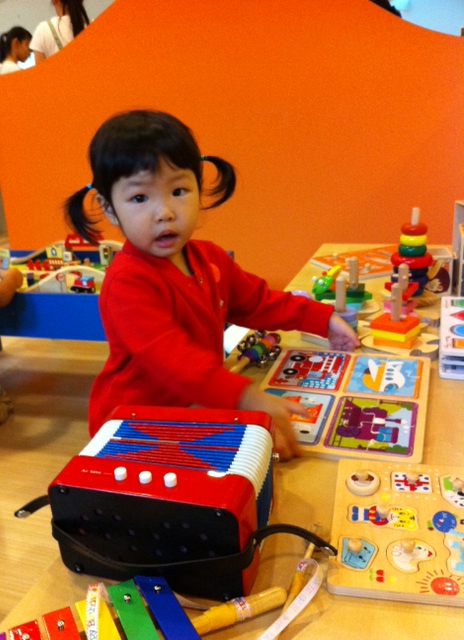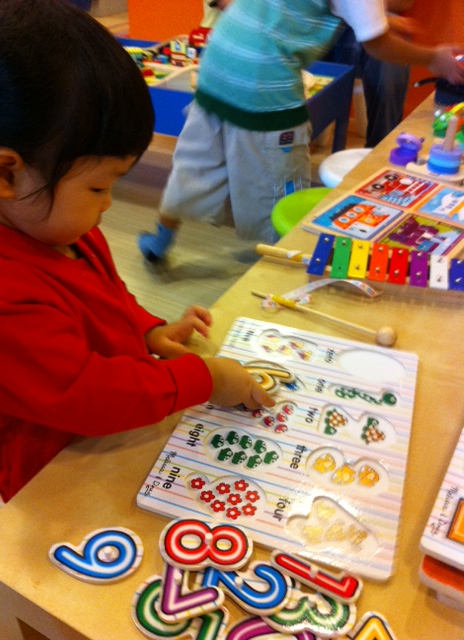 Of course, no pretend area is complete without a kitchen set where kids can use their imagination and be the cook for the day. Besides that, they also have train tracks, kitchen toys, a garden set up and food stalls.
Petite Park also offers birthday packages where you can rent the party room or the whole playground for two hours.
Besides Petite Park, Changi City Point is home to factory outlets brands like Nike, Adidas, Espirit, Crocs, Cold Wear and Fox kids. I also spotted Smart Alley, a children educational resource shop.
Another brand worth mentioning is Payless, an America shoe brand which carries hip designs of children's footwear! It's a shoe heaven inside.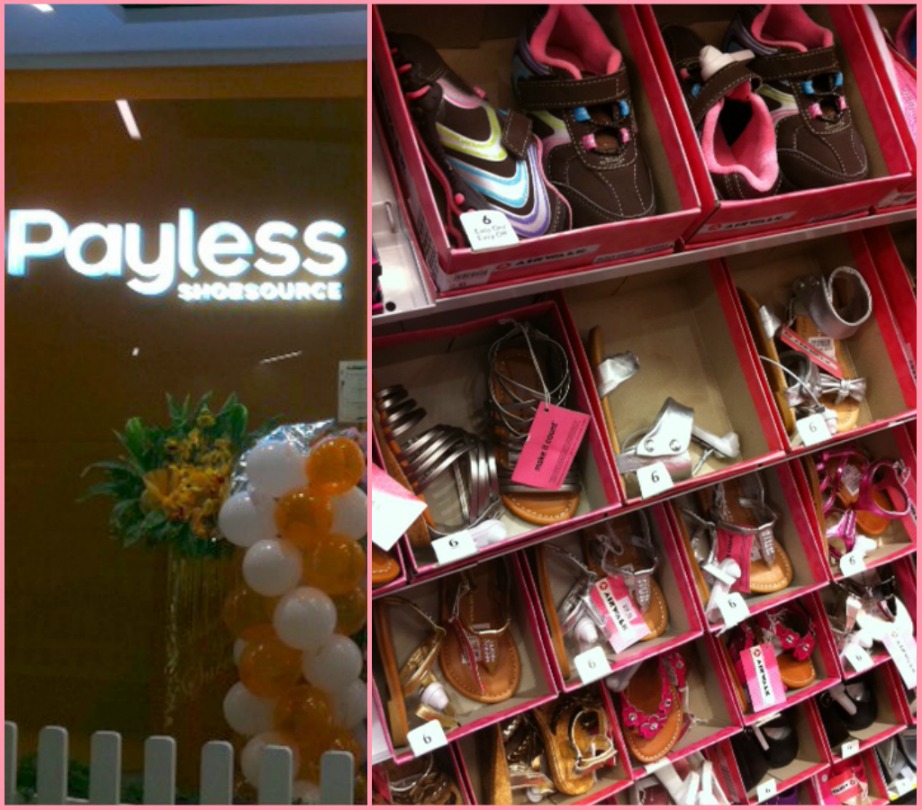 Compared to Amazonia, Petite Park is much more kiddy friendly for younger toddlers. So if you've kids between 1-5, why not check out the Petite Park in Changi City Point mall before it gets too crowded?
Address:
Changi City Point, 5 Changi Business Park Central 1, #02-15/16 S(486038)
Rates:
Weekday rate: $16 for unlimited playtime per visit.
Weekend / Public Holiday rate: $18 for 2 hours of playtime per visit.
$6 for each hour thereafter.
Petite Value Pass: $84 for 6 visits (unlimited hours per visit).
Opening hours:
Mon – Fri: 10.30 am to 8 pm
Sat / Sun / PH: 10.30 am to 9 pm
Tagged: changi city point, east, indoor playground, pretend play, Singapore, toddlers