Sponsored review
There comes a time when moms of toddlers face this, their food grabbing tots turn into fussy eaters and I'm not just talking about times when they turn their noses up at their greens. I see a few nods so I suppose you understand some of my struggles to get my daughter to eat when she's in her fussy eater mode.
While some parents are cool about it and reason that they will eventually eat when their little tummies are hungry, I try not to encourage such behavior and look for ways to make Sophie enjoy her food. I'm no chef so I resort to anything from cute shaped pastas to angry bird fishcake and of course pancakes of all sorts to tantalise her taste buds.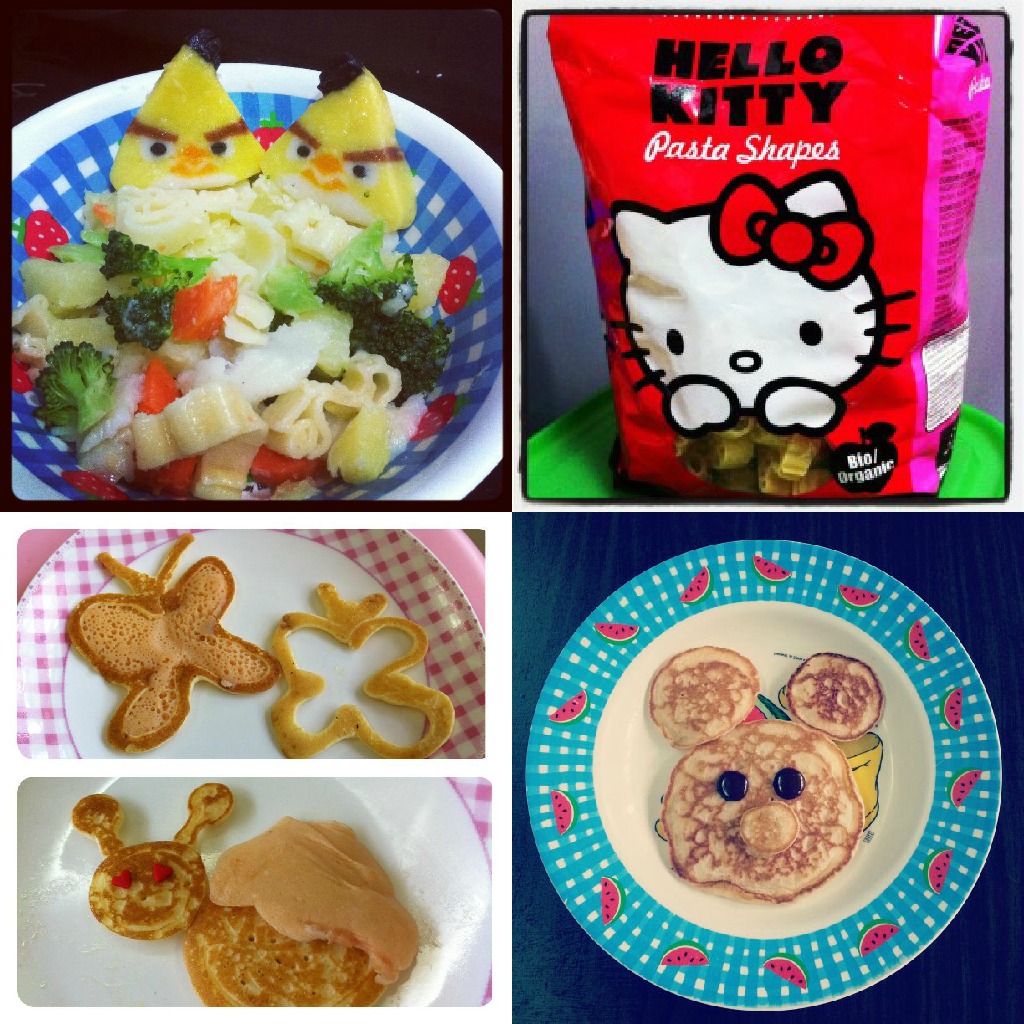 Sometimes they works, sometimes they doesn't. And when I run out of ideas, I start pulling out tools from my bento stash and prettify her meals.
Now I have an easier way to interest her with her meals with this colorful playful panda dinnerware set from Corelle. There are 6 items in this dinnerware set, which consists of a plate with dividers, a soup bowl, a dessert bowl, dinner fork and spoon and a soup spoon.
I like it that Corelle gives a one-year warranty and promises to replace any dinnerware should they crack, break, chip or permanently stain within one year of usage. Made from break and chip resistant material, I am assured that Sophie can eat independently without me watching over her shoulders.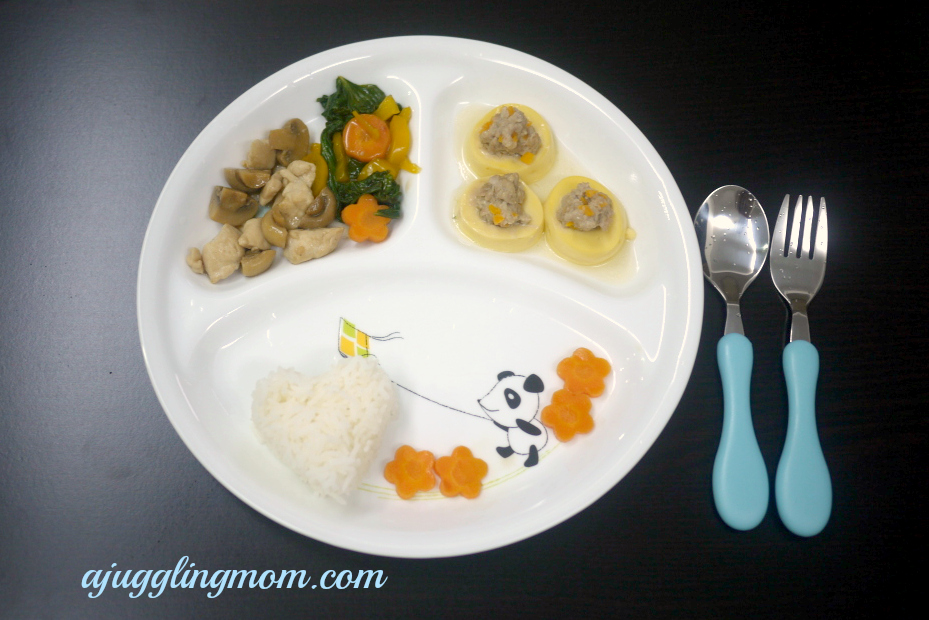 The first time I used this set, Sophie was wowed by it and was all ready to dig it. But what kept her going was the fact that I told her there were hidden characters under her food.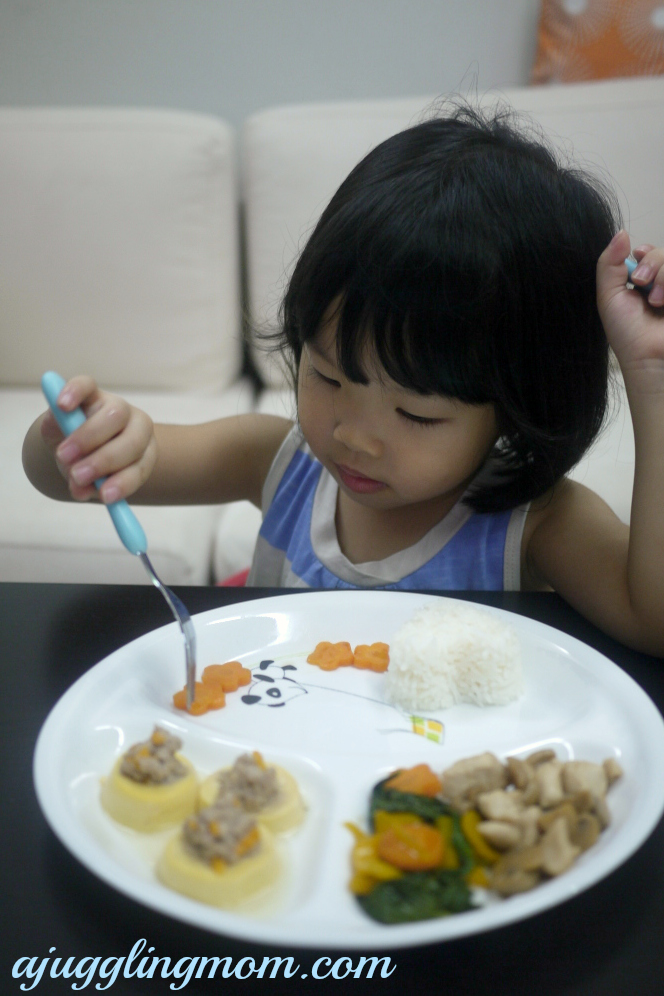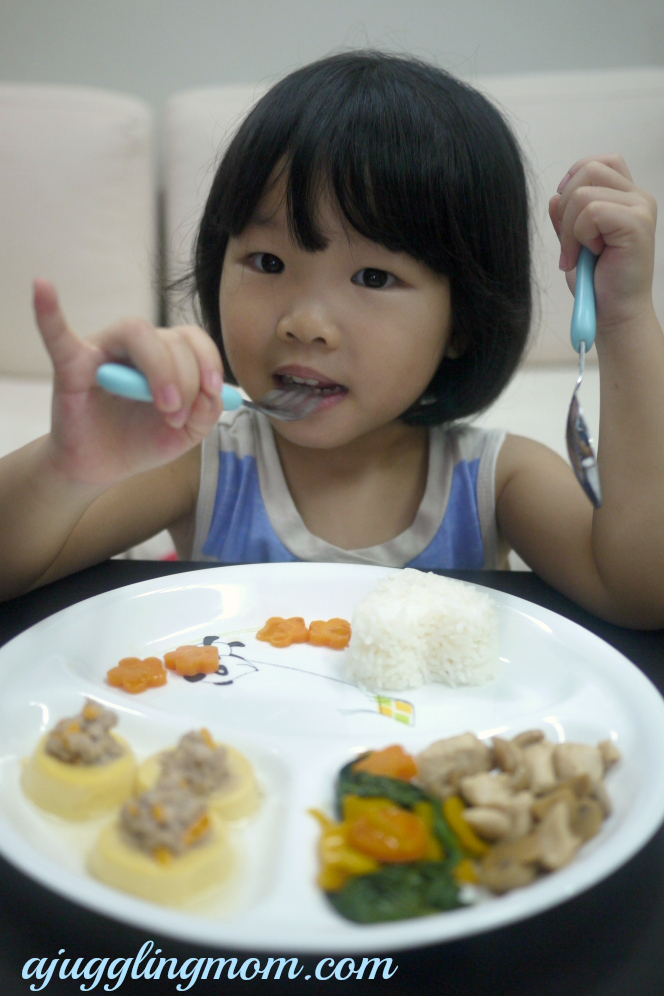 So she ate and ate and cleaned the plate and found another baby panda. I attributed her clean plate to my superb culinary skills and of course a little help from our panda friends.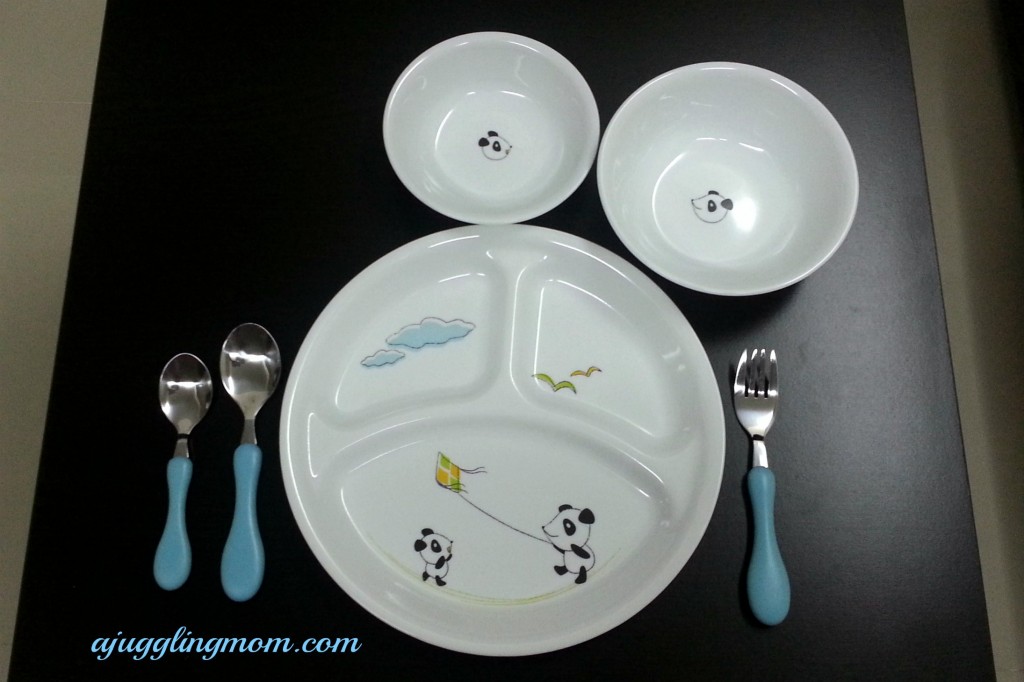 While the design of this set makes it more visually appealing for kids especially the fussy eaters to finish their meal, I find that the sides of the plate were too shallow which means that food drops out of the plate easily. Since this set has an oriental panda theme, I though it would be nice if they added a pair of training chopsticks for the little ones. Pandas are after all from China which reminds me a visit to the zoo to see Kai Kai and Jia Jia is overdue.
This set retails at $60 at major departmental malls in Singapore but I've spotted them going at $39 at some malls. Now if only their prices are just as attractive.
*A Juggling Mom received a set of the Corelle playful panda dinnerware in order to write this review. However I am not financially compensated for this post and all opinions expressed here are based on my own experience.
Tagged: fussy eater, toddler