On Saturday, I sat in front of my computer for a long time trying to complete my post for tomorrow's Travel Around the World post. Productive was probably the last word to describe my state of mind as I sat there for a long long time, struggling to edit my photos and finding the words to blog.
So much so that I got mad at how unproductive I was as I should have been doing more important house-keeping stuffs like ironing the clothes, folding my mountain high laundry, washing the toilets. packing the house, rearranging the … Okay you get what I mean.
That's when it struck me, I need a new motto for myself and this is it.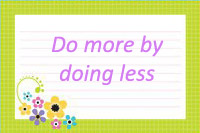 Actually it's a motto that Alexis lives by because he's always thinks I'm doing unnecessary things to get the same result. Which by the way gets me quite irritated because he is right.
So this are my 3 guiding principals on how I plan to do more do more by doing less.
Learn to say no
Ask yourself must i really do this and what will you get for doing something. If it doesn't matter in the next 1 week, 1 month or a year chances are it's really not important. And to know how to discern that comes from principal number 2.
Know your priorities
With a long to-do list, how do you make the call of what's important? So I'm getting out a monthly and daily plan so I know exactly what I need I do everyday and every week. If its a big task, break it into smaller parts and tackle them one at a time instead of waiting too late and then doing a sub-standard job of it.
Declutter
This is one department that I need serious help in and thankfully my husband is quite the opposite as he holds no sentimental value to things. I'm planning to start deck decluttering from this month and honestly I don't know how well I'll fare. Having more to him simply equate to more work. More toys means more mess. More clothes means more headache every morning, more shoes mean… Wait a minute you can never have too many shoes!
So everyone repeat after me, less is best, less is best!
What is your productivity secret? I'll love to hear from you.

Do link up for my Motivational Mondays post and share a motivational post or even a goal that you have set for yourself for the week.
Don't forget to grab my badge below and include it in your post after you have linked up and leave me a comment too. I will be hosting Motivational Monday every week and I hope that you can all join me every Monday. Have a great week ahead!

'); // ]]>

Tagged: productivity, tips