We're now 5 weeks away from the Chinese New Year. This year, Chinese New Year falls on 19 and 20 of February. I started the new year shopping for Sophie early because it's always easier and more fun to dress my little one.
One of her outfits is this cheongsam that I ordered from Taobao in December. I opted for a mess conventional colour choice, dark navy blue with bright red and floral prints. Made of cotton, it was comfortable for our humid enough.
The only complaint I have, which is It actually looks so nice, I wished they had an adult version so that I can go all matchy-matchy with my mini-me and that's when I started my search for matching mother and daughter dresses for Chinese New Year.
Mother and daughter matching dresses for Chinese New Year
Glitter Glam and Mary Had A Little Lamb
Glitter Glam is a home-grown brand that offers contemporary and fashionable work wear. Two years ago, they introduced a  collaboration between Glitter Glam and Mary Had A Little Lamb – the mother-and-child collection and what you can find are mini-me versions of the same stylish and modern looking dresses.
Floral drop waist dress that's suitable for Chinese New Year and beyond 🙂
For mummies looking for matching tops with your boys, Mary Had a Little Lamb also carries some tops though the collection is not as extensive as the range for girls.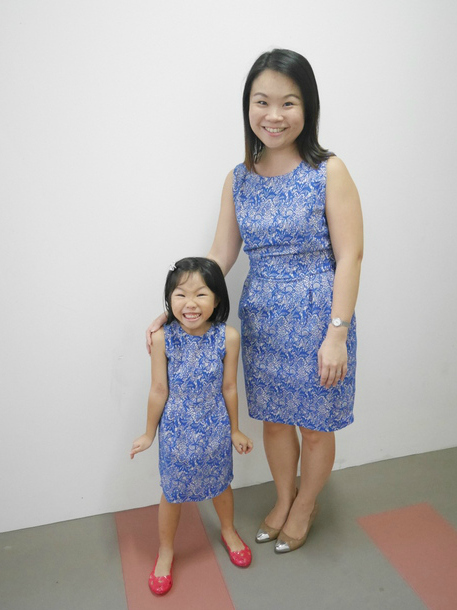 We own a matching set from Glittler Glam as well which never fails to get compliments as the fit and quality of their dresses is great. The dresses are good for office wear or if we feel more fancy for the weekends. And don't miss some of their deals now for SG50 too.
Where to find them: Harbourfront Centre #02-110 as well as Isetan and BHG Bugis counters
Miz Apparels
For the office ladies working in the CBD area, you may be familair with Miz Apparels where they offer quality pieces from Korea. Beside ladies apparels and accessories, key highlights include 'Mummy & Children' apparels and they had so many pieces that caught my eye like these matching sets below .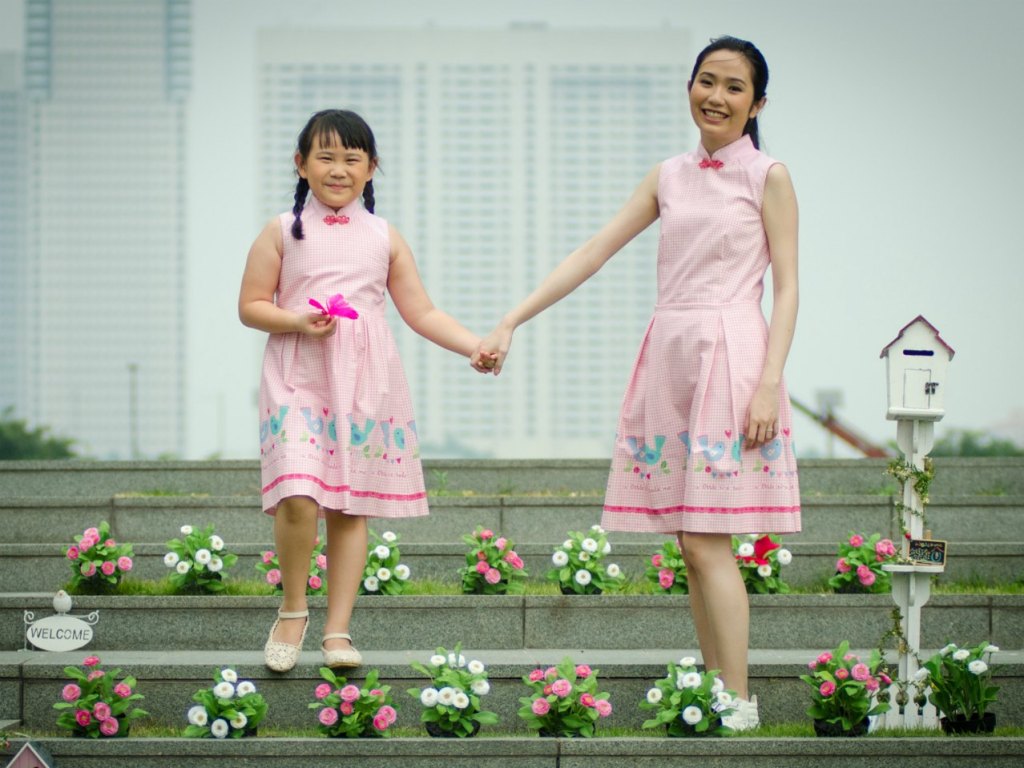 Prices are more steep as the matching sets retails at $159 for adults and $69 for kids. But the workmanship and quality fabric means the dresses go a long way too. Dresses come in limited quantity so the nicer designs always run fast.
Where to find them: 1 Raffles Place, #04-16/17, Marina Bay Link Mall, #B2-13
The Happy Cheongsam
The Happy Cheongsam creates a modern twist to the traditional cheongsam with their sweet and classy dresses. These designs certainly put the fun in cheongsam making them suitable for everyday wear as well.
While they offer limited matching mother and daughter dresses, you can tell the thought that goes behind that as the design is not entirely the same making it more interesting and flattering to both mother and daughter.
One of their latest designs. Applelicious for mother and daughter for Chinese New Year that was very quickly sold out.
Another fun print from their previous collection. Do stay tuned for another upcoming collection with another 2 more matchy mummy and daughter sets.
Where to find them: Online at The Happy Cheongsam
Mummy N Us (Etsy)
I know how mummies with boys always complain that it's so hard to find matching clothes with their boys. So guess what, I've found a seller, MummyN'Us where they not only have Matching Mother and Daughter clothes but Matching Mother and Son Clothes as well!
They have fun and whimsical prints that look oh so adorable too. Love this set above which is perfect for weekends.
Where to find them: Online at MummyNus on Esty
Little Qipao
Little Qipao offers an extensive collection of qipaos for little girls and mummies are not left out too. Here you can find a wide range of designs from the classic pieces to even modern denim pieces.
We had the opportunity to do a review for the dresses from Little Qipao. Do head over here to read about it.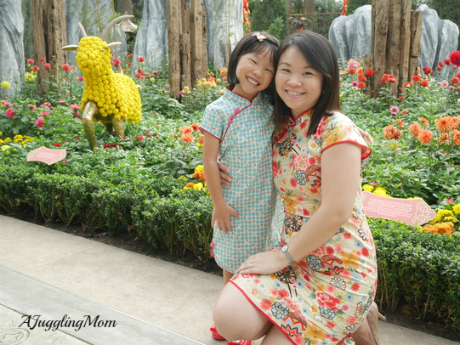 Where to find them: Takashimaya and Online.
Strawberry Pumpkin (TaoBao)
Last but not the least, I've crawled through Taobao and found this shop which offers family outfits. From what I noticed, there are some local clothing shops that gets from the same supplier and they do carry pretty nice designs that neither mother or father will cringe wearing them.
I have not personally ordered from them before so I cannot comment on the quality of their clothings judging from the feedback,  they do get fair comments from those who have purchased from them.
Where to find them: Strawberry and Pumpkim online on Taobao
I hope this is a useful list for your Chinese New Year shopping! If you have any to add to the list, do share them with me too 🙂
* This is not a sponsored or paid post. All opinions are my own.
Tagged: Chinese New Year, Chinese New Year 2015, fashion