When I was searching for matching mother and daughter dresses for Chinese New Year, I came across a few shops that sold matching qipaos and cheongsams. But I was in two minds about buying them as the design and prints either looked too matured for Sophie or too kiddish for me.
I almost decided on making my purchase from a shop whose cheongsam fulfilled my criteria but Sophie frowned at it and said the material was too uncomfortable and thick 🙁 Surely there must be a shop that can satisfy the needs of both mother and child and still made us look fashionable I thought.
And that's when I came across the Little Qipao online. As it's name suggest, the Little Qipao is a children's fashion boutique that specialises in qipaos for little girls. Oh and have I mentioned it's a local brand where the founder and designer, Doris Lee is also a mum. #Supportlocal #SupportMumpreneurs
Little Qipao for Mother and Child
So how did Little Qipao expand to cater to adults and mums? Well it's none other than requests from mothers like me who love dressing up our mini-mes in matching outfits. And what better occasion to find the excuse to dress up in similar outfits than at Chinese New Year where you can wear it for visitations together and take lots of photos.
What I really liked was how Doris understands a child's need from a mum's point of view where comfort to a child is a top priority especially with our hot and humid weather. So I was very pleased to hear that Doris carefully selects fabric that are mainly premium cotton from Japan and Korea to ensure it passes a few criteria like being soft to the skin, cooling and light weighted. It certainly makes a difference when the designer is a mother herself.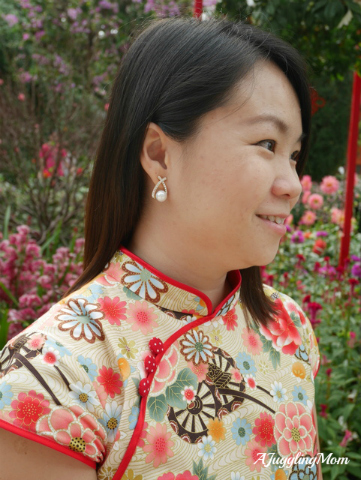 I must say that I was very pleased with my piece as well because the workmanship was very satisfactory and even little details are not overlooked. For my qipao, notice how the bottons have polka dots on them, which gives it a more updated and modern look.
I am also in love with this Big Floral Lantern Sleeve Qipao print ($129) which has a Japanese flavour to it and is just the right style to wear for the Lunar New Year. It comes in three colours, Black, Gold and Green and I choose the gold version to compliment my fair complexion. You can't tell from the photos but the outline of the some of the flowers are in gold which really glams up the whole outfit.
It sits just nicely above knee length and and has a convenient back zip. Perhaps they can look into having flare skirt qipao design in future to make it even less restrictive for mummies who needs to run after the active kids.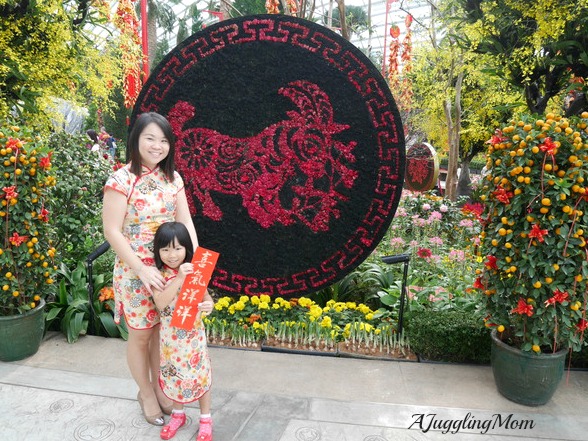 For Sophie, her qipao was a little long for her frame. Or rather she has still lots of room to grow since she wears a size M which is meant for ages 4-6 years old and it's way beyond her knees. #growSophiegrow
There were no complains from her though that the qipao was itchy or uncomfortable and she was happily running around in it when we went to Gardens by the Bay over the weekends. Yes nothing stops her, not even when she's dressed in a qipao.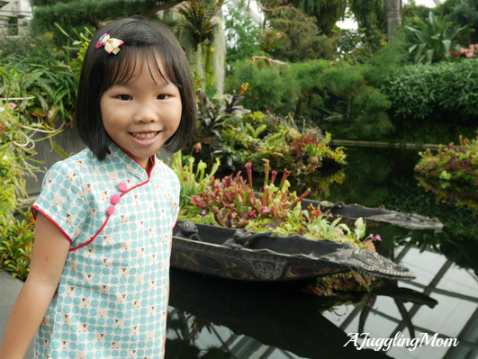 2015 Year of the Sheep designs
To welcome the Year of the Sheep, Doris specially selected this adorable sheep print fabric from Japan for her 2015 collection. Sophie likes this so much and told Daddy that he should also have a matching top with her for it.
The sheep print is available in a few colours (Orange, yellow, green and blue) and you can find them as qipaos for girls, dresses for mother and daughter and even boy's Mandarin top or Kung Fu top. Yes, perfect sibling outfit idea too 🙂 Something I'm sure that mothers will boys will cheer about since it can be so tough to find matching prints for mother and son.
And a piece of good news that Doris shared is that we can look forward to matching family outfits next year as she intends to design for the daddies too. I am so looking forward to it and can't wait to see what designs they'll have for the wear of the Monkey, which is going to be my year.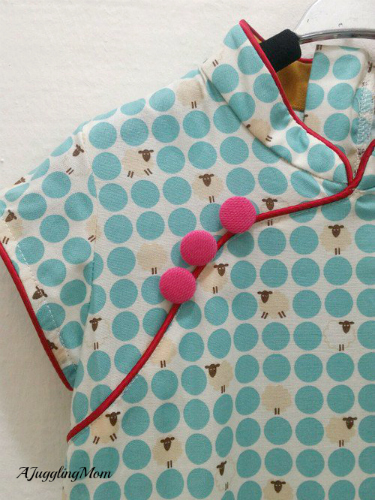 So if you haven't done your Chinese New Year shopping, why not head to Little Qipao's website to check out what they have. Besides shopping online at Little Qipao, you can also find Little Qipao designs at the folowing malls:
Children's Collection:
Takashimaya Department Store, Level 4 (16 January 2014 –

18 February 2015

)
 Adult's Collection:
John Little – Marina Square, Plaza Singapura, Jurong Point (from mid-January 2015)
Isetan Scotts (

30 January 2015 – 22 February 2015

)
Isetan Tampines (from mid-January 2015)
– – – – – – Promotion for A Juggling Mom Readers – – – – – – 
Just for this Chinese New Year, readers of A Juggling Mom will enjoy a special discount of $13.80 off the total amount when you quote"ILOVELQ15" after your purchase and check out at http://shop.littleqipao.com/.  Happy Shopping 😉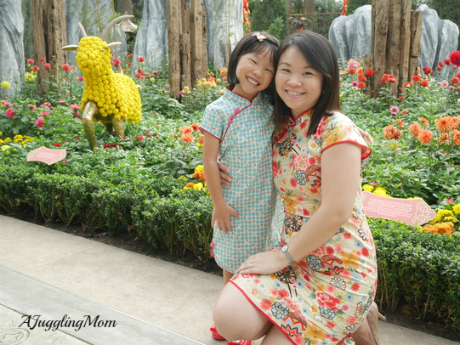 And here's wishing you a very wonderful year of the sheep
filled with good health, prosperity & happiness!
For more mother and daughter matching outfits for Chinese New Year, do read my post here.

* A Juggling Mom received outfits to write this review. No monetary compensation was received. All opinions are honest and are my own.
Tagged: Chinese New Year, Chinese New Year 2015, fashion