I'll be the first to admit that I'm not the most patient mum in the world. In fact, I've lost my cool at Sophie so often that Alexis has to remind me not to be so harsh when I lecture her.
At times, I forget that as much as she wants to assert her independence, my little toddler still needs help in simple tasks which I take for granted. At meal times, it's not uncommon that she still spills food on the table and sometimes even end up with juice on her dress. I'll get mad at her for making a mess and scold her for being careless. In the past, she used to react by crying, a self defense mechanism to avoid being  scolded further. But these days, she'll snap back at me shouting, "It's an accident. I didn't mean it!"
I know who she's got that tone from and I'm not proud that I've been setting such a bad example in front of her.
A few weeks ago, I applied for leave to accompany her on her school excursion. But before that, I bought a take away coffee so that I can get perked up before we made our way to the Air Force Museum. As I sipped on my coffee, I didn't realised that coffee had seeped from the side of the cover and leaked onto my top. I immediately jumped up and hurried to the toilet to get it cleaned, hoping that it wouldn't leave a stain.
As I wiped at my coffee stain furiously, it suddenly occurred to me that even I as a thirty something year old could be so careless and make such a boo boo, what more a three-year old. At that moment, I was so overcome with guilt that my eyes were moist with tears as I reflected about how often I must have crushed Sophie's spirits when I was unduly harsh to her.
After I emerged from the toilet, I promised to be a more patient mum and to remember that Sophie is a little girl who's still figuring out about how many things work. She may not be capable of having full control of her emotions but I can certainty be a role model for her.
Sophie didn't know about my little accident but I'm thankful that my coffee that morning more than woke up my sleepy head but also my senses so that I can be a better mum.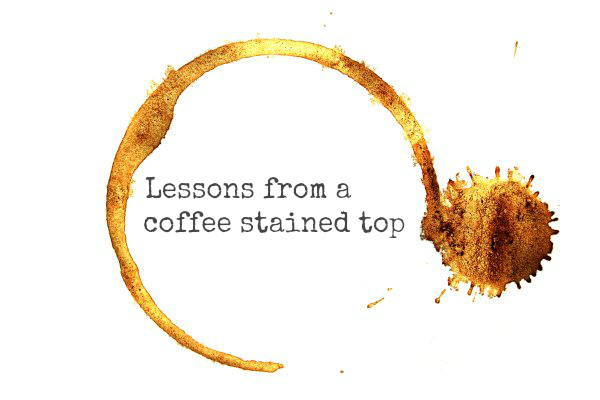 By the way, do let me know if you've got a good tip on removing coffee stains because the lesson has been learnt and having a coffee stain just ain't cool.
Linking up with