One thing I love about Instagram and Facebook is how I can easily discover the latest happenings in town. This can be anything from family friend activities, to the newest attractions and of course new eateries and restaurants, especially the oh so Instagram worthy ones.
But like everyone, the big question that usually follows is, is it worth all the hype and does the food taste as good as it looks. 
Lately I've been seeing Hana's Flying Udon and Soba appearing on IG and of course I was intrigued. Just what sorcery is used here for this gravity defying dish of noodles?! 
You need to read all the way to the end of the post to know how ingenious this presentation idea is. 
It's been ages since I've gone to Orchard (hands up if you're like me too!) but since Hana Restaurant is in Orchard Forum, a trip to town is inevitable. 
I'm glad we went because the Christmas decoration in Orchard Road is up which means that Christmas is just round the corner. But the Christmas lighting this year looks very very modest and I don't see the usual elaborate and extravagant dress up which I'm looking forward to.
But of course that didn't stop us from snapping some photos for keepsake 🙂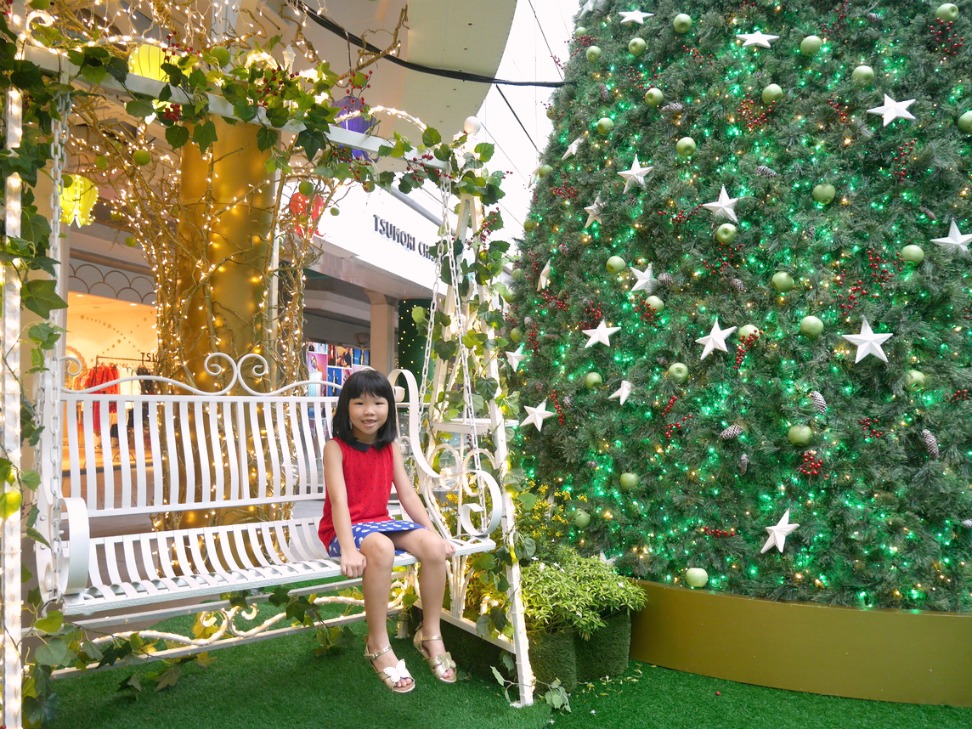 Hana Restaurant
This is the part where most food blog fail to mention but be prepared for crazy queues people! Thankfully, my sister arrived even before they opened and we managed to secure a table along with the rest of the diners who came like half a hour before they opened their doors. So yes, so early and then queue.
My cousin who went last week waited an hour and their food took a while too, so you've been warned.
So was the queue worth it at least?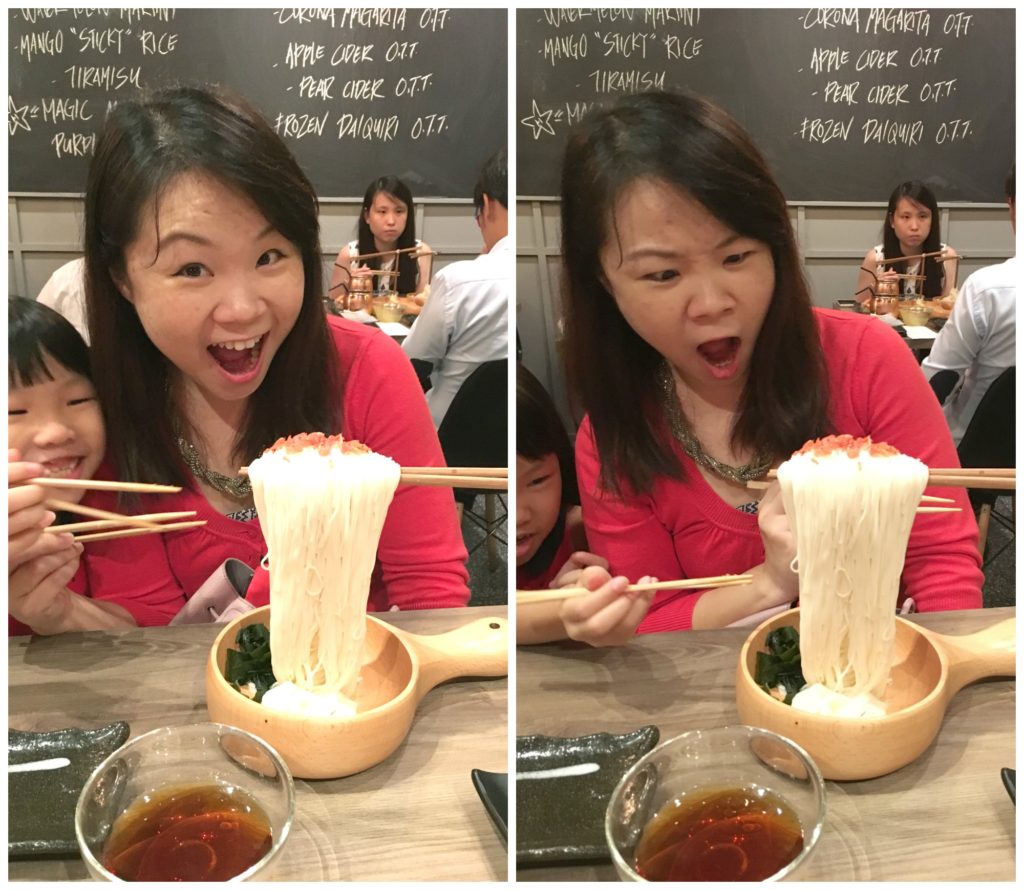 We ordered their signature Flying Truffle Somen and when it was served, all our jaws dropped and Sophie gave me a wide eyed OMG look.
It was served with sakura ebi, fish roe, crunchy cucumber, seaweed accompanied with a dish of truffle dipping sauce.
I've seen this dish introduced on a few blogs and the presentation somehow varies so much. I've seen it presented in a two tiered dim sum basket, so Instagrammable right? But mine ….the picture speaks for itself
Another food blogger had quail eggs in theirs but it was certainly missing in mine.
Taste wise it was very underwhelming. The truffle taste was barely there and tasted like soya sauce which you typically have with cha soba and certainly lacked flavour. The roe was it's saving grace as it gave a burst of flavour with each mouthful of noodles.
Though the flying somen may be mediocre,  the salmon cheese maki and lobster mayo taco won us over!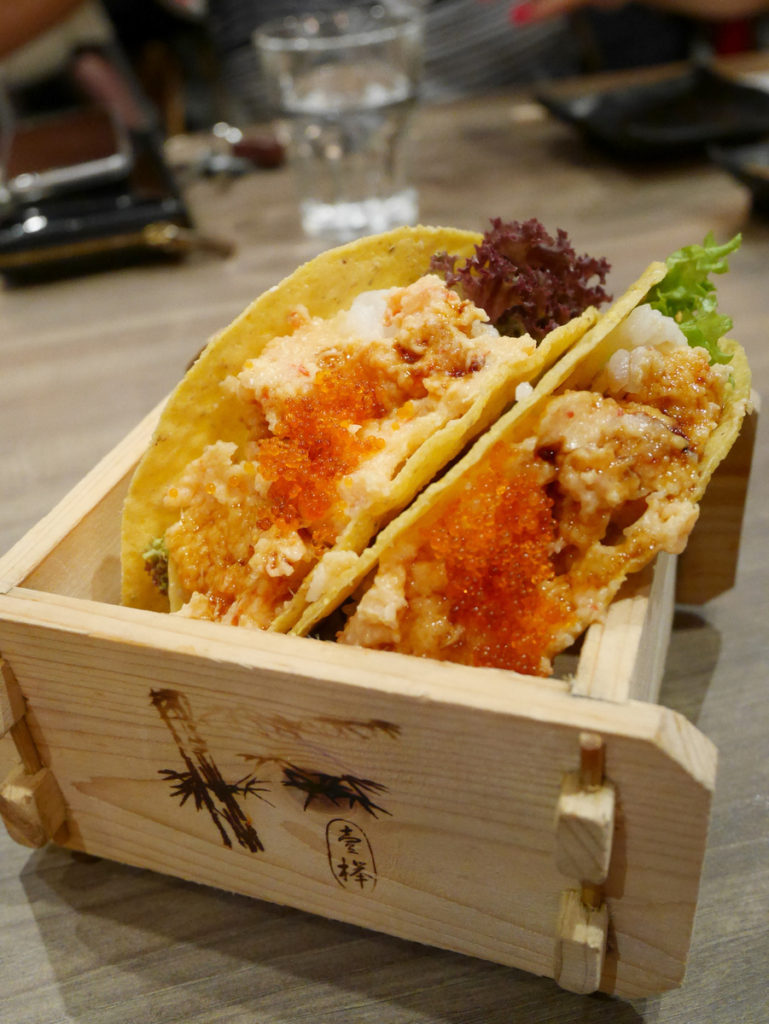 You wouldn't expect to get tacos in a Japanese restaurant because sushi, so it was surprising to find it on the menu. And the formula certainly worked where generous chunks of lobster roll was wrapped in crispy taco, and topped with ebiko, sushi rice and lettuce.
We also had the salmon cheese maki and it was so good. But my grouse, where's the transparent four tierd drawer that I see on other food blogs?!
But no complains on the food as taste wise the salmon cheese was grilled to perfection with that ever so slight charred taste. And as the ebiko burst in my mouth with each bite, my taste buds did a little dance.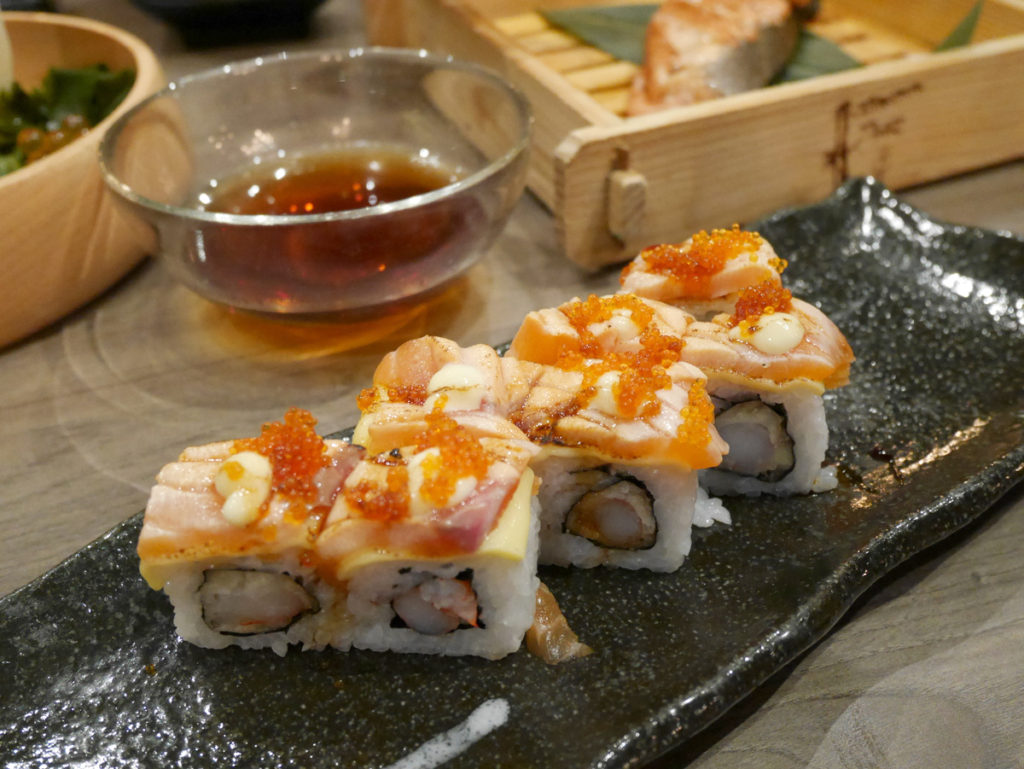 We also had the cod fish mentaiko and it was another dish that saved the day. So my advice is to go for their grilled items as the chef certainly knows how to bring out the best in it.
And for the final reveal of how they made the noodles fly…
.
.
.
.
.
.
Mystery revealed!
Tadah!
You didn't really think it was magic did you? Sorry to burst your bubble.
So while the noodles may be Instagram worthy, it failed to deliver in the taste department. But then again, they have other options like the salted egg skinny udon and flying cha soba, so don't just take my word for it and try it for yourself.
Go for the grilled items definitely as I felt they were the winning dishes that night. Overall it was a fun experience where all the diners were busy snapping photos of the flying noodles, so they wouldn't have time to judge you if you did the same. I find that it's a rather pricey place for a meal and we spend $85 for what we ordered.
Would I return? Probably not… so if you had a better dining experience at Hana, do leave a comment and let me know what you had. I may just give them a second chance.
Hana Restaurant
Address: 83 Orchard Road, #01-17, Forum The Shopping Mall, Singapore 238884.
Tel: 6737 5525
Nearest MRT: Orchard
Facebook:  Hana Restaurant
Tagged: food review, Japanese food, Orchard Road