As today's a public holiday, we woke up hoping to go to the Botanical Garden's for some outdoor fun. But we were greeted by gray skies that kept us at home. I figured we might as well make it fun for Sophie and got my materials to create some DIY fishing game which I read from Corsage's blog.
The materials for these are easily obtainable from around the house
cut outs of fishes (these doubled up as coloring materials for Sophie)

paper clips

a magnet

a piece of string

a pencil

rubber bands
What you need to do is attach a paper clip to the mouth of the cut out fish. Then attach a string to the pencil and on the other end, attach a magnet with a rubber band. This is can be pretty tricky and took me some time to get it. Perhaps scotch tape would have worked better 🙂
I wouldn't say that fishing is Sophie's thing but these sure kept her occupied for a while as she swung her "rod" around to catch her fish. This fishing business helps in her hand eye coordination as she had to balance her "rod" to catch her fishes.
After Sophie was pleased with her catch, she dumped the fishes into her cooking pot to do what girls like to do, cooking, zi char style, Heh.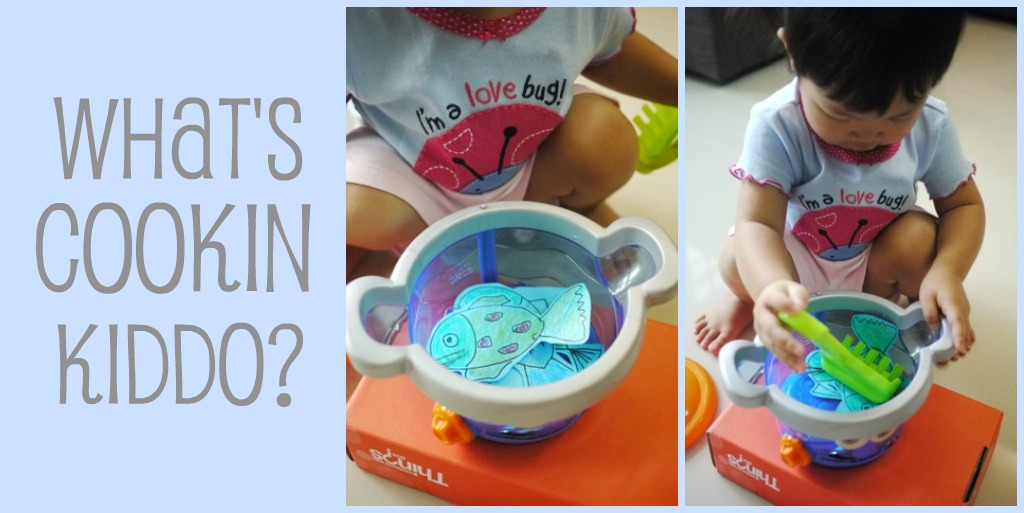 Hope you will have fun with this DIY fishing game too 🙂
Tagged: toddler