I have a confession to make, I live for food.
But hang on, I think it's no secret if you've seen my Instagram and Facebook page as they are often updated with pictures of mouthwatering food. And you know what I've noticed, the food pictures that gets the most likes are often those that are so sinfully good. Like tender crispy chicken, deep fried tempura seafood, thick cut cheese potato wedges… But gosh, those calories and fats that accompanies it and how it all adds to the waistline and no forgetting the scary truth of developing heart disease.
Air is the new oil with up top 80% fat free . 100% indulgence
With Philips's new and improved Airfryer, the Philips Avance XL Airfryer, I can now indulge in better tasting fried food without the oil. At 50% more capacity, 30% faster cooking time and up to 80% less fat, cooking a healthy meal for my family is made simple and easy.
If you're still unfamiliar, here's a quick comparison on how Airfryer compares to other methods of cooking.
| | | | | | |
| --- | --- | --- | --- | --- | --- |
|   | Philips Airfryer  | Deep Fryer | Grill | Convection Oven | Microwave Oven |
| General method | Rapid hot air movement in a contained area | Food is submerged in a large quantity of hot oil or fat | Heated up elements radiate heat in contact with food | A heated enclosed areas with a fan to circulate air and speed up convection | Electromagnetic waves radiated to heat polarized molecules within food |
| Average food preparation time | 5 to 30 minutes | 10-30 minutes | 10-20 minutes | 20 minutes to an hour | 1-15 minutes |
In terms of how it heats food, it is most similar to a convection oven where the heat is fairly even using it's patented star fish design but at a much shorter cooking time.
With it's larger capacity in this new model, at 1,200g, you can roast a  whole chicken in it. Now that's an idea for Christmas! Another new feature to highlight is the digital timer and touch screen interface gives you a more precise temperature and time control which is especially useful for baking. Yes, you heard me baking. Not only is the Philips Airfryer great for frying, it's also gives you versatile cooking options to grill, roast, gratinate and bake! Now that's smart appliance to have in every kitchen.
Great tasting food with less oil
I put the Philips Avance XL Airfryer to the test by using it to airfry two dishes.
1.  Mushroom Potato Croquette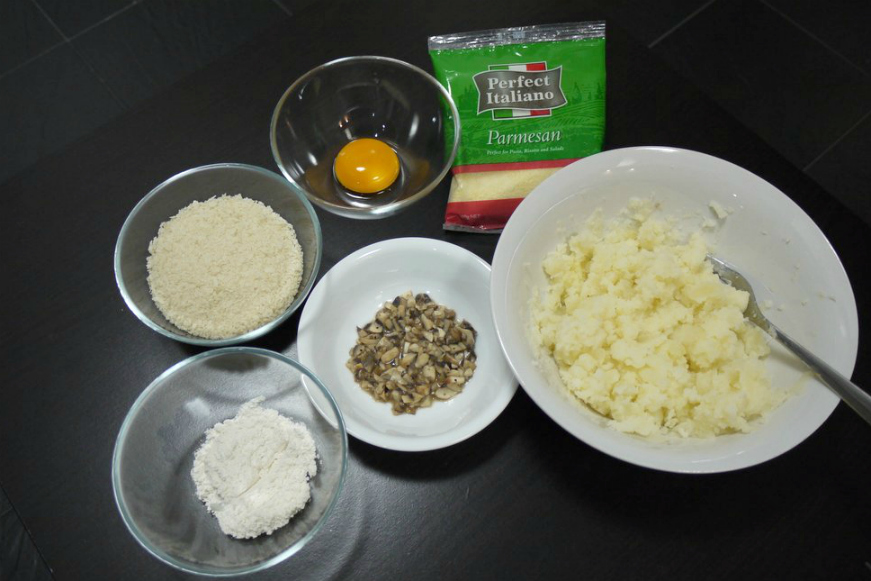 Ingredients for Mushroom croquette:
1/4 onion
100g mushroom
300g mashed potato
1 egg yolk
2 tbs flour
20g butter

50g grated parmesan cheese

salt
pepper
50g breadcrumbs
2 tbs vegetable oil
Steps:
Finely chop the onions and mushroom. Melt butter in a saucepan and fry onion and mushroom. 

Mix mashed potato, egg yolk and flour together and later stir in the onion and mushroom that has been stir fried.
Season with salt and pepper to taste and leave to cool.
For breadcrumbs coasting, mix the oil and breadcrumbs together nd keep stirring until the mixture becomes loose and crumbly.
Roll 1 tbsp of potato filling into the breadcrumbs until it is completely coated and place it in the Airfryer basket lined with baking paper (but ensure that the surface is not entirely sealed for the air to circulate). Repeat until all the filling is used up.
Preheat the Airfryer to 200 degree celsius.
Slide the basket into the Airfryer and set it for 8 minutes.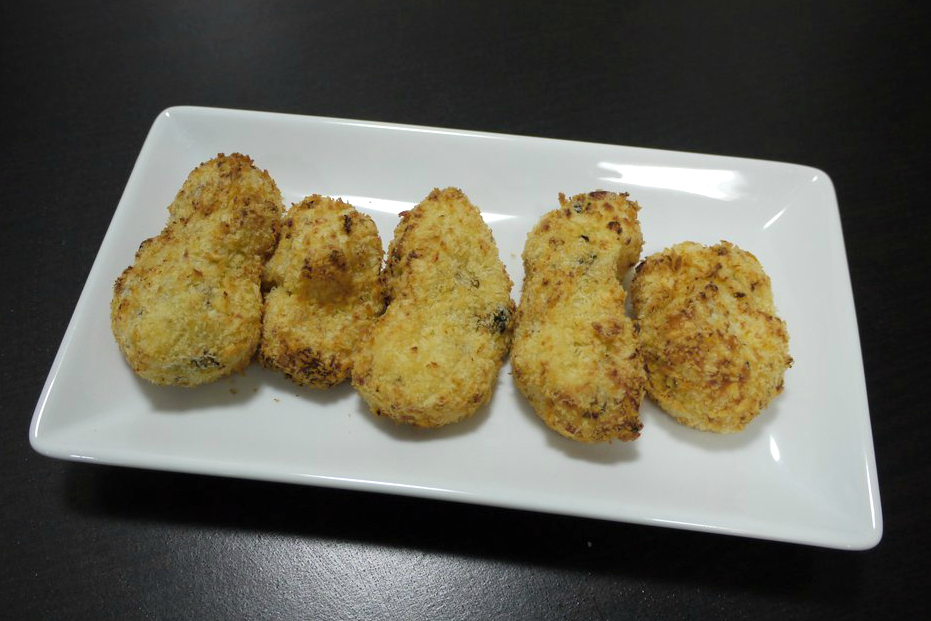 And the results – crispy on the outside and well cooked on the inside.
But the best part that I liked was the reduced smoke and oil odor that usually lingers in the kitchen after I'm deep frying.
2. Baked Apple Chips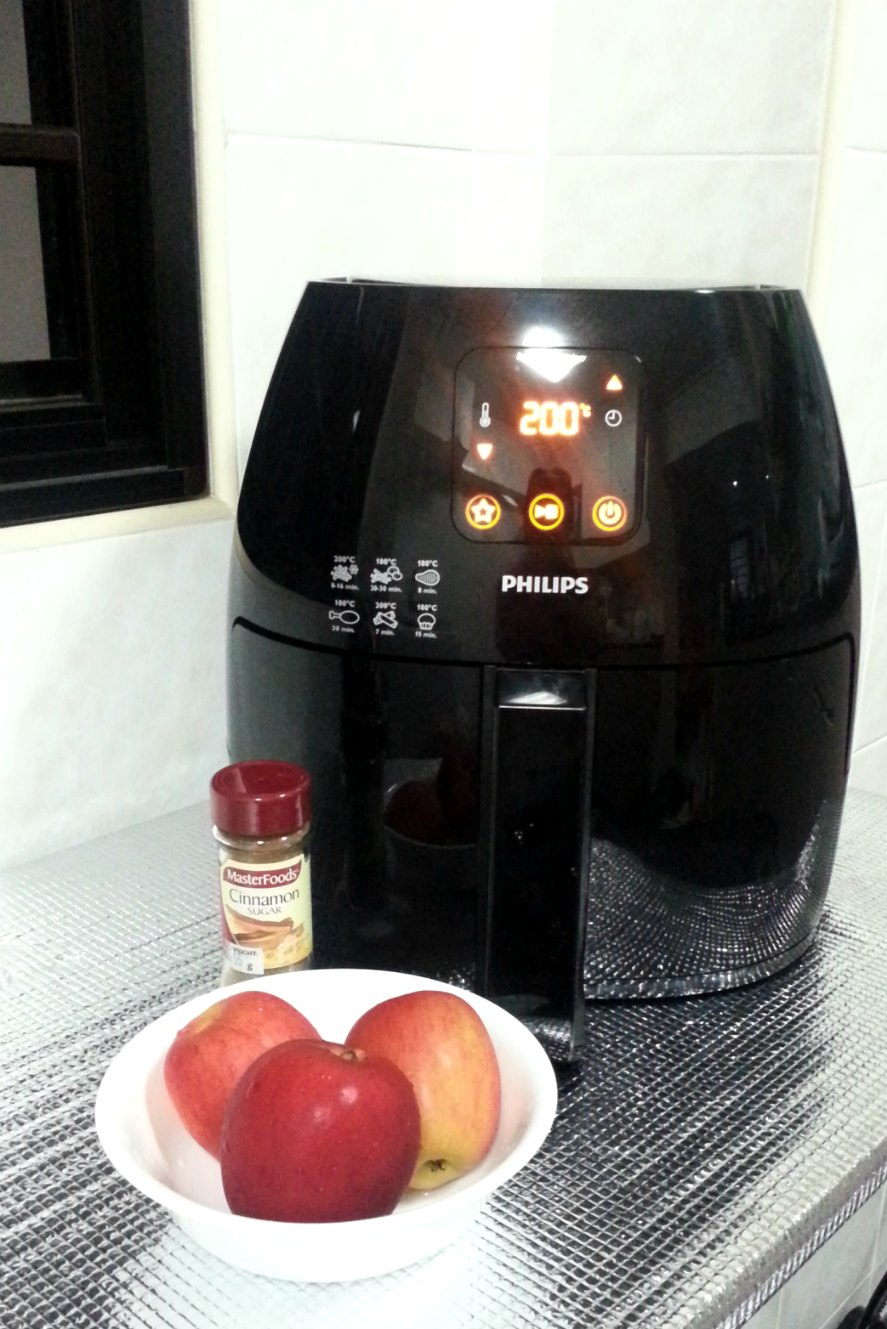 This one's really simple to prepare and makes for a great healthy family snacks
Ingredients for Apple Chips
Steps:
Slice the apples into thin slices.
Preheat the Airfryer to 180 degree celsius.
Lay the basket with a baking paper and spread out the cut apple slices making sure not to let them overlap.
Set timer for 25 minutes.
After 20 minutes, open the airfryer to sprinkle cinnamon sugar and continue to airfry.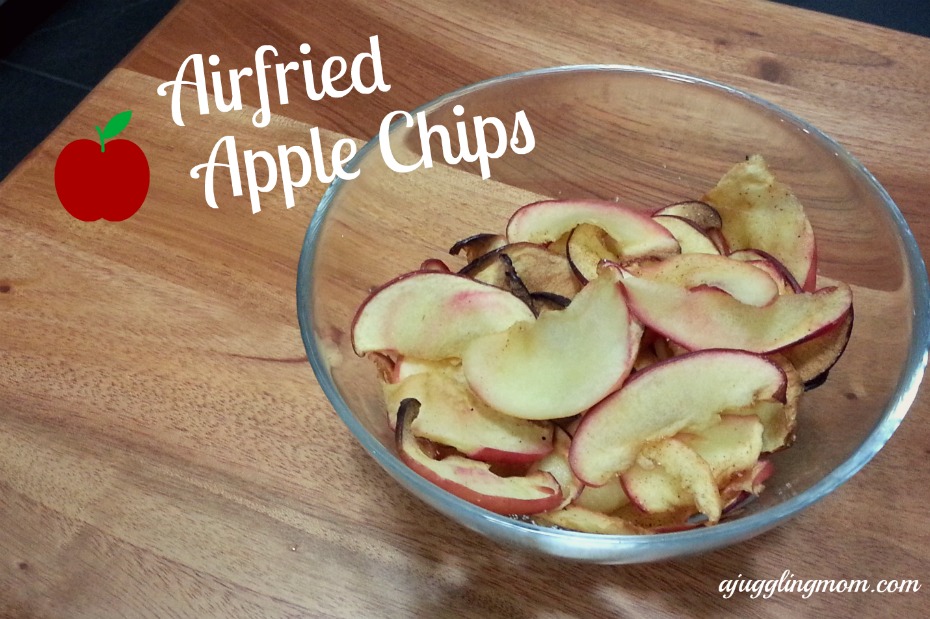 And there you have it healthy homemade apple chips!
With the new Philips Avance AirFryer XL, it gives me confidence to plan ahead for a Christmas feast where I can roast a whole chicken and even bake for the whole family at home.
 And to give me more ideas on how to get the most out of my Philips, I had the privilege of meeting Dable Kwan, founder and own of the Facebook community "I Love Philips Airfryer" at the launch event. She was very generous to share her tips and well loved recipes and I'm going to try some of them including air frying fruits!
EXCLUSIVE FOR A JUGGLING MOM READERS
Now you can cook with Air too! Quote "A Juggling Mom" and buy the Viva Digital Airfryer at $399 (Usual price: $459), FREE $50 SHOPPING VOUCHER and Avance XL Airfryer at $479 (Usual price: $539), FREE $50 SHOPPING VOUCHER at the PHILIPS EXPERIENCE SHOWROOM*.
The Viva Digital Airfryer and Avance XL Airfryer are also available at regular price in leading electronics stores, departmental stores and supermarkets island-wide.
* Terms and conditions apply. Limited to 1 Airfryer per person (IC must be produced). This promotion is valid from 1 December till 31 January 2014.
PHILIPS EXPERIENCE SHOWROOM
Address: 620A Lorong 1 Toa Payoh Building TP4 Level 1
Singapore(319762)
Opening Hours:
Monday to Friday: 9.00 am – 7.00 pm
Saturday: 9.00 am – 1.00 pm.
Closed on Sundays and Public Holidays
* A Juggling Mom received a Philips Avance XL Airfryer and was compensated to write this review. Product attributes mentioned are provided by Philips. However all opinions expressed here are based on my own experience.
Tagged: cooking mama, Philips Avance XL Airfryer