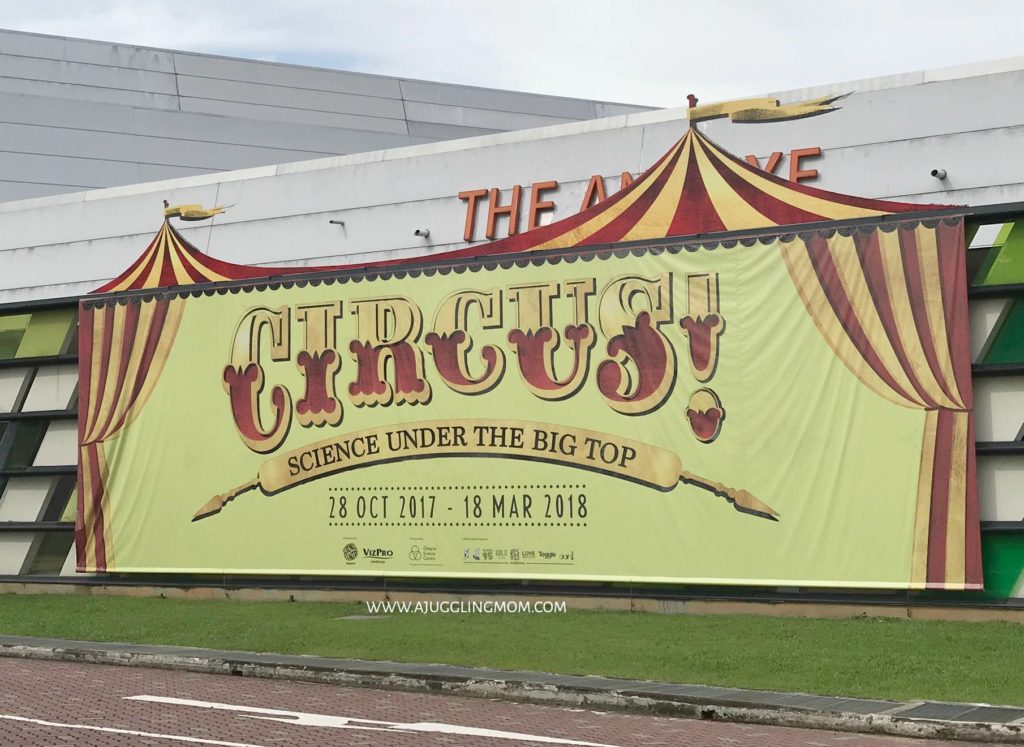 This school holidays, discover untold tricks of the trade at Circus! Science Under the Big Top!
By now you would have seen ads for this travelling exhibition that's now in town. Circus! Science Under The Big Top! originates from the Ontario Science Centre, and it first opened in Toronto, Canada in 2001. Over the years, the family entertainment has undergone enhancements as it traveled across the world wowing over 600,000 visitors.
What to expect from Circus! Science Under the Big Top!
Featuring close to 20 interactive exhibits, you will experience familiar circus acts that you always seen and get to discover the science behind them.
One of the highlights include balancing on a three-metre high wire. Sophie gamely agreed to walk on the tight rope even though it looked so nerve wrecking from below.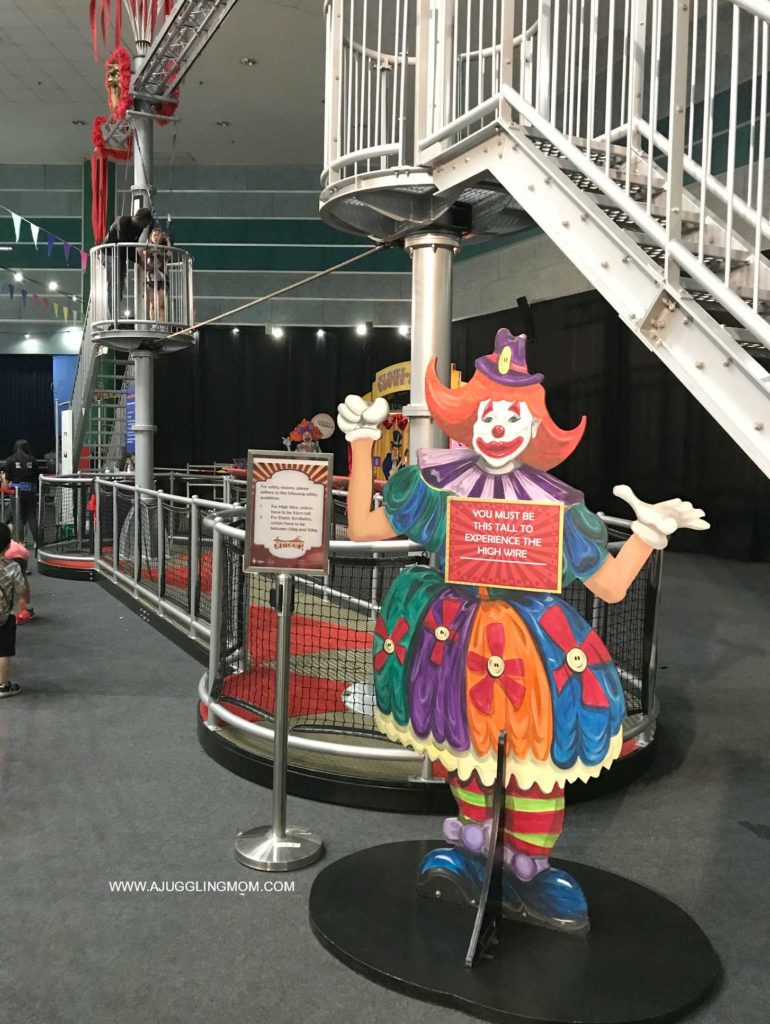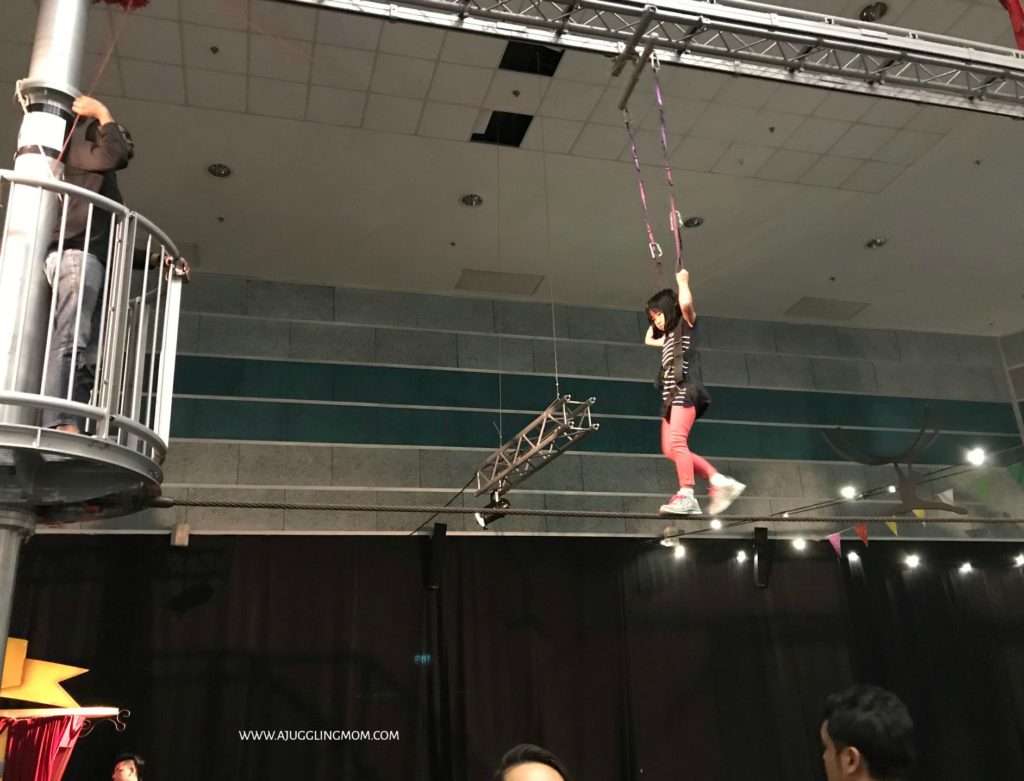 Another highlight was the elastic acrobatics which Dana did so effortlessly as she swung on the trapeze while being secured on a safety harness. These acts can be done by adults as well but I was too chicken to try them and didn't want to scream the tent down.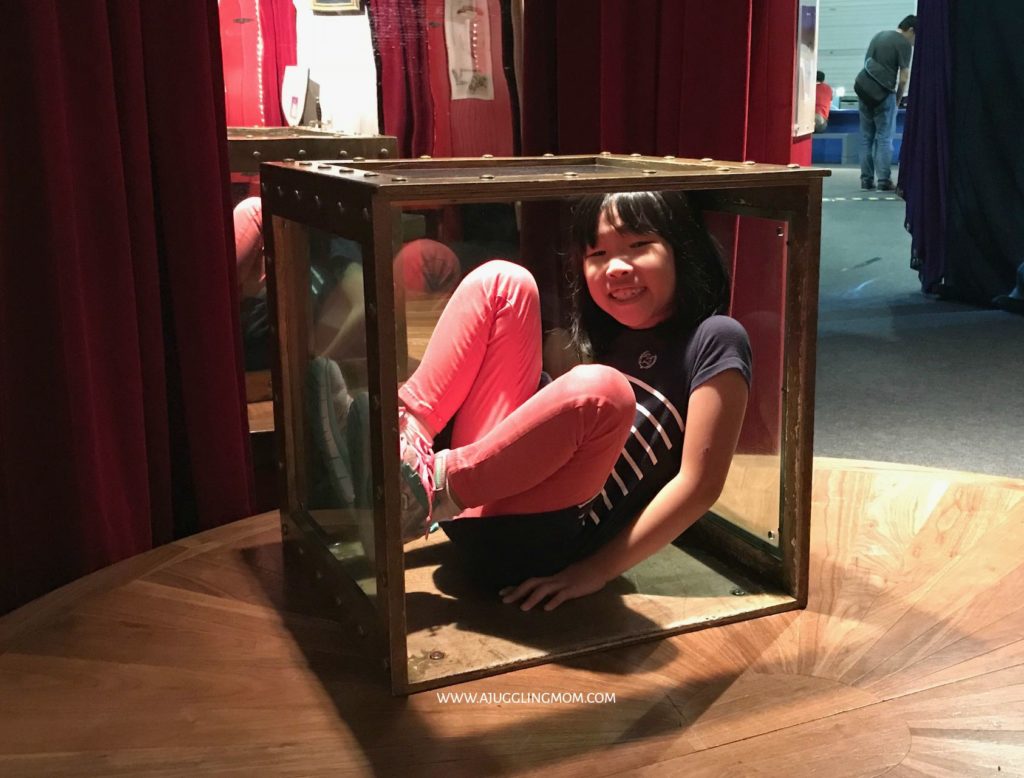 Sophie also learnt the art of "packanatomicalization" (getting into small spaces) as a contortionist where she squeezed herself into a small box.
After Sophie attempted it, she warned me not to try it in case I break the box and have to pay for damages. Thanks for your vote of confidence my dear daughter.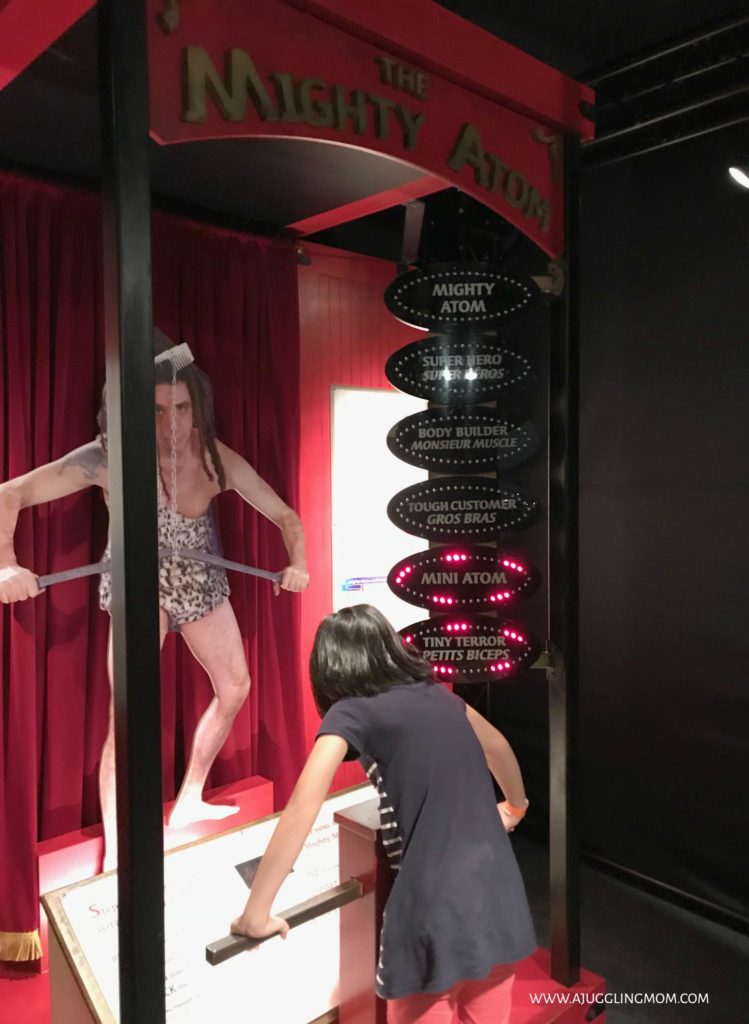 We also learnt how performers did acts like sword swallowing and showing their feats of strength by the strongman.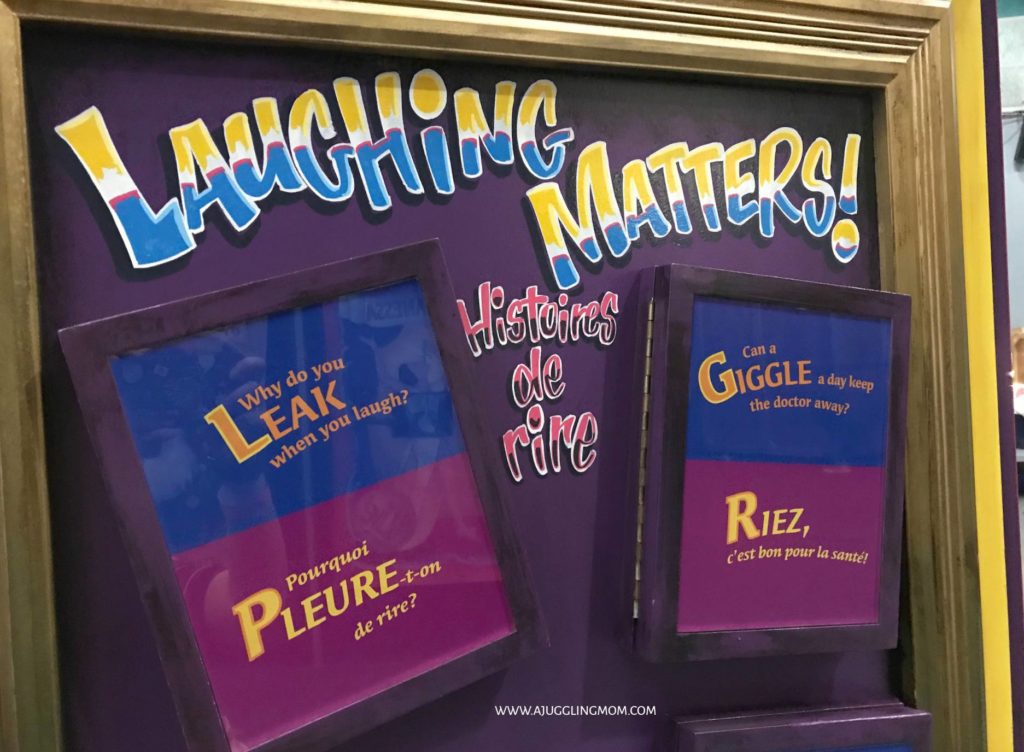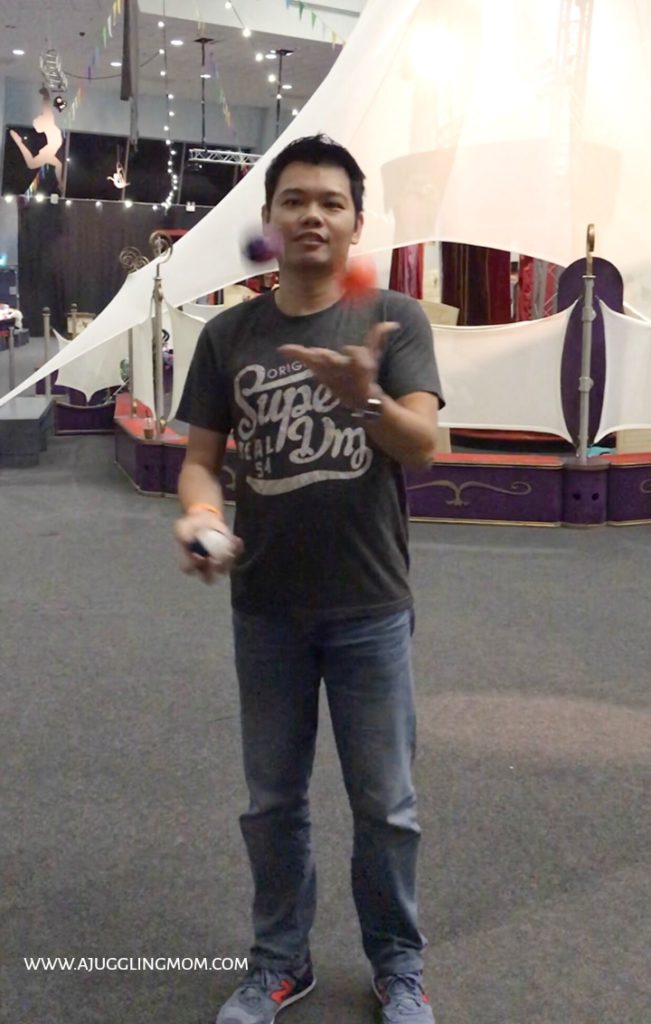 Did I also mention that hubby was totally in his element at the Circus exhibition as he's always secretly harbored dreams of running away with the circus. I always joke that while I'm the juggling mom, he's the expert at actual juggling acts, so it was great fun for him.
You can also expect special activities such as magic performance every weekends before 31 December at 3.30pm as well as magic workshop for children on 18 November.
~~~~~~~~  Circus! Science Under The Big Top! ~~~~~~~~ 
Exhibition Dates: 28 October 2017 to 18 March 2018
Venue: The Annexe, Science Centre Singapore
Time: 10am – 6pm
Ticket Price:
Standard $18 (Adult)
Standard $15 (Child, aged 3-12)
Standard $52 (Family package, 2 Adults, 2 Child)
Besides going for Circus! Science under the big top exhibition, we also visited Snow City that's just next door. This school holidays, kids can hop aboard the Arctic Express and go on an adventure to the North Pole with Chipsleys!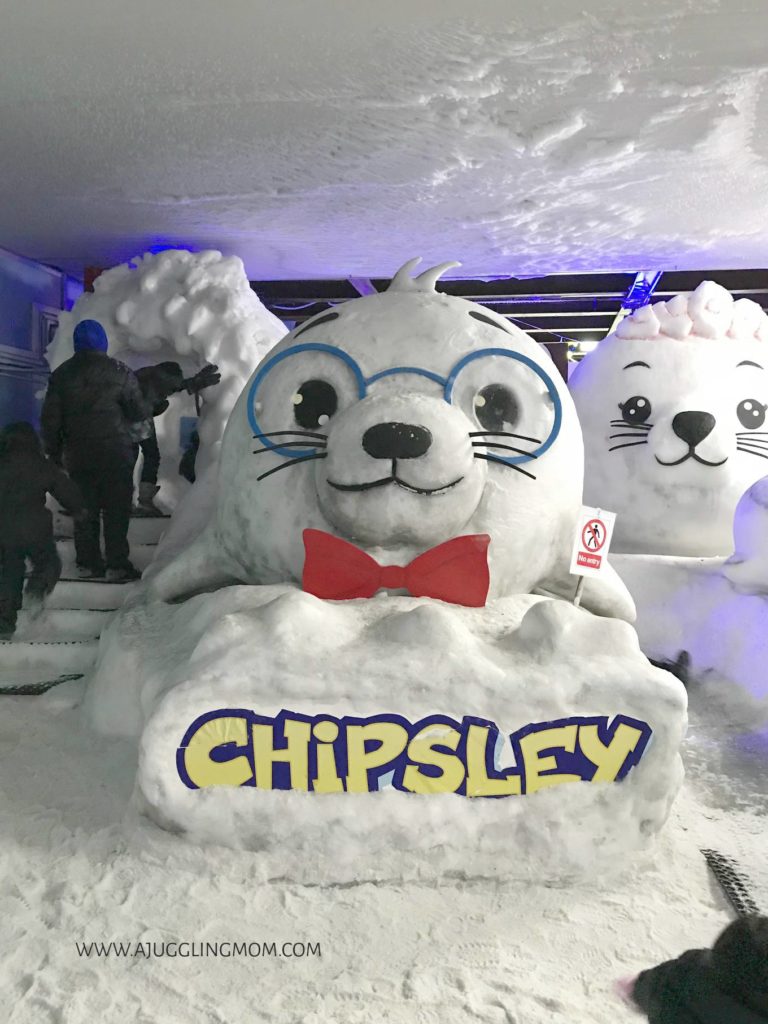 TIP for Snow City: As it is sub-zero inside the snow chamber, it's advisable to come in long pant, socks and gloves to keep you safe and warm. Winter jackets, and boots are provided together with your admission ticket.
We had a swell time on the Arctic Snow Slide where we zipped down a  60 metre long, 3-storey high snow slope. Sophie must have gone on it at least 7 times and you can hear giggles and laughter from afar as she slid down on a tube.
It's a great workout for the legs too as you have to climb up the slope and stairs armed with a tube.
We haven't had the chance to experience real snow and this is as close as it gets. Hubby, if you're reading this, where's the white Christmas you promised?  🙂
The snow was powdery soft and Sophie couldn't miss the chance to create imaginary snow fall.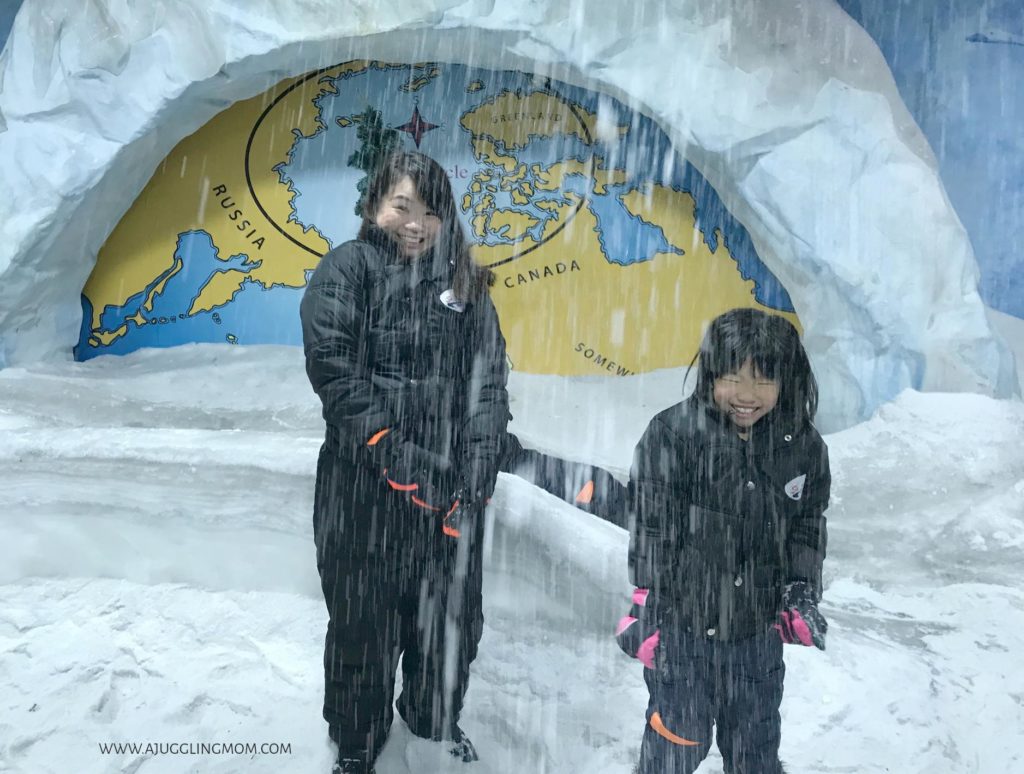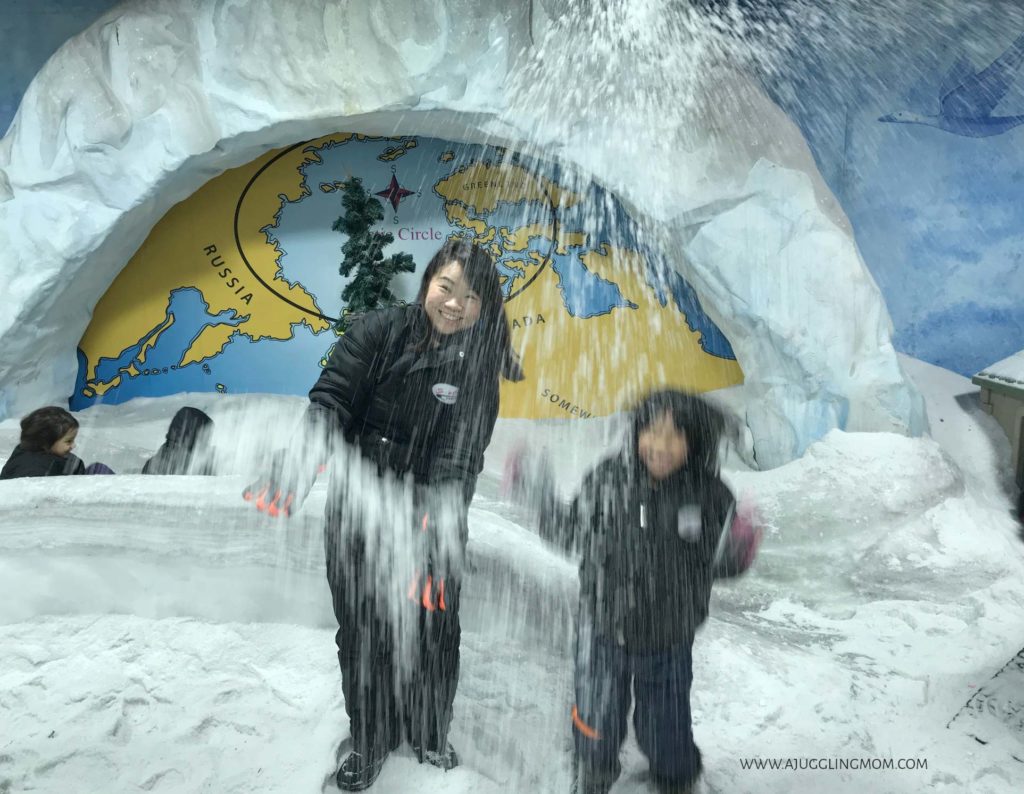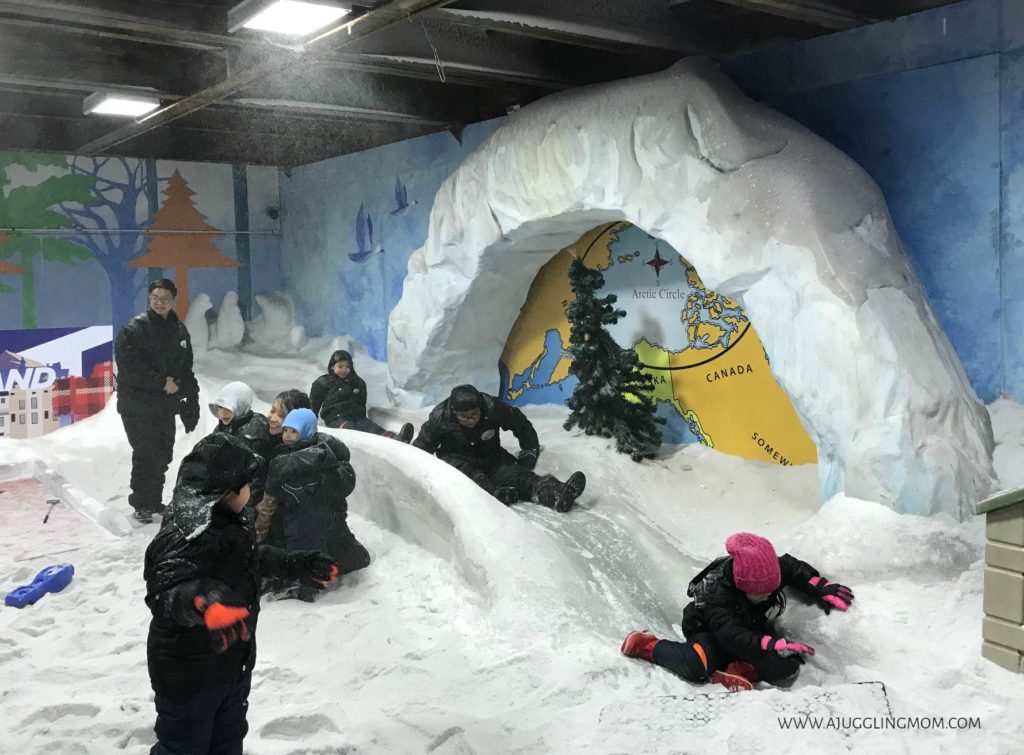 You can also grab your Chipsley passort and make pit stops of famous landmarks along the way.
Visit the North Pole where Chipsley family resides.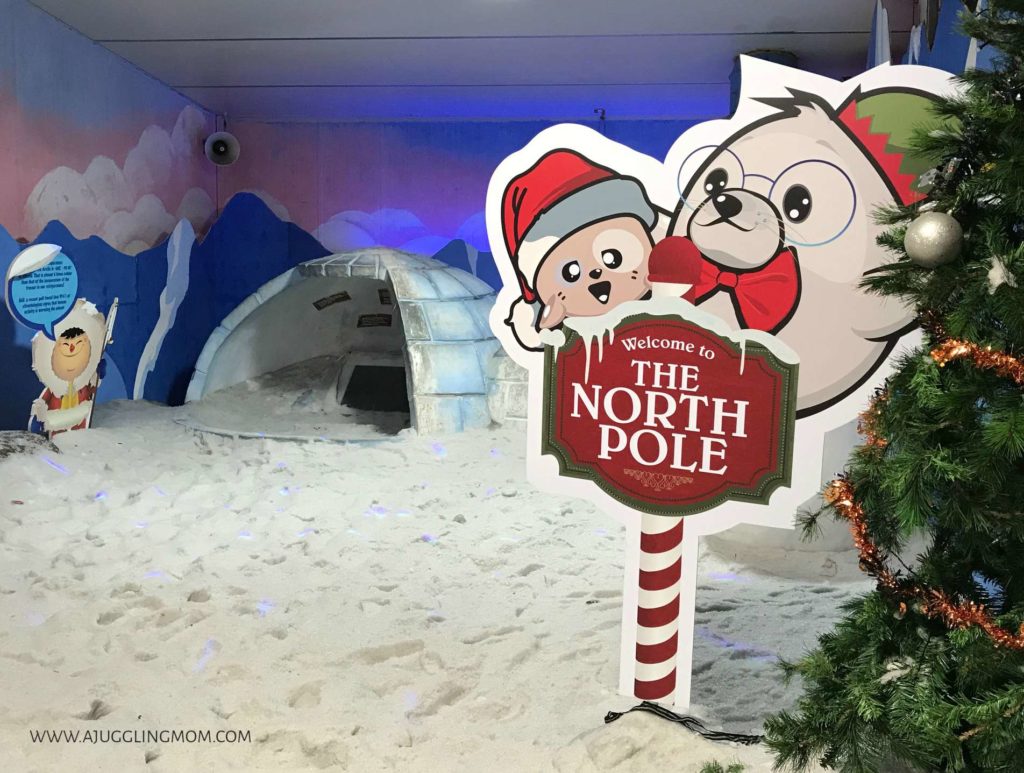 or to Finland where Santa Claus' home can be found.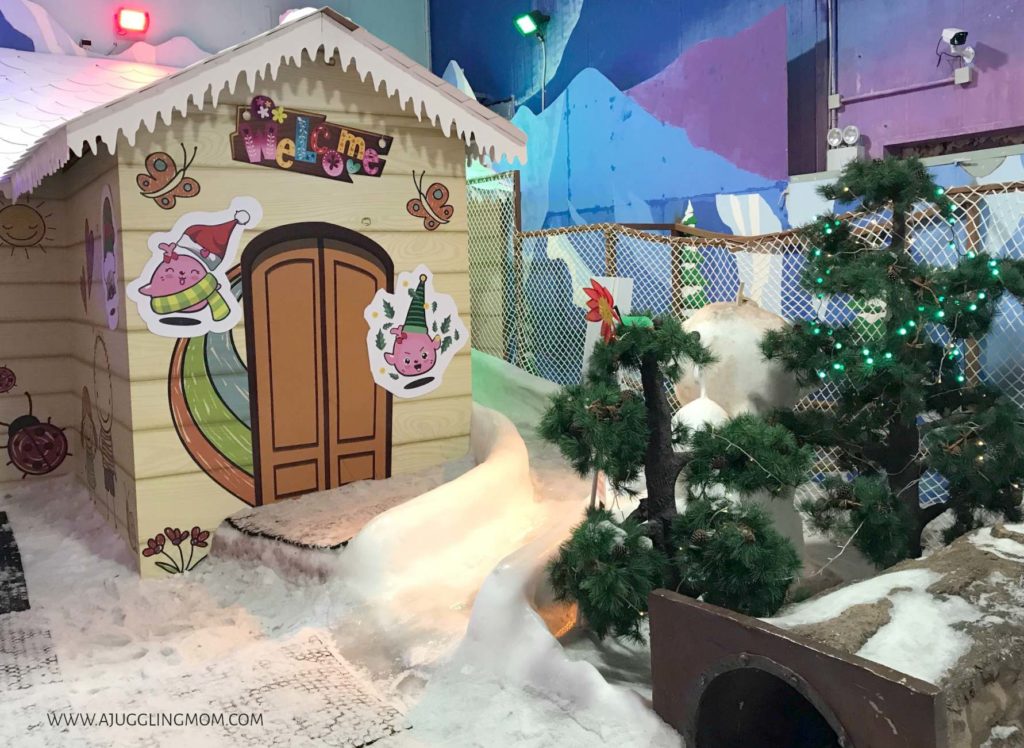 Scotland perhaps, where you can test your mini golf skills at the country where it originated from?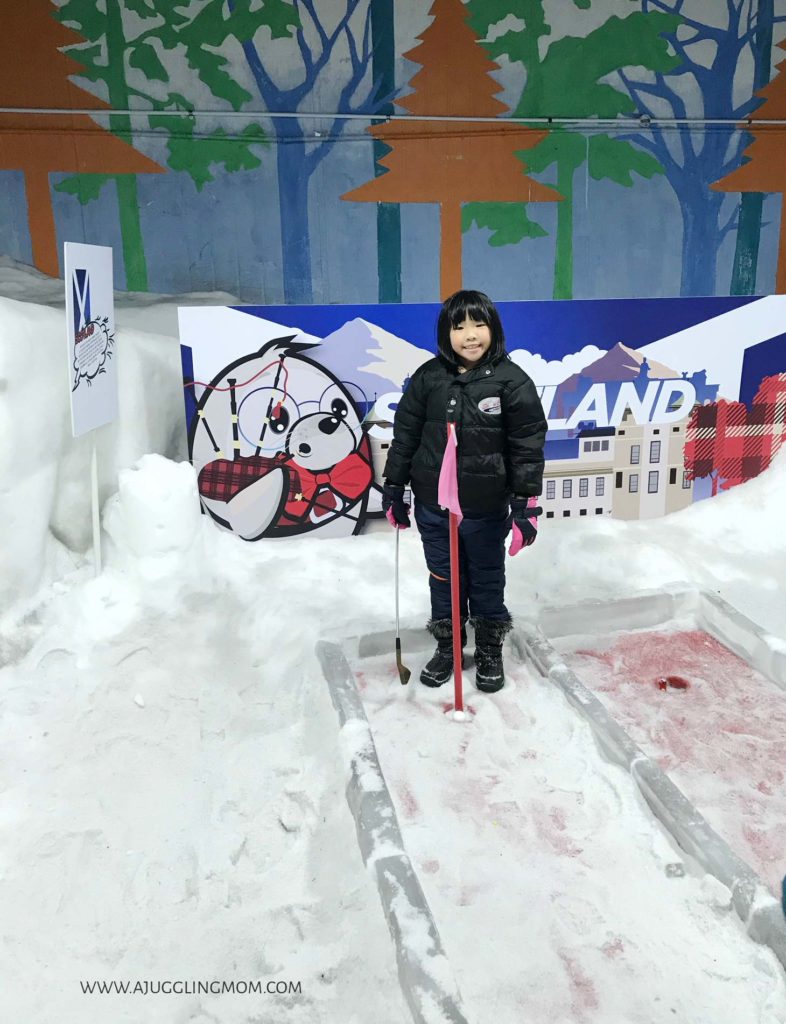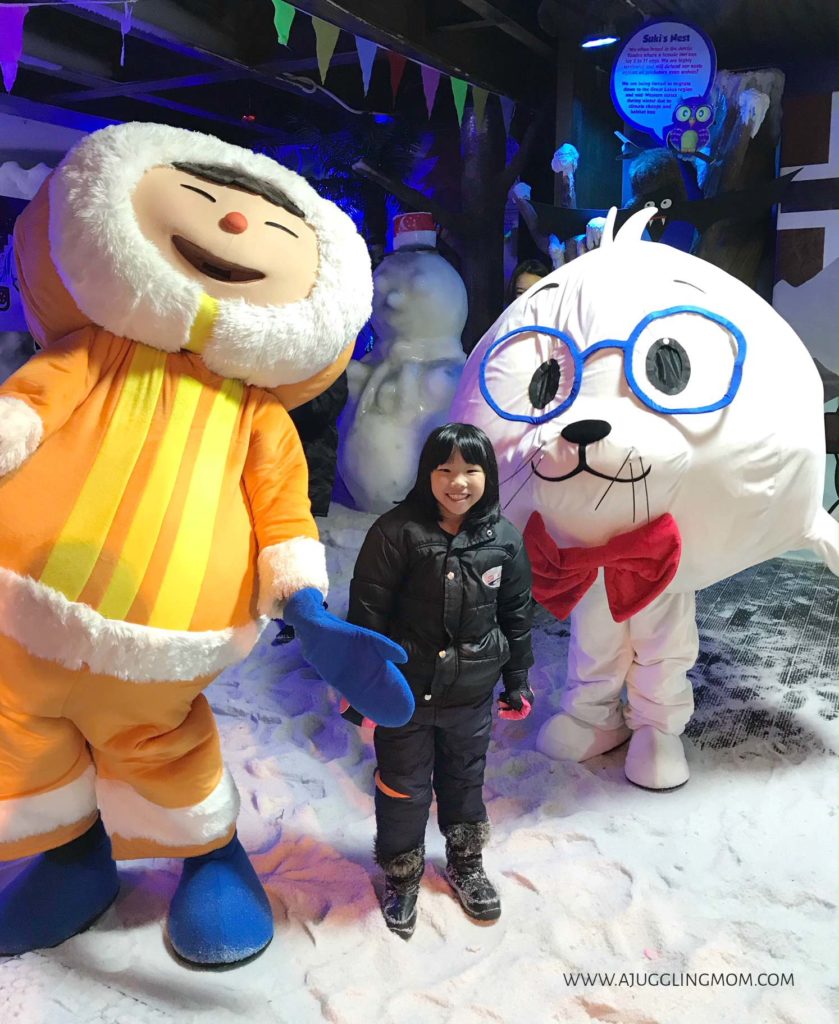 Don't miss a photo opportunity with the adorable and lovable Chipsley and Oki before you leave Snow City too.
~~~~~~~~Snow City Arctic Express with Chipsleys ~~~~~~~~ 
Date: 4 November to 31 December 2017
Venue: Snow City, Science Centre Singapore
Time: 10am – 6pm
Ticket Price: (2 hours snow play session)
$18 per child (S'pore citizens and PR)
$25 per adult (S'pore citizens and PR)
$23 per child (Standard)
$28 per adult (Standard)
Thanks for the invite Singapore Science Centre!
Tagged: Media Invite, School holidays 2017, Science Centre