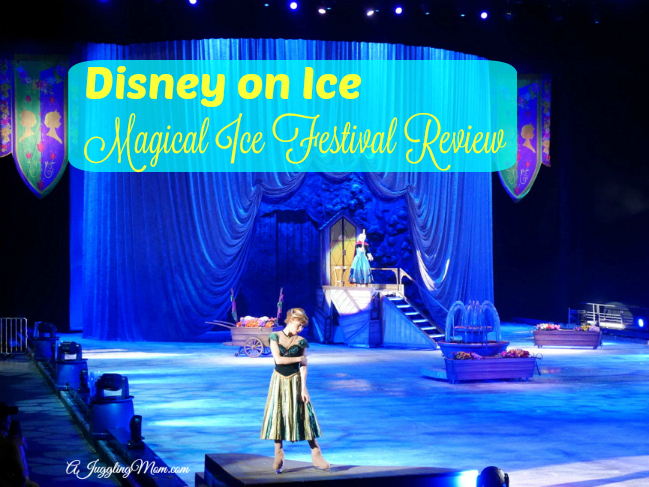 It's been 3 years since the Disney movie Frozen captured the hearts and minds and even vocal chords of children all over the world. Who says they are ever going to Let It Go… And this year, the pair of royal sisters, Queen Elsa and Princess Anna makes their very first appearance on ice at Disney On Ice Magical Ice Festival along with the ever adorable Olaf, Kristoff and his loyal pal, Sven the reindeer.
The 2 hour show kicked off with an energetic and colourful opening by Mickey, Minnie, Donald, Goofy with a very lively team of ice skaters, where their high energy routine got the audience anticipating for more.
The show featured 4 of Disney's well loved movies, The Little Mermaid, Rapunzel, Beauty and the Beast, and of course Frozen.
Just like the movie, there was an upbeat atmosphere for The Little Mermaid where the ice skating rink was transformed into a sensory feast for the senses when it came to, Under the Sea , led by Sebastian. The ice skaters came dressed as various sea creatures and crustaceans, from sea stars, to fishes to sea horses and sea rays.
But the most impressive performance that had the audience spell bound was when Ariel got her wish and transformed her tail for legs and did an aerial performance while being suspended on rope! That was some world class act!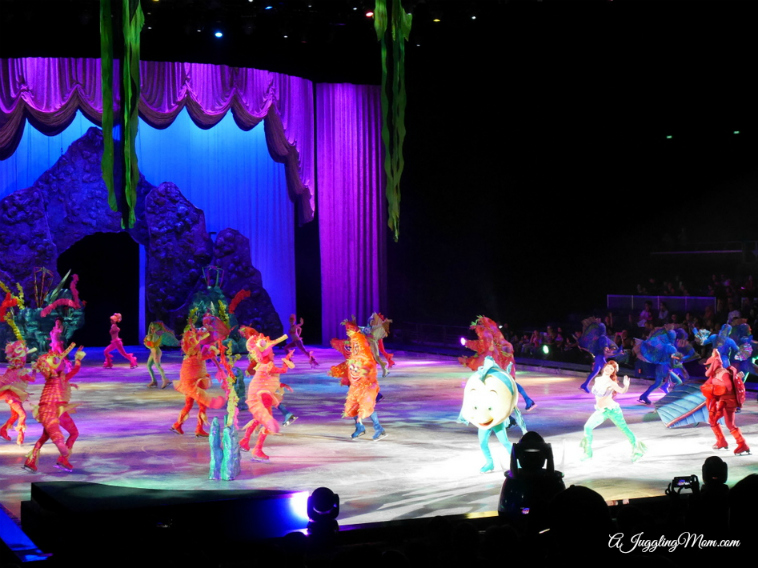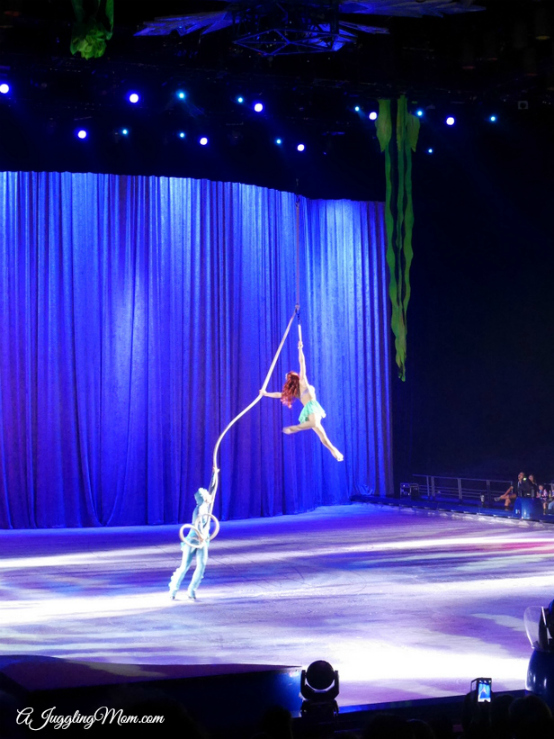 The floating lanterns were of course was the highlight in Rapunzel as the spirited teenager goes on a journey to discover that she's the lost princess after all these years of being locked away in the tower by the evil Gothel. Her rendition of Mother knows best had me winking my eye at Sophie… subtle hint..not! haha.
Her beau Flint Ryder was both charming and annoying and I found his protrayal most realistic and true to character as he flirted and tried to get Rapunzel to return his stolen loot.
The oversized Maximus with 2 ice skaters maneuvering it displayed great coordination as they brought the character to life and took centre stage here with the rest oft the ice skaters.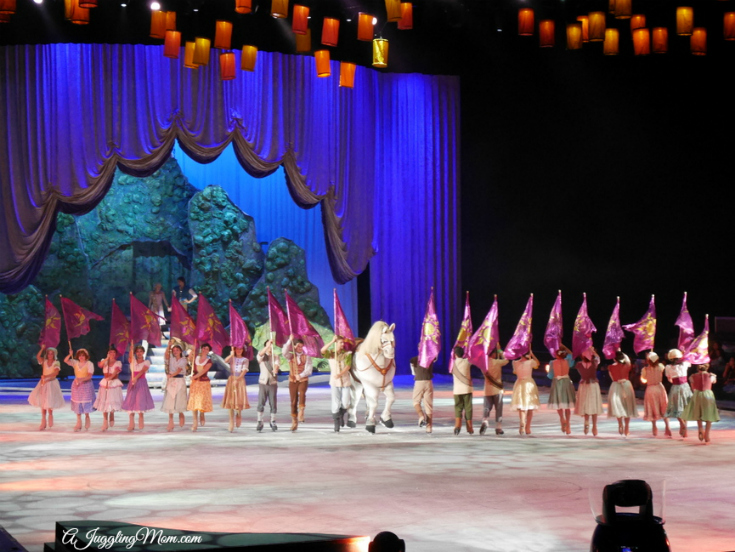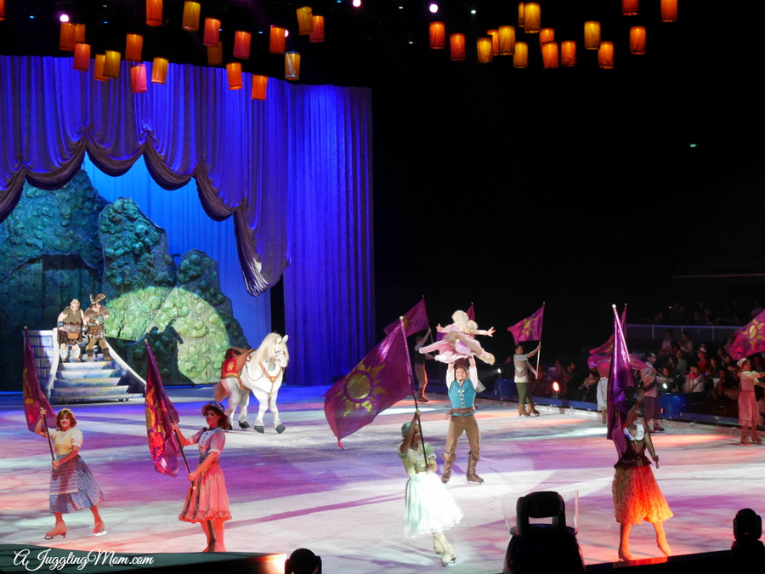 This year, Belle and the Beast finally makes an appearance with their own segment. The segment opened with the scene at the town square where Belle was introduced as the one that Gaston has his eyes on for marriage with song and dance by the villagers.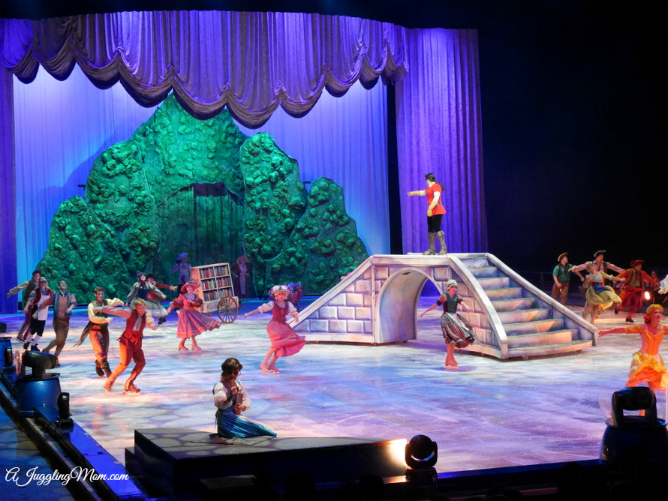 When it was Be our Guests, the little ones belted alongside with gusto where the stage burst with a dazzling display of colour, songs and dance.
Delightful characters like Lefou,  Lumiere, as well as the motherly Mrs Potts and Chip also lent their charm to the whole segment as they tried to get Belle to fall in love with the Beast to break the spell. The transformation of the Beast into the prince had us holding on to our breathe and of course it was a happily ever after ending for him and Belle.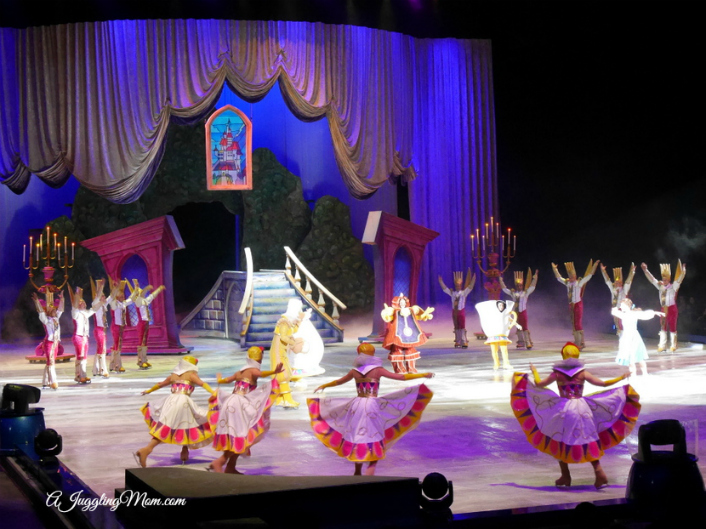 Finally when it was Frozen, the whole place screamed with excitement! A true testament that these  little fans have not Let It Go after all these years since the movie became such a phenomenal hit at the box office.
Olfa was so adorable and the part where his head was knocked off had us all in shock because…  well you've got to watch it to catch the surprise yourself. And we all awww at the part where he said the famous line, "because some people are worth melting for".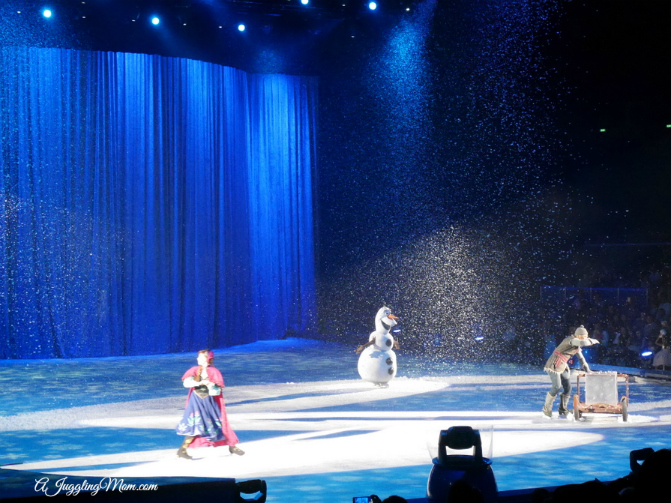 We especially liked that they kept most of the special effects for the Frozen grand finale where there was pyrotechnics and special snow effect when Elsa ran from Arendelle up into the mountains to build her ice palace.
The whole place was like a huge concert when kids and adults alike swayed and sang to the song of Let It Go. I took a look over at Sophie and she was absolutely beaming as she sang her heart out with the other kids.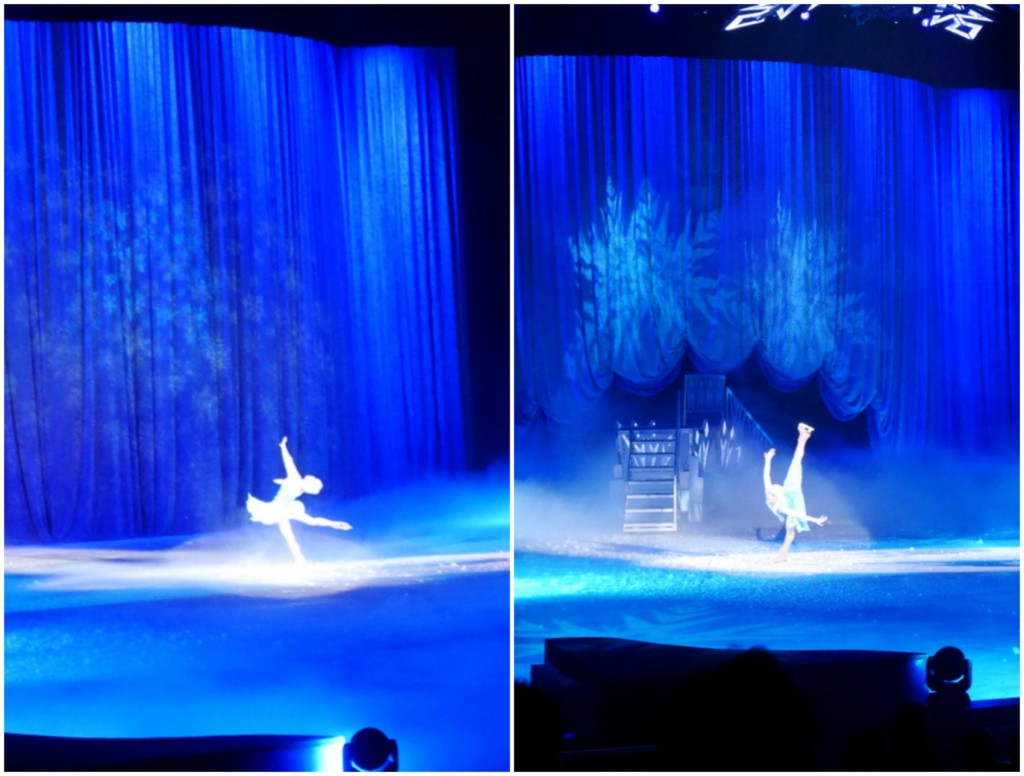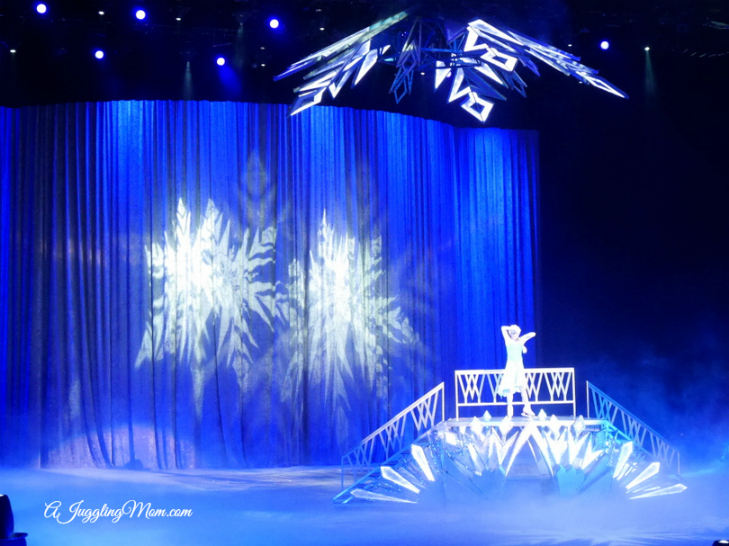 Olaf's In Summer Song was another hit where he sang about what he'll like to experience in Summer along with bustling and cheerful looking butterflies, birds and bees in a array of colours with fancy dance moves!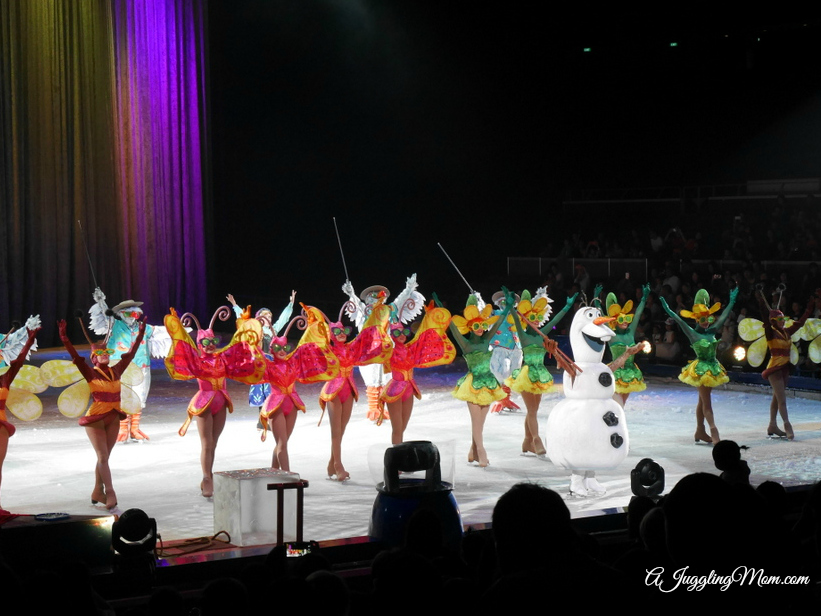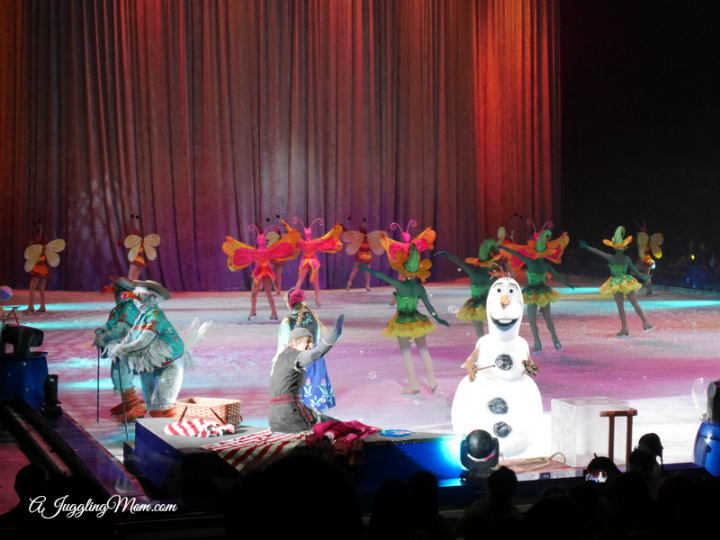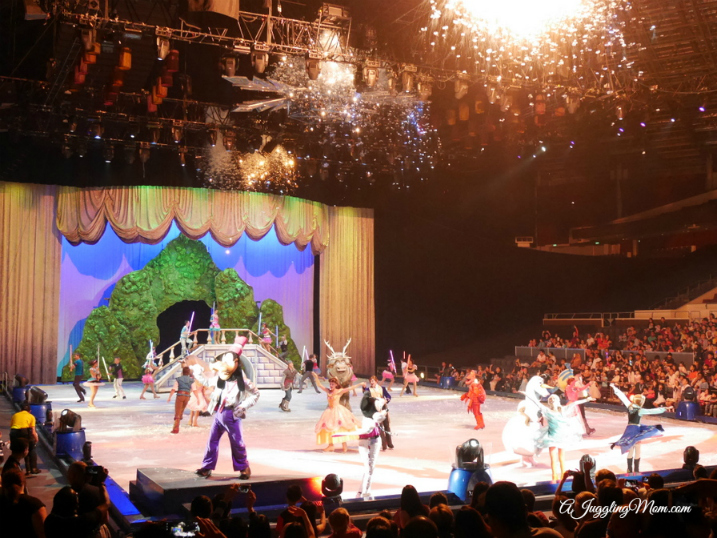 Overall it was a sensational show and I must say that while the princeses all have their fans, it was Frozen that stole the limelight that evening!
Every segment follows the movie closely and each story can move quite fast to keep it within 20 mins or so. But it's injected with lots of songs and dance in between so there is never a dull moment.
Our show at 7pm started promptly, so do grab an early dinner. There are plenty of food options at Kallang Wave Mall or Leisure Park next door. Don't forget to check out the merchandise available from stuff toys, T-shirts, balloons and more! There are also popcorn, ice slushies that are in limited edition cups and buckets.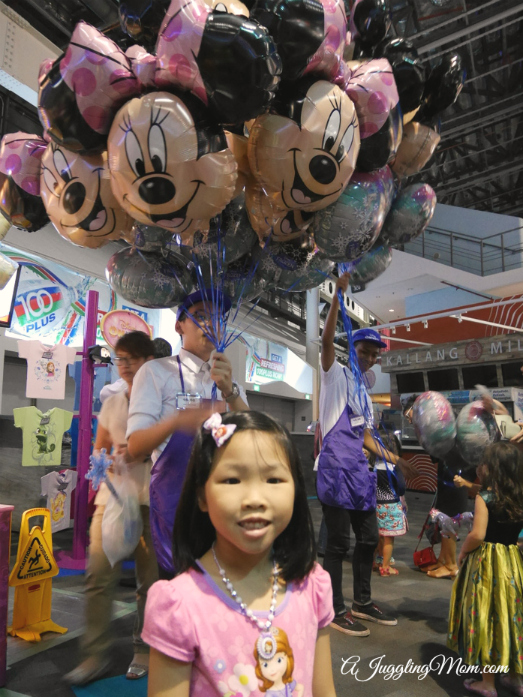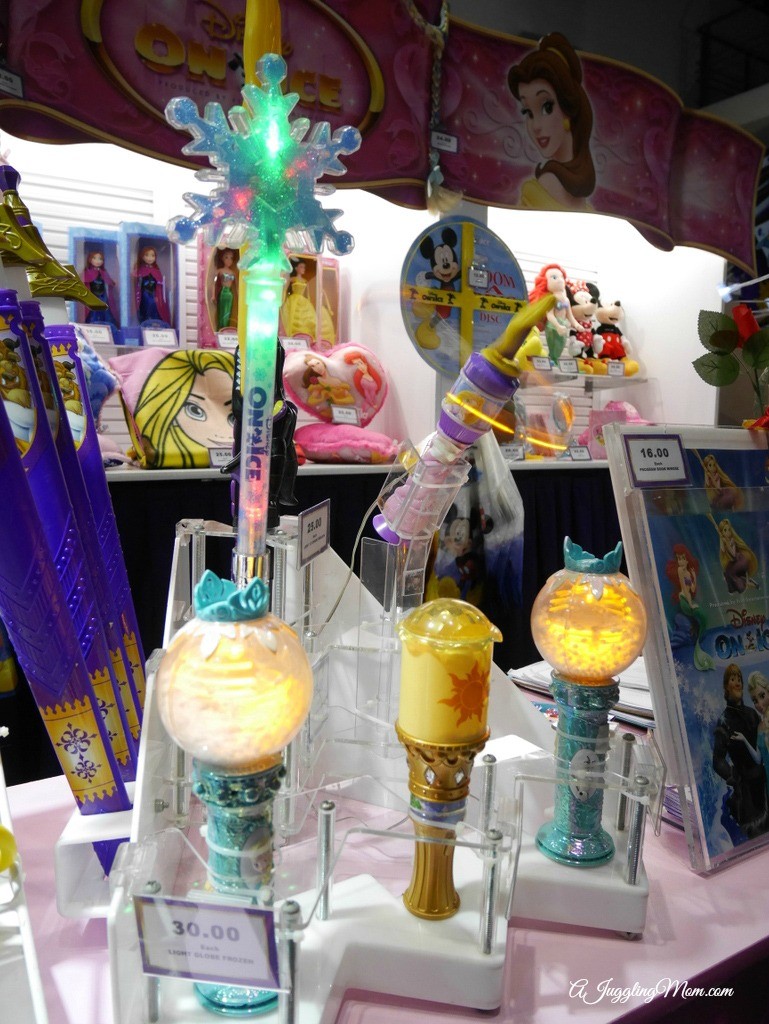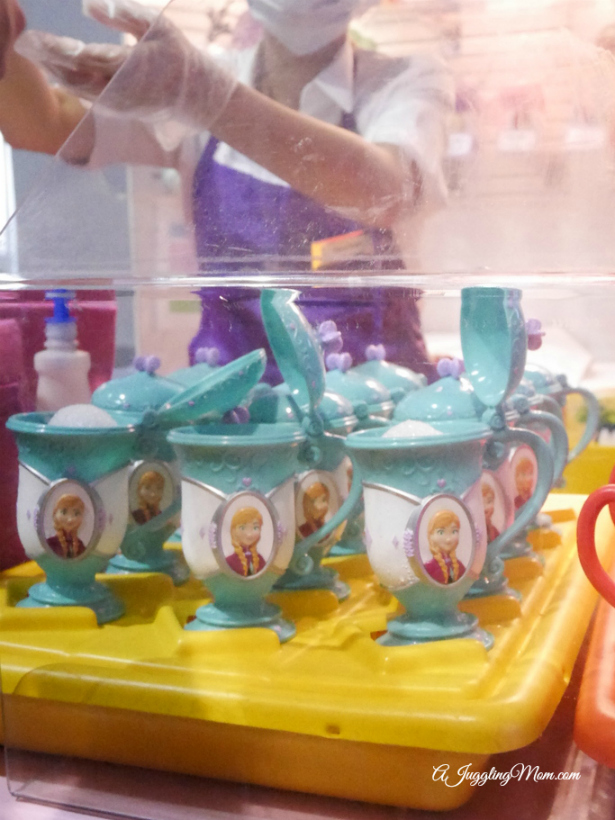 Disney on Ice presents Magical Ice Festival runs till 20 March. So hurry and buy your tickets soon!
Disney on Ice presents Magical Ice Festival
Date: 11 March 2016 to 20 March 2016
Venue: Singapore Indoor Stadium
To book your tickets for Disney On Ice's Magical Ice Festival , you may purchase them online at www.sportshubtix.sg.
Tagged: Disney, Disney on Ice, March school holidays