Last month, I discovered the weight loss properties of the grapefruit. Although I have no weight loss success story to speak of, I enjoyed this summer fruit in my diet especially when it added a burst of citrus goodness my salads.
Another super food that I've recently discovered is the purple sweet potato. Most of us would be more familiar with the orange fleshed potato that we usually find in our cheng teng or sweet potato dessert. But did you know that the purple fleshed sweet potatoes actually contains a greater deal of nutrition?
I did some research and here's what I found.
2 small helpings of purple potatoes a day decreases blood pressure by about 4 percent without causing weight gain

Sweet potatoes are loaded with potassium (helps control blood pressure) and soluble fiber (helps to lower cholesterol levels and stabilize blood sugar levels)

Anthocyanins in purple sweet potatoes exhibited memory enhancing effects, which may be associated with its antioxidant properties

and anti-inflammatory properties
But these are not the only benefits they have. You'll have to google it to read more about the benefits of purple sweet potatoes.
Potatoes have long been given a bad name as a carbs loaded food. But it reality, when prepared without frying or any butter or sour cream, a potato has only 110 calories and dozens of healthful phytochemicals and vitamins.
Here are a couple of ideas on how you can cook purple sweet potatoes
Baked sweet potatoes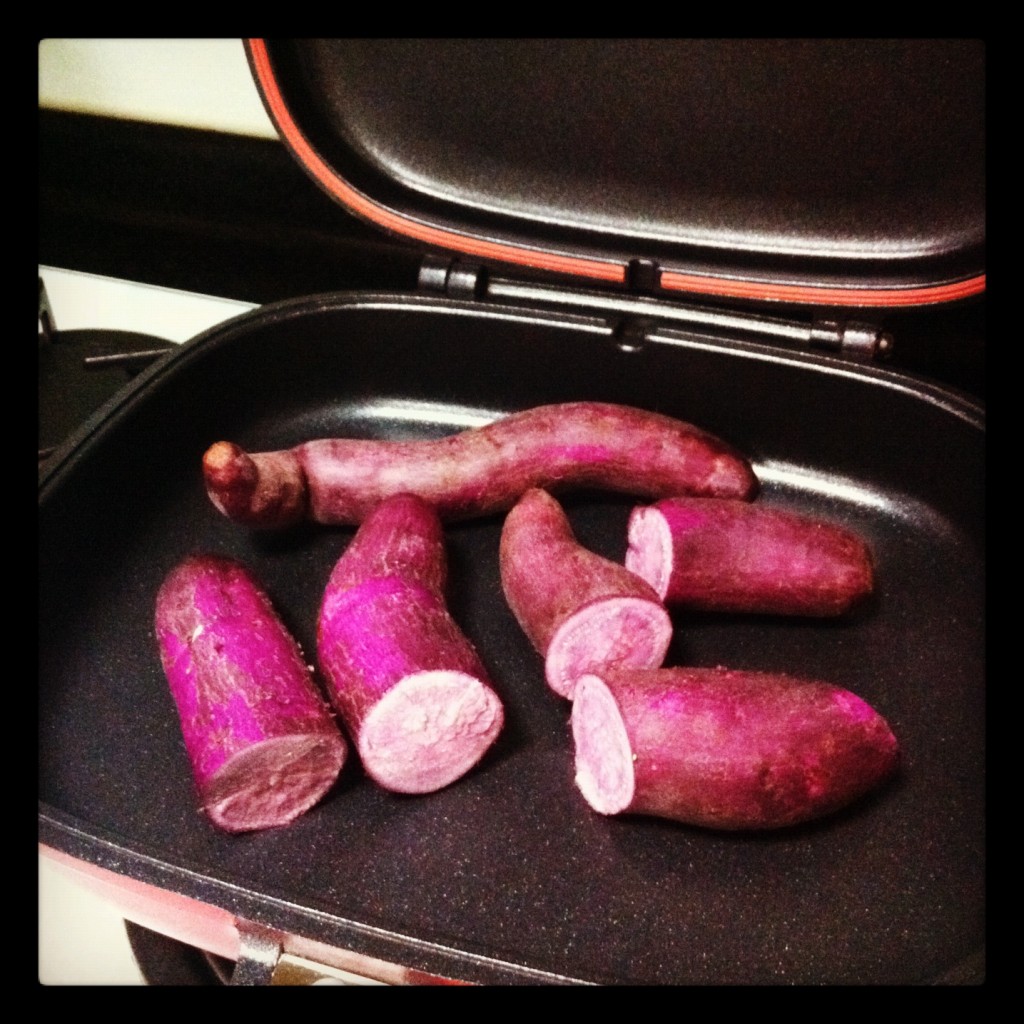 I saw this recipe from Cuisine's Paradise's blog and this is so easy to roast potatoes with a Happy Call Pan!
Instructions
1. Scrub the outer skin of the sweet potato. Pat dry with kitchen towel and arrange it in the Happy Call Pan.
2. Cover, lock and cook over low heat for about 20 – 25 minutes, flipping every 5 minutes to ensure that the potatoes are cooked evenly from both sides without burning.
3. After 20 – 25 minutes, test if the potatoes are cooked by inserting a skewer in. if it comes out clan, your potatoes are ready. If the skin looks slightly charred, it's normal.
An easy peasy dish that you can cook and have as a healthy snack.
;
Sweet potato fries in cinnamon
I got this recipe from this website.
Ingredients
2 medium sweet potatoes (approximately 7 ounces each)
Ground cinnamon
1/2 teaspoon salt
Olive oil
Instructions
1. Preheat oven to 375 degrees.
2. Scrub potatoes and wash them and cut potatoes into strips.
3. Coat a baking sheet with non-stick cooking spray and lay out sliced sweet potato strips.
4. Lightly brush potato strips with olive oil and lightly sprinkle with cinnamon. Evenly top with a small amount of salt.
5. Place in oven and cook for 20 – 25 minutes. (For some sweetness, you may sprinkle 1 to 2 teaspoons sugar evenly over fries before placing in the oven.)
I can so foresee that this will be a hit with Sophie!
;
Other quick and simple ideas that you can whip up with purple sweet potatoes are mash sweet potato or even sweet potato in salad topped with walnuts, raisins and some lettuce.
;
I'm trying out the home baked sweet potato fries this weekend and sure hope they turn out well 🙂 Anyone up for them too?
Tagged: cooking, diet friendly, happy call pan, recipes