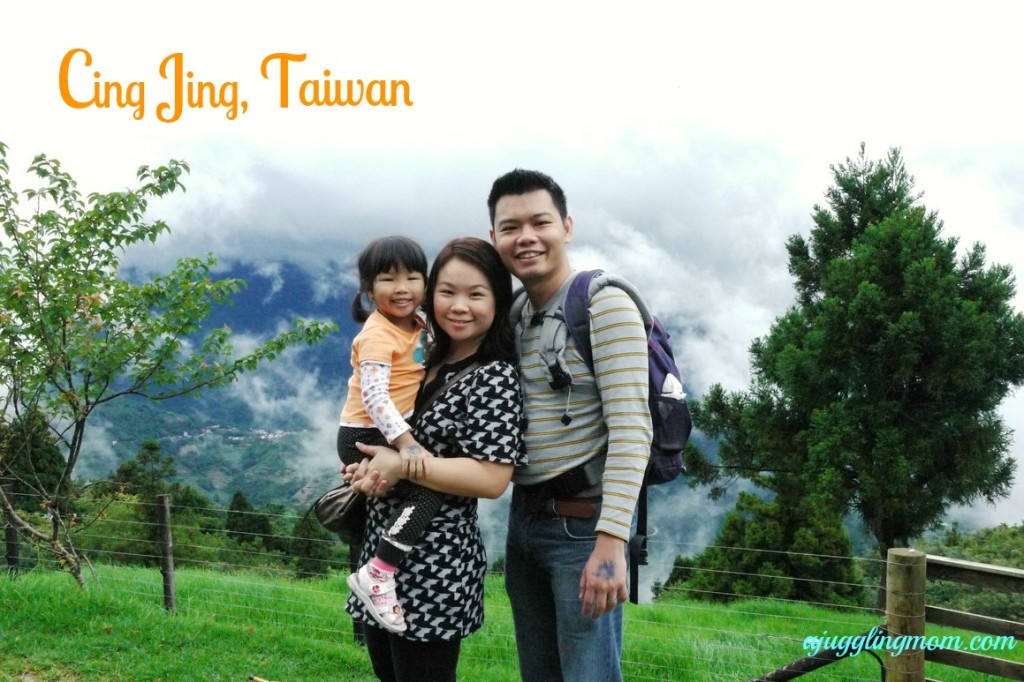 When we did our research on Cing Jing, two must go tourist attractions were Green Green Grassland (青青草原) and Small Swiss Garden (瑞士小花园). Initially we were in two minds about visiting Green Green Grassland which as part of Cing Jing Farm as we just came from a 1D1N farm stay at the Flying Cow Ranch in Miaoli.  Green Green Grassland turned out to be more of a sheep pasture than a farm, where you can find sheep roam freely on the green grassy plains.
Green Green Grassland (青青草原)
We purchased our tickets for Green Green Grassland from our minsu at a discounted rate and they even provided free transport up to the entrance.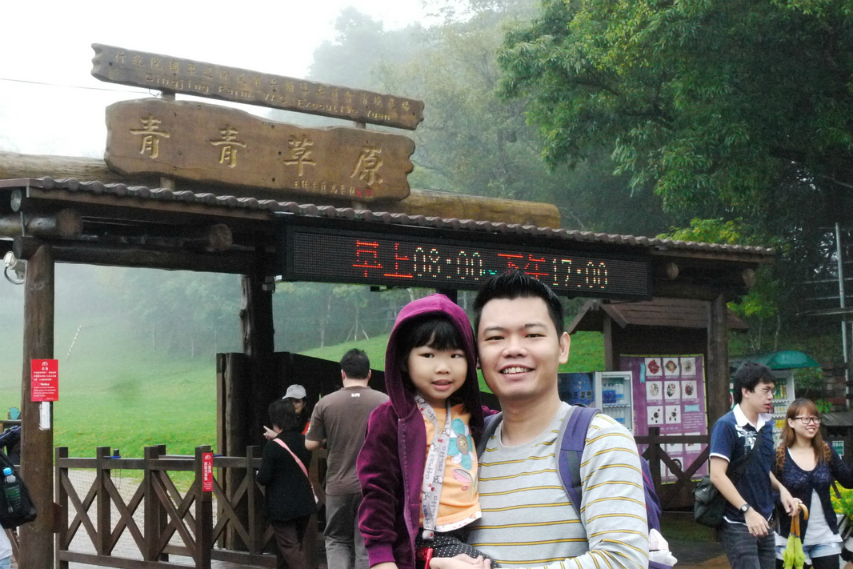 Mandatory photo at the entrance! Can you see how misty it was? The temperature was around 16 degrees that morning.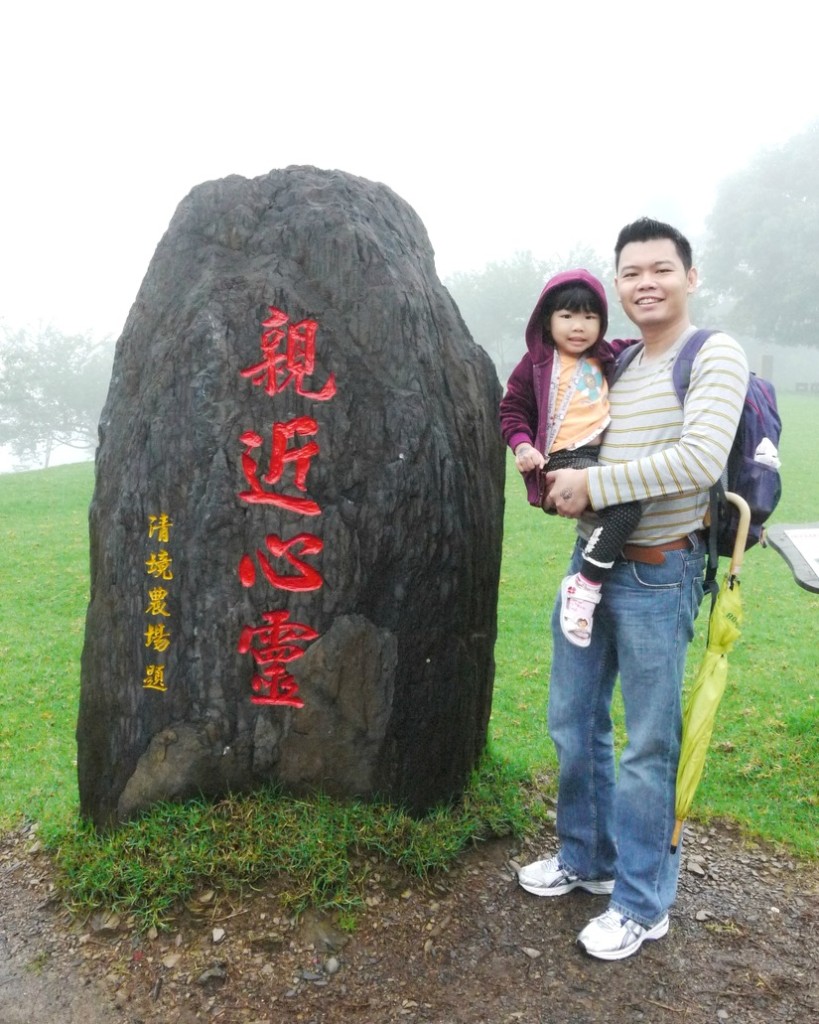 Sophie and her awkward smile
I heard that they have sheep shearing shows happening at the amphitheater and rushed Alexis and Sophie bypassing the castle and hungry sheep that were early awaiting the tourist to feed them. But it turned out they only had the sheep shearing shows between June to August.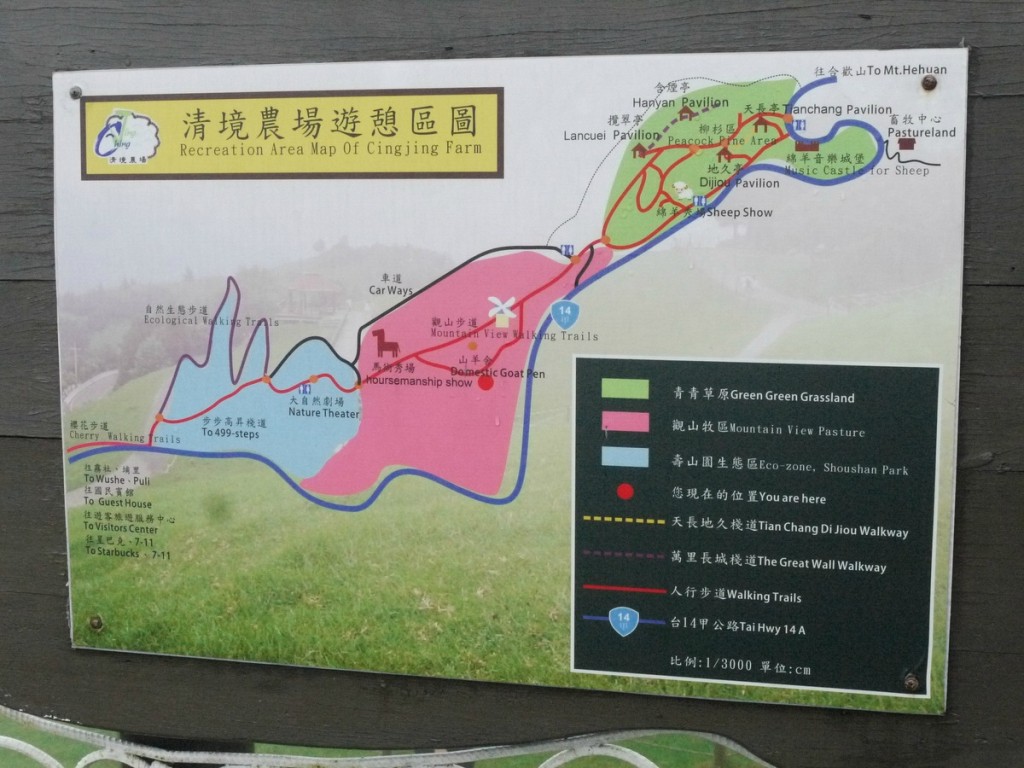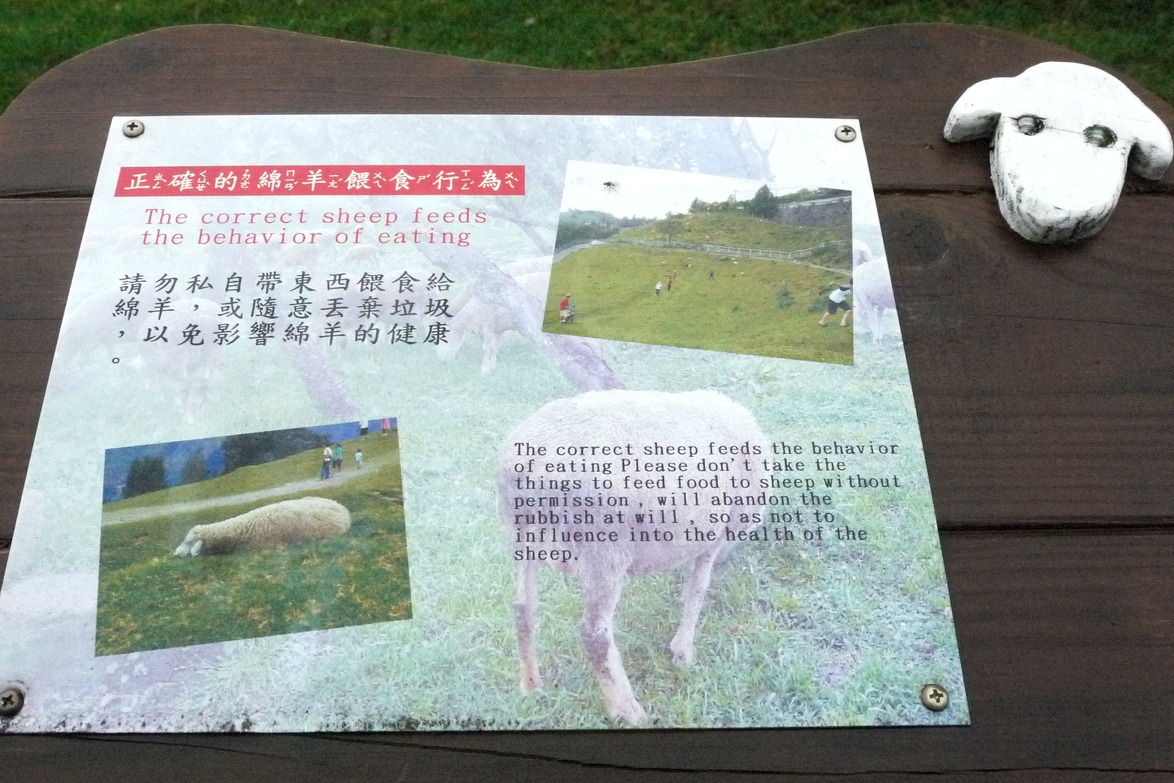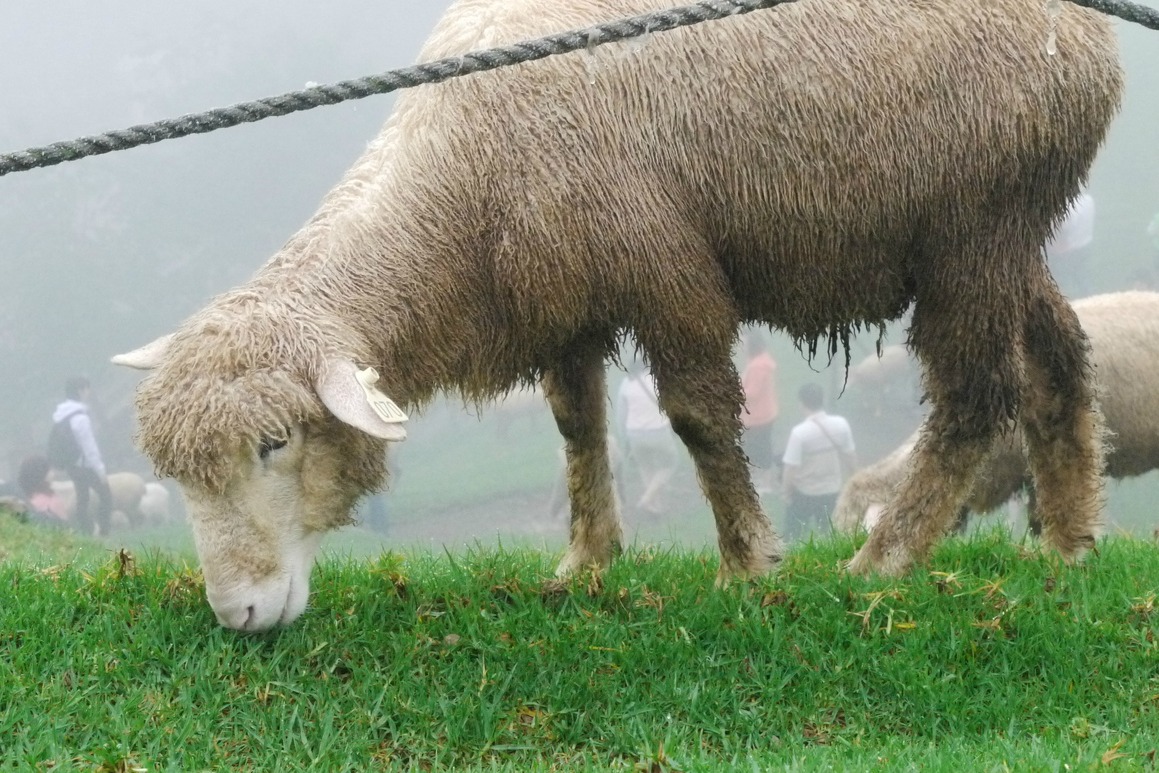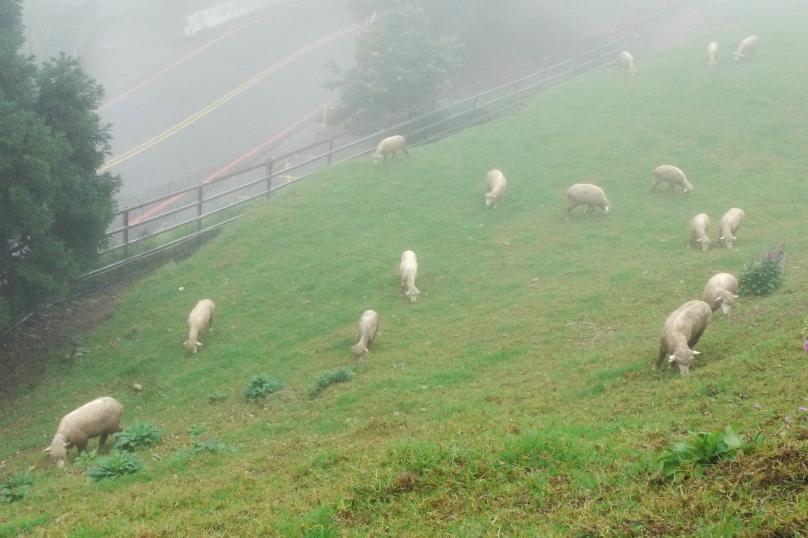 We saw people buying sheep feed to be get a close experience of feeding the sheep and a photo opportunity. But I was not keen for the sheeps to pounce on me. In fact, when I tried to take photos beside the sheeps, I was so terrified that they would come close and often sent me squealing off in the opposite direction when they look up at me.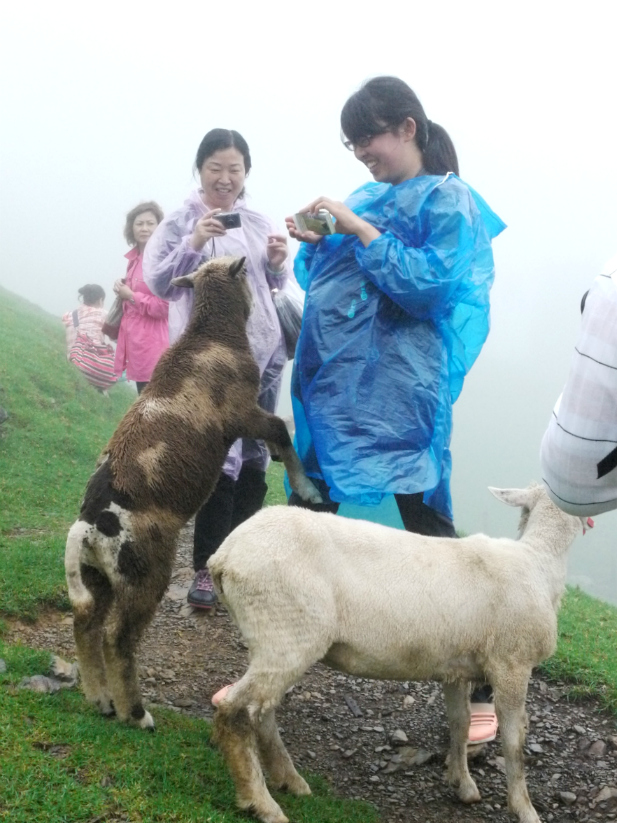 Sophie was also scared of being too close to the sheeps and preferred to see them from a distance and was up on daddy's shoulders most of the time.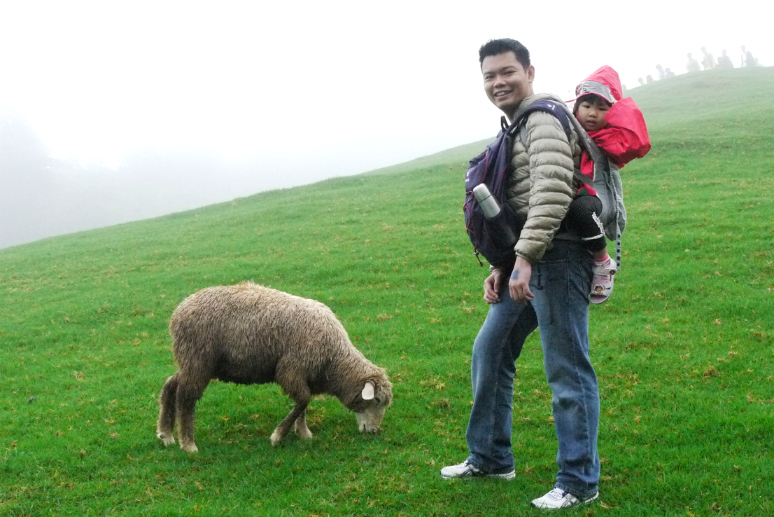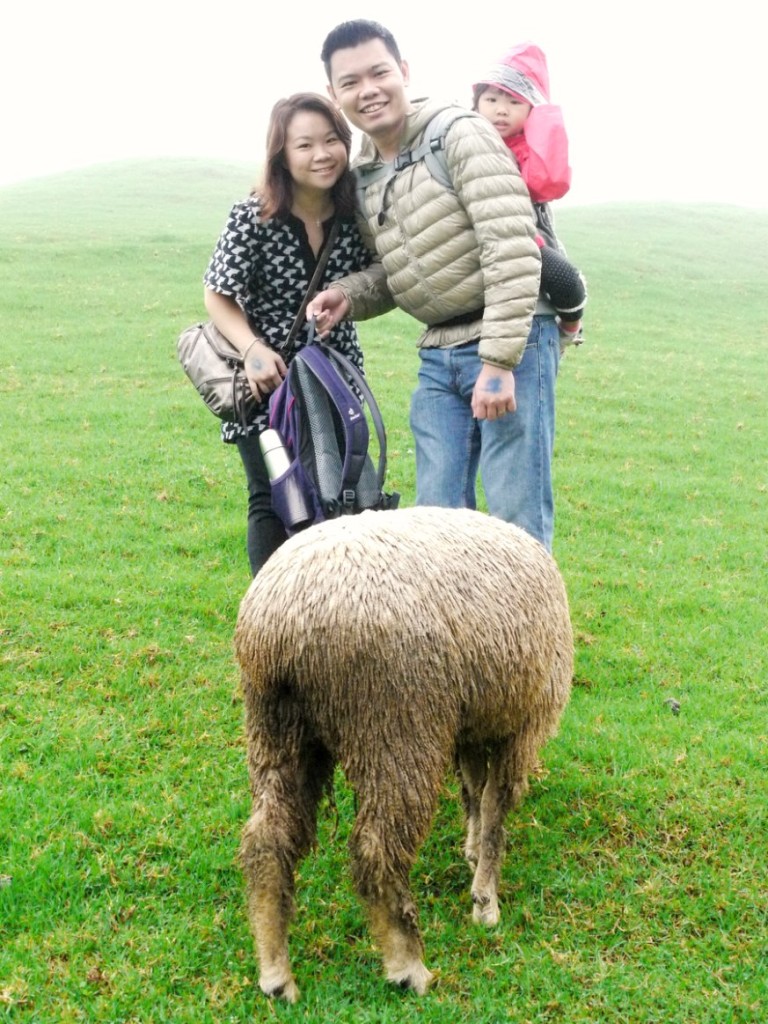 It drizzle on and off but the sheeps looks undisturbed and continued grazing away while the tourists continues to snap pictures around them. So it's always a good idea to pack a poncho or rain coat and come with comfortable sport shoes as the slopes may be slippery.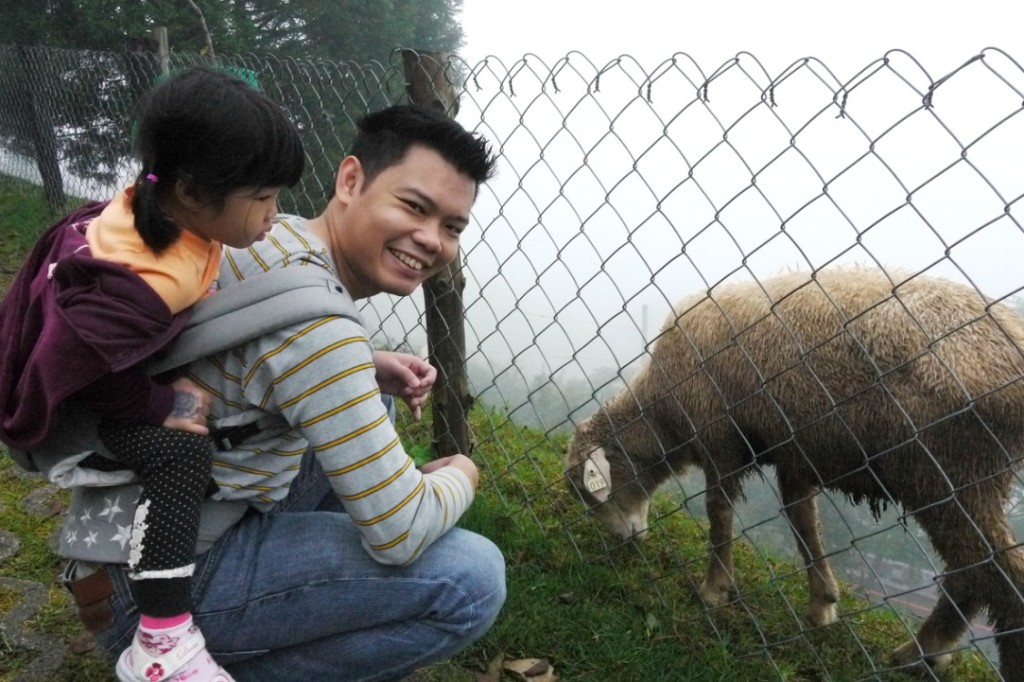 We tried to feed the sheeps behind the fences but these guys knew that that ain't food and snubbed us.
According to some friends, Green Green Grassland is described as Taiwan's version of Switzerland with an amazing view as you're high up at an altitude of 1,750 metres above sea level. With a picturesque view like that, I'll have to agree and didn't miss a family photo.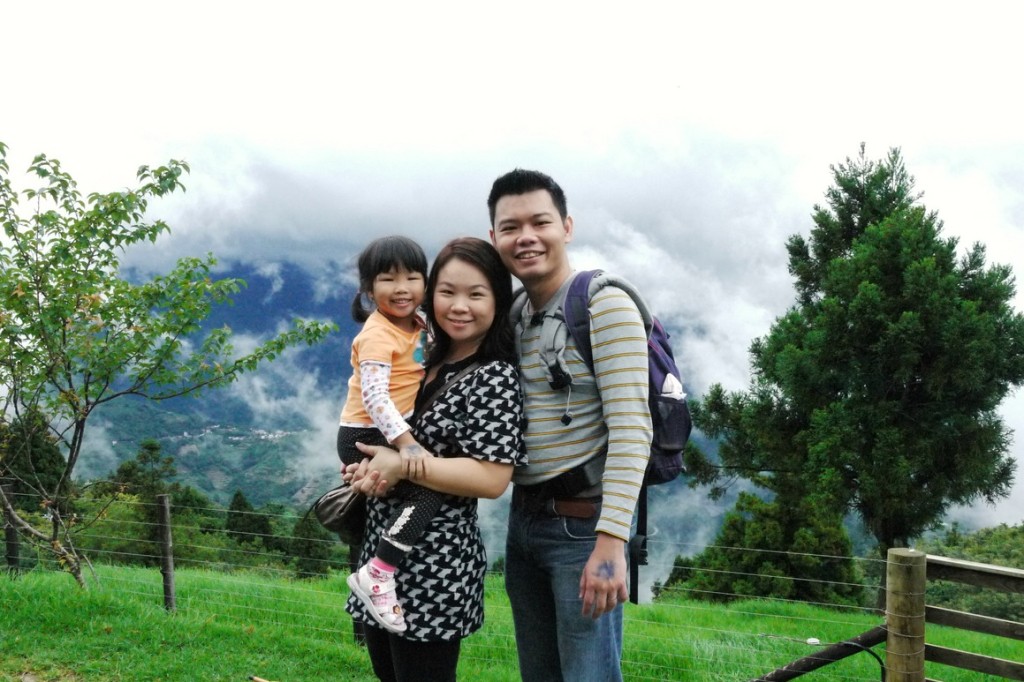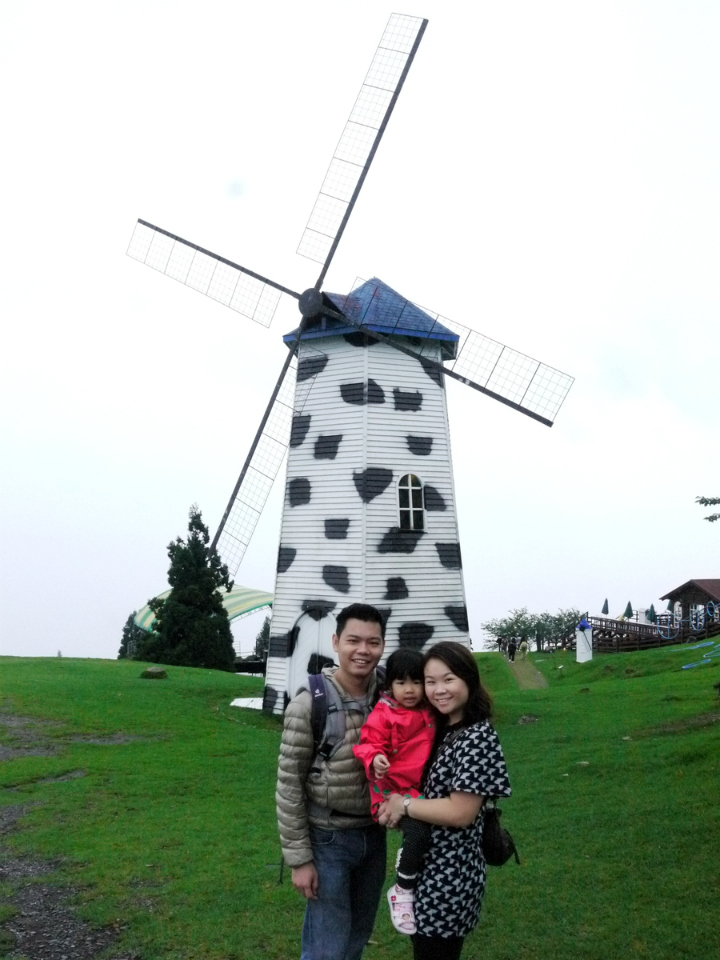 We proceeded to the mountain view pastures for the horse show at Cing Jing farm. The performers change on a regular basis and the troupe performing today are from Mongolia where they learn to ride horses from as young as five years old.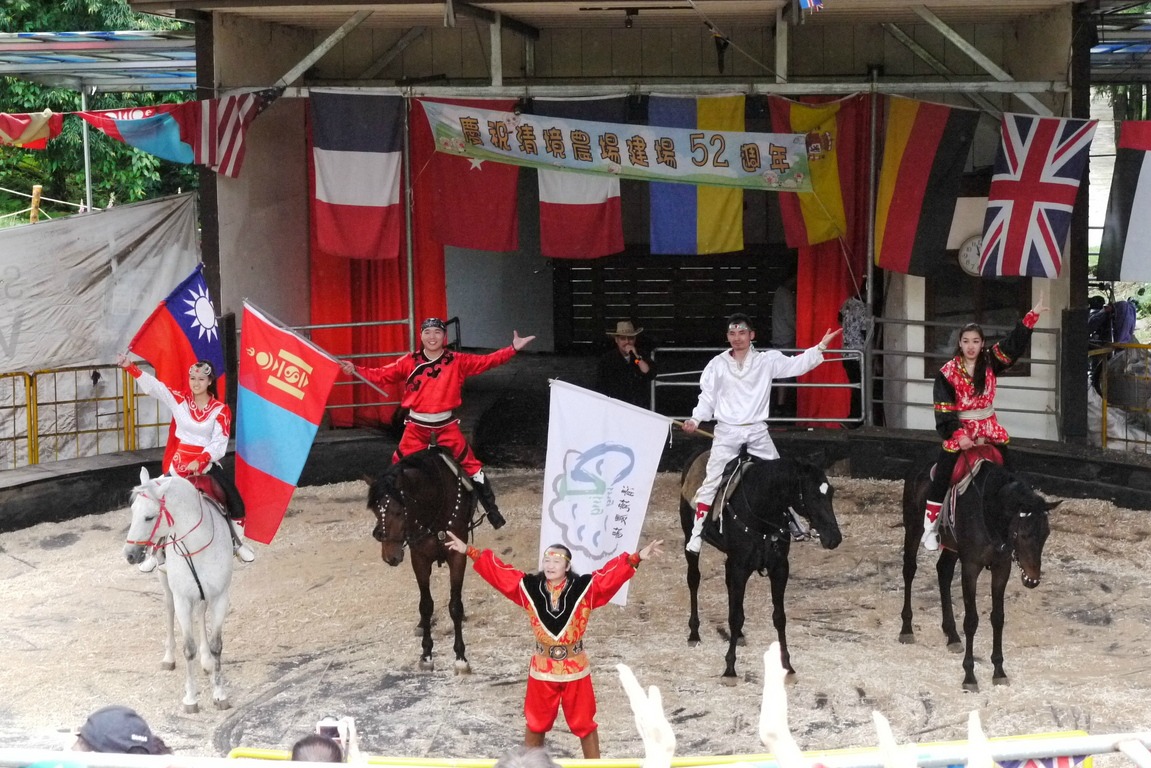 Although the performers were impressive balancing on their horses, riding backwards and all but after a while the show got a little boring because the stunts looked about the same. But it was a good place to take a break from all the walking and just rest our legs so we stayed till the end where we bought carrots to feed the horses.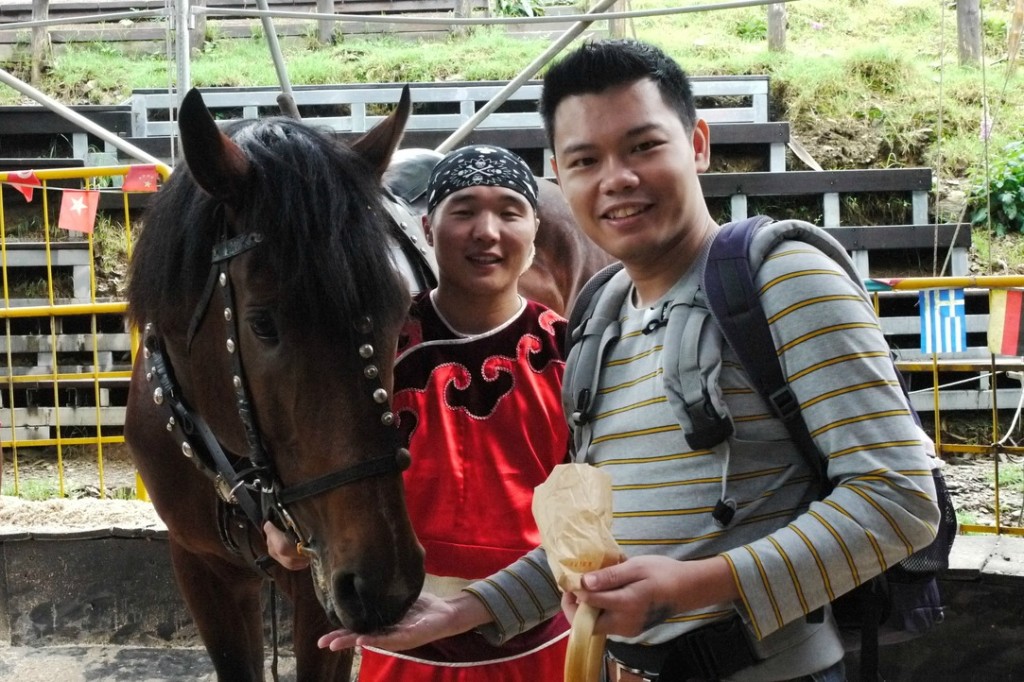 There is a method to hold the carrots if you don't want to get your fingers munched off by these fellas. The correct way is to place the carrots in the palm of your hand and lift them up.
The feeling of their slobbery tongues was very icky but it doesn't smell as they are herbivores.
We continued with more walking and finally reached the 499 step trail which took us to the foot of the lower entrance. So if you're bringing kids, be prepared to carry them or have them in a carrier as a pram will be quite a killer. We were so exhausted that we didn't have any photos. Haha.
Later in the afternoon, Sophie decided that a nap was not on her agenda, so after a quick rest at the minsu we decided to brave the rain (again!), put on our ponchos, raincoats, armed ourselves with umbrellas and walked to the nearby Little Swiss Garden which was about 5-8 minutes away from the minsu.
Small Swiss Garden (瑞士小花园)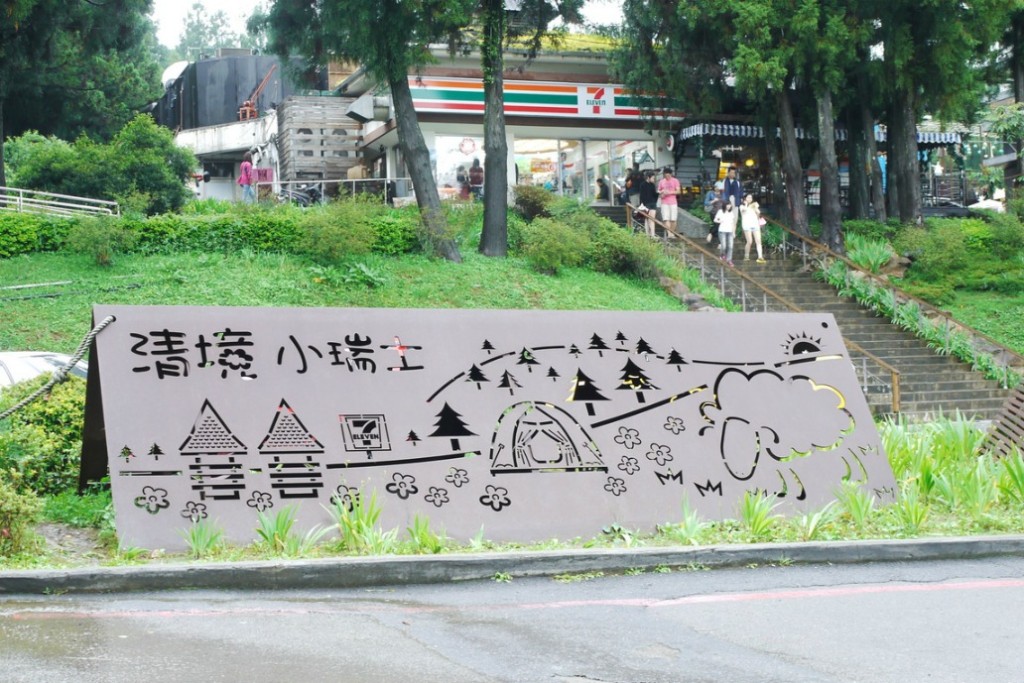 The Small Swiss Garden is popularly known as "Taiwan's Little Switzerland"  because the garden emits a Northern European atmosphere. It is located just next to the Carton King restaurant . As we dined at Carton King the day before, we had complimentary tickets saving us 240NT.
Upon entering the garden, you'll see cardboard like structures of animals and buildings.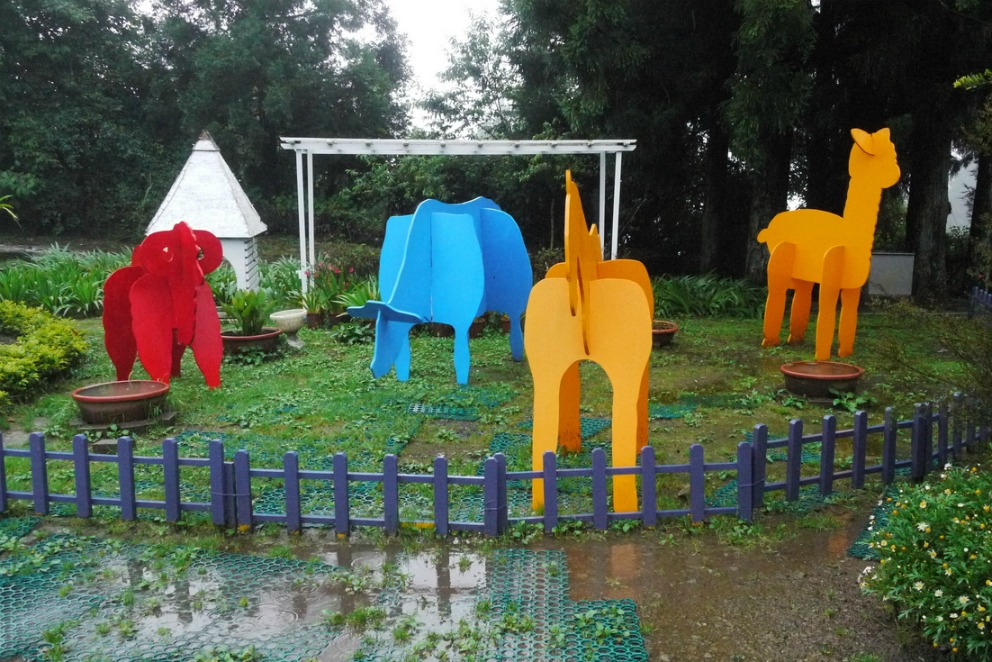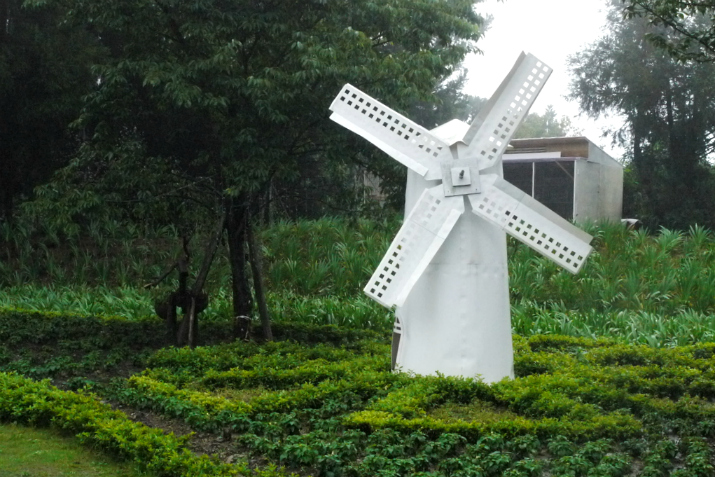 And boy did it rain that afternoon. But even then, we choose not to let the weather dampen our holiday spirits although admittedly we did look like silly tourist in the rain. Although I'm sure the walk around the garden would be more enjoyable without having to carry umbrellas and avoiding puddles, we brought our own sunshine along!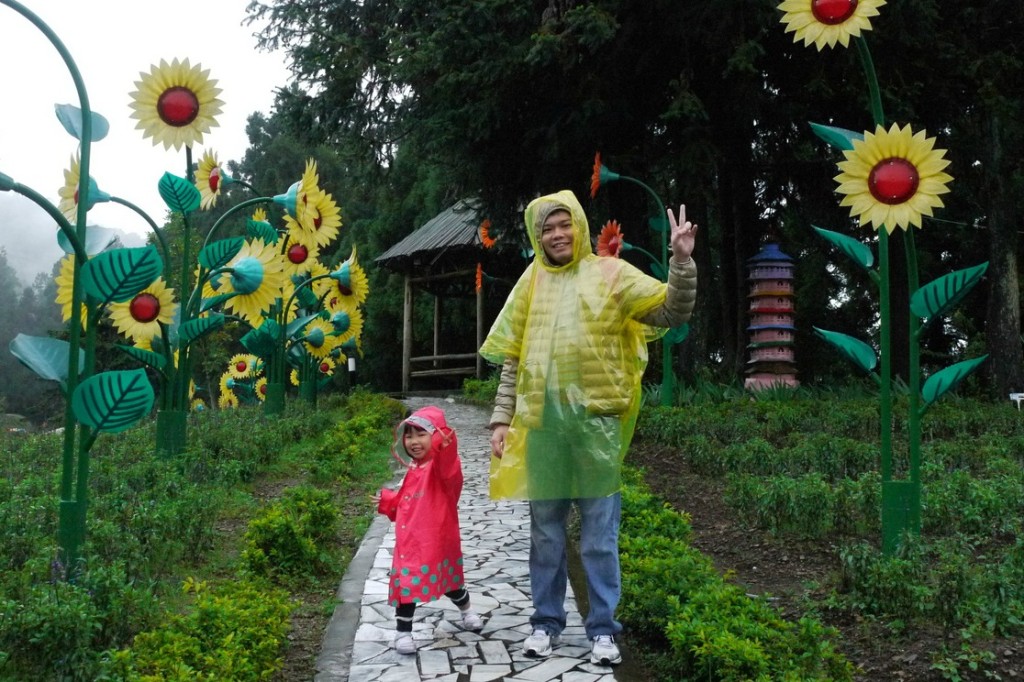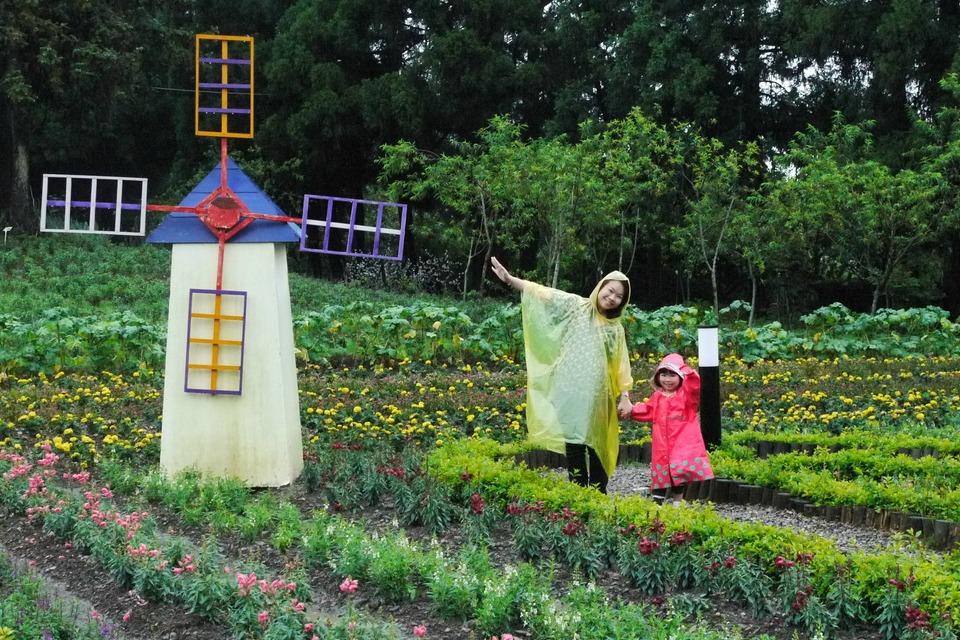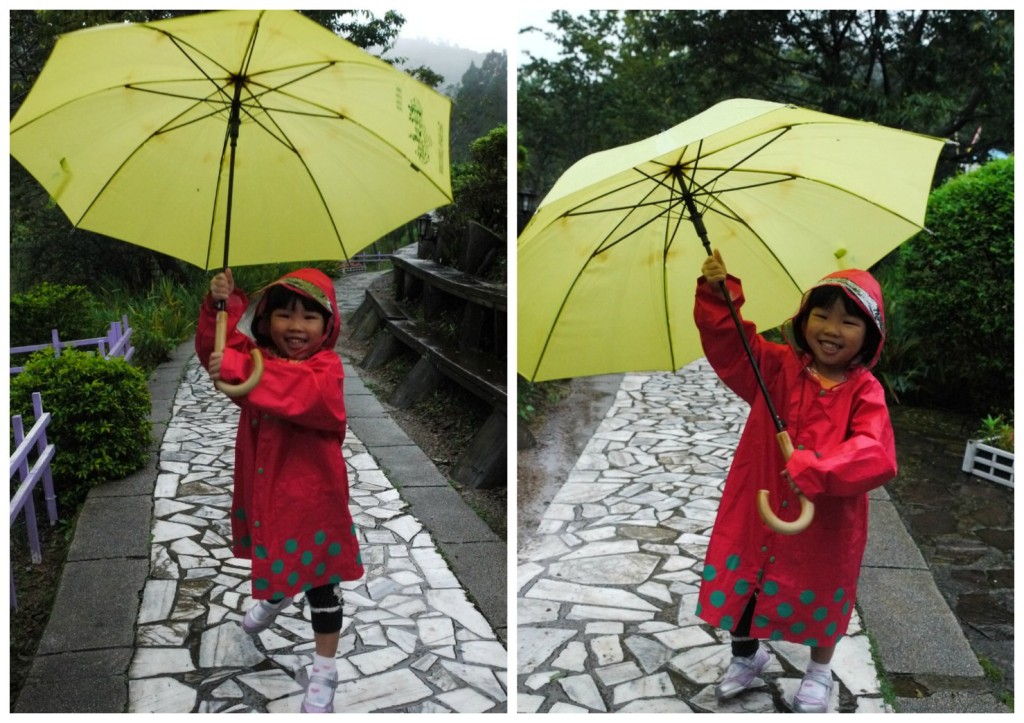 We spent sometime stuck in the shade when the started to rain heavier. But that's what nice about free and easy holidays because you can just slow down when you need to.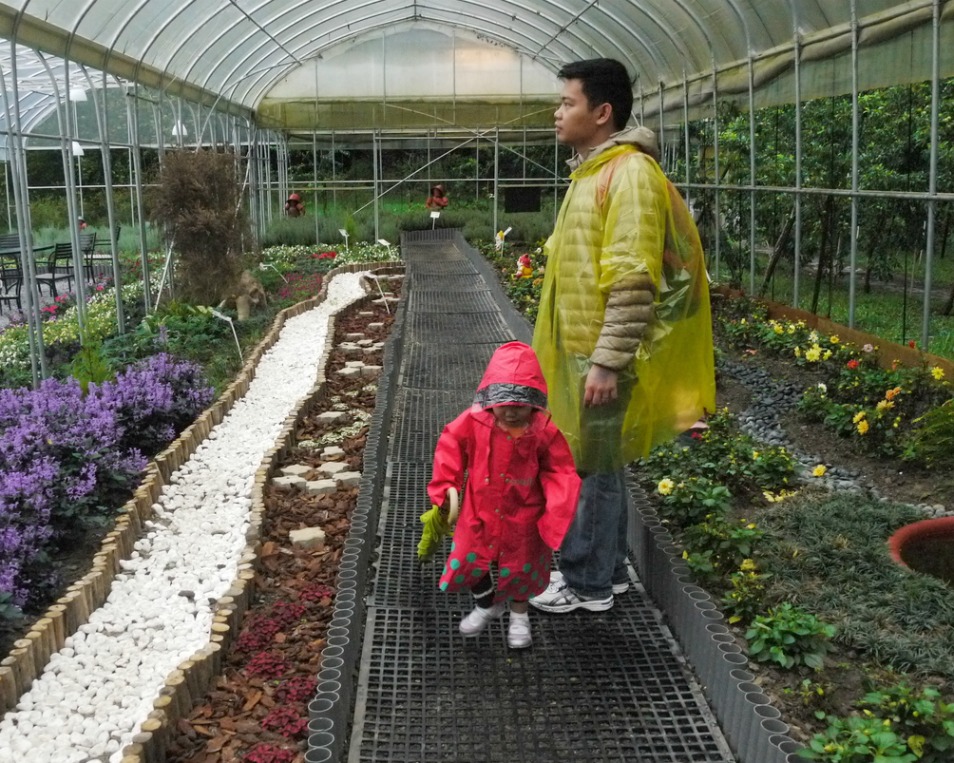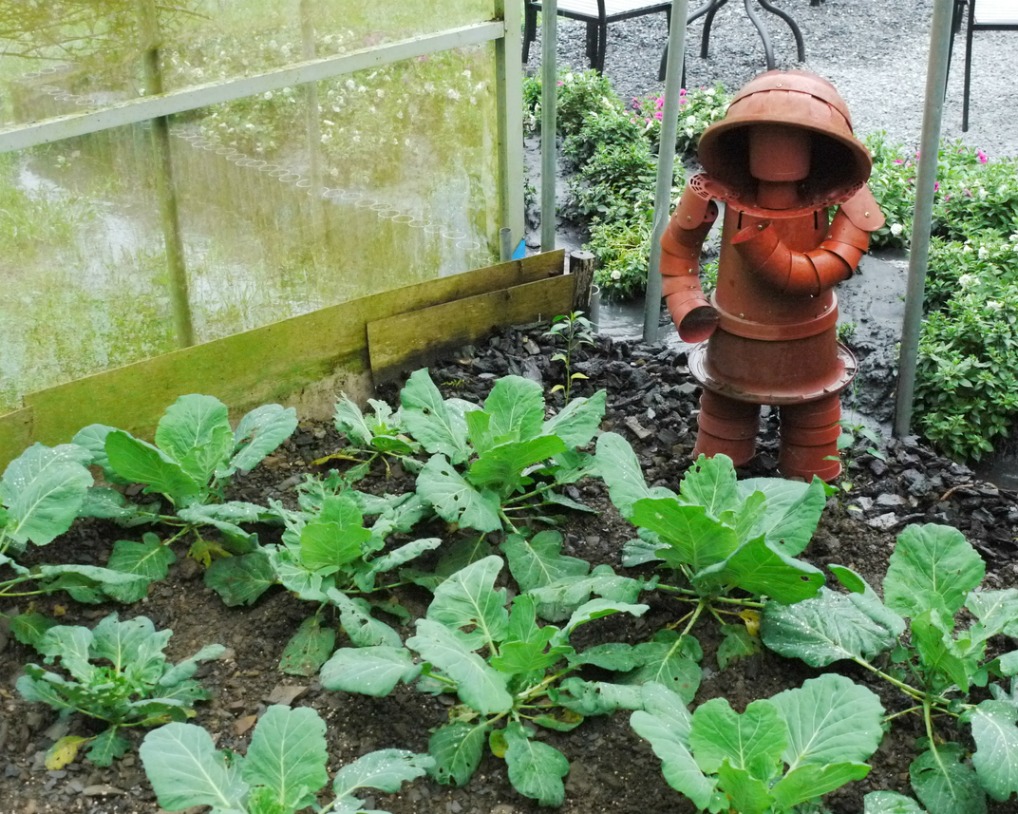 The potted garden guardian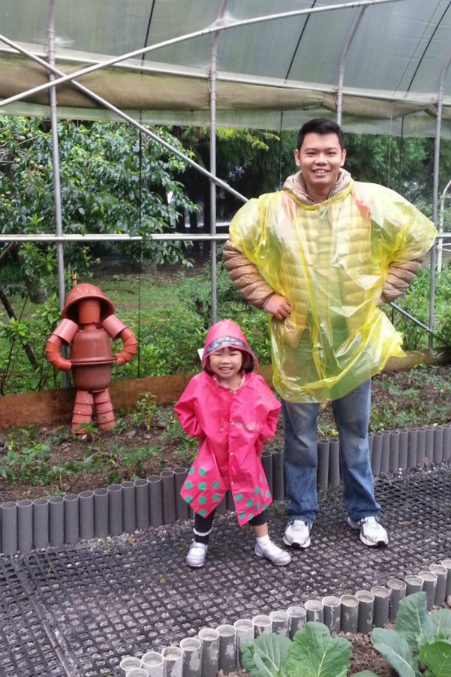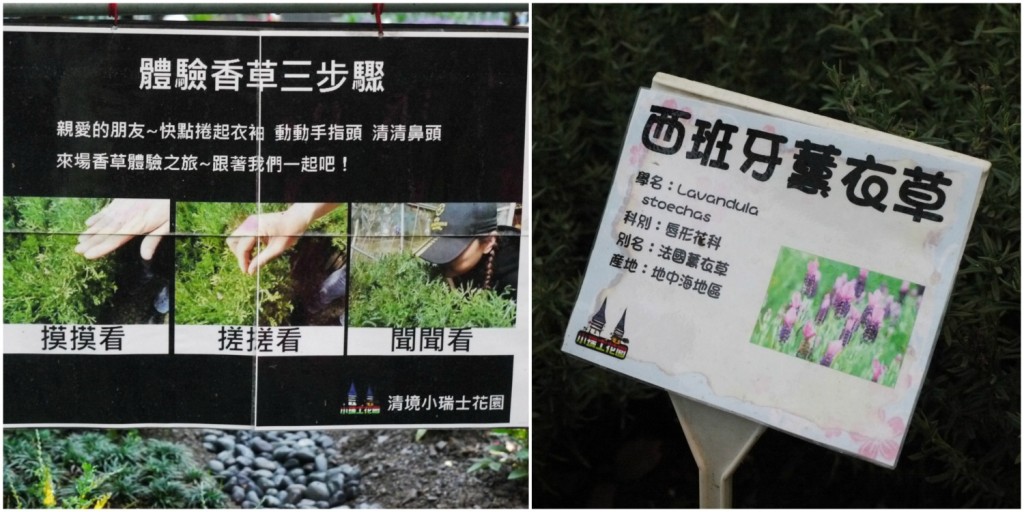 Sensory spots. Though I accidentally plucked the leaves of instead of just rubbing them. I blame my lousy Chinese for that 😛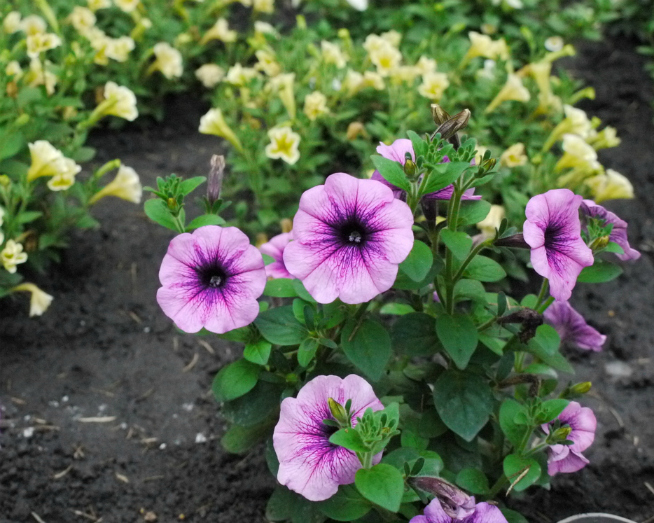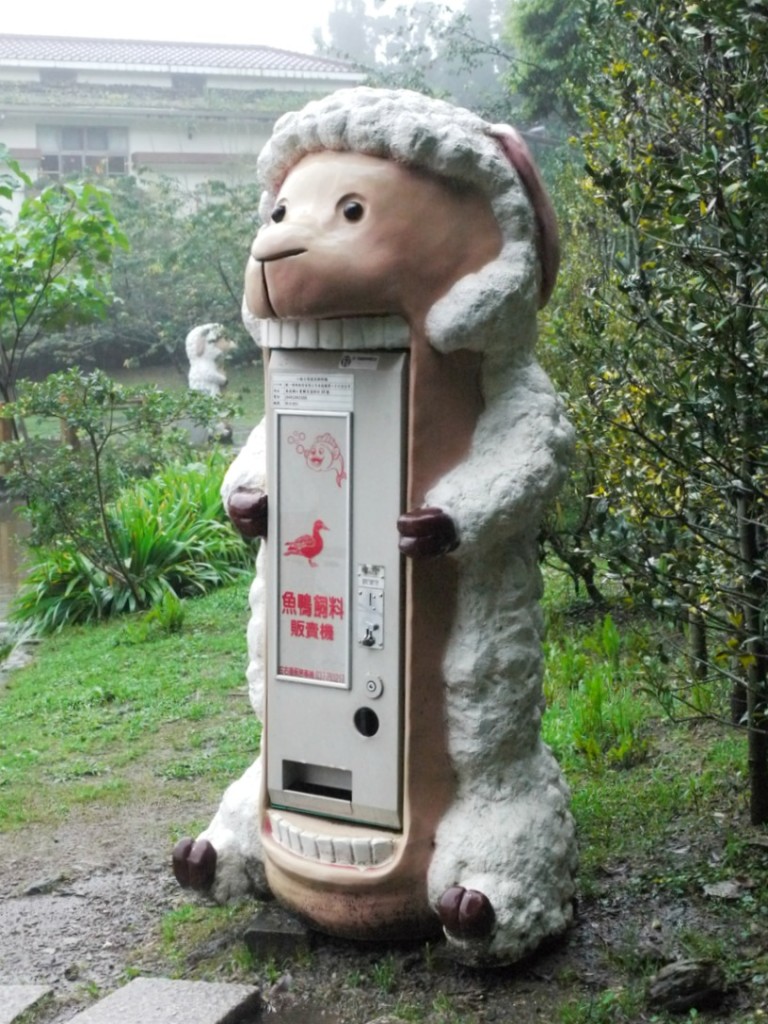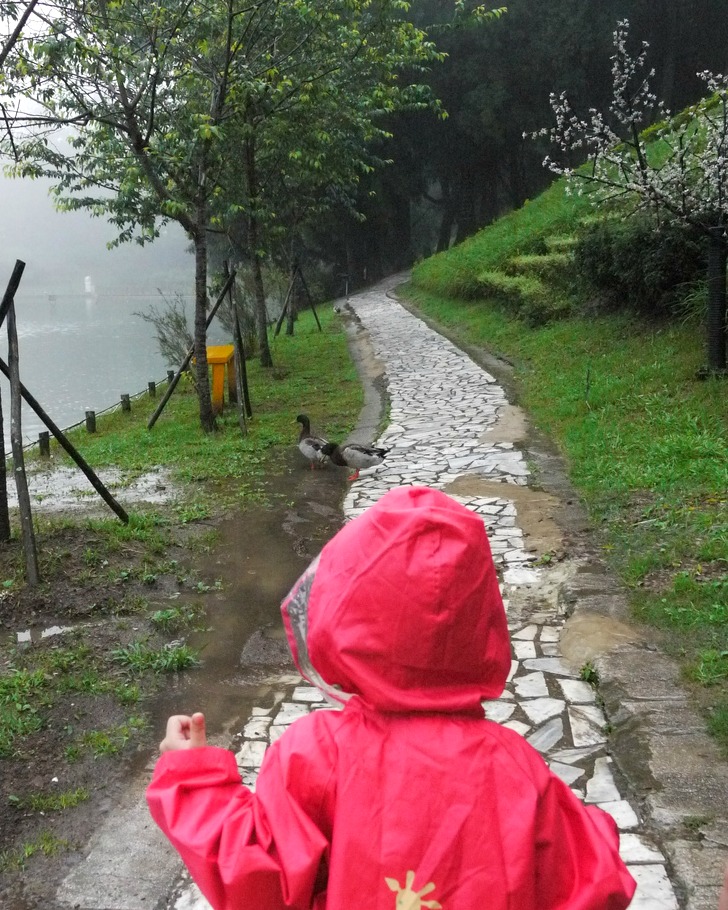 Ducks who were they were flamingos!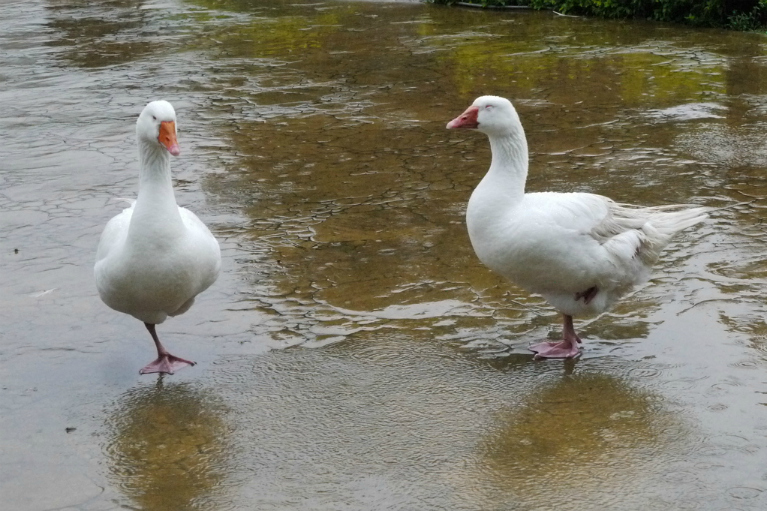 We didn't stay too long in the Garden but here's a tip if you're visiting. If you're planning to visit both Carton King and Little Swiss Garden, do the former earlier so that you can save on your entrance tickets to Small Swiss Garden.
We probably spent a good whole morning in Green Green Grassland and maybe just under an hour at the Little Swiss Garden. If you're going there in May or during the rainy seasons like us, do bring along poncho and umbrellas as it tends to rain a lot then.
Next stop, we're going to Hua Lian for Taroko National Park and whale watching.
More of our Taiwan adventures:
Tagged: family holiday, Holiday, Taiwan, travel