Today's the 9th day of the Lunar New Year. I'm still recovering from all the feasting and lou heis I've had over the past few days.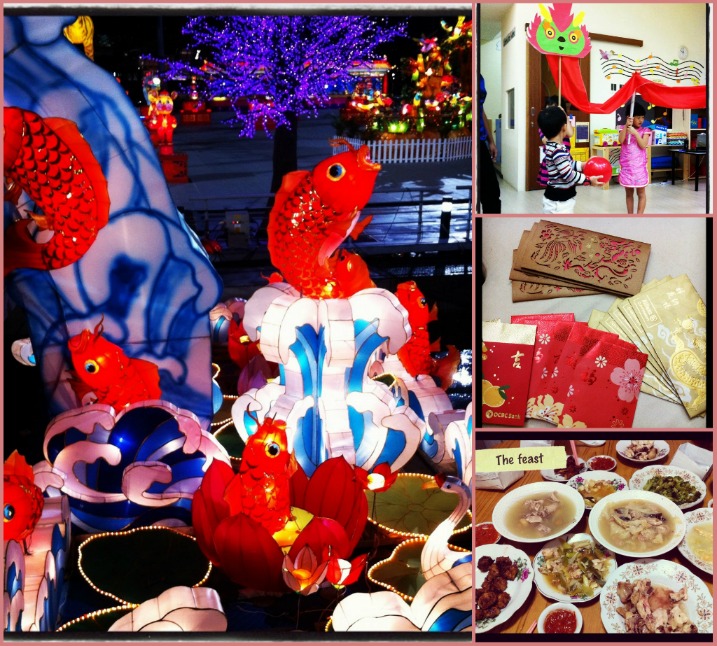 Left to right: River Hongbao display, DIY dragon dance in Sophie's child care, red packets, feast at Grandma's
I may not be very cheena pia but I was eagerly looking forward to the Chinese New Year. I'm not just talking about all the New Year goodies like pineapple tarts, love letters and bah kwa, it's the visitations I look forward to especially. Catching up with the relatives on how everyone's been doing, sharing laughs over the delicious spread of food at Grandma's. And in the spirit of all things new, the perfect excuse to buy a new dress or maybe two and even shoes.
Speaking of fashion, I thought I would dress Sophie up in a qi pao this year. I was hesistant on how she'll take to a body fitting dress, but after I saw how adorable her classmates looked in their qi paos when her childcare was having their CNY celebration, I was completely sold.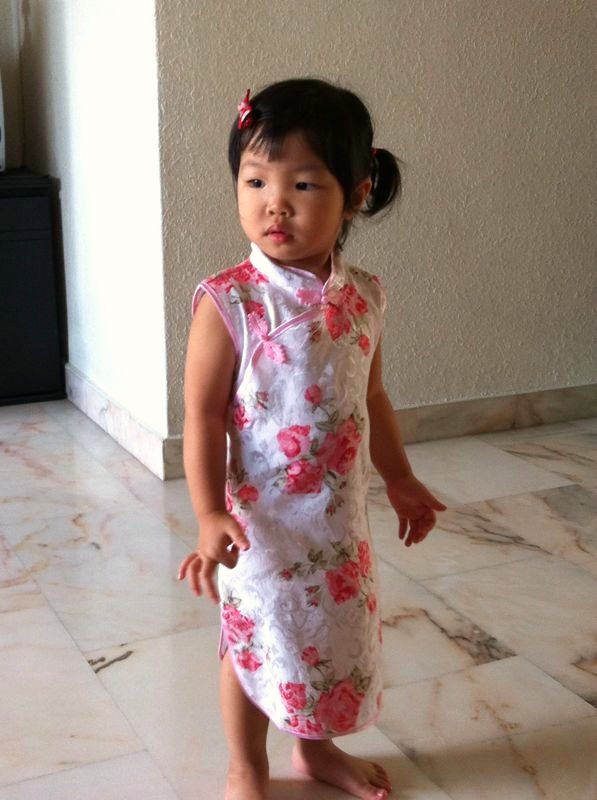 Doesn't she look adorable?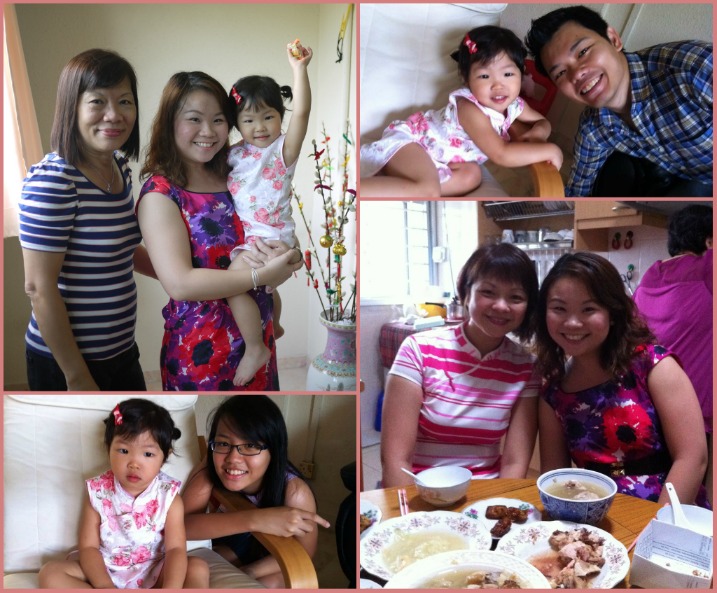 Sophie had a blast this Chinese New Year, snacking away on forbidden tidbits and playing with her cousins. She was so tired out that she fell asleep on the car in the middle of singing, "Do a deer" form the Sound of Music. She learnt this song during her year end concert last year and now knows the lyrics to the whole song, which delighted the adults.
Daddy and daughter both tired out from visitation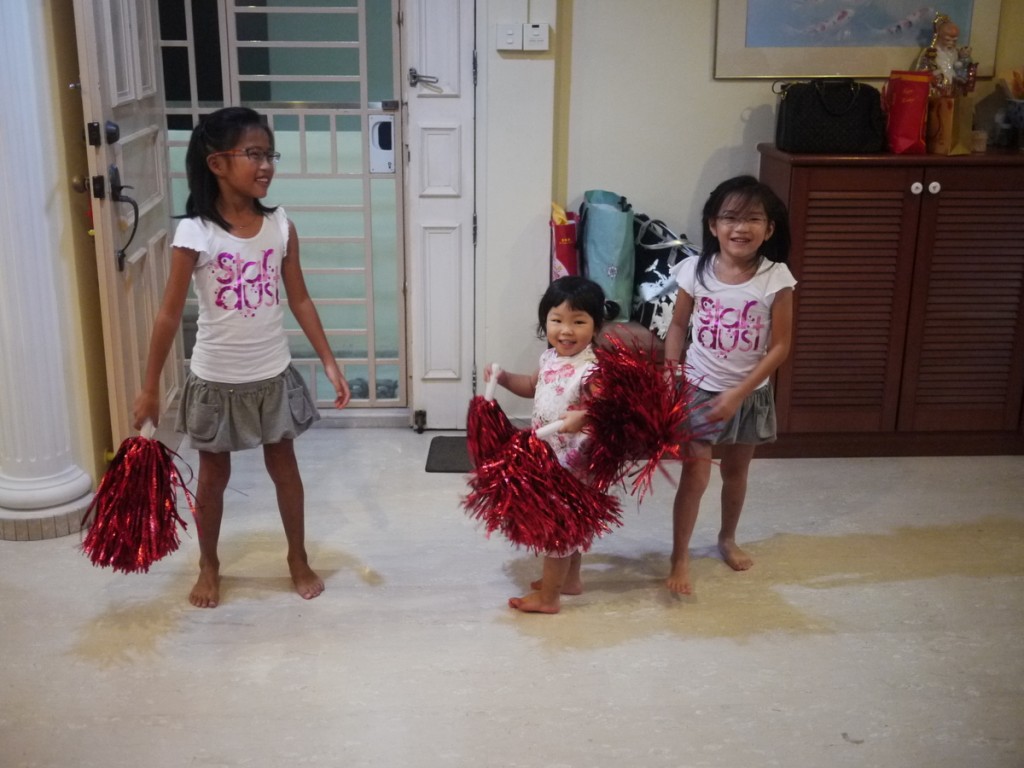 Sophie joins her cousins for a post dinner performance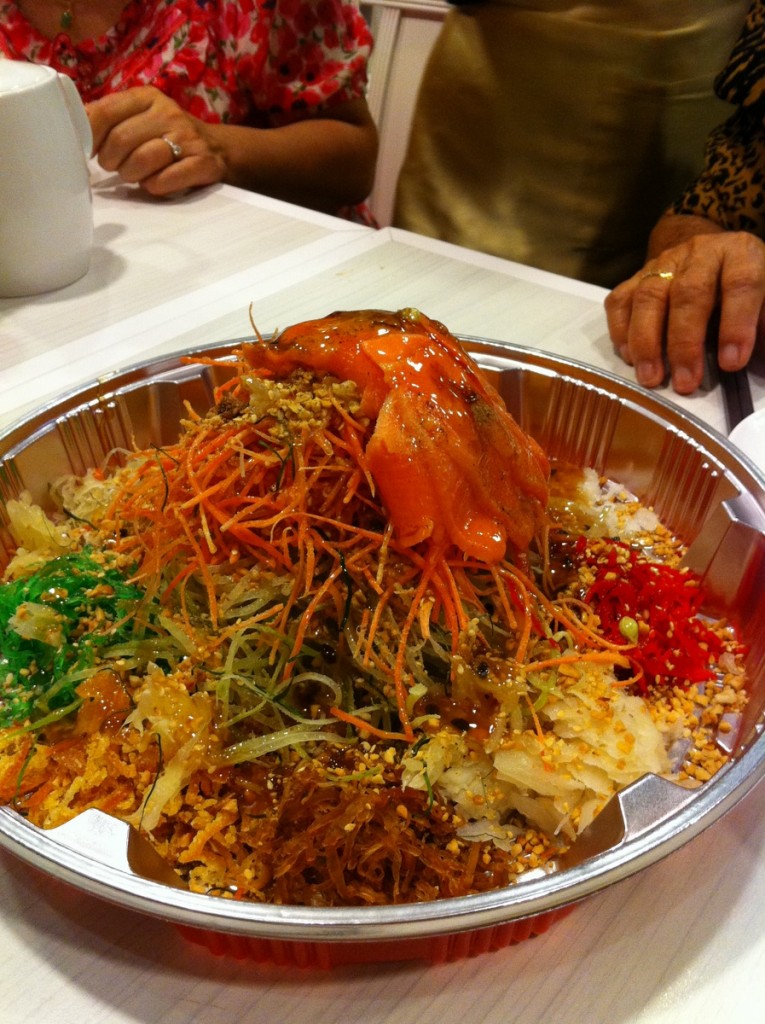 Lou hei. HUAT AH!
I'm thankful that I had a slightly longer Chinese New Year break as I only start work at my new company on 1 Feb (that's tomorrow!). My thankful moments for the week:
My new job. I'm going back to Marcomms, which is something more up my alley. I'm looking forward to the new learning opportunities, new colleagues and new work environment.
My date with Alexis to Universal Studios last week, which was my third visit and his first. And yes, we conquered both Battlestar Galactica roller coaster rides and concluded that I'm a SCREAMER!!!
Dear cousin who passed Sophie bags of clothes and books that will be good read for her bedtime stories.
CNY gatherings with family and friends
Time for myself 🙂 I managed to go for my facial, caught up on my reading, watched the movie the Descendants (which was a great movie by the way) and just basically time to relax…
I'm linking up with Jus, who blogs at Mum in the Making. Thanks for inviting me to join in the gathering for Thankful Tuesdays. It's always great to encourage one another and give thanks together.
What are you thankful for this week?

Tagged: Chinese New Year, fashion