As parents, having kids gives us the perfect excuse to relive our childhood through them. I like to think that Alexis and I are pretty fun-loving parents so we look forward to weekends when we can take Sophie out for some fresh air and lots of big wide spaces to just run, play and have fun.
I don't think I was all that sporty as a child. Sure I cycled, swam, ran and even took long walks in MacRitchie Reservoir. But the funnest way to end our walks was t slid down the slopes on flatten cardboards. I gotta do that with Sophie and oh what fun that will be.
In my teens, I got introduced to my first pairs of wheels after my bicycle- my inline skates! And in fact, it's also through inline skating that I sorta got to know Alexis and where he *gasp* held my hands to ensure I don't fall down! See that's a smooth and sly move. East Coast and Pasir Ris parks were our favourite haunts as we'll be there skating during our courtship days, a very healthy dating activity that I recommend.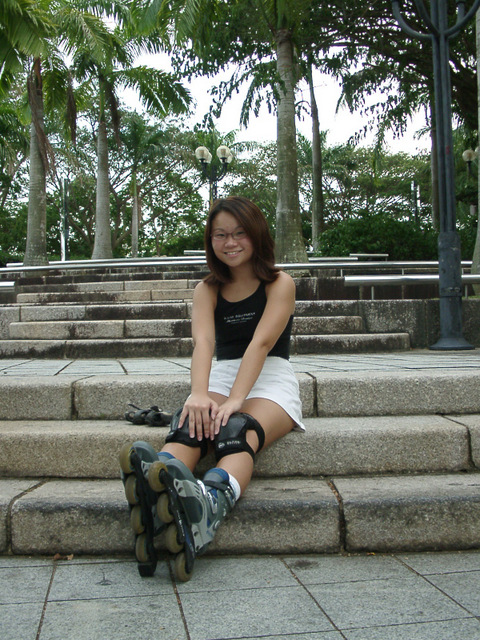 There were times when we joined the skating club and went on our skates island wide. Erm okay that's an exaggeration, maybe just the east side of the island and it was peppered with lots of fuel stops, ie makan time. But inline skating does give you a pretty good work out especially if you go the distance.
I'm still no pro at it and I blame my lack of practice and small guts. Alexis can do pretty impressive niffty moves and that's how he wowed me too 🙂
And in the beginning of this year, we took Sophie for her first inline skating as her Christmas present because Alexis wanted Sophie to learn it so that no boy can bluff her to hold her hands like mummy 😛 Though she enjoyed it and showed improvement lesson after lesson, she wasn't keen to continue onto the next level, much to daddy's dismay.
But lately, Alexis has been taking her inline skating again and now she can proudly proclaim, I am good at skating!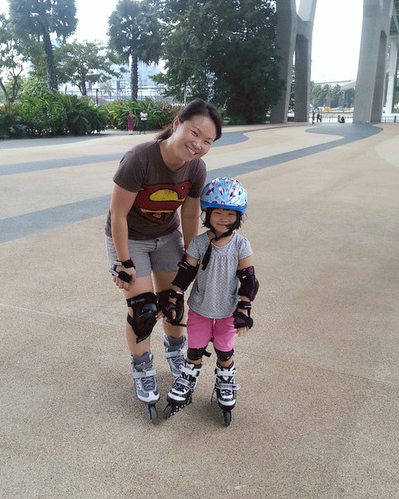 And the next sport that she'll be taking up is swimming class. Fingers crossed that she'll enjoy it as much as skating and pick up this invaluable survival skill 🙂
Linking up with

Tagged: exercise, fitness, inline skating, sports